Pullback Likely In Progress
With the RTY breaking overnight support, it has become likely that the retrace we were expecting once we approached the 2800SPX region is in progress.
As I noted earlier this morning, the easy part of the market action has now completed, and we will likely be in a whipsaw phase in the coming month or so. What that means is that I still think it is likely we will see higher levels in July in the equity markets, but I think there will not be a clear trend over the coming weeks, as we drop lower, to head higher and then drop lower again in completion of this pullback, rally for the end of wave (i), and then pullback in wave (ii).
Right now, my expectation is that a pullback is in progress, as long as we remain below today's rally high. For as long as we remain below today's rally high in the RTY, we have a 1-2 structure to the downside which can provide us with a sizeable gap down tomorrow. It would take a rally through 1705RTY to suggest that we may still be in wave 3 of wave v in yellow (which I abandoned based upon the overnight break down), but I don't see that as the higher probability at this time.
The trigger to the downside at this time is a break of the 1680RTY level. That should open the trap door to at least the 1670 region for wave iii of 3 of the c-wave I now have as the primary count. That would also suggest that the SPX is in its b-wave pullback, with an ideal target of 2731-2744, with the maximum retracement I want to see at 2716SPX. In the IWM, we should be targeting the low region struck at the end of June.
Should we continue lower in the coming days, it would still leave me wanting for one more rally before the market is truly tested later this summer. In fact, should we continue lower, it would align the RTY/IWM and SPX in requiring a 5-wave structure in the next rally, whereas the IWM would be a standard 5th wave, and the SPX needing a c-wave in the 5th wave of its leading diagonal in yellow.
And, again, as I noted before, the easy part is now likely complete. While we may have one more rally to be able to play, potentially for next week, we will have to see how the downside develops later this month into August to determine how deep this market will pullback. For now, my primary count is leaning towards the yellow count since it aligns better with the longer-term targets in SPX over 3200SPX. But, that would suggest a rather deep pullback for wave (ii).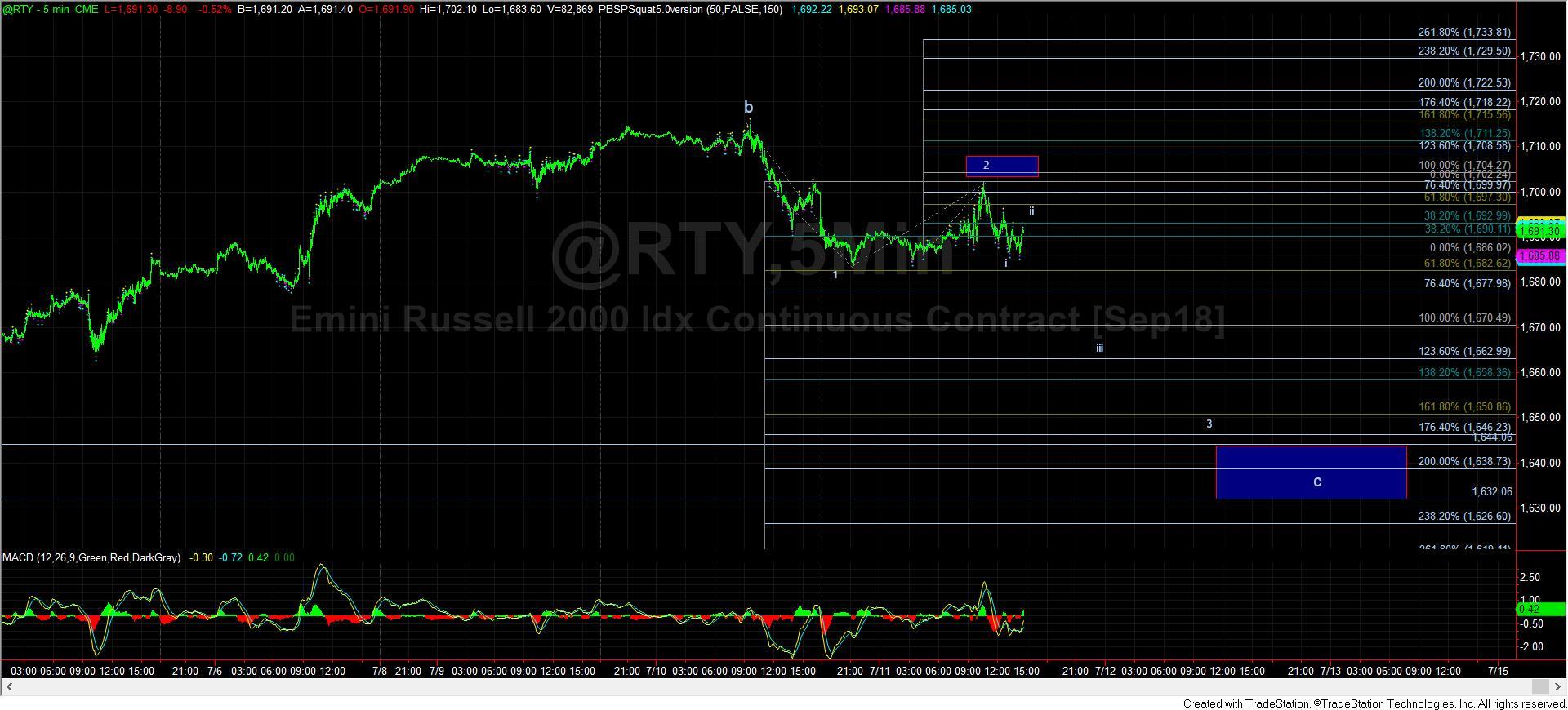 5minRTY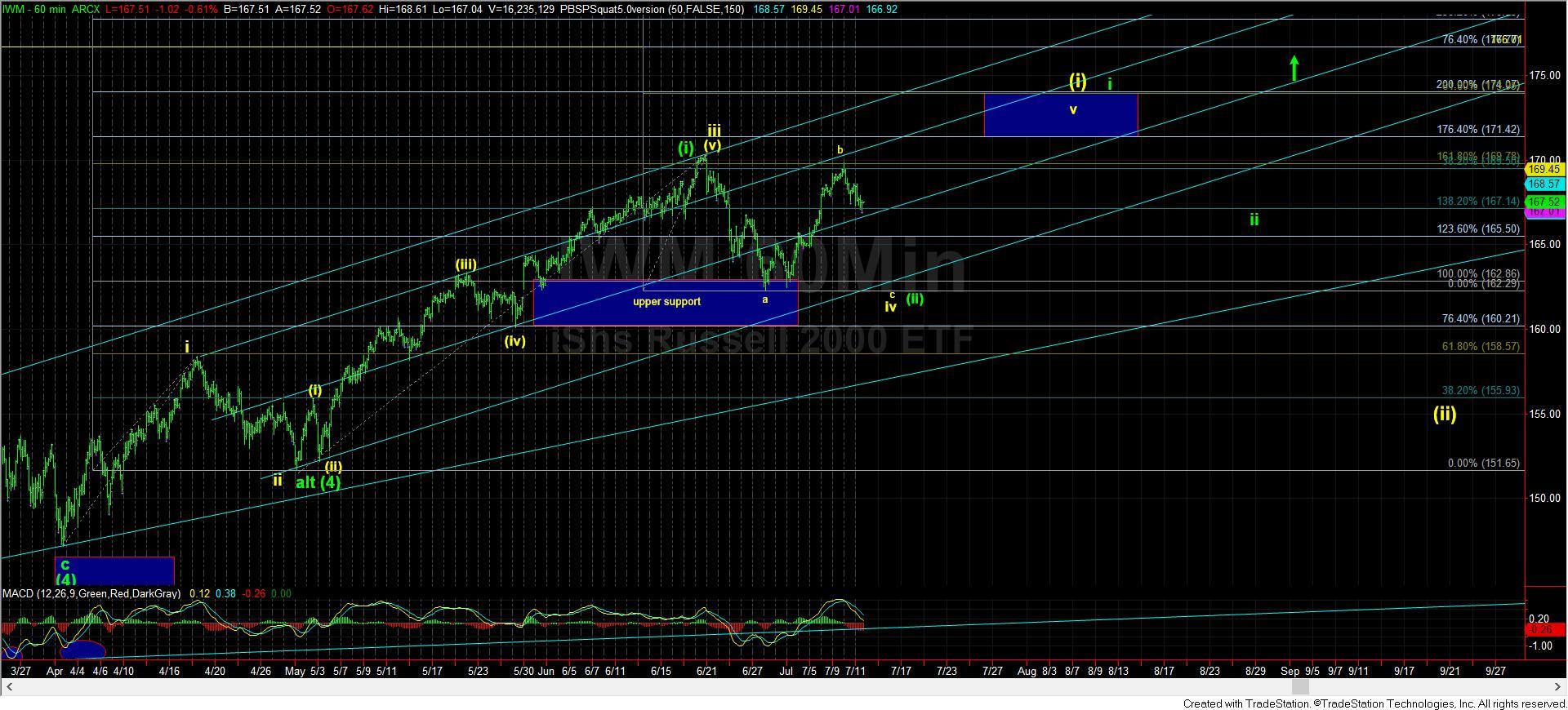 60minIWM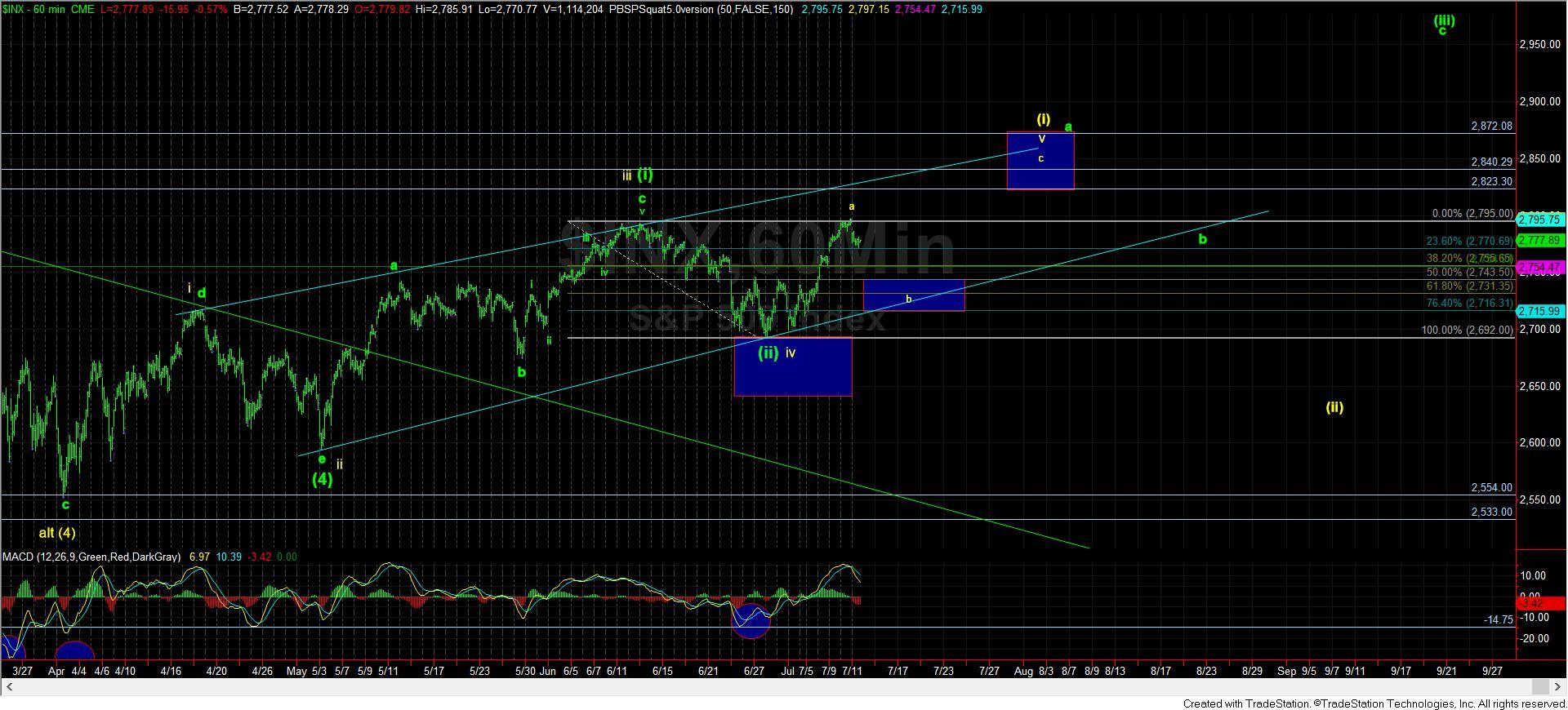 60minSPX