Poised For 4600SPX - Market Analysis for Sep 1st, 2021
There really is not much for me to add to yesterday's update, and the analysis I have been providing of late. So, I will simply reiterate certain points that are important at this time.
Currently, support is at 4468SPX, followed by 4400SPX. Below that, we have the ideal target for wave 4 in the 4240-70SPX region. And, we have a major floor in the market between 4100-4165SPX.
Our next micro resistance region is 4550-55SPX, with 4600-4630SPX above that. As long a we remain below those resistances, I still very much expect a wave 4 pullback towards the ideal target in the 4240-70SPX region. It would take a break out through 4630SPX to take the more bullish alternative in yellow more seriously. In fact, Luke Miller's Bayesian analysis places that yellow count at a 32% probability at this time.
So, again, I think the higher probability expectation is to see a pullback towards the 4240-70SPX region in the coming weeks, once the market finally strikes a top in wave 3. For now, it looks like it wants to extend towards the 1.236 extension of waves [1][2] in the 4600SPX region.
Lastly, consider that when we came into 2021 and the market was at 3750SPX, I outlined my expectation to see at least a 20% rally in 2021, with a minimum high target of 4600SPX. We have now slightly exceed that 20% mark, and we are approaching the 4600SPX region. Our next major target is for wave 5 of [3] in the 4900-5000SPX region, and much depends on how long wave 3 takes to top and how long wave 4 takes us in order to have a general idea as to when we can reach that next major target. For now, I am guestimating that we can get there within the first quarter of 2022.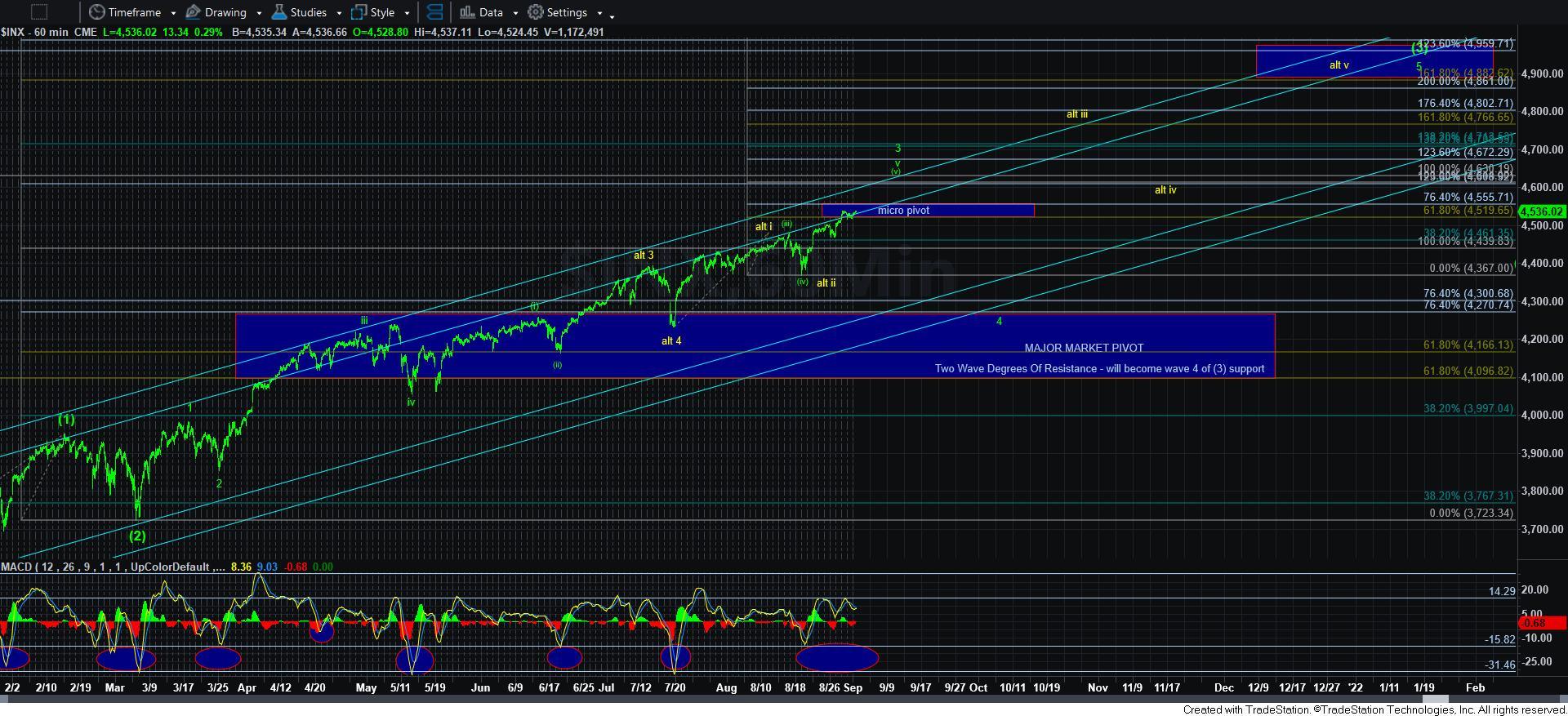 60minSPX