Please Prepare Yourself - Market Analysis for Aug 16th, 2021
As difficult as the market action has been since May, I want you all to prepare yourselves emotionally for what will likely be another several months of difficult trading.
You see, as the market grinds its way higher to complete wave 3, the structure with which we are likely developing this wave 3 top is still overlapping and will continue to be difficult. Couple that with the impending 4th wave pullback, which are never easy to navigate, we are setting up for a difficult upcoming several months. So, the best thing you can do is look for places to raise cash in stocks that are hitting their upside targets, as well as prepare yourselves emotionally for a difficult market environment, with more volatility to be seen.
But, keep in mind that this impending 4th wave pullback into the 4165-4270SPX support is simply another buying opportunity, which will likely set us up for a rally pointing towards an ideal target in the 4900/5000SPX region.
Let's take a moment again to review how we attain our targets using our Fibonacci Pinball perspective. Whereas the wave 3 of [3] targets the 1.00-1.236 extension of waves [1] and [2] (which is the 4440-4600SPX region in which we currently find ourselves), the ensuing wave 4 targets the .618-.764 extensions of waves [1] and [2] (which is the 4165-4270SPX region).
After wave 4 completes, our wave 5 of [3] target has multiple points of confluence pointing towards the 4900/5000SPX region. First, since wave [3] is the 3rd wave within wave [III] off the March 2020 low (you can see this on the daily SPX chart attached), it also has an ideal target of 1.00-1.236 of waves [I] and [II]. That is the 4630-4970SPX region.
Moreover, since wave [3] will often target the 1.618 extension of waves [1] and [2], that would point us to the 4900SPX region. Therefore, due to these two calculations, I am seeing the 4900/5000SPX as the most probable target for wave 5 of [3] at this time. And, once we complete wave 4, followed by wave i-ii within wave 5 of [3], we should be able to pinpoint that target rather well. But, again, I think we are setting up for a run to 4900/5000SPX once we complete wave 4.
In the near term, the market tested support on our 5-minute chart today. And, as long as we hold over that support, we should be heading to the 4500SPX region next. But, again, I want to reiterate that the smaller degree structure is not the most reliable, so please stay on your toes, as the conclusion to wave 3 can be quite abrupt.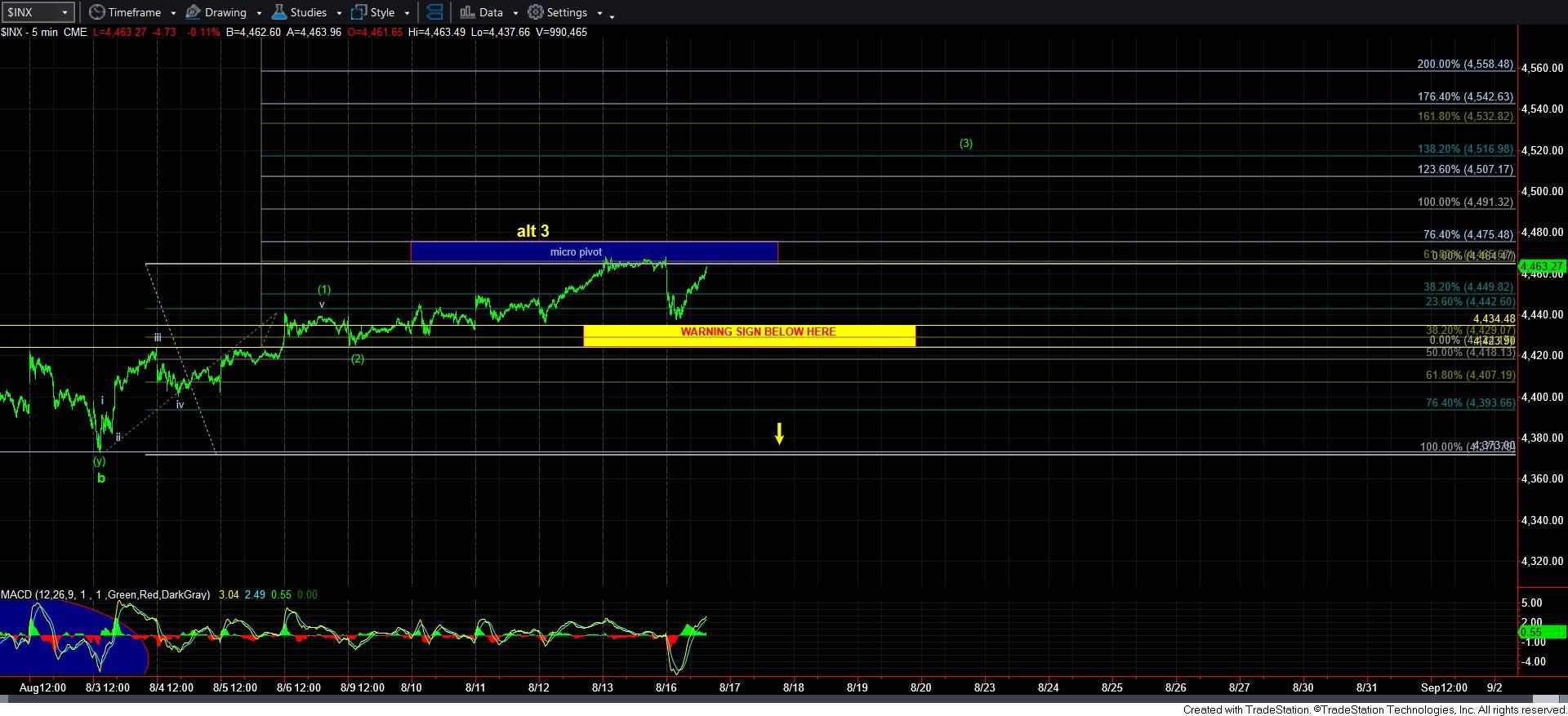 5minSPX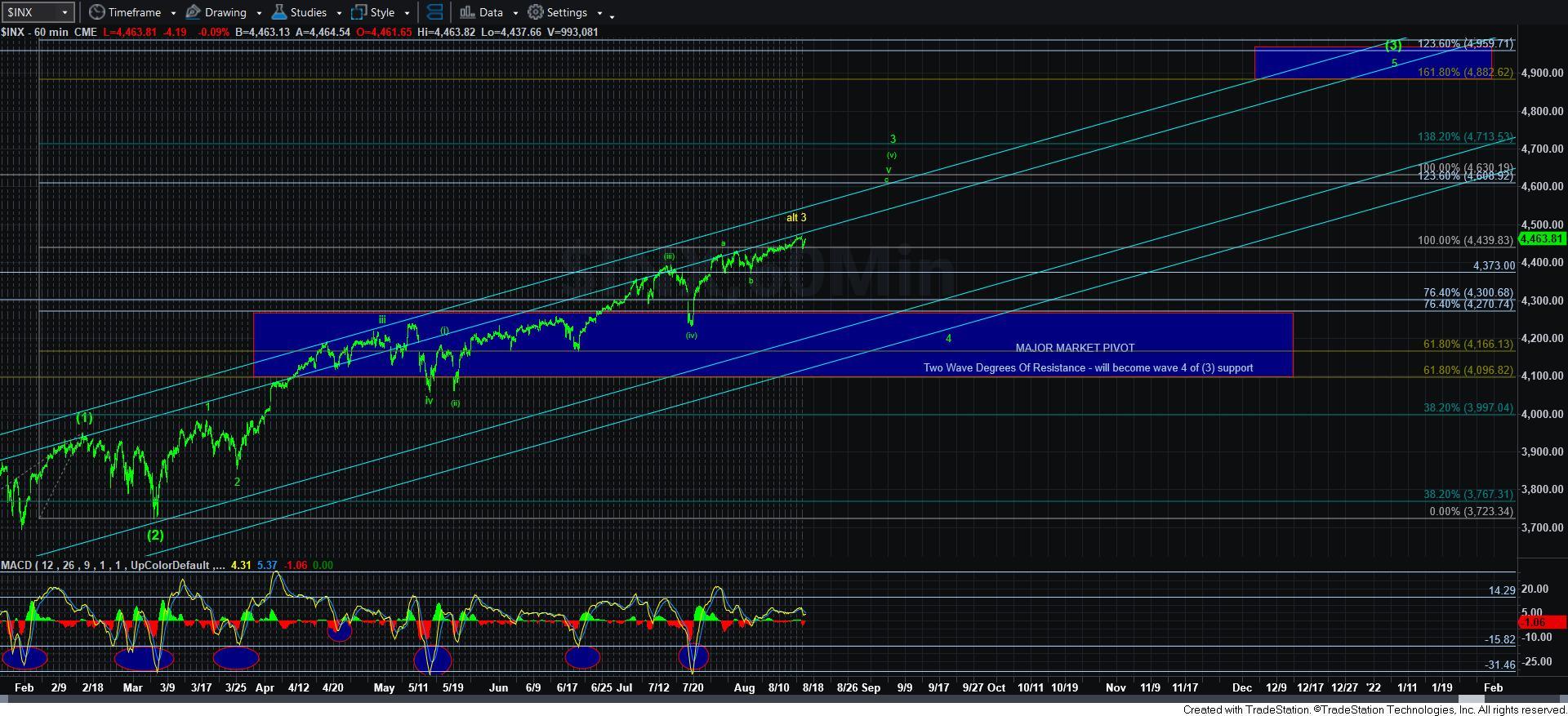 60minSPX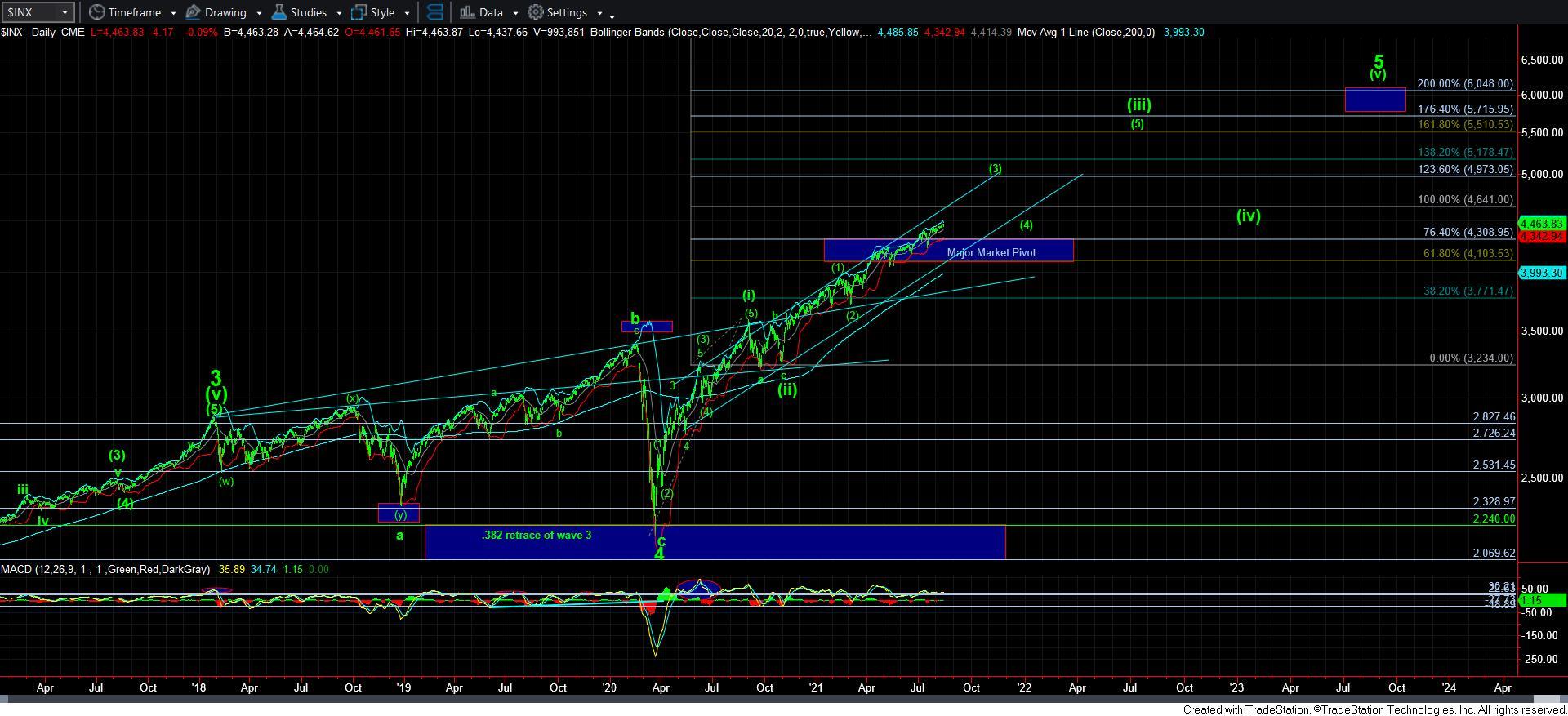 SPXDaily