Patience Now - Market Analysis for Feb 2nd, 2022
I want to start this update with what I know, and then outline what I don't know.
What I know is that wave [3] of [iii] off the March 2020 low completed at the end of 2021. What I also know is that we expected a wave [4] pullback towards our Major Market Pivot in the first Quarter of 2022. What I also know is that we have tested our Major Market Pivot, and have rallied strongly off that support. What I also know is that I need a 5-wave rally to complete wave 1 of [5] of [iii]. What I also know is that once we complete 5-waves for wave 1 of [5] of [iii], we will see a retracement in wave 2 of wave [5] of [iii].
What I do not know is whether the bottom to wave [4] has indeed been struck. And, that is the issue with which we have been grappling since we began this rally.
For those that did not listen to my half hour video this morning, I strongly urge you to do so, as I go into excruciating detail regarding my analysis of the SPX on many different time frames. To that end, I outlined how this can still be a wave iv in an ending diagonal for the c-wave of wave [iv], and that will remain on my chart until the market is able to prove to us a completed 5-wave structure to our wave 1 target overhead. Thus far, this rally has only been 3-waves, and that leaves the potential for the ending diagonal on the chart.
While I know it may be frustrating to have patience, that is likely the best course or action right now. For some of you more aggressive traders, you may be looking to short this rally and some investors may be looking to hedge their positions, as the potential for a lower low is still high enough that I cannot be yet confident that wave [4] has completed.
Another point I want to make is that until the market attempts to clarify its posture in this region, I think it would not serve you well if I attempted to provide you more of a micro count than is already presented on this chart. Moreover, the higher the market can extend right now, the more and more likely it becomes that this is actually wave iii of wave 1, as compared to the wave iv potential. As I said over the last several days, if the market were to break out over support, it opens the door for the bulls to begin wave 1 of [5] of [iii]. So, at this time, I am neutral between the two main counts I am presenting, meaning I am about 50/50 as to whether we get a lower low or not.
But, I would add that the IWM likely has the best potential for making that lower low. Could this be a clue for what the SPX may try as well? I am not sure.
What I also know is that once we complete waves 1 and 2 in wave [5] of [iii], we will then be ready to rally to our next major target of 5500SPX. But, for now, I need to be a bit more patient in allowing the market to tell me whether that has begun. Take note that even if we are rallying to complete wave 1 of [5] of [iii], wave 2 will likely bring us back down to where we are currently. So, I do not think we lose any long-side opportunities by maintaining a bit more patience. In fact, that patience may serve us well if we are able to see that 5th wave lower low in this potential ending diagonal in green. Therefore, based upon where we currently reside, I think being a bit protective and maintaining a modicum of patience is likely the best course of action.
And, consider, if you have been following me carefully, you have already deployed some of the cash we raised near the highs as we were striking the lows last week. Our patience will allow us to determine whether we deploy the rest of that cash at the lower low in wave v, or if we will deploy it in wave 2.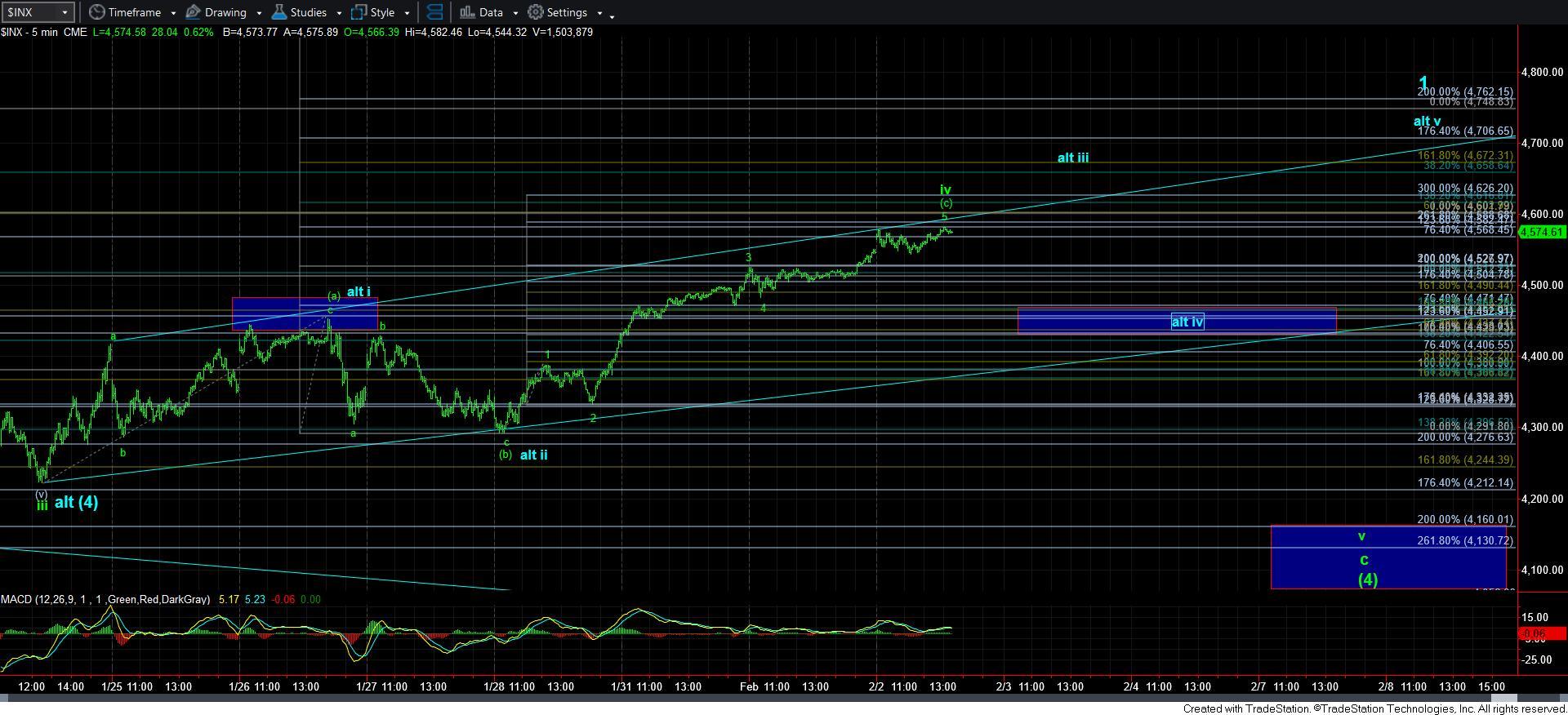 5minSPX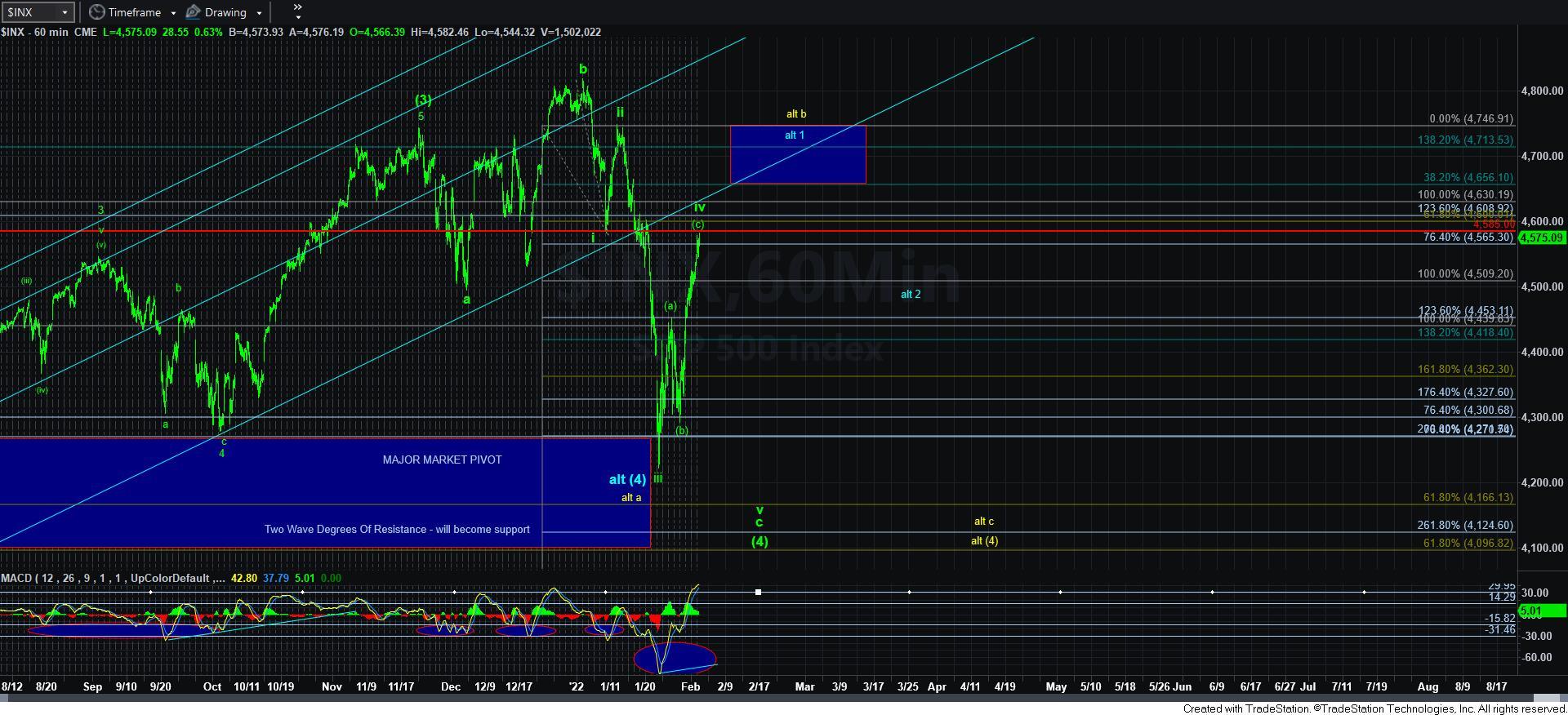 60minSPX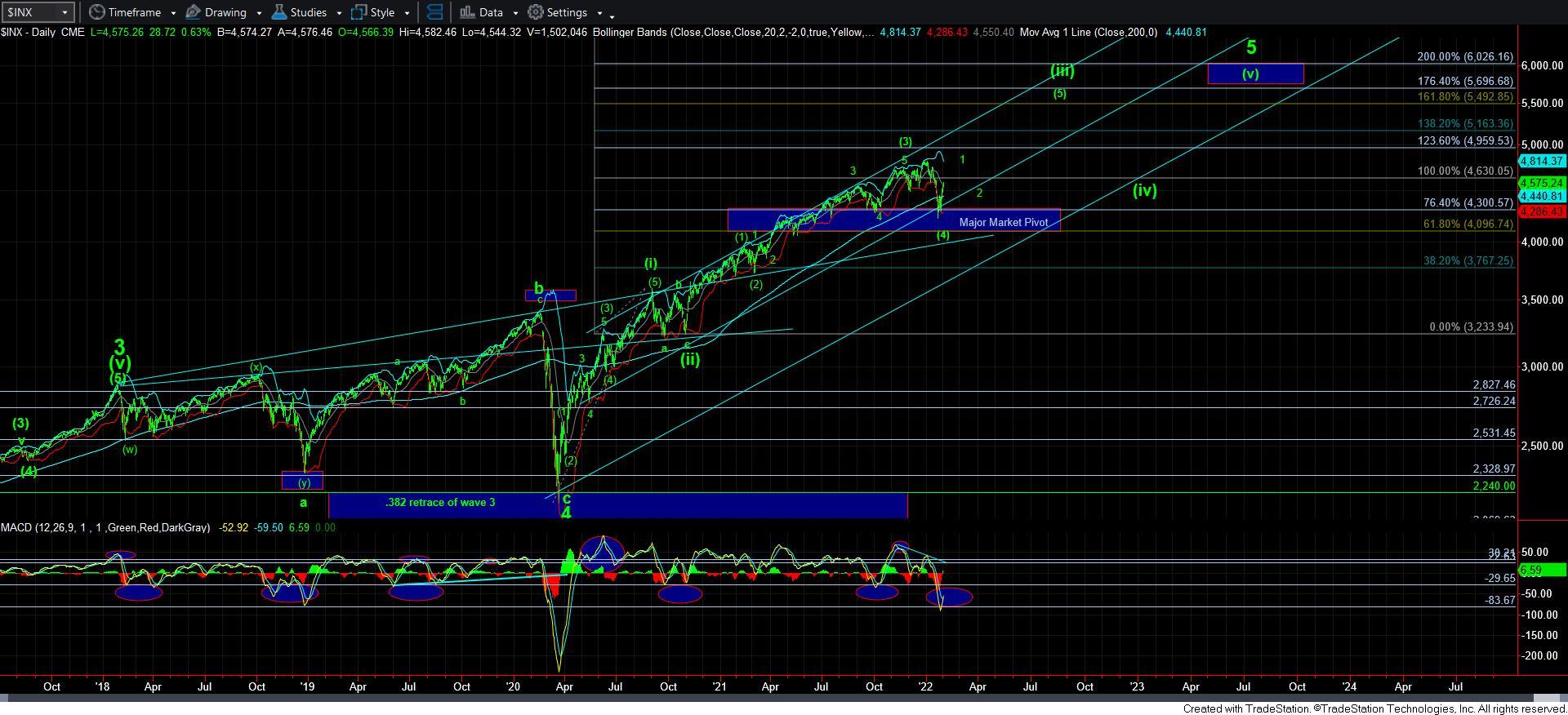 SPXDaily