Overlap Causes Difficulty - Market Analysis for Jun 1st, 2021
Due to the overlap we have been seeing in the market over these last several weeks, it has caused some issues with determining the smaller degree micro-structure. This should come as no surprise for those that have been following our analysis closely over these last several weeks.
Our bigger picture remains the same. I am still looking for the market to rally to 4350+ to complete wave v of 3 of [3], as you can see on the 60-minute SPX chart. Thereafter, I expect another bout of market weakness in wave 4 of [3], followed by a multi-month rally in wave 5 of [3]. So, if you are looking for the next trending move in the market, it looks like we may not see one until wave 5 of [3].
Our current views of wave v of 3 suggest that either it will complete as an ending diagonal (which is now outlined in with the blue count and needs a c-wave within wave [ii] to take us lower), or a more direct impulsive count, as shown in green.
As I noted earlier this morning, the only reason I have to consider the green count right now is due to the inability of the market to pullback in a more appropriate wave [ii] within the ending diagonal scenario for wave v of 3. And, as long as we remain over 4190SPX, we may be setting up a [1][2] structure within wave v of [iii], as you can see on the micro 5-minute chart.
But, the main reason I do not like this count is something I outlined over the last few weeks. The initial move off wave iv is not a 5-wave structure in the SPX, although it can be in ES. But, when I do not have it in the SPX, I strongly question its potential to complete the more immediate bullish count.
Unfortunately, due to the overlap, I just cannot provide you with a high confidence, high probability pattern at the moment within the micro structure. Both scenarios are relatively ugly at this point in time. But, both do point higher to complete wave v of 3.
Ultimately, as I noted over the weekend, completing wave v of 3 of [3] and then wave 4 of [3] seems to suggest we will see a bit of volatility over the coming weeks/months. But, I would imagine that we will be ready to embark on wave 5 of [3] this summer, which can potentially take us well into the fall with a minimum target of 4600SPX for 2021.
5minSPX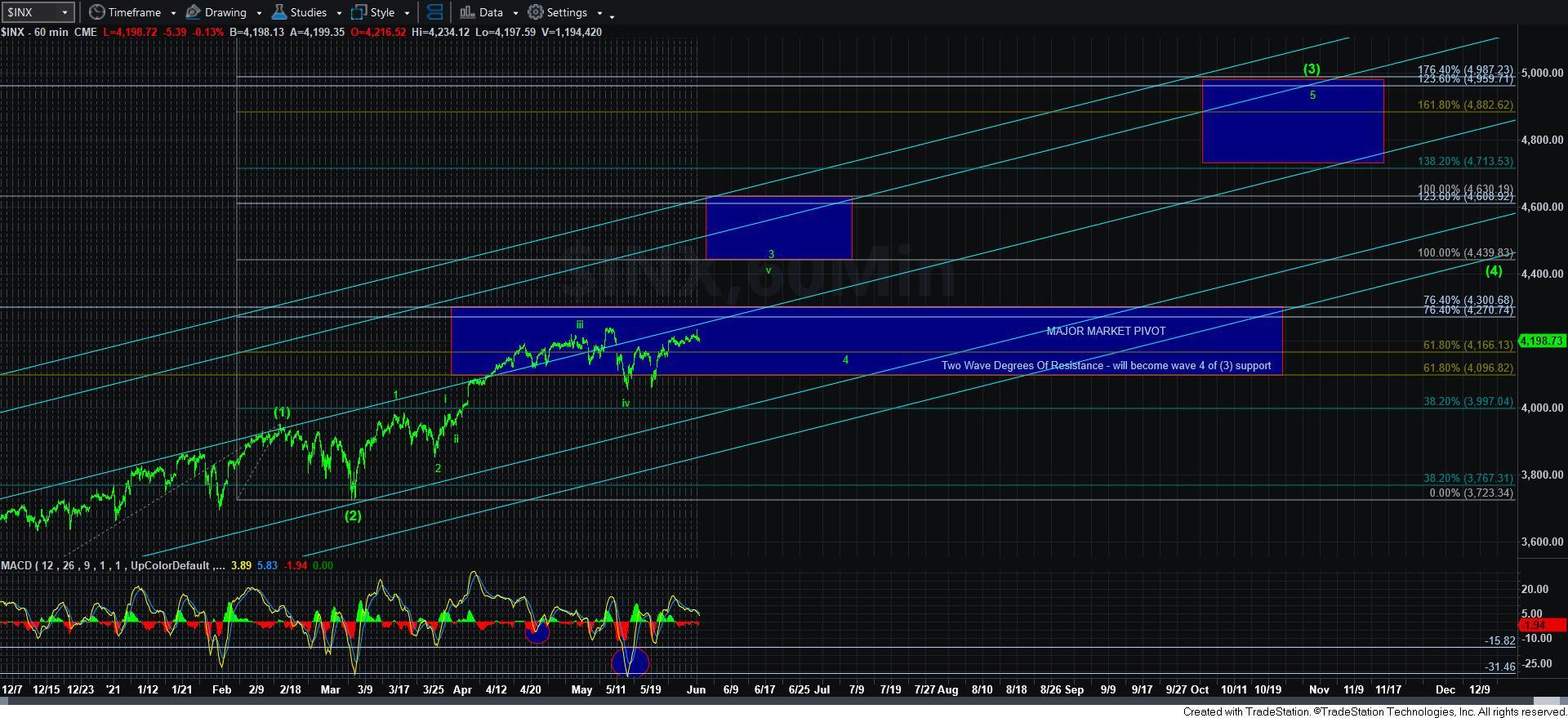 60minSPX