When we explained that you should expect whipsaw to be the guiding perspective once we moved into this 4th wave months ago, we were not kidding.
While we caught the lows in the market on Tuesday evening as the market was bottoming in the ES in the 2320 region, we said that the initial move will likely take us to the 2400-20 region, and if we were able to move through that region, then our next higher target was the 2470 resistance region.
To be honest, I never expected we would hit all targets in one day. But, that is what the market gave us.
However, one must recognize that these are not the types of rallies we usually see in a bull market. Rather, bear market rallies have a habit of ripping people's faces off, and then prove to be unsustainable. And, with the market hitting our target at 2470, and then turning down, this seems to be a typical bear market rally.
My primary count has us having completed the wave 4 in the (c) wave of the a-wave with the strike of the bottom of the market pivot overhead. Thus far, the downside has begun in what I can consider an impulsive structure, and if we can maintain pressure to the downside, then we can drop down to the 2300 region. Most specifically, as you can see on the attached 3-minute chart, I have a micro market pivot which needs to break. Should we break this pivot, and drop down to the 1.00 extension in the 2375ES region, then the pivot becomes resistance. And, should all bounces remain below this resistance, then we have an open path down to the 2300 region to complete what I have labeled as wave 5 of the (c) wave of the a-wave.
Once we hit that target region with a completing five wave structure and we retain the potential positive divergences seen on the 60-minute chart, then this can be a buyable opportunity. However, keep in mind two things. First, that buying opportunity is likely only for a corrective b-wave rally, which has a minimum target of 2700SPX. Second, there is still potential that we get one more 4-5 before this decline bottoms out.
So, I am going to take this opportunity to remind you that 4th waves are very unpredictable. And, while we have a nice set up pointing us down towards the 2300 region right now, we often see nice set ups break down while we are in a 4th wave. So, please stay on your toes, manage your positions, and do not get overly aggressive within a 4th wave. Remember that your primary goal should be the preserve capital so that you can deploy that capital in the 2100-2200 region for the rally to 3200+ in the years to come. So, try not to burn capital while overtrading.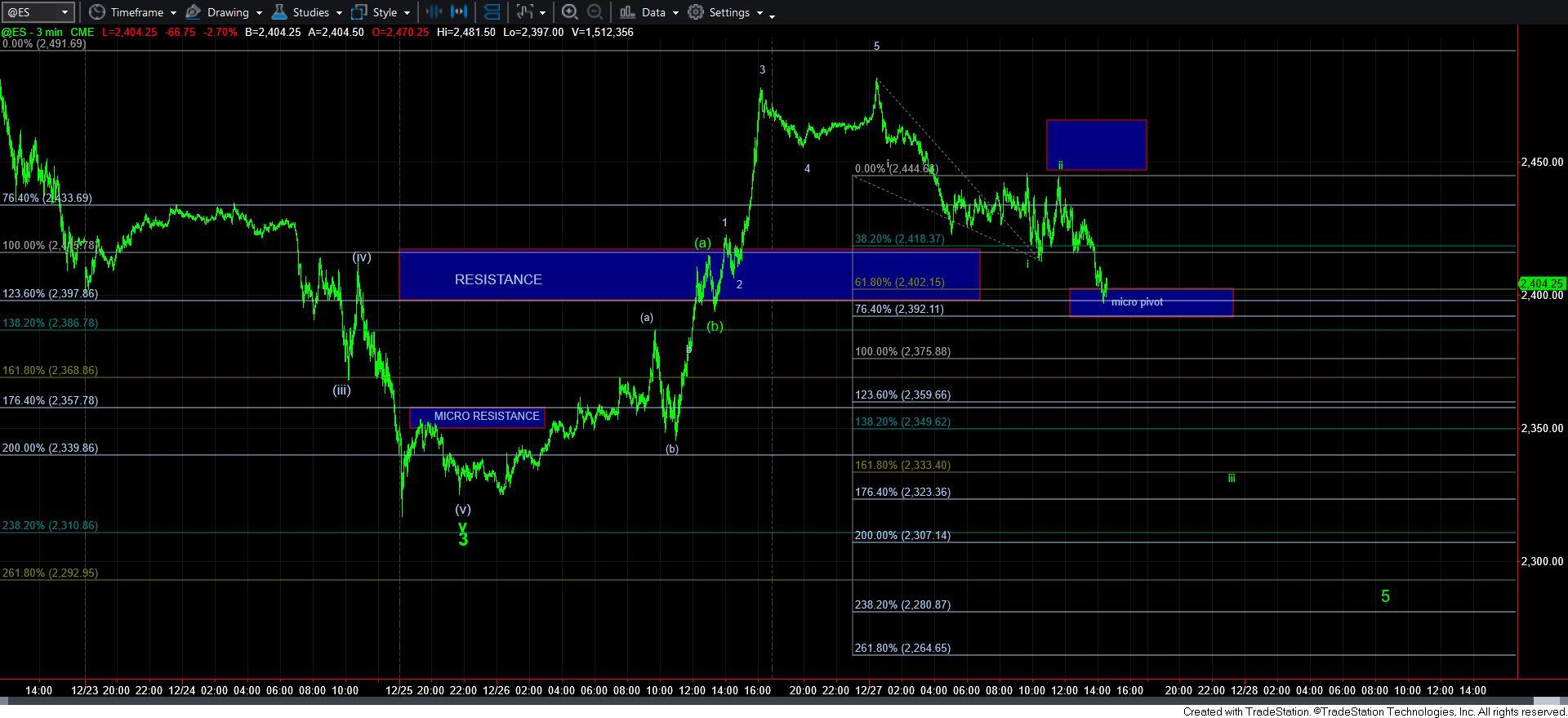 3minES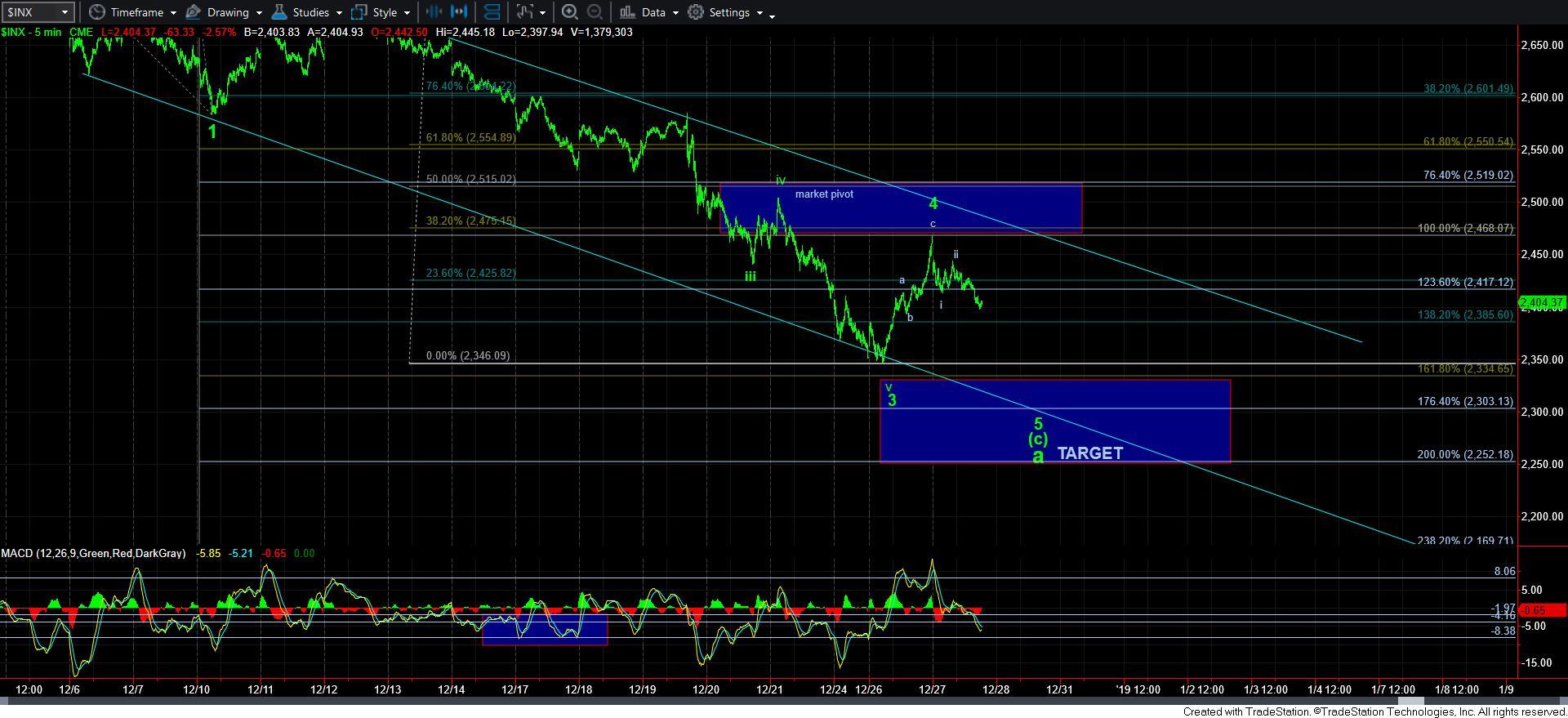 5minSPX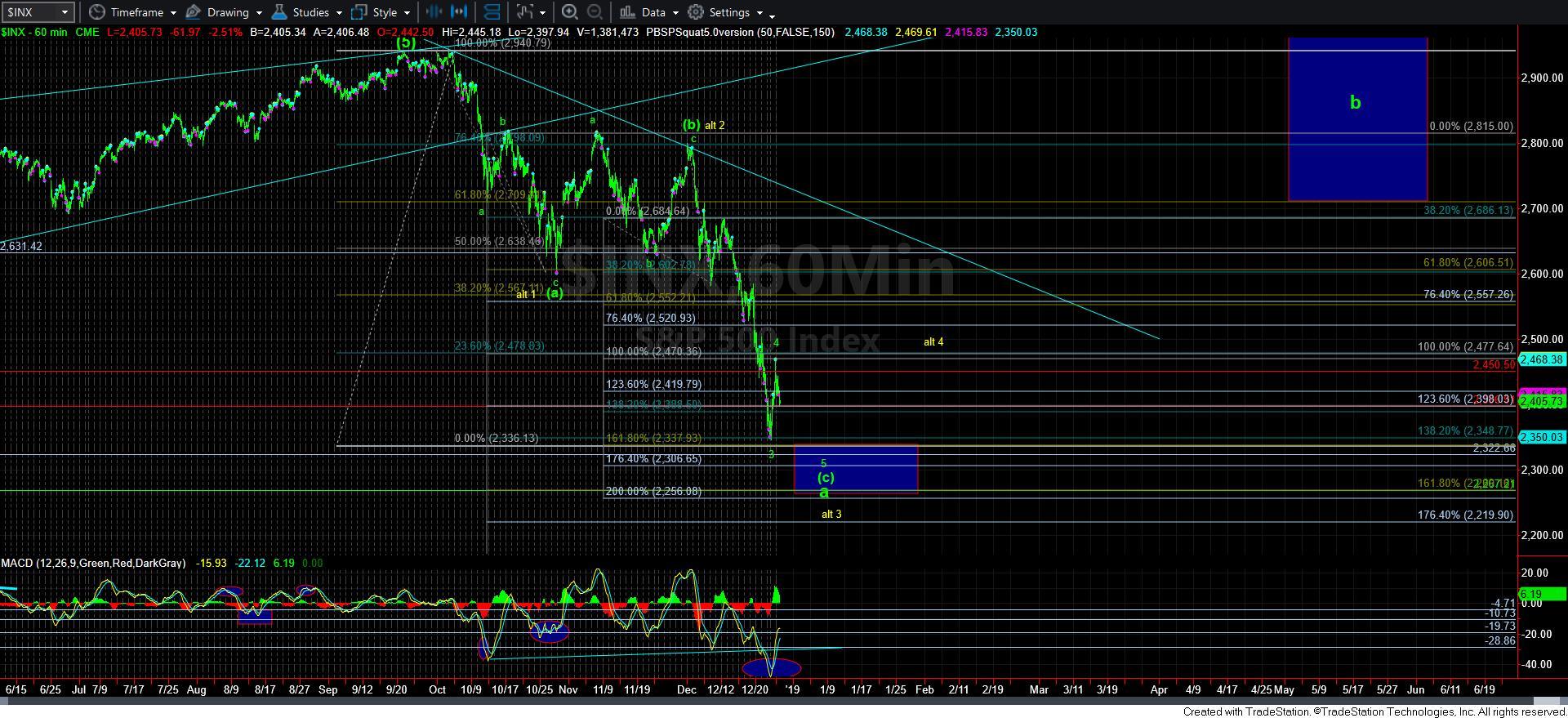 60minSPX