Folks, we are in a potentially treacherous spot in the market. And, as I hope I have made clear, my preference is to see a rally from this region before we have a set up for lower lows. That rally may only turn out to be a short squeeze, which prepares us for more downside. However, if the market should rally and continue through 4485SPX, then there is greater potential that we do not see lower lows, and that a leading diagonal is forming.
In all cases, it means that another buying opportunity is not likely to be seen until the market clarifies its current structure. Meaning, if the correction is not done, then you will see another buying opportunity below 4300SPX. But, if the correction is done, and the market does provide us with a leading diagonal – as presented in green – then the next buying opportunity is on the wave ii pullback, likely in the 4400SPX region.
Unfortunately, when the market does not provide us with a CLEAR 5-wave rally off what should have been the low for wave 4, it leaves too many doors open, and we have to allow it to resolve before we see another buying opportunity.
That being said, I want to reiterate that as long as the support outlined on the 5-minute SPX chart holds, then I expect at least a [c] wave rally in this b-wave, as outlined in purple. The ideal target is the 4470ES region, assuming the low we struck on this current pullback from last week's high holds. If we go deeper into the support box, then the [a]=[c] target will obviously be lowered since the [b] wave from which we calculate that [a]=[c] structure is lower.
However, as I outlined this morning, if the market is unable to hold the 4300SPX support region, and then follows through below 4280SPX, then 4330PX becomes our resistance, and we have a direct path down to the 4050-4100SPX region to complete wave [4].
Remember, the deeper this pullback takes us, the higher the next target takes us. If this bottoming is wave 4, then we still have wave 5 of [3] to complete into the 4900SPX region. However, if we see the 4100SPX region, then it means I am off by one wave degree, and the next rally is likely going to be wave [5] of [iii], which has a minimum target of 5165SPX, the 1.382 extension of waves [i][ii] off the March low. You can see the alternatives on the attached daily chart.
For now, I am expecting the support box on the 5-minute SPX chart to hold. But, if I am wrong, and it does not, please have a contingency plan in place. Remember, we are still likely dealing in jello no matter how you slice these patterns.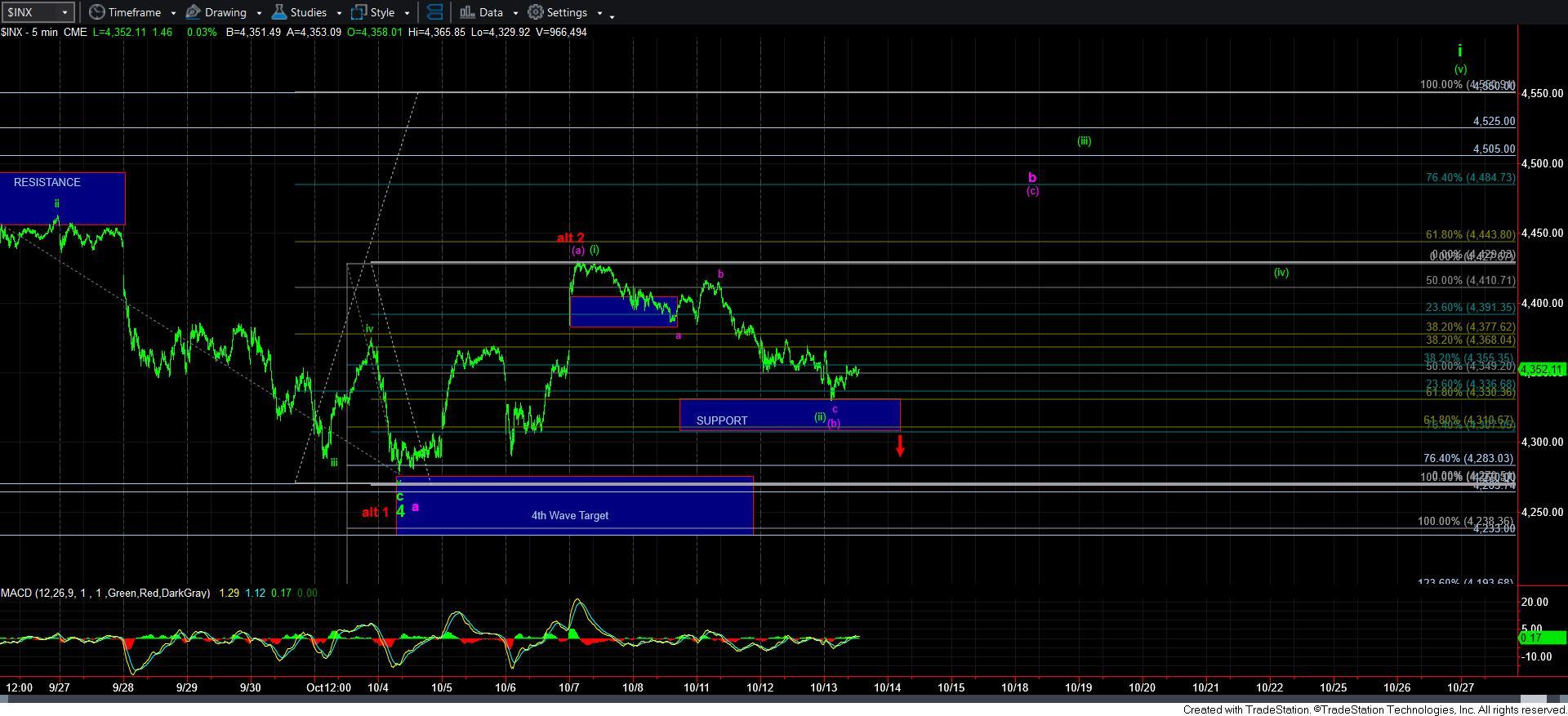 5minSPX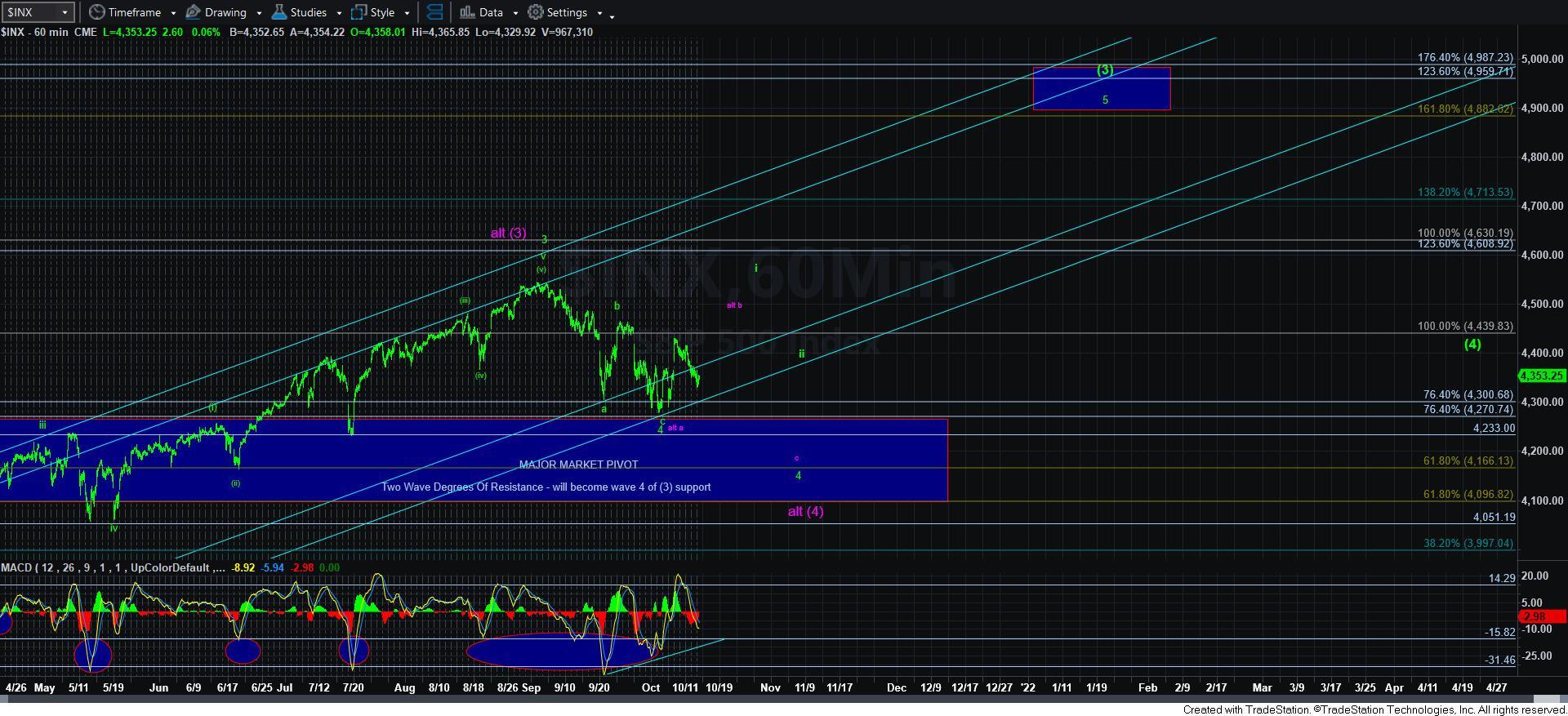 60minSPX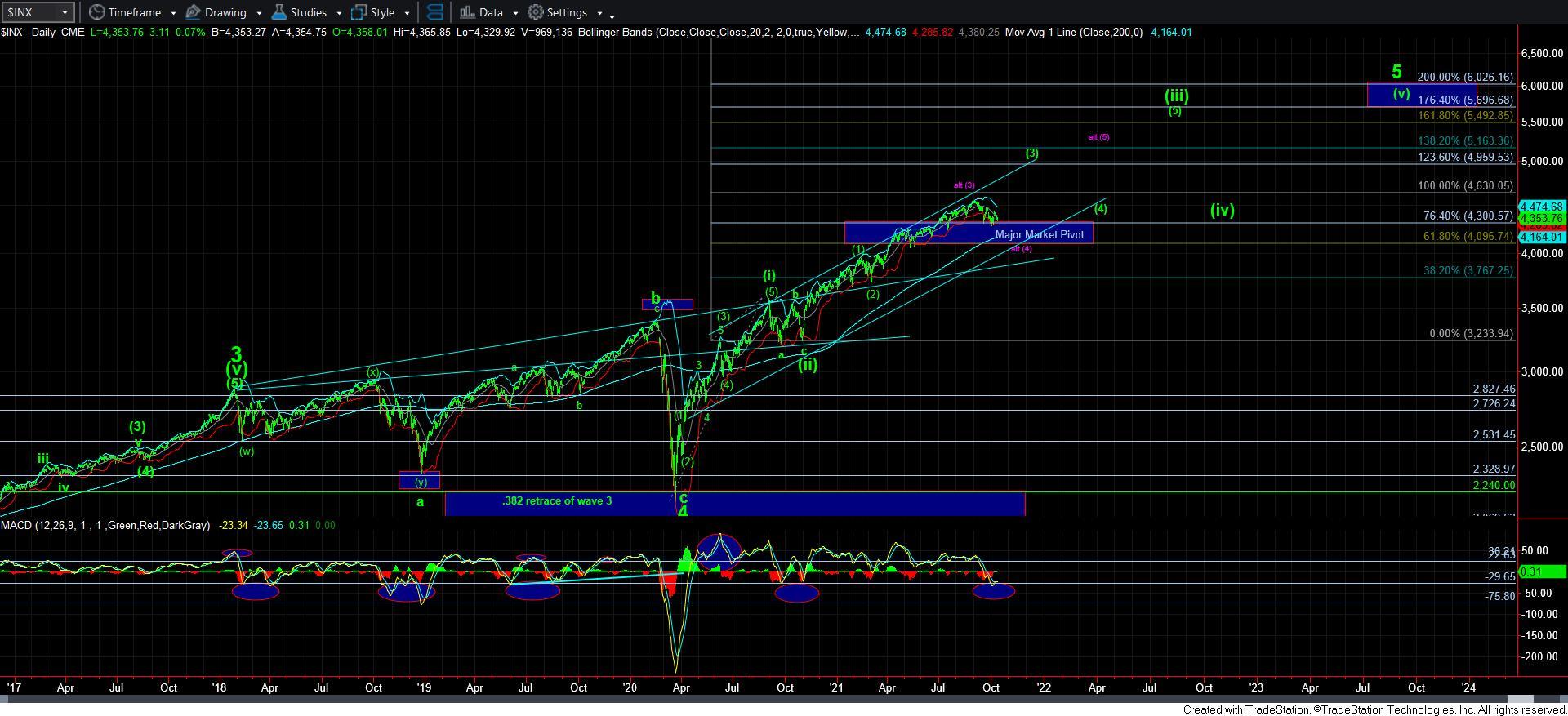 SPXDaily