Nothing Bearish About Today's Action
Today's action saw the SPX/ES attempt to break our upper support region several times, but fail to do so. In fact, one of those times saw an attack of that support region with a rare intra-day gap down in the futures, but the bulls still held support all day, and have consolidated at the market highs. That is not bearish action.
For now, the micro support in the SPX is 1974SPX. As long as we hold over that level, we are set up to head towards 2000, and potentially even higher depending on the extensions we may see. As you can see from my 5 minute chart, I have outlined the target regions I would expect for the next movements higher, again, assuming support holds.
The alternative count right now is in yellow, wherein we have completed wave (i) of 3 of iii, and we can see a wave (ii) retrace. That pattern is more obvious in the futures, due to the higher high overnight seen in the futures. That lower support for the ES is in the 1950-1960ES region. It would take a break below that support region to get me concerned about the bullish potential in the market.
But, again, as long as support holds, I will continue looking higher. In fact, once we move through 1988SPX, I would look at any sustained break below 1974SPX as a potentially bearish indication. As I noted, once we break out over this region, and head up in wave (iii) of 3 of iii, if the market is truly bullish, we really should not break back below the .618 extension, which is the top of our market pivot. But, we still need the market to move strongly through 1988SPX to maintain that perspective.
And, in the bigger picture, as long as we remain over 1920SPX, the bulls have the ball. And, as we climb higher, we will move that level up to 1974SPX, as noted above.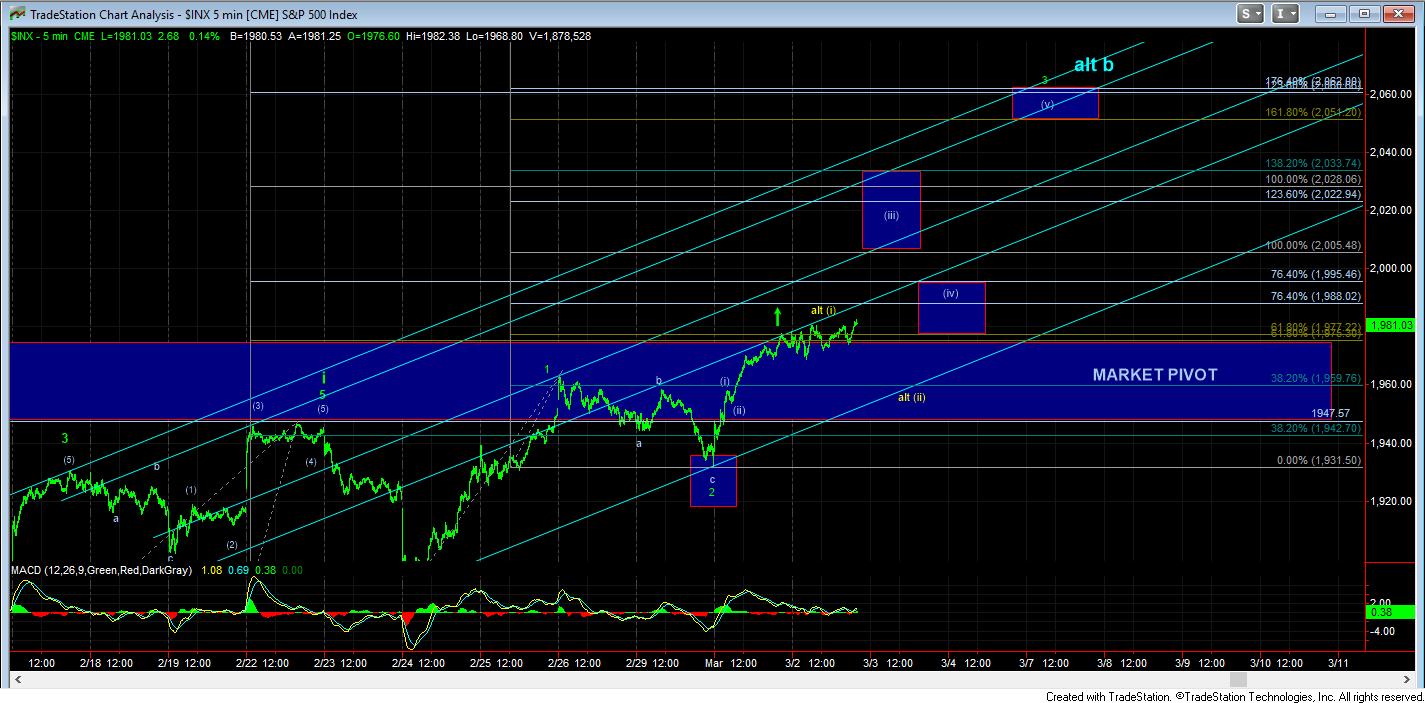 5minSPX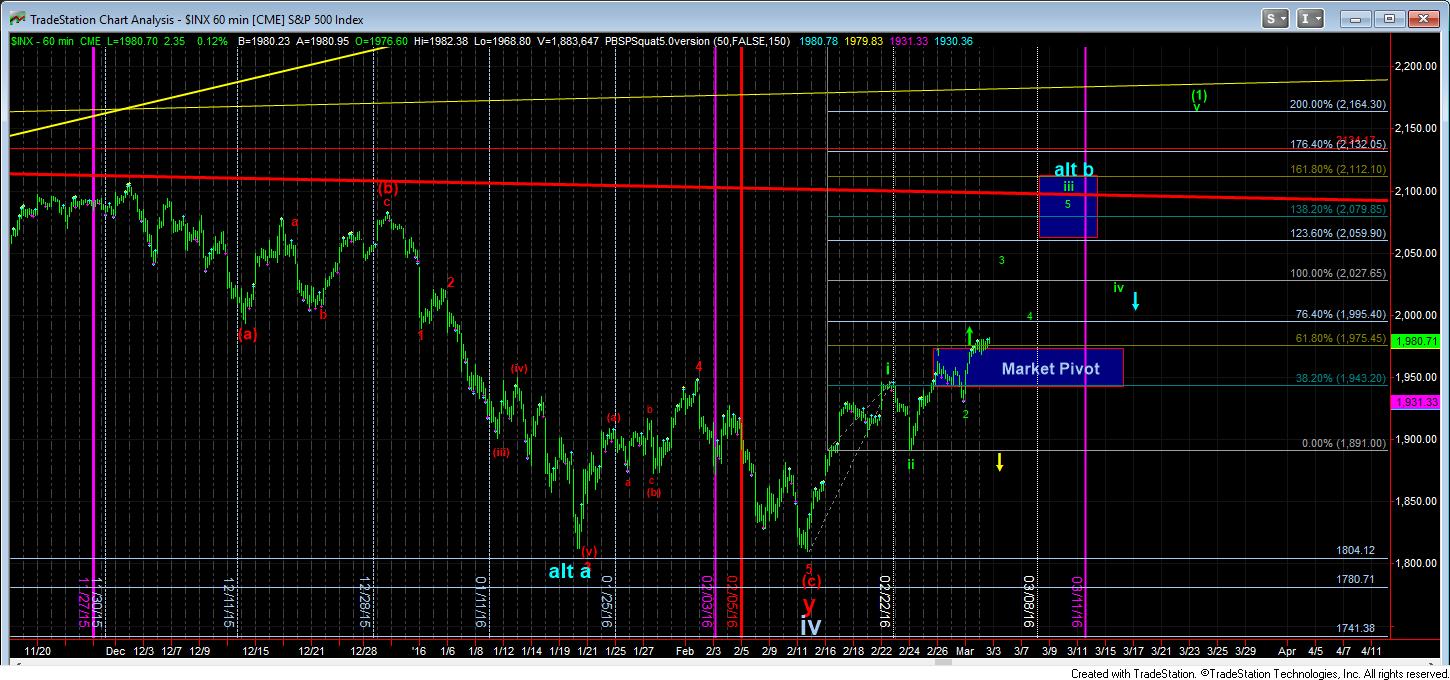 1turnchart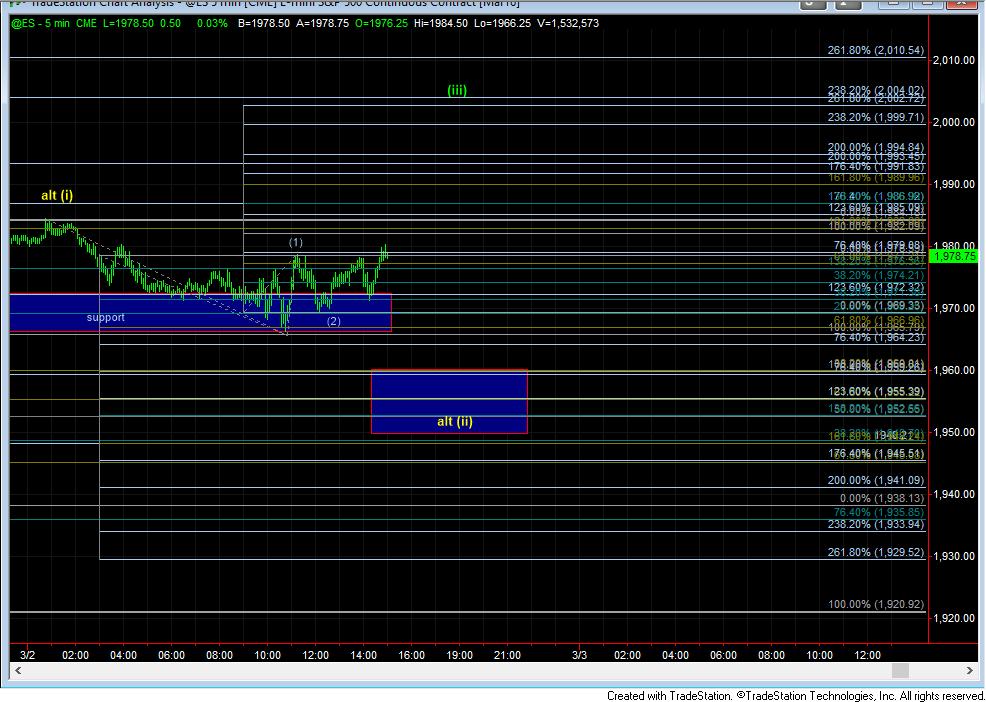 5minES