Not Bearish Yet – But, Keeping An Eye On The Exit
I know this may seem repetitive, but I think it is important to reiterate what I said yesterday:
"As difficult as the market action has been since May, I want you all to prepare yourselves emotionally for what will likely be another several months of difficult trading.
You see, as the market grinds its way higher to complete wave 3, the structure with which we are likely developing this wave 3 top is still overlapping and will continue to be difficult. Couple that with the impending 4th wave pullback, which are never easy to navigate, we are setting up for a difficult upcoming several months. So, the best thing you can do is look for places to raise cash in stocks that are hitting their upside targets, as well as prepare yourselves emotionally for a difficult market environment, with more volatility to be seen.
But, keep in mind that this impending 4th wave pullback into the 4165-4270SPX support is simply another buying opportunity, which will likely set us up for a rally pointing towards an ideal target in the 4900/5000SPX region.
Let's take a moment again to review how we attain our targets using our Fibonacci Pinball perspective. Whereas the wave 3 of [3] targets the 1.00-1.236 extension of waves [1] and [2] (which is the 4440-4600SPX region in which we currently find ourselves), the ensuing wave 4 targets the .618-.764 extensions of waves [1] and [2] (which is the 4165-4270SPX region).
After wave 4 completes, our wave 5 of [3] target has multiple points of confluence pointing towards the 4900/5000SPX region. First, since wave [3] is the 3rd wave within wave [III] off the March 2020 low (you can see this on the daily SPX chart attached), it also has an ideal target of 1.00-1.236 of waves [I] and [II]. That is the 4630-4970SPX region.
Moreover, since wave [3] will often target the 1.618 extension of waves [1] and [2], that would point us to the 4900SPX region. Therefore, due to these two calculations, I am seeing the 4900/5000SPX as the most probable target for wave 5 of [3] at this time. And, once we complete wave 4, followed by wave i-ii within wave 5 of [3], we should be able to pinpoint that target rather well. But, again, I think we are setting up for a run to 4900/5000SPX once we complete wave 4."
So, when we zoom into the smaller degree structure, as shown on the 5-minute SPX chart, you can see that I added two resistance points yesterday afternoon and this morning. Allow me to explain them.
First, if the market has indeed finally struck the top of wave 3 (yellow), then the micro resistance on this chart should hold, and set us up to break below yesterday's low. Should that occur, that would be a strong indication that we have begun the 4th wave pullback. Ideally, I would want to see us drop down to the 4370SPX region to complete the a-wave of wave 4. Thereafter, I would expect another b-wave bounce before we begin to head down to the 4165-4270SPX region for wave 4.
But, this is clearly the near term bearish scenario that MUST be proven. Remember, we are in a bull market, and there is still room overhead even within the wave 3. And, until we begin to take out support, the bulls still have possession of the football.
The 2nd resistance region overhead represents the final resistance region for the alt 3 in yellow. You see, if the market is able to muster a rally through that 4500SPX resistance, then 4485SPX becomes our new micro support, and we have a structure pointing us towards the 4600-4630SPX region to the higher target for wave 3, as outlined above. This is represented by the alt (1)(2) in blue.
So, while the market still "owes" us a 4th wave pullback, it has not provided us any indications that it has yet begun. And, since this is a bull market, we must respect bullish price action as long as we remain over support.
While the micro structure is not terribly clear, our parameters are quite clear right now. Therefore, until the bulls fumble the ball, do not try to front run a pullback in an aggressive fashion. Keep in mind that this is a bull market and pullbacks are primarily buying opportunities for the higher targets we have in the coming year.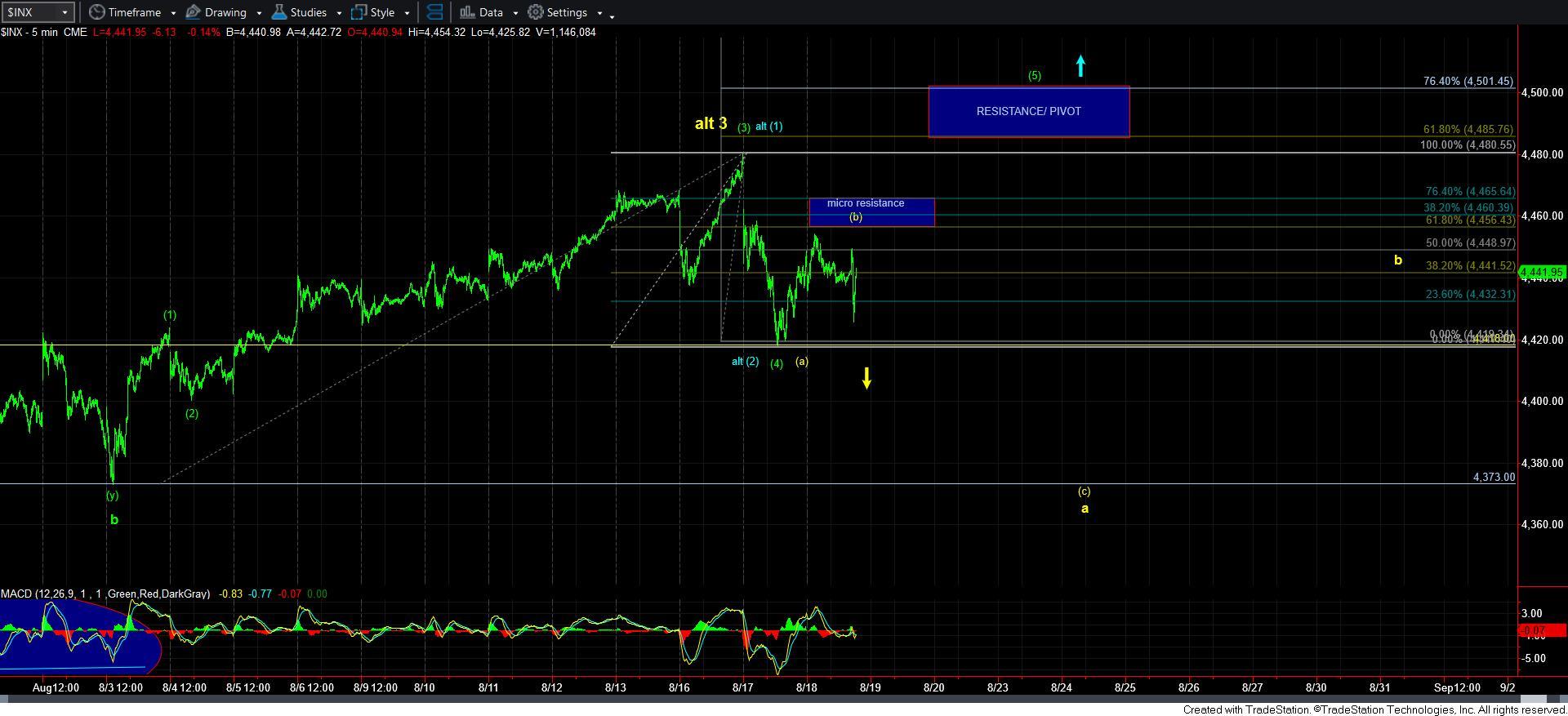 5minSPX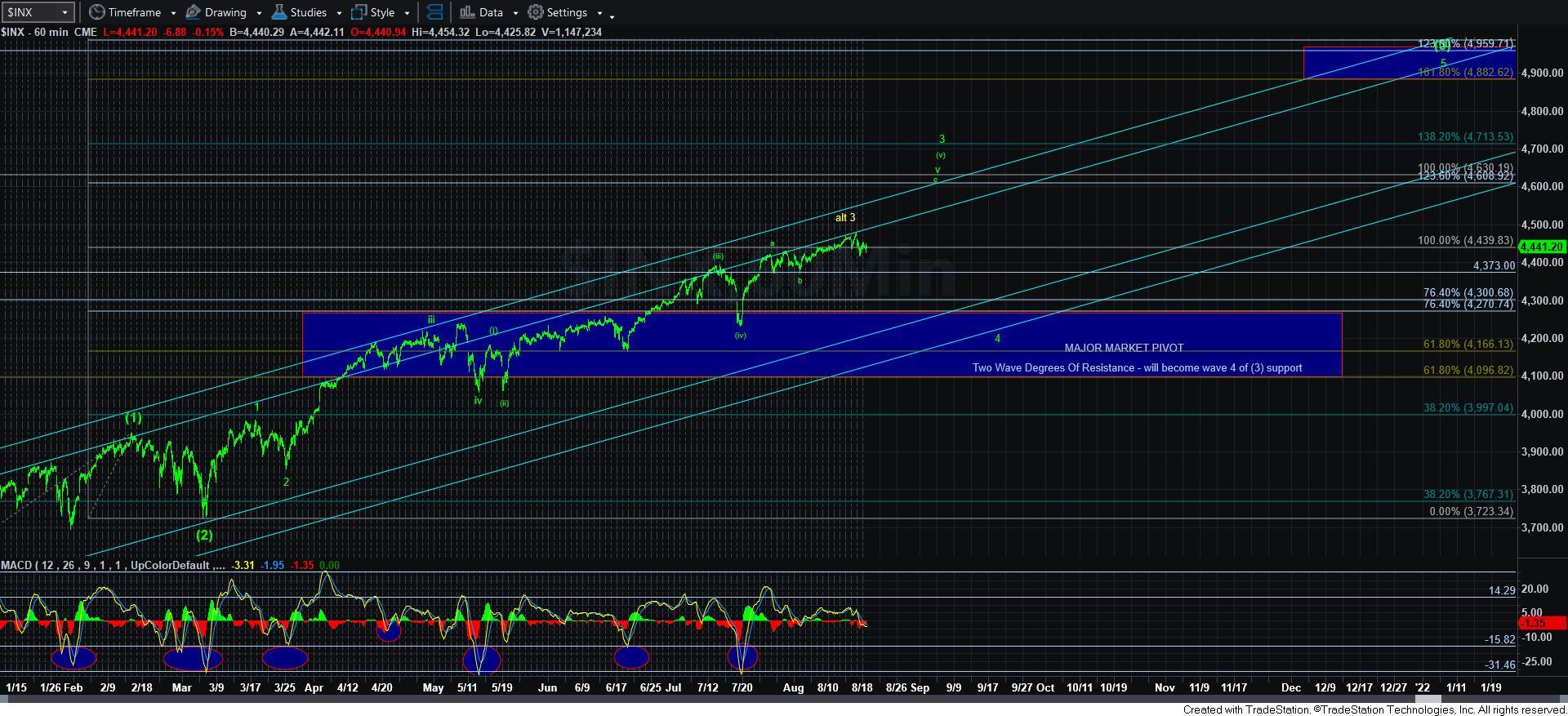 60minSPX