No Signal Of A Bottom Just Yet As Market Tests Micro Support
Today the market moved lower again and is currently under the lower end of the micro support zone that sits at the 4325 level but still over the invalidation level at the 4311 level. While the action on the smaller timeframes remains quite sloppy we do still remain over the lower support for the larger wave (b). So although this move lower is certainly testing the limits of the white count as shown on the 5-minute chart we still are well over the larger degree support and unless and until we break that region the bullish pattern still remains very much intact.
From a smaller degree perspective, things are still a bit of a mess as we continue to deal with a lot of three-wave and overlapping wave action. While the low that was struck on Friday could certainly count as the bottom of the wave (b) of larger wave a the move up off of that lows still counts best as three waves. So we are going to need to see a break back up over the 4401 level while holding Friday's low at 4310 to give us a signal that we have indeed already bottomed in that wave (b). Today's move lower is making that more immediately bullish path as shown in white a bit more questionable however for now it still remains a valid path.
If we are unable to hold the 4311 level then we likely are dealing with the yellow count as I have laid out on the 5min chart. Under that case, we would look to head lower in a wave c of (b) and move down into the 4305-4257 zone for the wave c of (b). Again under that zone would then open the door to see another lower low as part of the green count. For now however and as long as we hold over that zone the bullish bottom in count remains intact.
Overall there is not too much change from a bigger picture perspective but with smaller timeframes we should have an answer sooner rather than later as to whether we are going to hold the white count or move for a deeper retrae for the yellow count. Both paths do ultimately point higher at least back up over the 4400 level but we do still need to hold over support to keep those paths viable.
SPX 101811 5m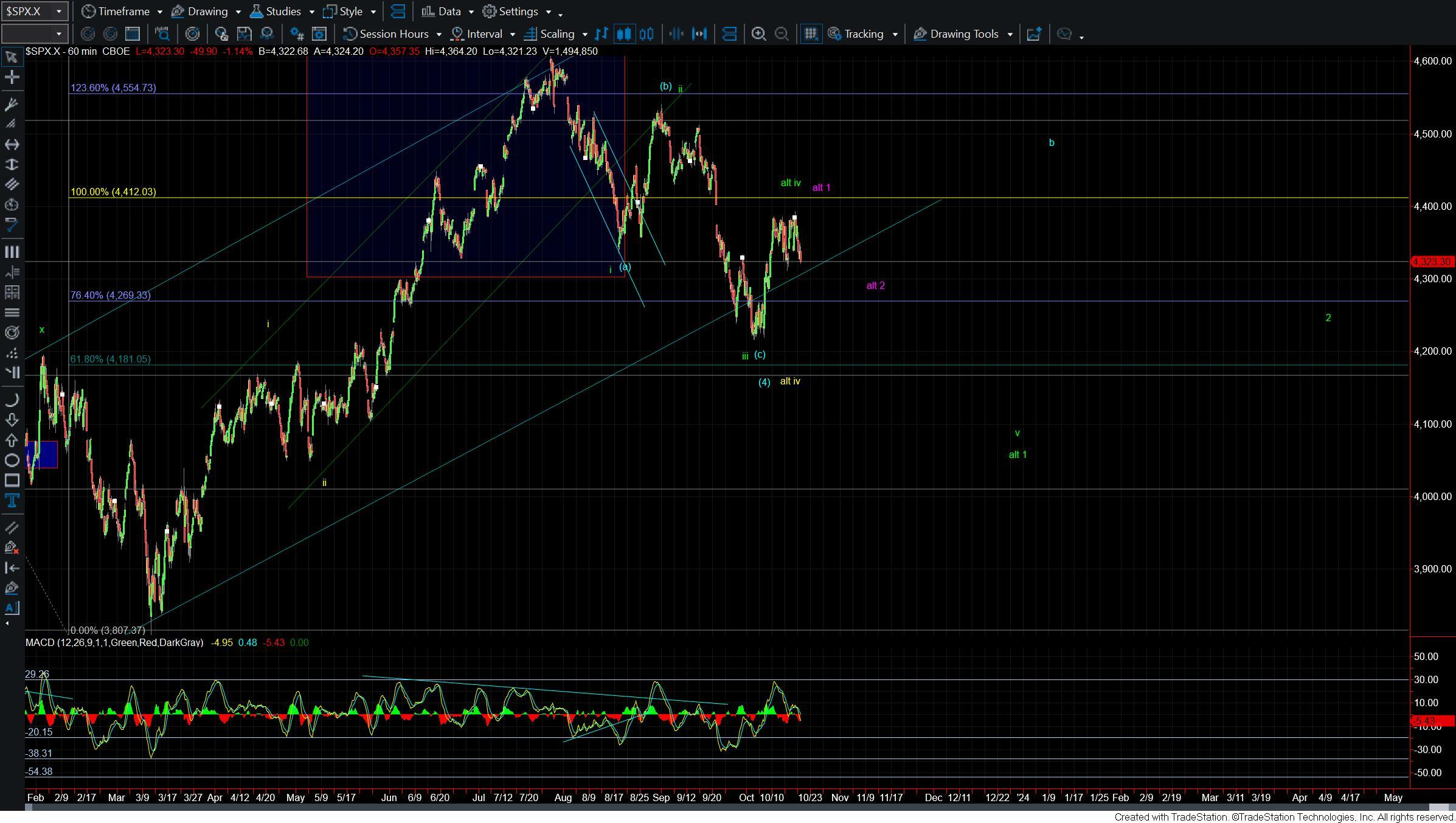 SPX 1001811 60m