While we expected downside into today, the market has now dropped a bit deeper than I would prefer under my primary micro-count that this pullback is a 4th wave in the [c] wave of the b-wave rally. So, this places us in a bit of a no-man's land situation in the smaller degree structure.
Last night, I noted that if the market should break down impulsively below 4390SPX, we would have an initial signal that the b-wave has indeed topped and that a c-wave decline to 4165SPX has indeed begun. While we have certainly broken below 4390SPX today, the decline is not anything I would call "impulsive," at least from an Elliott Wave standpoint. I just do not have a clear 5-wave structure coming off yesterday's high. Thus far, it looks quite corrective.
Unfortunately, that leaves too many possibilities on the table in this micro region. It is still possible that this is a 4th wave, as the [c] wave may morph into an ending diagonal and still rally this week to hit the 4440SPX region. But, clearly, I have no confidence in that potential, so it is nothing I would trade myself.
And, since the downside thus far is rather corrective, it has opened the door to the yellow count. While I would still expect further downside in the yellow count, as this is not really deep enough just yet for a b-wave, it certainly has begun to raise the probabilities that the yellow count can still take us to the 4550-4600SPX region later this summer. Should we drop below 4350SPX, and then break back over the high we struck this week, then I would make what is now my yellow count my primary count.
I have also added a support box for a b-wave retracement in the yellow count on the 5-minute SPX chart. And, if we break below 4350SPX, I am going to watch the structure of any rally off that support. Any rally that begins off that support which is CLEARLY impulsive and 5-waves will give me a strong warning that we are about to move into the yellow count. Remember, c-waves are generally impulsive structures. So, if I see any impulsive structures off that support after we break below 4350SPX then I will note that the yellow count has risen significantly in probability.
As I also mentioned over the weekend, it is entirely possible a larger c-wave to 4165SPX may also be in progress as an ending diagonal, which also takes shape as a corrective looking structure. But, again, when dealing with corrective looking structures, there is no way we can view that as a high probability at this time.
For all the foregoing reasons, I view us as somewhat residing within no-man's land within the micro structure. Clearly, if the market can still rally up towards the 4440SPX region this week, it would clear things up a bit, and allow me to consider us as still completing the [c] wave of the b-wave. But, again, we still MUST see a CLEAR 5-wave decline before I can aggressively position for a decline to 4165SPX.
Ultimately, as I say all the time, this is a bull market and it must be respected at all times. Therefore, unless I get a solid set up, I am not apt to aggressively short within a bull market. So, at this time, I have no strong set up to trade downside within a bull market, and will use any further declines as an opportunity to deploy the cash I raised, especially as we get closer to the 4165SPX region should that be the market's plan in the next few weeks.
For now, I am going to remain a bullish spectator for as long as the we remain in this region. As soon as I see further clues regarding the micro structure in this region, I will be sure to update you. But, for now, I am trying to outline the lay of the land as I see it so you can all understand my thinking at this juncture.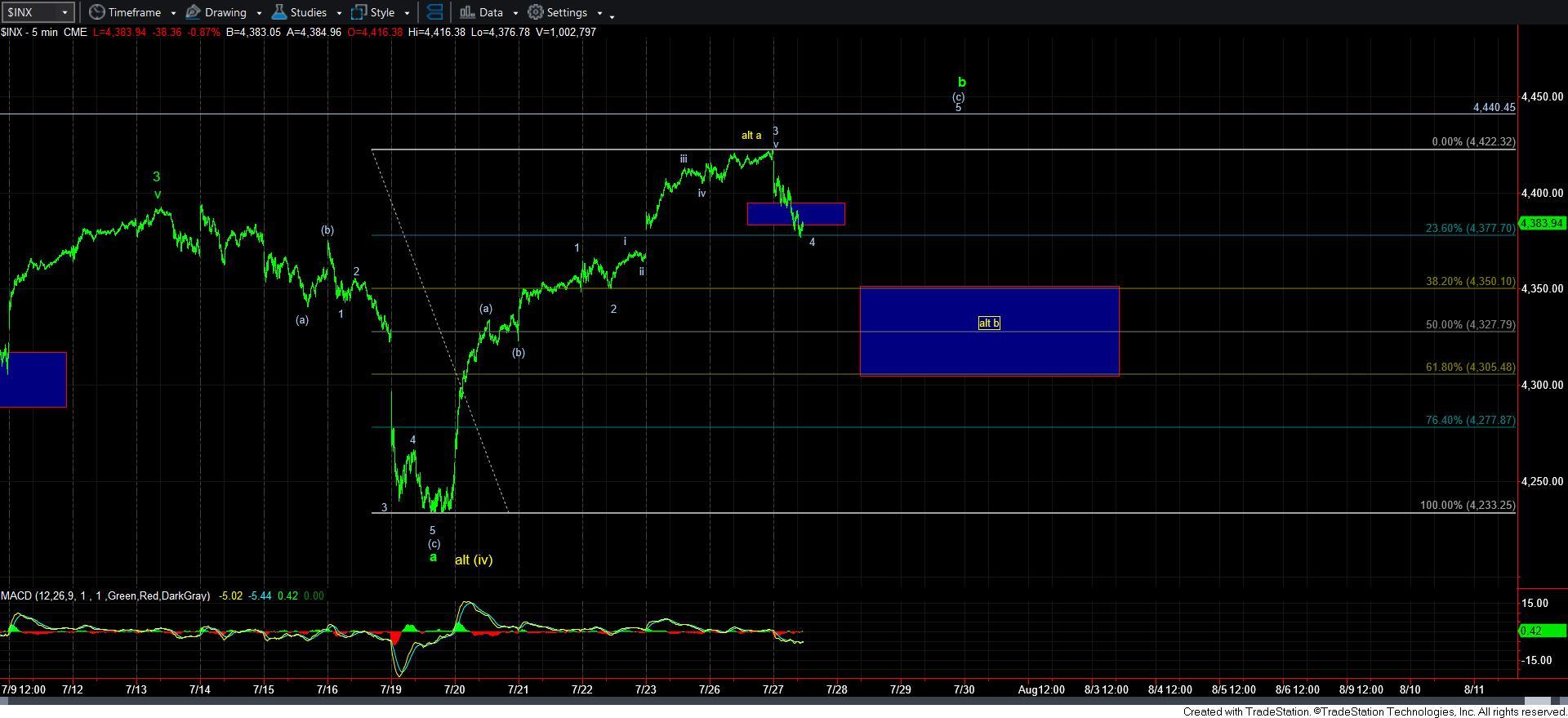 5minSPX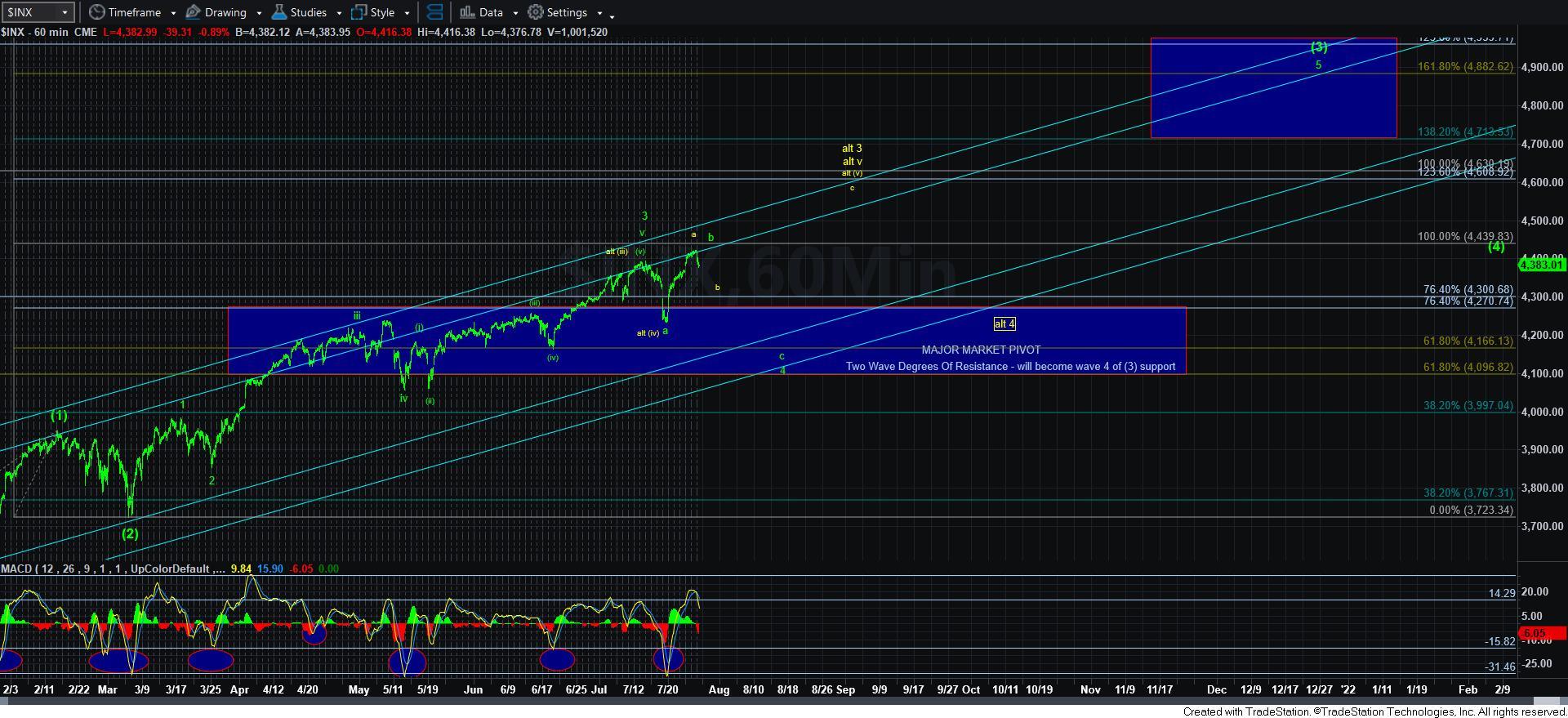 60minSPX