With the overnight action not providing any follow through for even a potential 5 wave decline off the recent high, the structure to the downside has presented as corrective thus far. This now suggests that the yellow count potential has lost even greater probability in my humble opinion. Therefore, I am now viewing our support for this bull market as likely holding the very shallow wave [ii] we have struck.
Moreover, I am also moving up the floor of support for the current rally to the 3335-3400SPX region, as you can see from both chart attached. Therefore, as long as the SPX rally is now capped within the 3595-3615SPX resistance box presented on the 5-minute chart, I am viewing today's rally as the continuation of the [b] wave, with a [c] wave decline likely to follow to test the support box on the 5-minute SPX chart.
But, I want to remind you again that we are now likely setting up for the heart of the 3rd wave rally and pullbacks are buying opportunities, not shorting opportunities. The only bearish indication I would even consider at this point would be a break of the 3335SPX support box, which would open the door to the yellow count again. But, the potential for that has been significantly diminished due to the corrective decline we have seen over the last two days.
So, allow me to put my analysis in as simple terms as I possibly can. It has become much more likely now that wave [ii] has completed, and as long as the next pullback holds the 3335-3400SPX region, that will set us up to begin the heart of the 3rd wave rally.
Therefore, as long as we hold over the new floor in the market between 3335-3400SPX, I am expecting a rally to begin in the coming weeks which will be pointing us to the 4000-4100SPX region. Based upon the structure with which the market takes us there, we can then re-assess whether the blue count will be applicable, or if the market will be heading directly to the 4600SPX region in wave [3] of [iii].
And, again, I want to stress that the only thing that would put any near-term bearish spin on this market (yellow count) is a break of the 3335SPX region in impulsive fashion. But, as it stands right now, I am not seeing anything suggesting that potential.
Lastly, for those that still have money to deploy, the StockWaves analysts have been posting quite a number of stocks that are hitting their 2nd wave retracement targets or just starting the rally off those targets. There is still plenty of opportunity for buying as this rally is only just likely starting, and will take us throughout most of 2021, quite similar to what we experienced in 2017.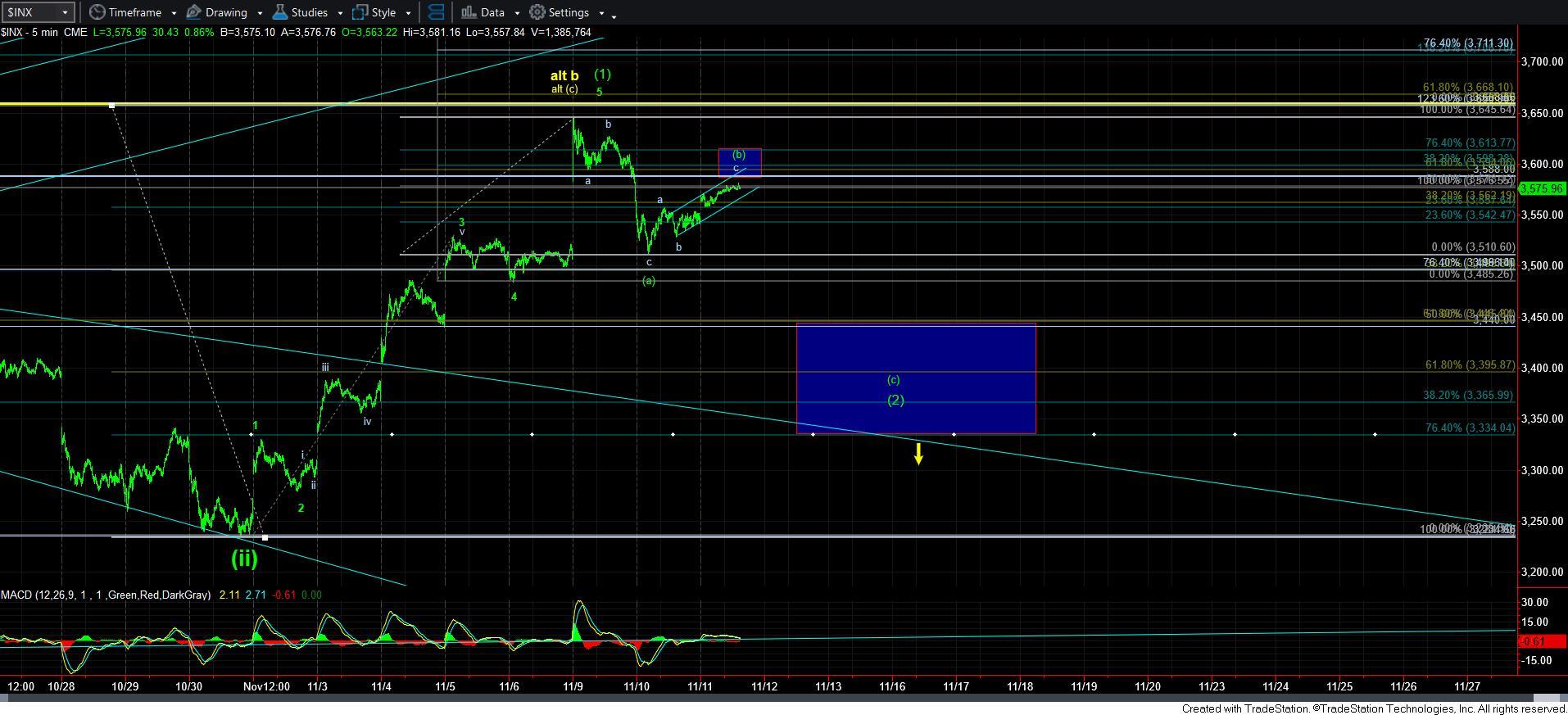 5minSPX
60minSPX