More Whipsaw Coming - Market Analysis for Sep 8th, 2015
With the market breaking over 1933SPX, it opened the door to the 1983SPX region, as we discussed many times in the Trading Room last week. However, an equally compelling perspective is the b-wave triangle, which would have the (c) wave of that triangle topping today.
The dividing line between these two potential is the 1945-50SPX support region. A break down below that support before we are able to attain the 1980SPX region suggests that we have topped in the (c) wave of this b-wave triangle, and are heading back towards the 1915-1920SPX region to complete the (d) wave.
However, as long as the market can consolidate tomorrow over that zone, then I am going to expect that we are going to head up to the 1980SPX region to complete the (c) wave of the b-wave, which then sets us up to head back down towards the 1895SPX zone. The only caveat is that we should not break out over the 1993SPX level, which makes for a good natural stop if we head up to the 1980's.
But, I want to reiterate that, even though we had a very strong rally today, nothing has changed my perspective of us heading to lower lows. Remember, the strongest rallies often occur during corrective market phases.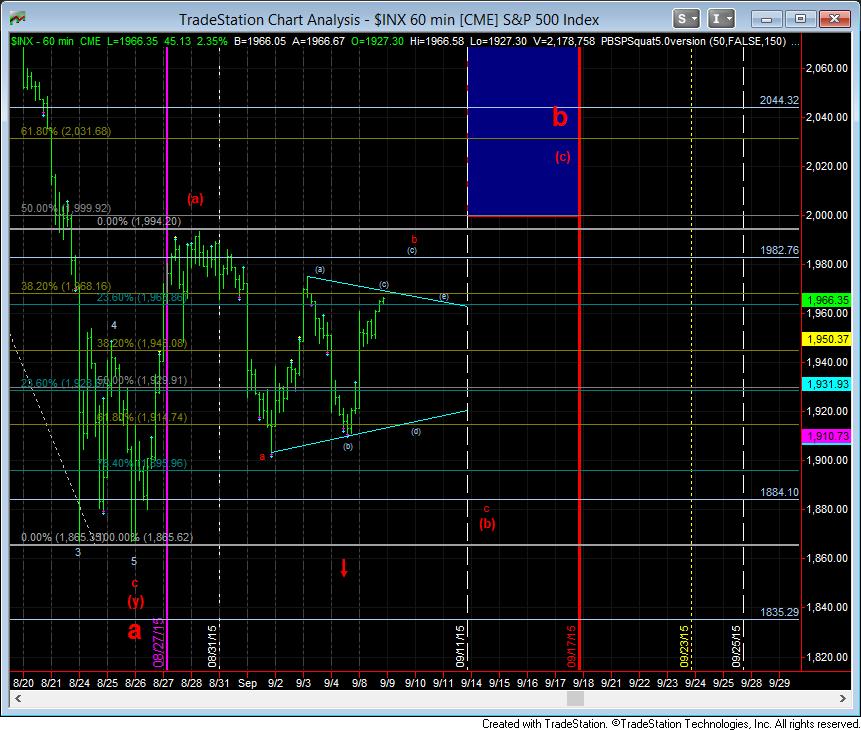 1turnchart