More Complex, But Still Bullish
Clearly, I did not want to see the market break below the micro support noted over the weekend at 2284SPX. And, when it followed through below 2280SPX, we ultimately invalidated the immediate standard impulsive structure pointing to 2350SPX.
So, while the standard impulsive micro structure invalidated, the larger bullish perspective has not. Yet, it has now certainly made this region much more complex than it was before.
The issue with where we now reside in the SPX is that it can be counted as part of an ending diagonal still pointing over 2320SPX to complete wave v of (3). And, as you know, I am not a fan of relying on diagonals for trading cues. Moreover, there is an equal potential in my mind that we could be in an expanded flat for the yellow wave 4, which I noted over the weekend becomes a strong possibility if we break 2280SPX. While I would not normally accept such an expanded flat with equal probability in my mind as the ending diagonal (which I never like to trade either), the expanded flat would coincide better with the pattern we have been tracking in the IWM.
So, with both these patterns having strong support, but neither having clear cues, I noted earlier today that I will be maintaining my longer-term long exposure, but I have no solid trade right now to which I can point with any high probability. Both potentials have equal probability in my mind at this time.
Ultimately, the larger picture in the market is still quite bullish, and nothing has changed my overall expectations that we are likely going much higher in 2017. However, the current break of the immediate standard impulsive count has placed questions as to the immediate path of how we get there. And, it also suggests that we can see a lot of movement within the 100 point range between 2230-2330SPX over the coming month or more in a series of 4's and 5's.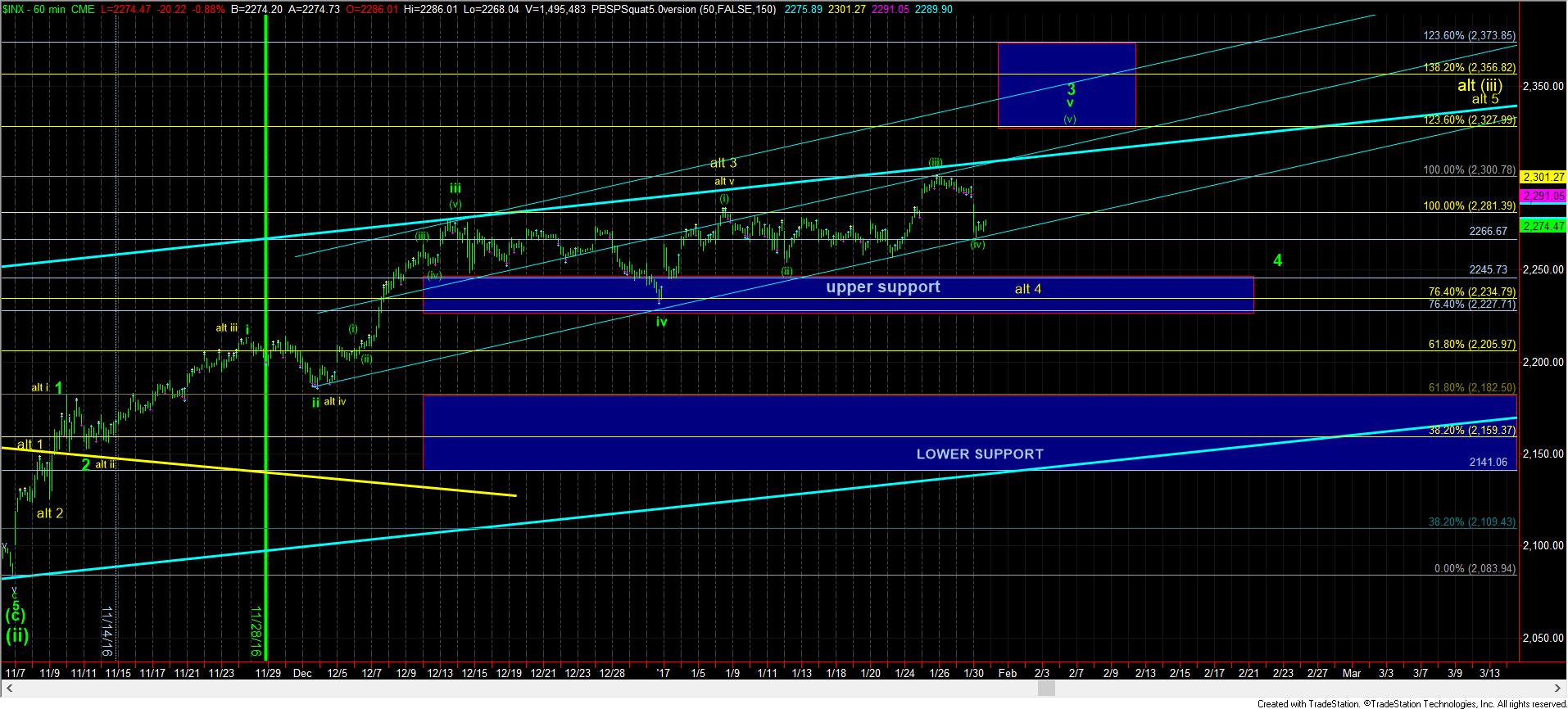 1turnchart