Micro Messy - Market Analysis for Jun 7th, 2021
Well, coming into this week we knew this was going to be difficult, and the market is certainly not giving us any positive surprises.
With the action we have seen in the futures, there are a few ways to interpret the price structure. I will start with my preference.
With the 4214/15ES region being the .382 retracement of what I would be counting as wave iii of the [c] wave of the a-wave of wave [iii], that is the support upon which I am focusing for this primary count. And, as long as we hold this support – which is where we currently reside as I am writing this update – then I would expect another rally higher towards the resistance noted on the 5-minute ES chart attached below. And, this would then complete the a-wave of wave [iii]. Thereafter, I would expect a b-wave pullback.
However, due to all the 3-wave structures, there are multiple other reasonable possibilities. This a-b-c consolidation structure in the ES futures can also be all of the b-wave we see. While it is very shallow and does not count well as such in the SPX cash index, it is still well within reason.
Another potential is that we have only begun the b-wave, and a sustained break of 4214ES would make that a bit more likely. And, lastly, we still have the bigger alt [ii] in blue hanging around for now.
In very simple terms, as long as we hold the 4214/15ES micro support, I can reasonably look higher over the coming days. However, a sustained break of that support would suggest that the b-wave will take us lower to test our support presented on the ES chart, with the bottom of support being 4190ES. And, clearly, below 4190ES support the probabilities begin to increase for the blue alt [ii].
Unfortunately, the structure with which we are now dealing will not make this terribly easy, and we are experiencing some of that complexity today. So, we will have to take this one step at a time, and one support level and target at a time, as we should be making our way higher this month to complete wave v of 3 in the larger degree structure in the SPX.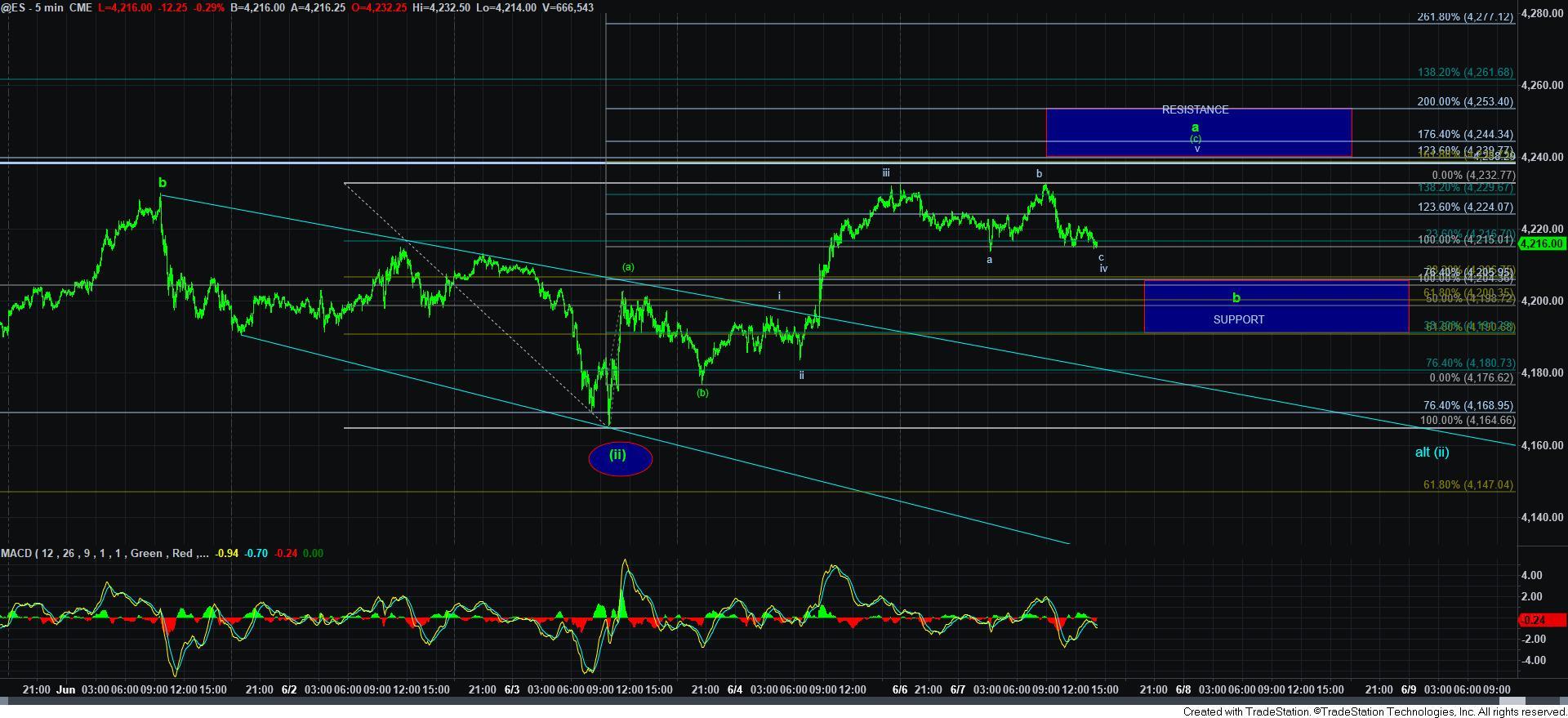 5minES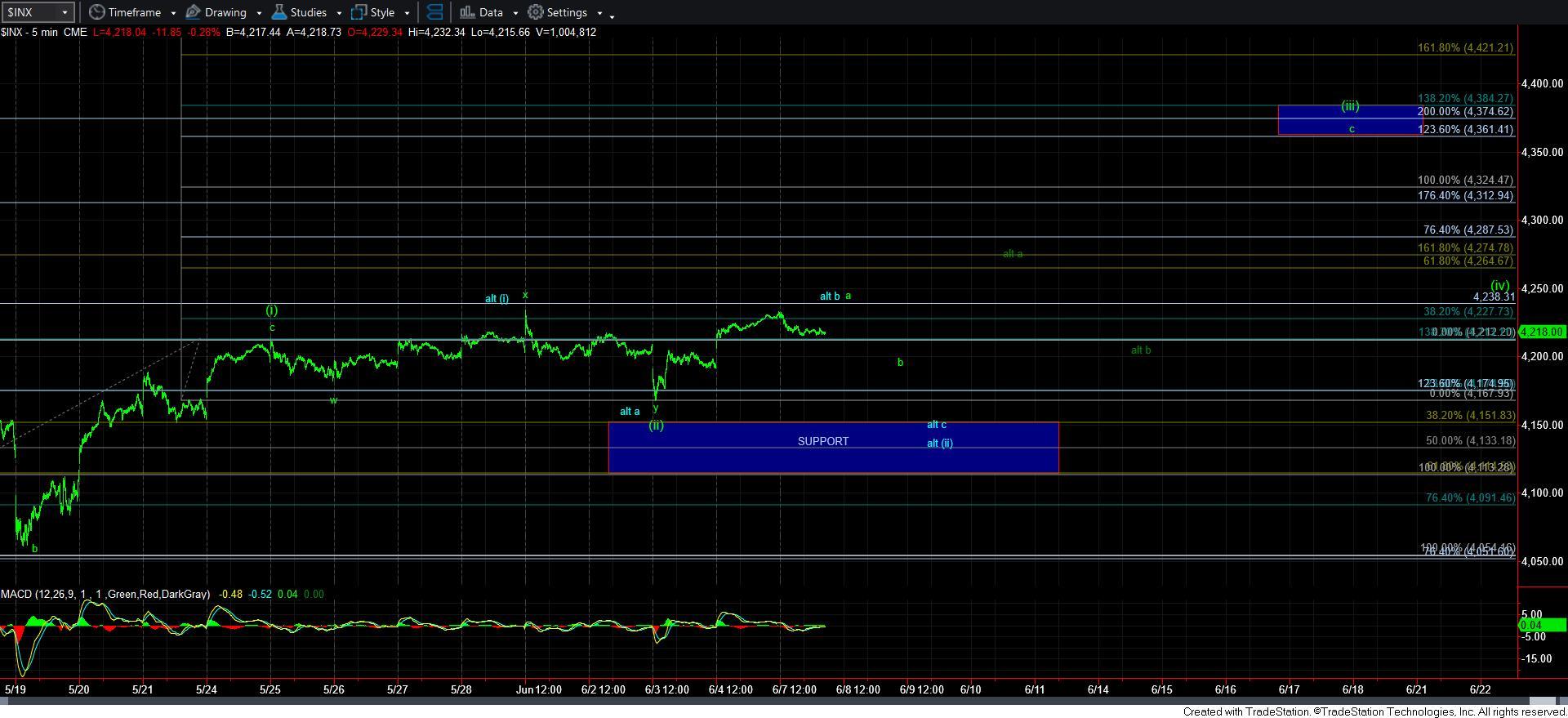 5minSPX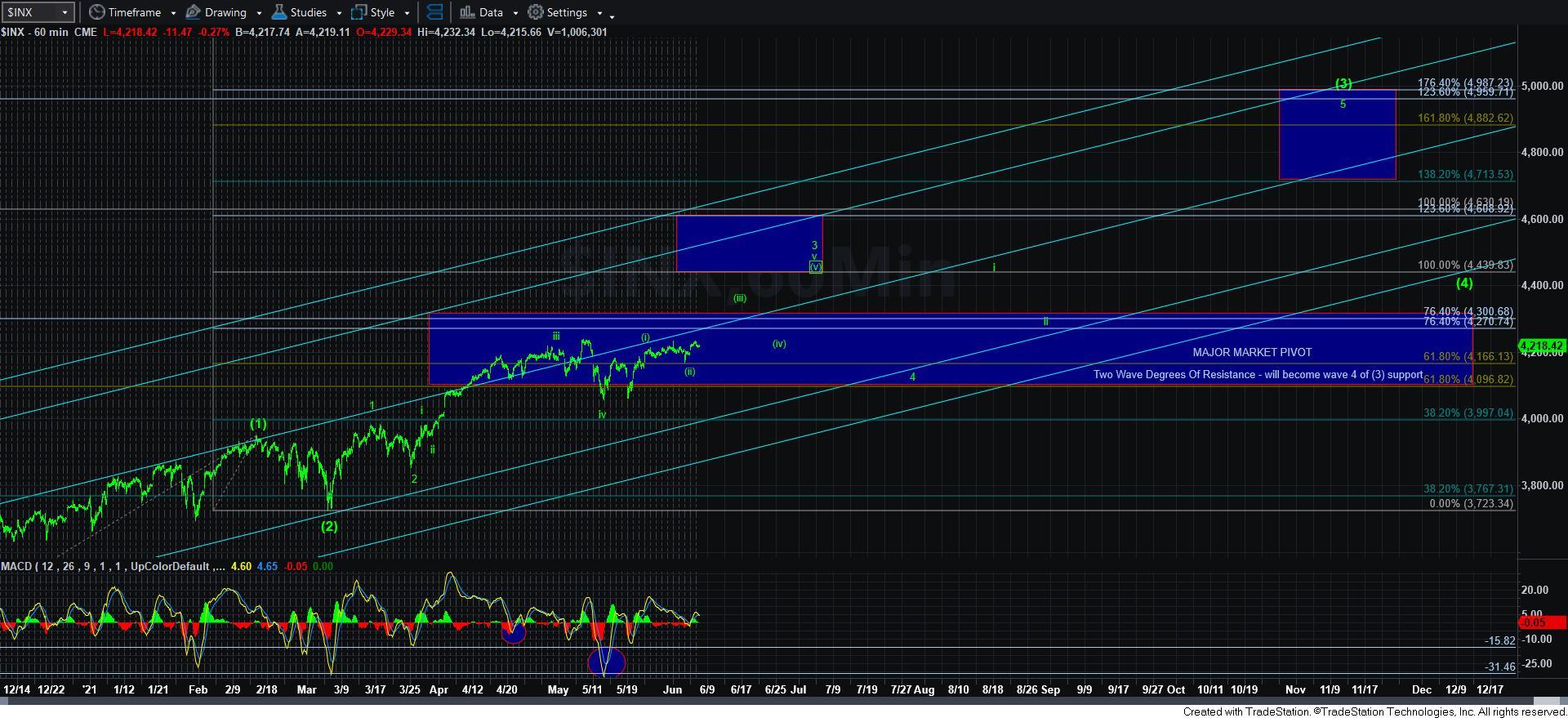 60minSPX