The reason I am sending this update out early is because of the failed break out today. And, it has added more complication to an already complicated structure.
Today's higher high has made the rally off yesterday's low look like a 5-wave structure. And, with a 5-wave structure off the lows, we have to consider whether that 5-waves is an a-wave within the [a], with the current decline being a b-wave, or it could be a 5-wave c-wave in a larger 4th wave in the c-wave down off the 4325 high, as shown in purple.
And, at this time, I cannot say that there is a high probability manner in which to view it, as long as we remain below today's high. Clearly, breaking back over today's high should solidify the [a] wave count. And with the 3930SPX region being the region where we would see an a=c structure for the [a] wave, it would suggest that a break down below 3930SPX could open the door to drop another 70-100 points before this decline off the 4325SPX high completes.
I warned that the action in a corrective structure would be very difficult, and it does not look like it is going to get much easier. We are in a jello regime, and we will not likely be coming out of it for a few more weeks. And, for those of you that are new, I refer to trying to identify the exact path of a corrective structure as being akin to attempting to throw jello for distance. Corrective structures are just terribly variable.
In the meantime, I am using the 3930SPX region as our support, and today's high as our resistance. Over today's high, we have the 4050SPX region to contend with next. Below 3930, and the door opens to the 3830-60SPX region.
Lastly, if we do get down to that lower region, then I may have to reconsider the bullish count in green because this would then be a bit large to be a wave iv. As I have mentioned on my live video, I would likely have to then adjust our bullish green count to wave [1] having topped at the 4325SPX region with that lower low being the potential wave [2] in a very larger ending diagonal pointing us to 5150SPX. But, I STILL would need a new high over 4325SPX to make that a higher probability. I will discuss the ramifications of this potential further if we wind up getting that lower low tomorrow.
5minSPX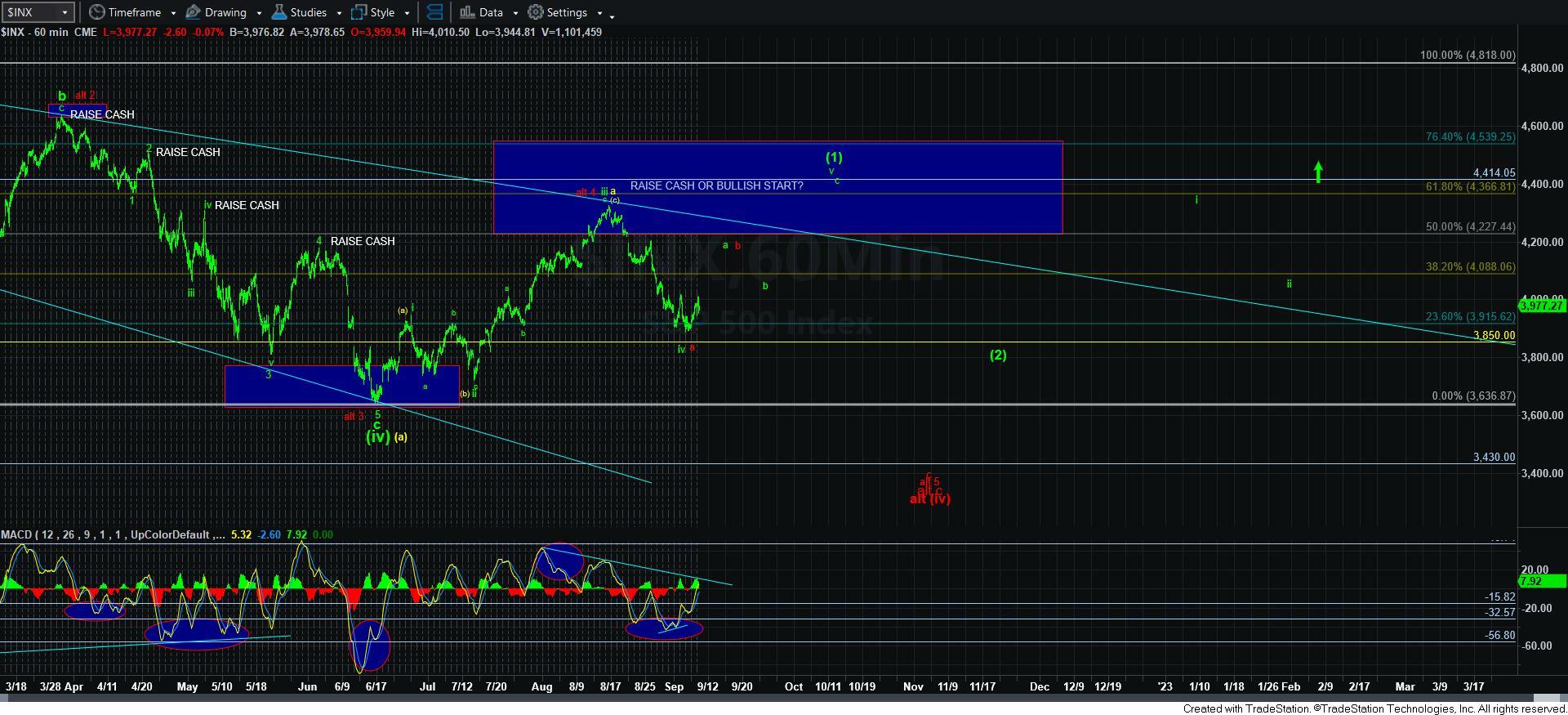 60minSPX