Market Meanders So Still No Confirmation Of A Local Top
Today we saw the market down at the open and testing the lows that were struck last week giving us a very early signal that we may have put in a top in the green wave d as part of the larger triangle. Rather than seeing further follow-through to the downside we have however pushed back higher this afternoon and is now trading almost flat.
Bigger picture this is leaving us in a very similar spot as we were at the open and other is not too much to add to the weekend update in that regard. We are still watching the green primary count suggesting that we are topping topping in a larger triangle and the blue court which is suggestive that we are in the midst of a wave 3 of (c) of larger wave b up.
Drilling down to the smaller timeframes we do look to have three waves up off of the lows that were struck at 4068SPX. That puts overhead resistance in the 4101-4127 zone for a possible wave b retrace as part of a larger corrective move to the downside for the wave e of the triangle. As long as we hold under that zone then I expect at least a wave c of larger wave (a) down to come that should target the 4048-4025 zone which is the next key support below that I would want to see break to signal that we are indeed in the green wave e down.
If we are unable to break hold under the 4127 level but rather break over that level followed by a break over the 4152 level then it makes it more likely that we are following the blue count. For now however and as long as we hold under resistance my base case will remain that we will see the larger pullback as part of the green count before breaking higher once again.
As noted above with today's action there is not too much to add to the analysis that was posted over the weekend but we do have some parameters that we can watch on the smaller timeframes to help give us some clues on the shorter duration charts. Until we break those levels however I still will keep both paths on the chart for the time being.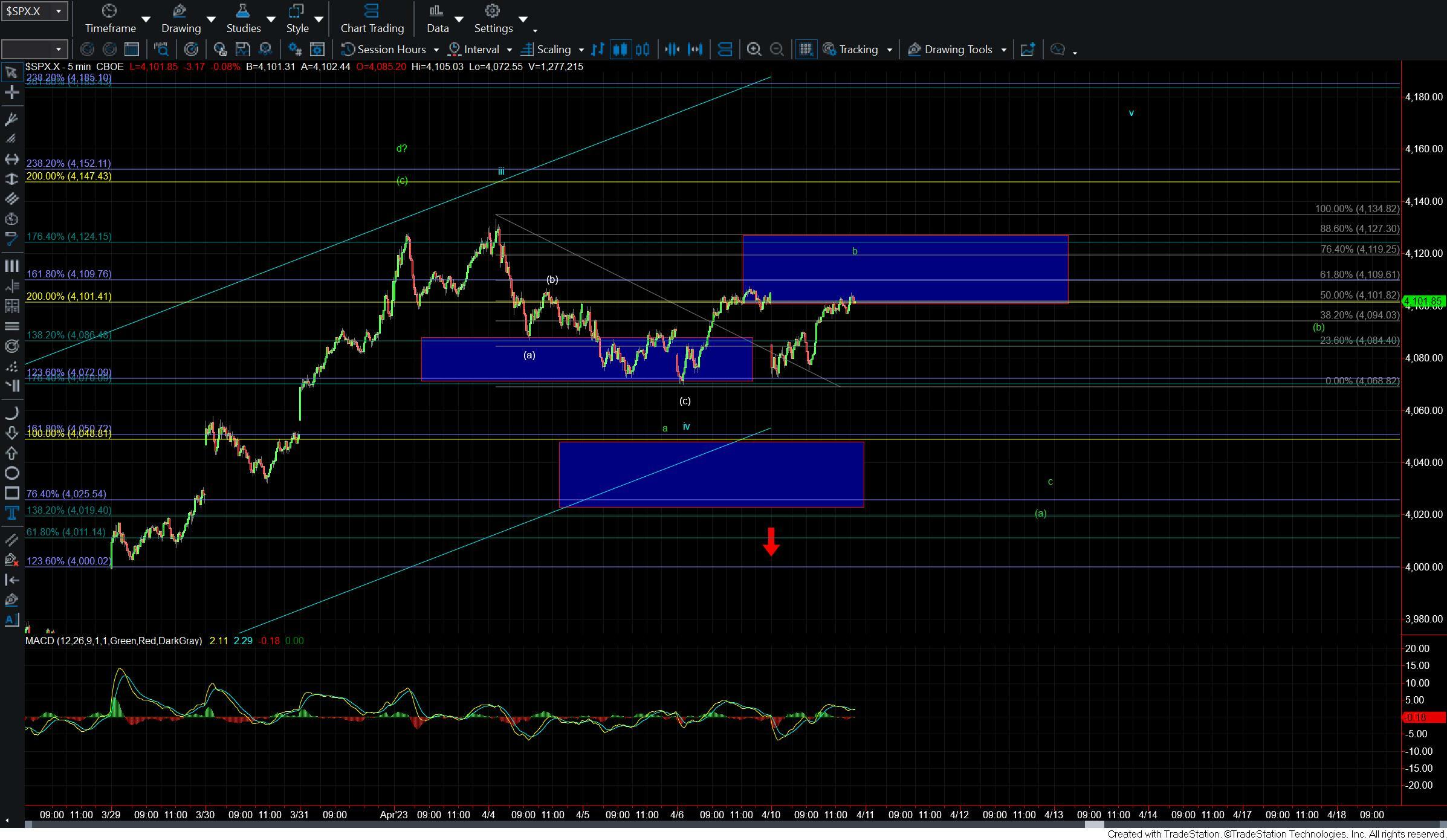 SPX 5m
SPX 60m