Market Is Probing Resistance
Over the last two days, the market has been pressing resistance many times, and has given us no indications yet that it has any intention on rolling over.
For this reason, I think I need to prepare you for either eventuality within this inflection region.
As you know from reading my analysis over the last week or so, we are now in our resistance region between 2507-2510. And as long as we do not see a strong break out through 2511SPX, we have a set up to test the 2480-90SPX region, which, if broken, points us down to the 2400SPX region. We have discussed this potential ad nauseum, so you should be very familiar with the parameters of this scenario. And, so far, the market has turned down each time it has struck the resistance region.
However, since we have no immediate set up pointing to a break down below 2480SPX support, I want to at least prepare you for what the upside can look like if we see a break out.
Overhead, we have 2511 and 2519SPX as resistance. Through this region would target the 2530SPX region in wave (iii) of iii, as I am now showing on the daily chart. From this point, the market should pullback in wave (iv) of iii towards the break out point of 2500SPX.
Once we move strongly through 2519SPX, any break down below 2498SPX, which then follows through below 2487SPX suggests we have a false break out. In other words, should we break out through 2519SPX, the market should retain support over 2498SPX at all times and continue to subdivide higher to the 2575SPX region to complete wave (3). This also means that a break out through 2519SPX can have you buy the pullback to the 2500SPX region to ride wave (v) of iii up towards the 2550-2555SPX region.
I want to add that, should we see a break out in an extended wave (3) towards 2600SPX sooner rather than later, it does open the market up to potentially targeting the 2800SPX into late 2018 or early 2019, of course, after wave (4) pulls back later this year, or even into early 2018. So, extending wave (3) now will make it more likely we can head even higher in wave (5) of 3.
So, as the market tests this inflection point, we should have some resolution this week, as I noted over the weekend.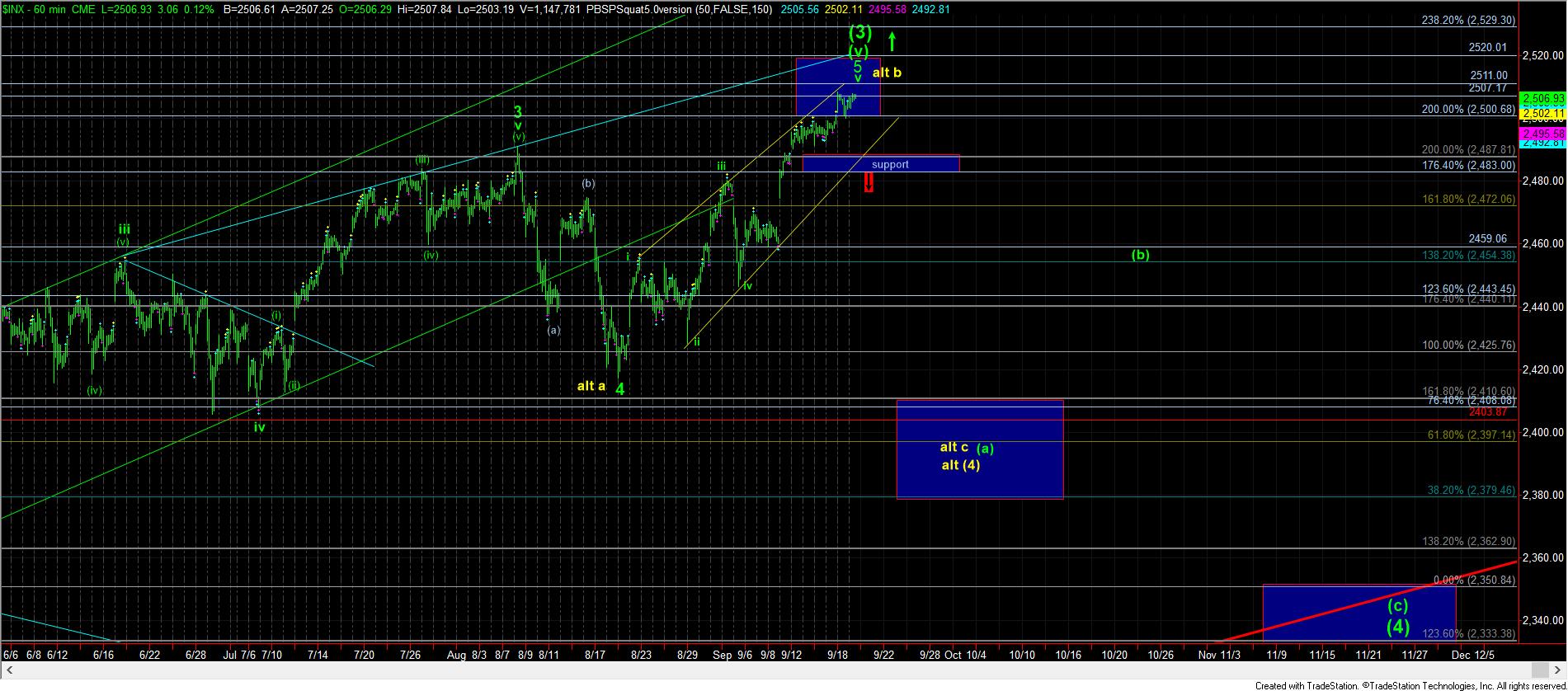 1-60minuteSPX
1SPXdaily