Market Decision Has Been Slow In Coming
While we have had several opportunities for the market to make a decision regarding its near term direction, it has continued to present us with another twist or turn in order for it to avoid making a decision this week.
I know I must sound like a broken record when I say this over and over, but knowing the market is potentially in a corrective structure tells us to use caution until the market provides clearer indications as to its next larger move. And, the more of the waves that fill in, the more we can narrow down the possibilities so that we are left with the higher probability potentials. So, I will present to you what the market is presenting to me this afternoon.
Until today, I have really questioned the ability of the SPX to take us to the 3400SPX region in blue wave [5]. I was simply unable to see a strong set up that is pointing us there. Well, that is, until today. While I alluded to it yesterday, I am now presenting this as a potential count in blue on the 5-minute SPX chart. Also, I cannot say that the ES chart is anywhere near as clear or clean a potential, but since cash is king, I have focus on this potential if it fills in over the coming days. Allow me to explain.
In the cash SPX chart, we can clearly make out 5-waves up off this week's low, and we have a nice Fibonacci Pinball structure for that 5-wave rally as well. I am counting that as wave [i] of 3 in the blue count, and I can maintain this potential for as long as we hold below 3150SPX. Should we see a corrective decline in the coming days for a wave [ii], we would have a set up pointing us up towards the 3400SPX region to complete blue wave [5] of the larger degree wave [i] off the March low.
Moreover, based upon the calculations I have done in trying to identify points of confluence for such a rally, it would seem that wave [ii] should be a deep retracement, potentially down towards the 3030SPX region. And, since this pattern would invalidate with a break down below this week's low, an a-b-c corrective retrace down into that region may present us with a long opportunity. However, by no means do I consider this a low risk opportunity other than the fact that the invalidation point may be rather close to the entry point if it plays out as I think it may.
That brings me to my next point. If the market does not stop in the 3150SPX region, and continues higher towards the 3180+ region, then it is clear to me that we are likely completing a [b] wave, as presented in green, and I think we will again drop from that region towards at least the 2900SPX region, with an ideal target still in the 2835SPX region. In addition to this potential for the [b] wave, I am also considering the potential for a [b] wave triangle to keep us range bound for the next week or two within the green triangle boundaries noted on the 60-minute chart.
So, in summary, we actually have two potential [b] wave patterns we are now tracking at this time. However, the triangle has much to prove for me to adopt it, but it is something that has been in the back of my mind for the last week, and I think it is now worthwhile to present the potential to maintain in the back of our minds.
And, again, if the market remains below 3150SPX, and declines in a corrective fashion, we have the potential for a 1-2, [i][ii] set up presented in blue, with an ultimate target in the 3400SPX region to complete blue wave [5] of [i] off the March lows.
But, before everyone gets nervous about any potential to break back out to the all-time highs again, I want to remind you again that even if we see that type of rally, we still would LIKELY see a larger degree wave [ii] retracement take us much lower than where we reside today before the market is set up to rally to 4000+ in the coming years. And, any break down below this week's low will suggest that we are heading down to complete the a-wave of green wave [ii] sooner rather than later. But, for now, I just do not have a strong pattern pointing to such an immediate resolution. I think the other potentials discussed above seem to be a little higher probability at this point in time.
And, while I was hopeful that the market can provide us with a decision of its near term path this week, it seems we may not get that answer until next week.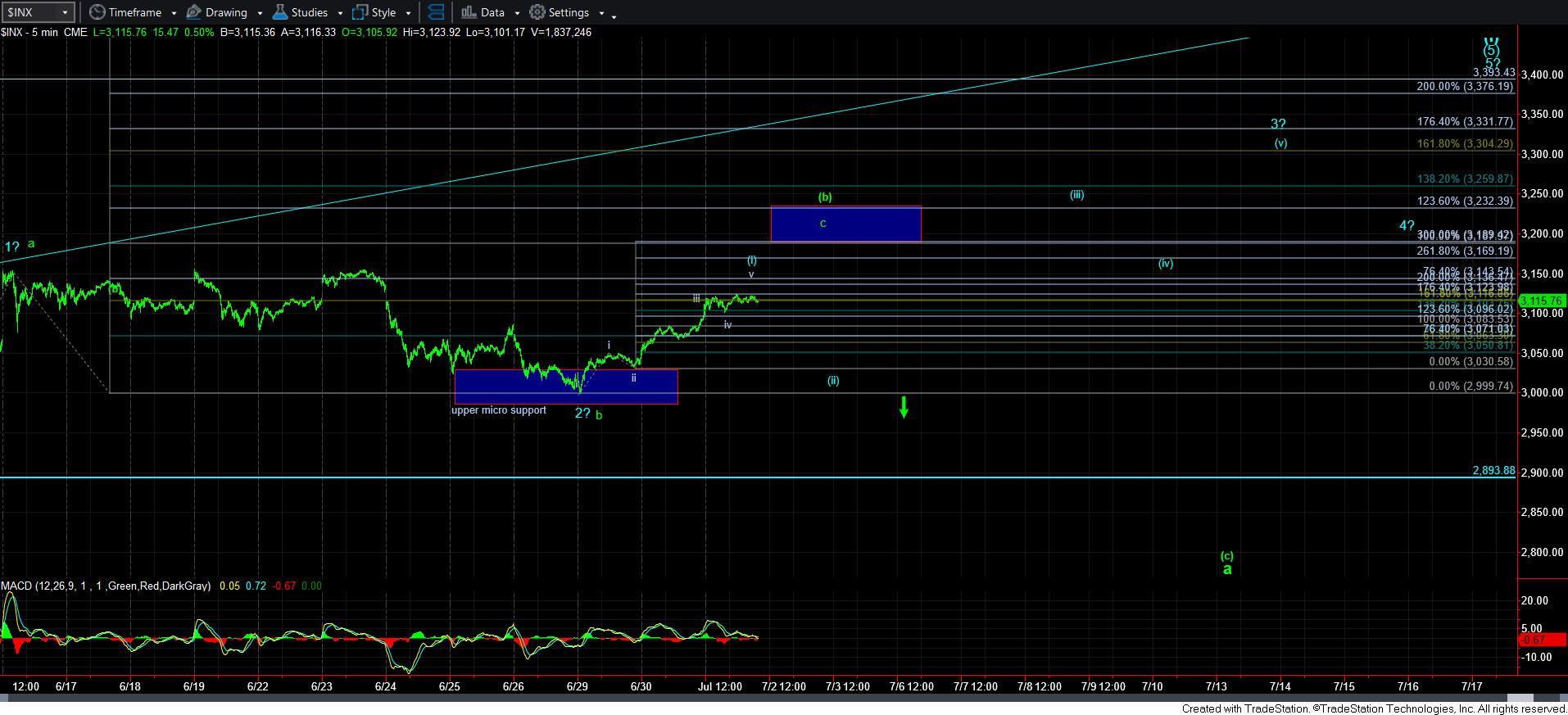 5minMicro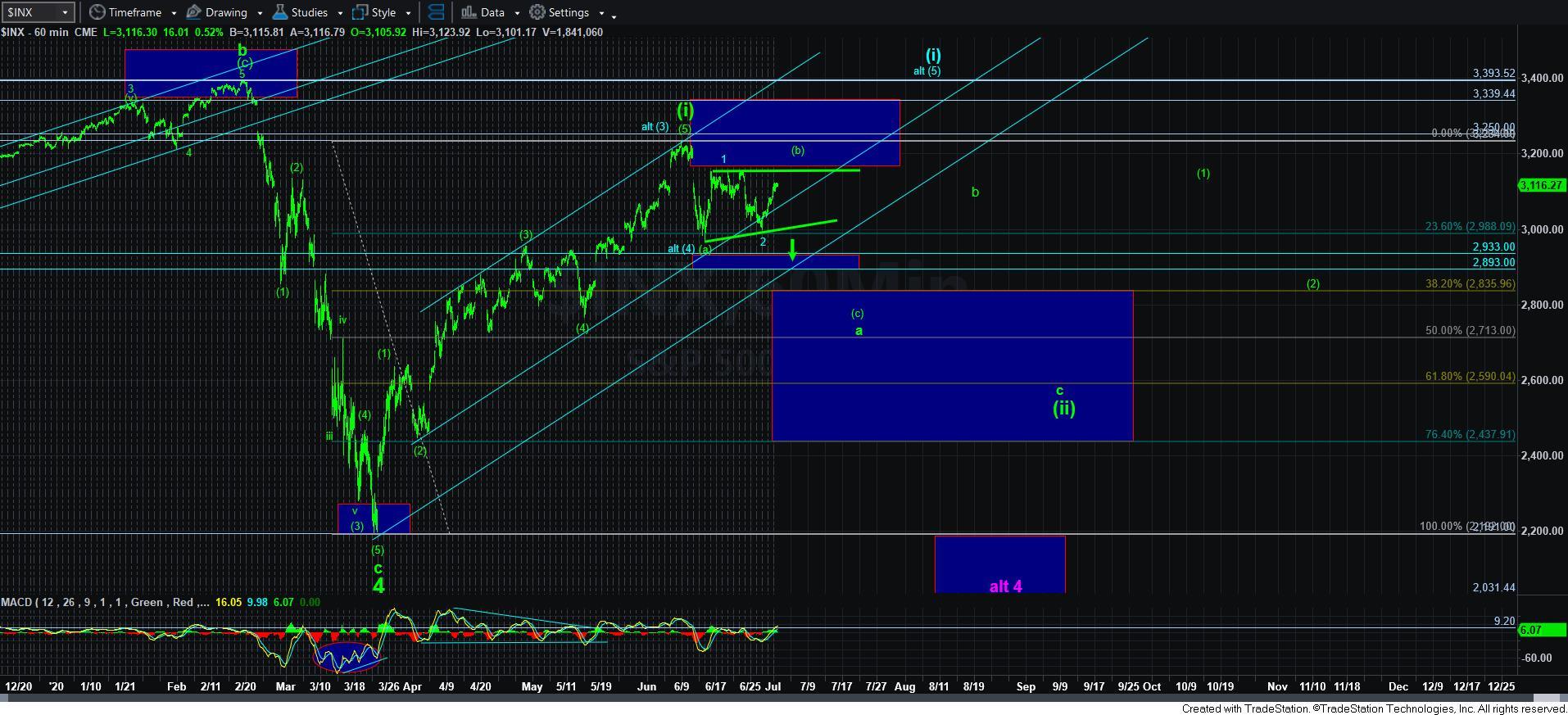 60minSPX