Market Continues Lower But Still Holding Support For Now
After moving sharply lower yesterday we continue to push lower today and trading near the lows for most of the session. We have however managed to hold over support for our potential wave (b) which is keeping the bullish path to new highs intact for the time being. As long as we can hold over that support zone another push to new highs will remain the base case as the pattern on all the major indexes does still look incomplete to the upside. Should however we begin to break down under support it would open the door for a larger top to be in place but unless and until that occurs I still will look for the higher in the near term.
Bigger picture there is no real change to what Avi had laid out yesterday and as long as we hold over 4100SPX, we are still looking towards 4300+ to complete what may be a very large b-wave which began in October of 2022. The nature of the next decline below 4100SPX will likely tell us the story for the rest of 2023, and even potentially well beyond.
On the smaller timeframes support for the wave (b) of what we are counting as the final wave 5 up comes in at the 4110-4065 zone. We are still well over the lower end of that support zone however the NQ and RTY are a lot closer to the lower end of their respective support levels so I would prefer this to hold around current levels and being the next leg up if we are indeed bottoming in the wave (b) here.
We need to see a full five up off of the lows and then a break over the 4155 level to give us an initial signal that a bottom is indeed in place and that we are heading higher in the wave (c) of 5 up. If we are unable to see a break over those levels but rather break down below the 4065 support level then it opens the door for a top to already be in place in all of the wave b.
Overall this action is not terribly unexpected however we are entering a point in which the market will have to make a decision sooner rather than later as we are nearing the lower end of support in all of the indexes. So the next couple of trading sessions is likey going to let us know if we are indeed going to see a push to new highs or if that near-term bullish setup is going to fail.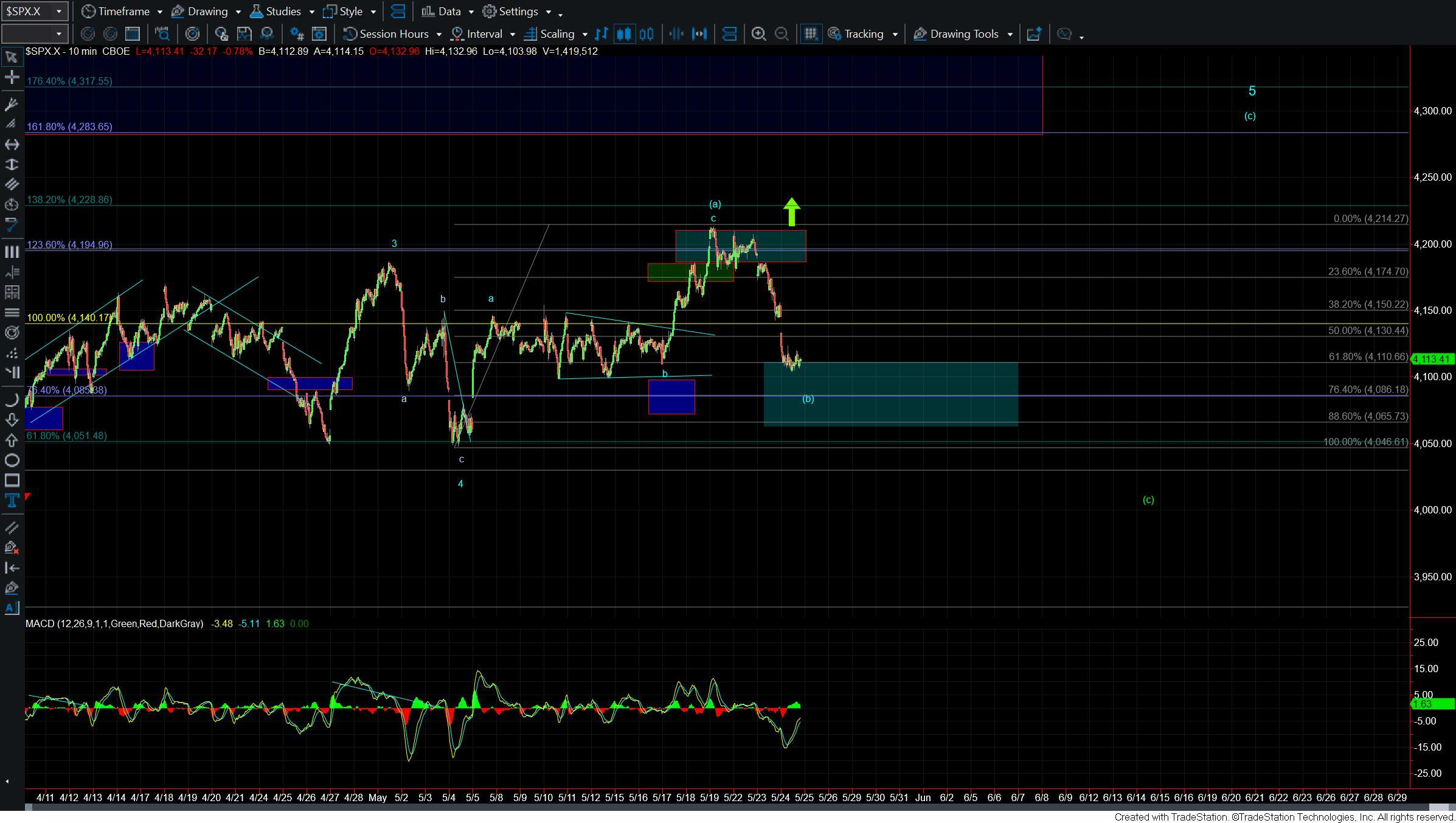 SPX 10m
SPX 60m