Market Attempting to Breakout as It Presses a Key Upside Pivot
Overnight we saw the ES push higher over the 4298 price resistance level that we had been watching for several days only to dip lower into the opening bell. This dip was however quickly bought back up and the market is now once again at new highs and is currently pressing the very key pivot level that sits at the 4317 level on the SPX.
This 4317 level represents the 76.4 extension of the wave (i) move up off of the May 12th low and into the June 15th high. Our Fib Pinball guidelines tell us that when we see the market move through this 76.4 extension level it increases the odds that the market has already entered into the heart of it's third wave thus making the odds of a pullback for a wave two of that larger third less probable. So if this can sustain the break of the 4317 level on the SPX then we simply have to continue to look higher for a move up towards the next key overhead fibs which currently sit near the 4365 level. This 4365 level represents the 100ext of that same initial move up off of the May 12th low as well as the 76.4 extension of the potential wave i of the more accelerated bullish count. So if we do indeed continue to push higher and sustain the break of the 4317 level then I will be viewing that 4365 level as key in giving us the next signal that we are indeed going to continue to push directly higher into the latter part of the summer.
Additionally, I wanted to note that as we continue to push higher here, I think it's reasonable to consider that IF we are following the alternate yellow path it's going to be less likely that we get a b wave pullback and that we are attempting to finish off all of the wave (v) of v of 1 under that case. We should, however, hold under that 4365 level under this yellow count and if we do see a sustained break over that level then we should be able to officially remove it as an alternate path from the charts. For now however and as long as we remain under that 4365 level I will leave the yellow path on the charts as an alternate path for the time being.
So while it certainly would have been preferred to have seen a larger pullback for the wave ii given that we may very well be in the heart of a third wave of multiple degrees, it is certainly not unreasonable for this to have seen a very shallow second wave pullback of this degree. From here we simply need to continue to watch our key fib pinball price levels as noted above to help guide us in what continues to be a very bullish market.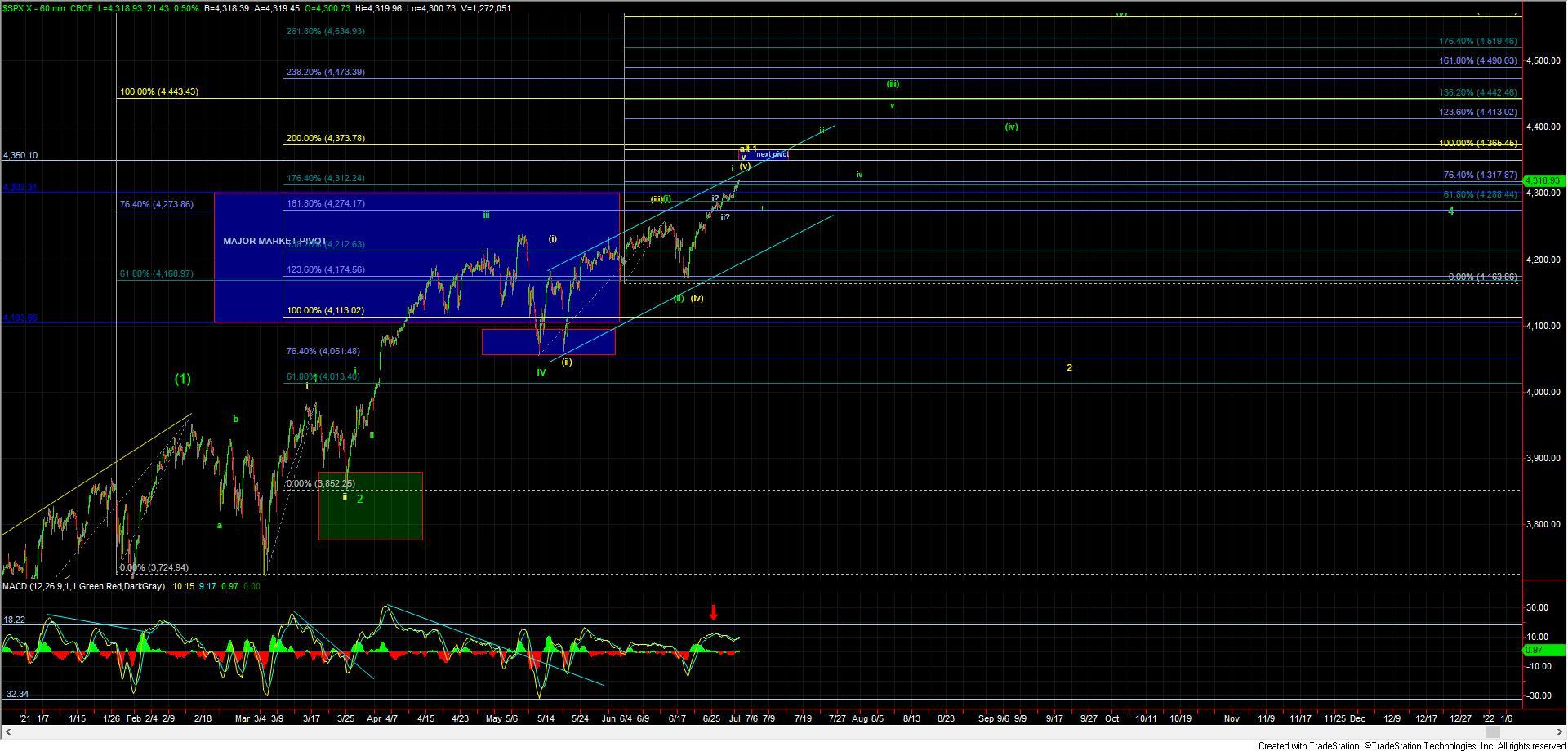 SPX 60m