Market Ain't Making It Easy
As I write this update, the market is testing the support from yesterday's low, with the IWM having broken upper support. Clearly, this is not ideal for the bulls to be able to take us to the 2875SPX region, but ending diagonals trade in very volatile ways.
Remember, I am counting this [c] wave of FOMO 5 as an ending diagonal, which means that a 4th wave within that ending diagonal can be quite deep, and much more deep than standard 4th waves.
In utilizing the internal structure I am seeing right now on the SPX, I have to slightly adjust my support from 2750 to 2745SPX. You see, 2745SPX would provide us with an a=c level off the high we struck this week, which would make it the last real area of support I can view as a 4th wave in this FOMO count pointing to 2875SPX. And, while my preference remains to see a 5th wave in this FOMO count take us to the 2875SPX region, I want to repeat that trading for it comes with significantly increased risks.
Moreover, I have also added an alternative count on the 5-minute chart, which outlines how I would like to see a 5-wave structure take us down off the recent highs. Should the market break down below support, the alternative count outlines how it can take us down towards the 2640SPX region to complete wave 1 of the big c-wave down to the 2100-2200 region (but wave [iii] will likely be a bit more extended than shown here). Remember that c-waves are most often standard impulsive structures, and that a 5-wave pattern down to the 2640SPX region would suggest that we would have a wave 1 in the c-wave completed, and should be looking to short a corrective wave 2 rally.
So, as the market has provided us more information today, and we can adjust our plans accordingly, it has now provided us with two reasonable paths in the coming days, with my preference still remaining the purple FOMO count higher, but it is not something I would strongly suggest trading due to the significantly elevated risks.
And, should the market break down instead, I want to see a full 5 waves down completed to confirm my expectations to set up the drop to the 2100-2200SPX region in the coming months. Otherwise, I may have to take the yellow count a bit more seriously.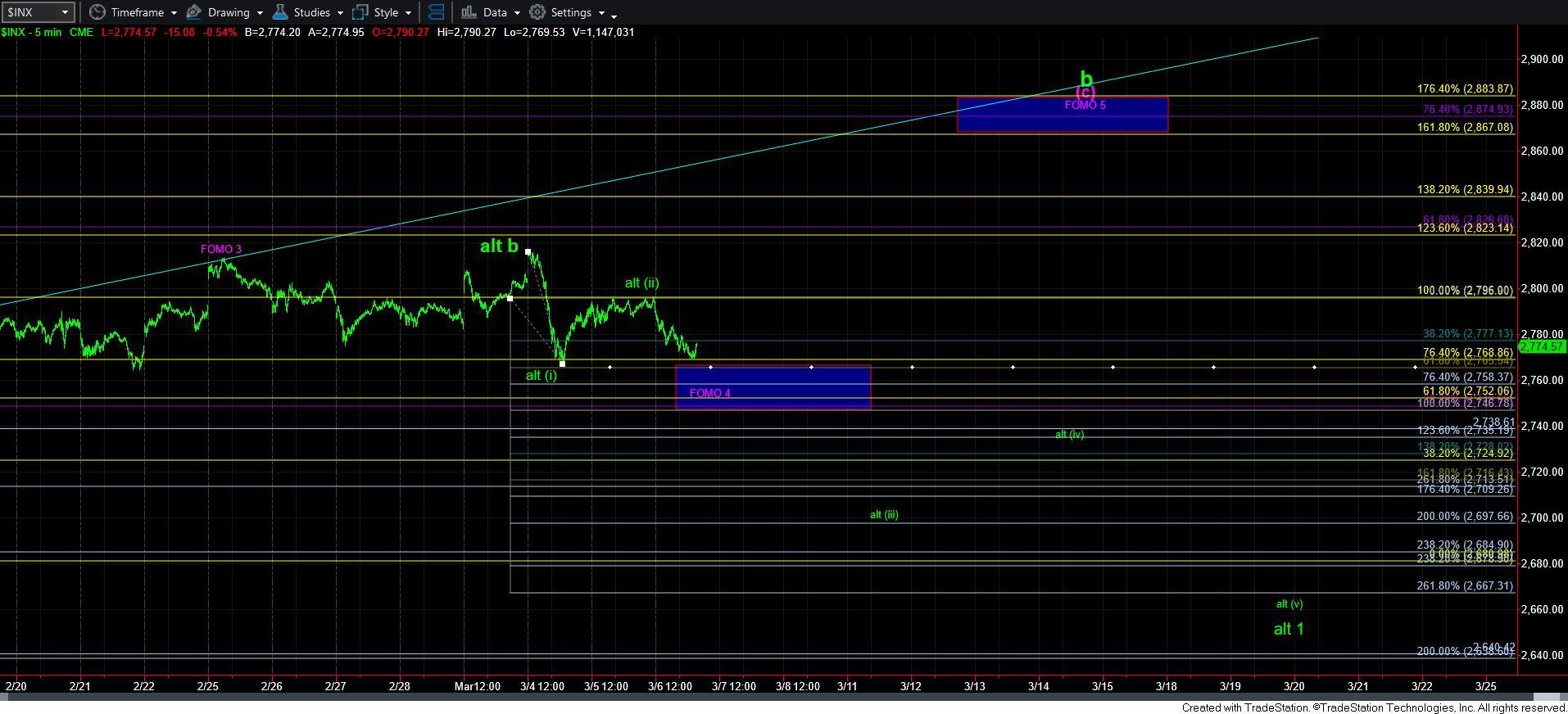 5minSPX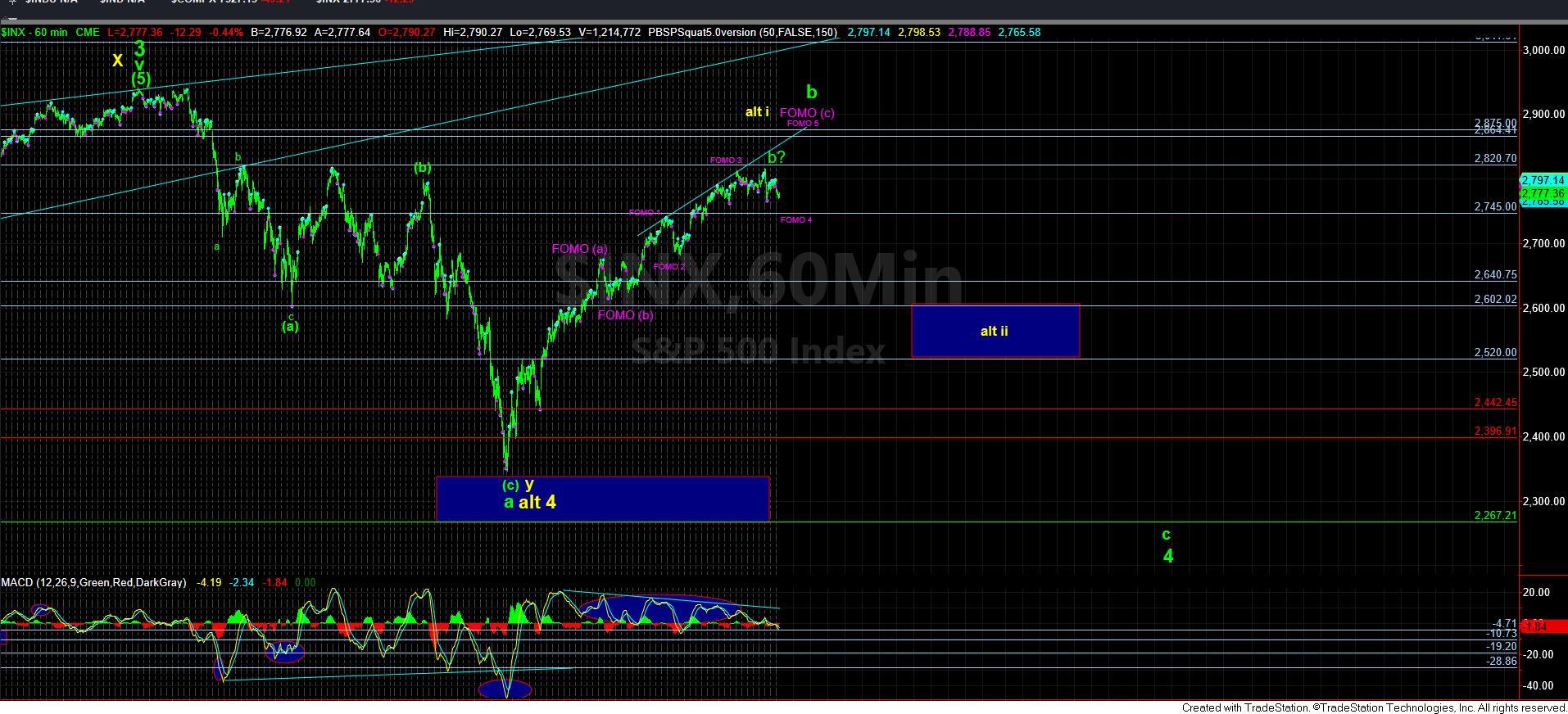 60minSPX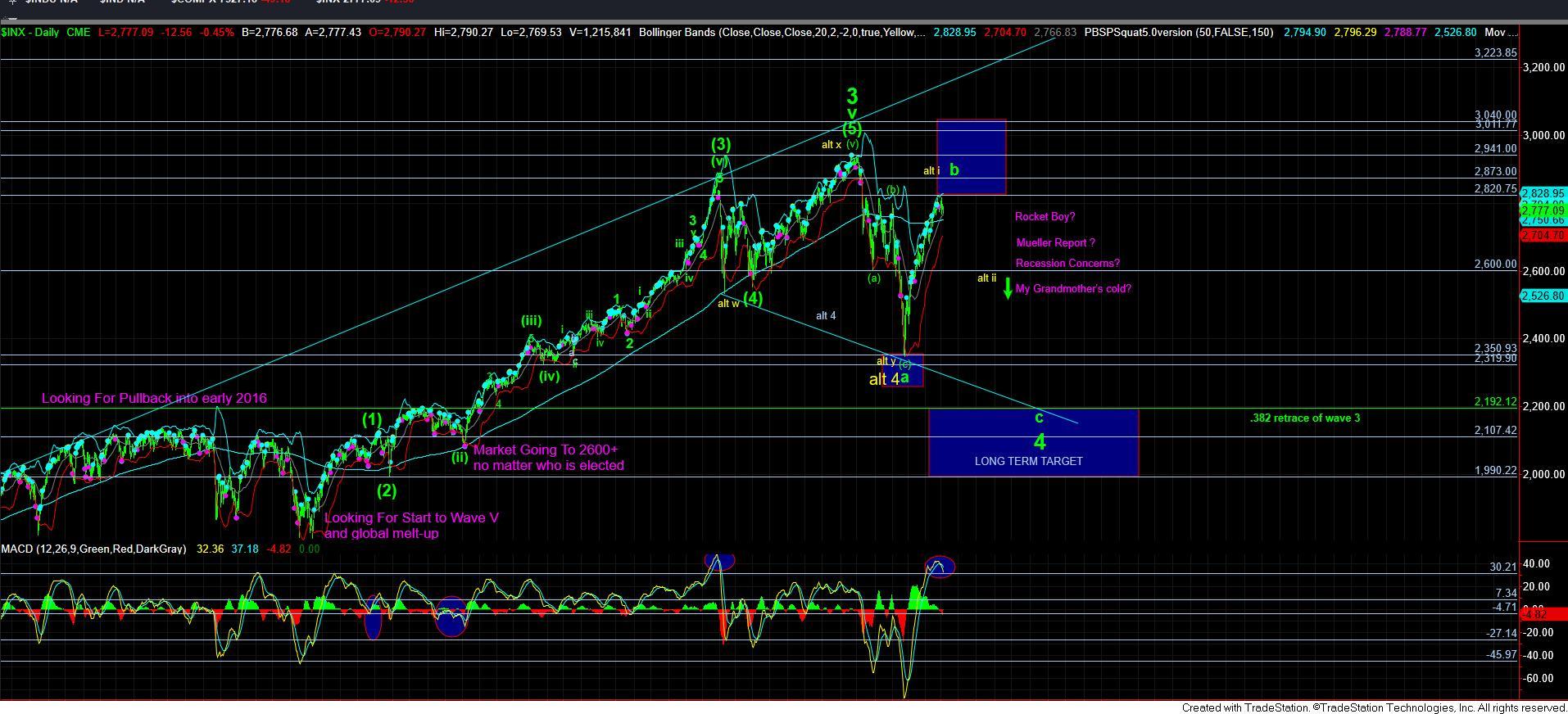 1SPXdaily