Looking More Bullish Today
As the market continued to rally into the open, we noted that the 2683ES level of prior resistance would now act as minor support. And, when the market made it clear that it was not giving us a downside structure to break down, I noted the door was open for the market to rally up to our target box. It did not take long for the market to validate our intra-day perspective with the break out that developed in the afternoon.
While the market is going a long way to support the yellow count, which can point us to levels as high as 2925SPX, the type of move we experienced this afternoon acted like the heart of a 3rd wave, rather than a 5th wave in the 3rd wave. So, depending upon how the rest of this structure takes shape, I MAY have to consider alternatives in the current structure – such as topping out lower than expected for this bigger c-wave, (2815 region in a more direct fashion) and potentially placing us into a triangle, as presented in blue. But, I am not yet ready to adopt this perspective. If we should continue to rally through 2755, I would have to consider this potential.
Rather, I would much prefer to see the market pullback into tomorrow towards the 2705ES region for a wave iv in the yellow count, and then provide us with a 5th wave rally to the 2745 region to complete wave 1 in the yellow count. And, after a pullback towards the 2670/80 region, this would set up a rally to the 2925SPX region for a very strong b-wave rally.
However, if the market is going to continue in the current strength we are seeing, and continue to subdivide back up towards the 2800 region, I think it would be a good shorting opportunity, as it would likely be a shortened c of (b) wave, or, more likely, the c-wave in a bigger (b) wave triangle, as presented in blue.
Moreover, in order to consider the green count now, we would need to see a clear impulsive break down below 2705ES. Otherwise, the green count has been made a lesser probability at this point in time. But, I have not changed the labeling yet since we still do not have a completed 5 waves up and I want to maintain consistency of what people have been viewing. But, please realize that the yellow count has certainly gained traction, whereas the green count has lost traction. It would need an impulsive break down below 2705ES to open the door to higher probabilities for the green count now.
Remember, during 4th wave structures, markets will continue to provide whipsaw, and you always have to be reconsidering your perspective, as it is rare that the market will be as straight forward as we would normally like. So, I am always trying to use the internal structure of the market and continually calculating various points of confluence between the existing wave structures to identify potential turning points and the most applicable patterns to track.
But, again, this is still likely 4th wave action, and I am always trying to identify where we can see further curveballs based upon the internal structure of the market at the time of my writing my updates.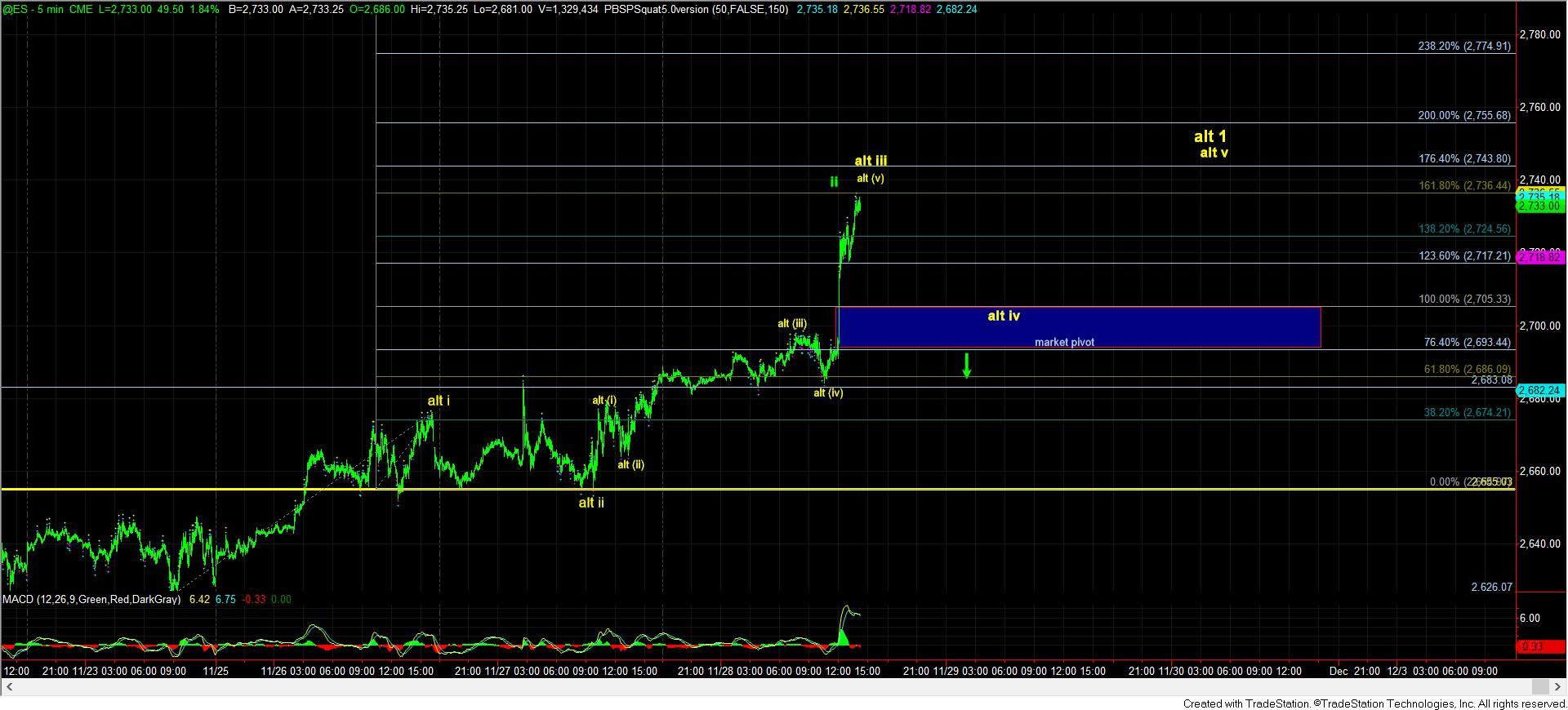 5minES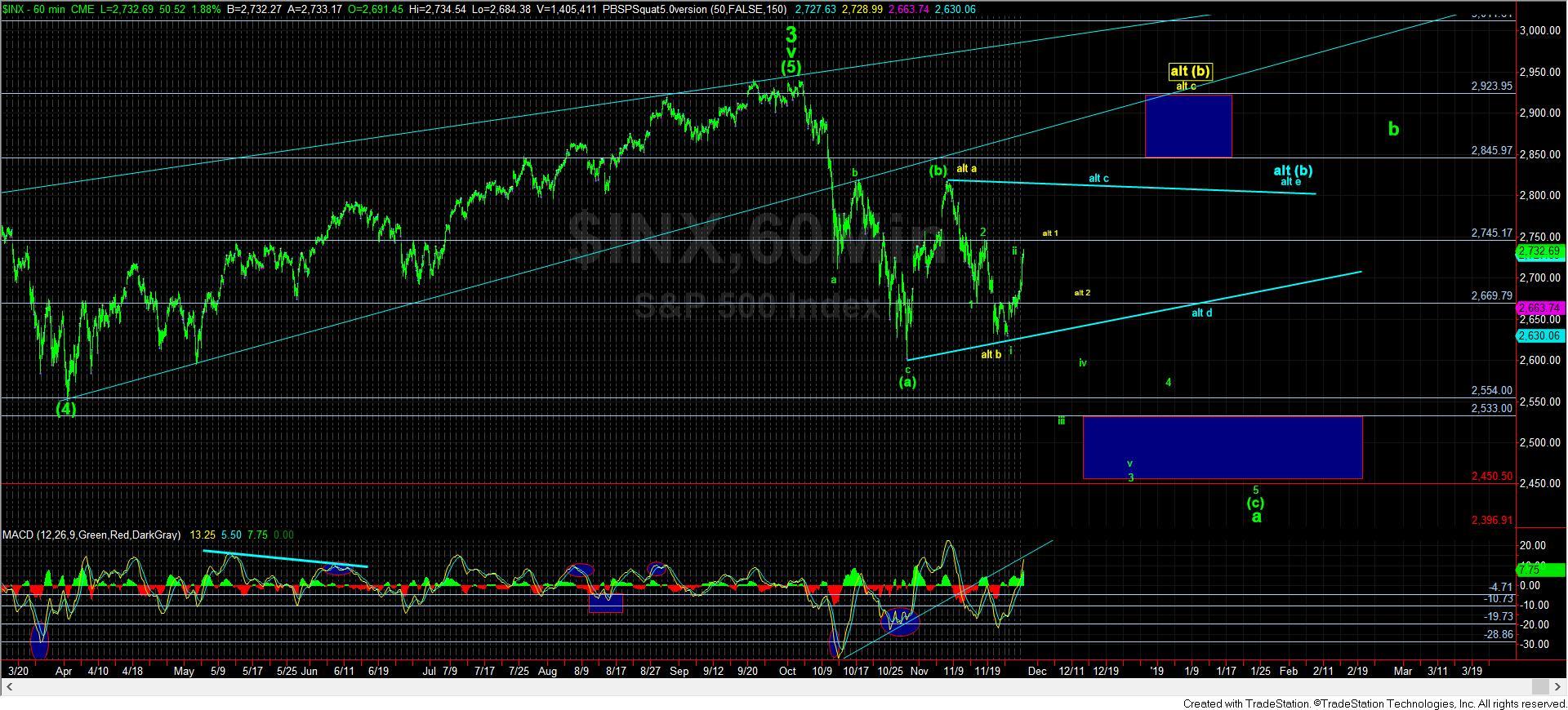 60minSPX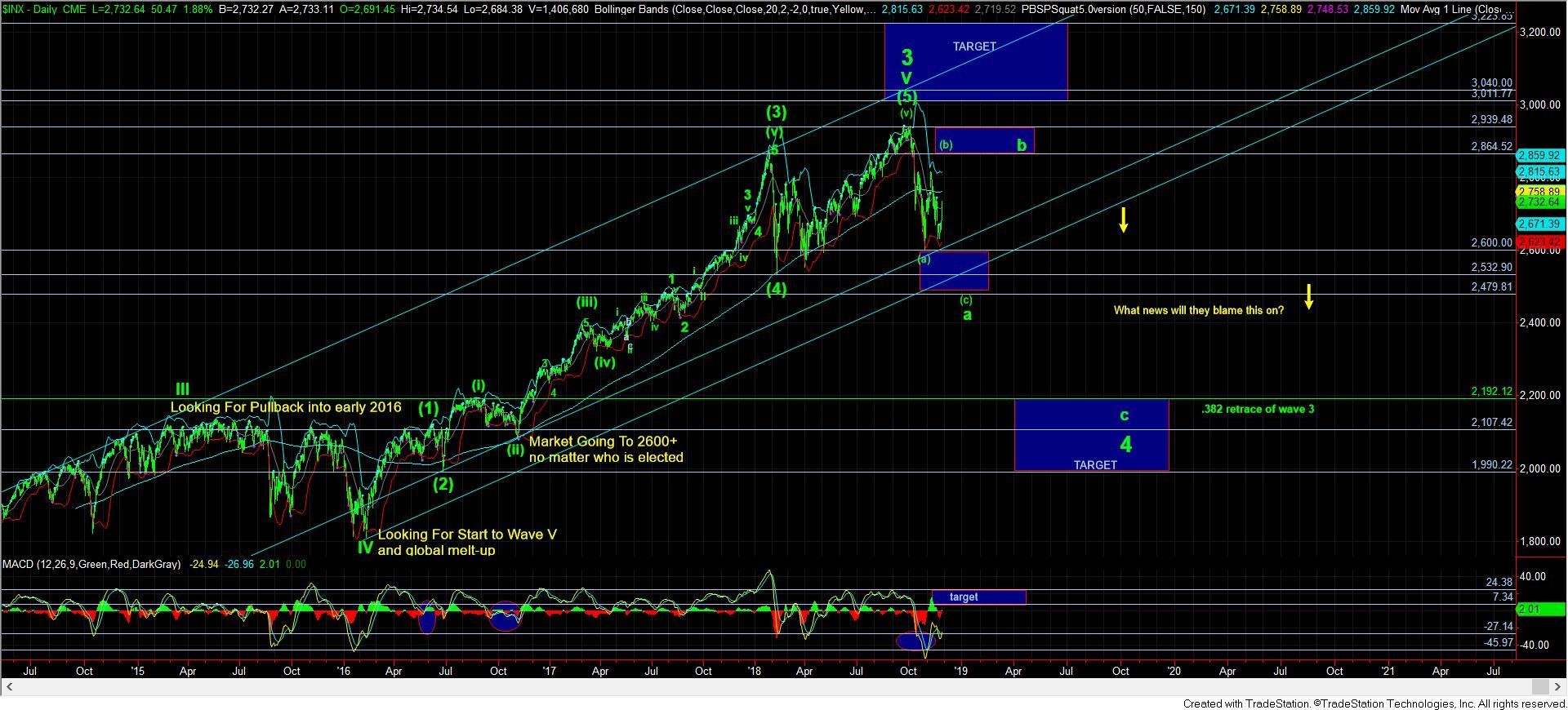 1SPXdaily