Let Me Tell You What I Am Looking For
Thus far, the bulls have done what they have needed in holding the 3810SPX support and taking out the pivot. Yet, the rally thus far is not anywhere near being clearly impulsive. So, this certainly causes me a bit of angst.
While we have certainly come up higher than a standard 4th wave would, I still have to keep that potential on the chart for now, especially since we topped at the region of the 4th wave of one lesser degree (if we do strike a lower low, the current 4 would be iv of 3), which is a common target for a 4th wave. But, in our case, it is a very "deep" 4th wave. Nevertheless, I have to still recognize this potential even though this is not a standard 4th wave I would normally expect.
Clearly, if we can take out today's high in the 3937SPX region it would likely seal the door on a lower low in this c-wave down, but it still would not turn me bullish yet. I would still need to see a 5-wave structure take us towards our target represented by the ellipse on our charts for wave 1.
What this rally has also accomplished is to make the purple count much less likely now. The MACD on the 60-minute chart has now risen to the extend that a lower low would likely be struck with a strong positive divergence, similar to what was seen in December. Moreover, under normal circumstances, when the market bounces from the 1.00 extension back up through the pivot, the great majority of the time it tells us that a follow through downside structure, as shown in purple, is much less likely to take shape.
So, let me tell you what I am seeking to turn bullish. First, as we know, we need to see a relatively clear 5-wave structure take us to the wave 1 target above. Second, I am watching the MACD on the daily chart as it is trying to turn up from support. Should it be able to turn up and go positive this week, I would like to see it hold that positive turn for 3 days to provide a strong signal that a new uptrend has likely begun. Third, should we complete a 5-wave structure, I would want to see a clear corrective pullback in a wave 2.
Should we see these three factor line up over the coming week or so, then we will likely have a buying opportunity on the long side, pointing us to 4300+. Anything less would keep my money safely where it currently resides, and have me looking for shorting opportunities.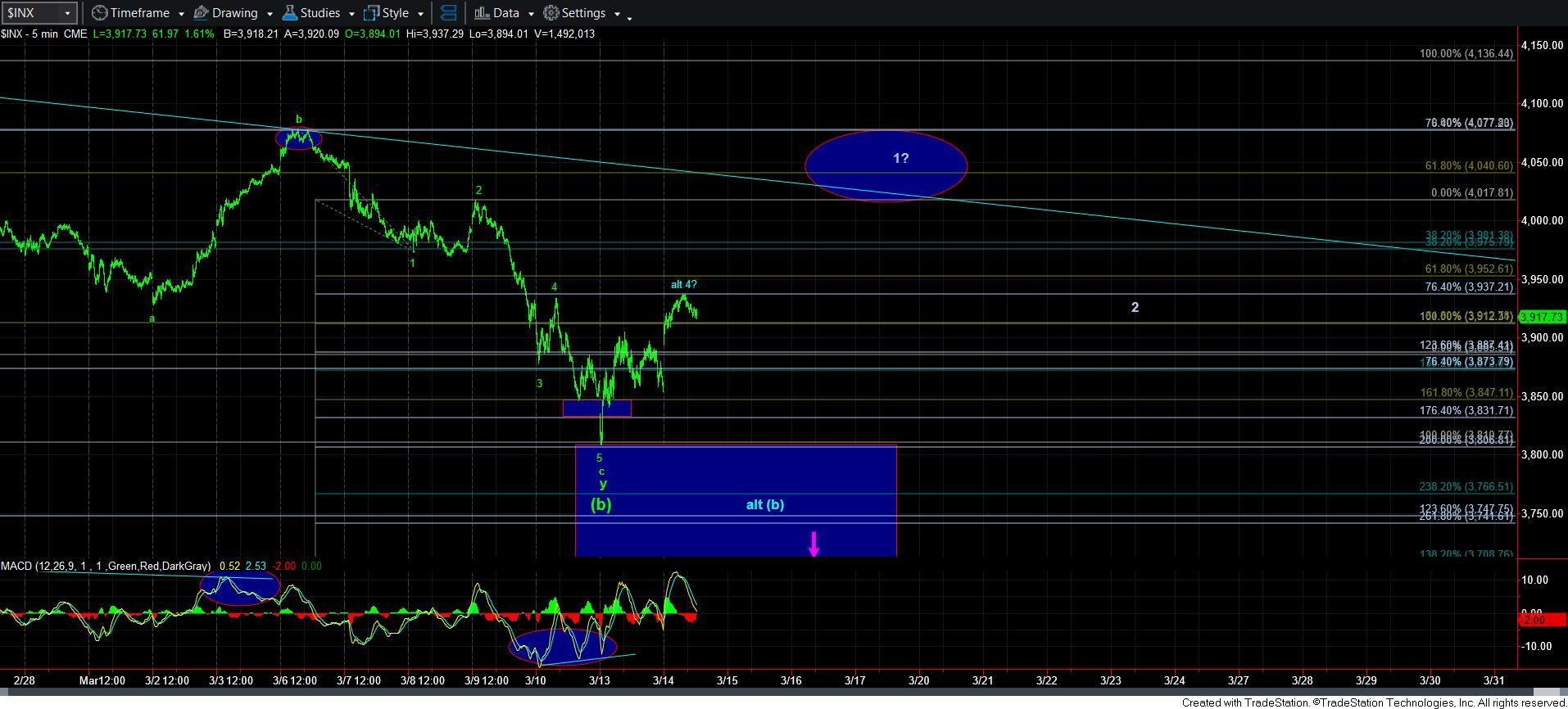 5minSPX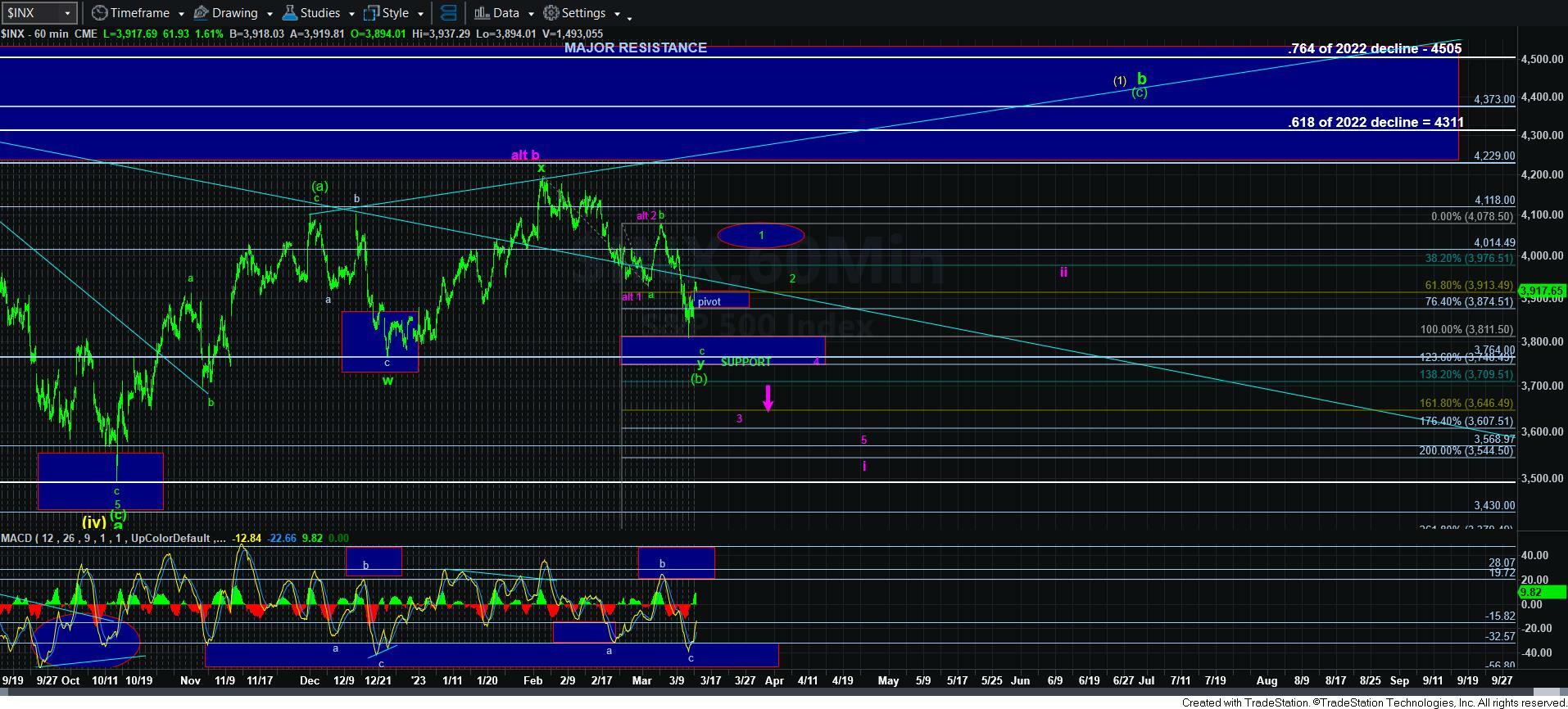 60minSPX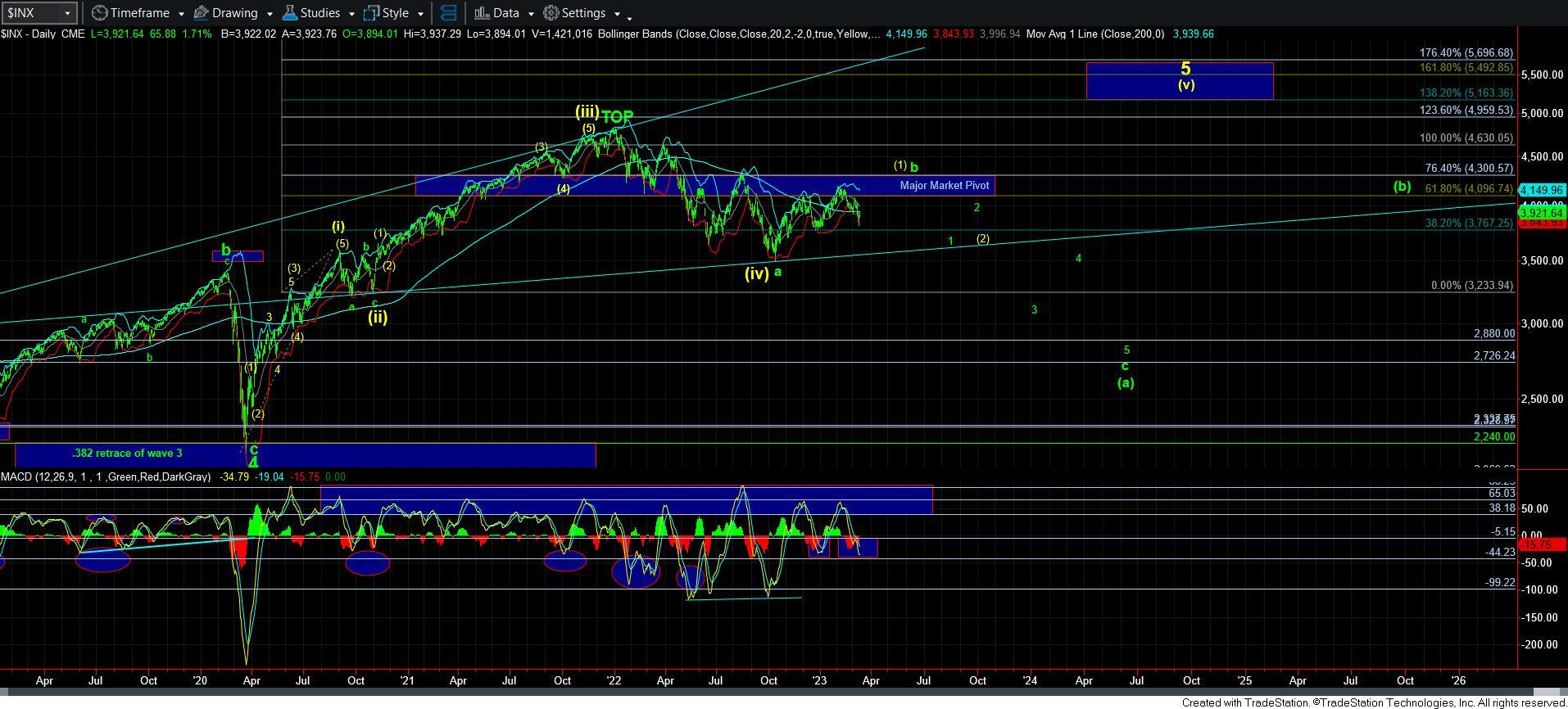 SPXDaily