As I was highlighting these past few days, the market was setting up what may have been a troubling decline structure which would point us down to the 3600SPX region. And, I noted yesterday to watch the RTY to see if it invalidates a potential 1-2 downside structure. Not long after I posted my update, the RTY invalidated that potential, which made it much less likely that the purple count was going to play out.
Today, the SPX has invalidated its possible [i][ii] downside structure, and leaves us strongly in the green count.
Yet, even so, I cannot say that the pullback we saw the other day is all of the wave iv within the leading diagonal for wave 1. Ideally, this rally is a b-wave in that wave iv, with another downside move to come in a c-wave to complete wave iv.
But, as you know, I always outline where I can be wrong in my primary expectation. And, if we see a strong move through the 3962/65SPX region, then we may already be in wave v of 1, and that pullback was all we are going to see in wave iv. For now, this does not seem like the most likely path, as I think we need more of a reasonable wave iv structure before I can confidently view us being in wave v of 1 already.
Of course, should the market turn down impulsively and break down below the green support box for wave iv, then I will again reconsider. But, today's action makes that much less likely at this time. But, we have to know our parameters.
In the meantime, I am still looking for the market to complete a larger degree leading diagonal for wave 1 of the [c] wave. And, nothing has changed in my view as to when and how I can trust it. So, to remind you:
"I am still tracking the potential for a rally to 4300+. Have we begun that rally? Well, the only way that it will happen is if wave 1 takes shape as a leading diagonal. And, that is not the most trustworthy of trading cues. So, I not only need to see AT LEAST one more push higher to take us to the 4000SPX region to complete wave 1, I will need to see a corrective wave 2 pullback thereafter, followed by an impulsive 5-wave move off that wave 2 low to give us wave i of 3 of the [c] wave to begin to trade for that [c] wave rally."
In summary, I am still not wavering in my expectation for a rally to 4300+. And, today's action makes it much more likely that we have begun that rally at this time. Moreover, we now have the daily MACD turn positive and hold it for 3 days, which provides us with another supporting signal for the potential that the market has begun the rally to 4300+. Now, I am seeking a 1-2 structure.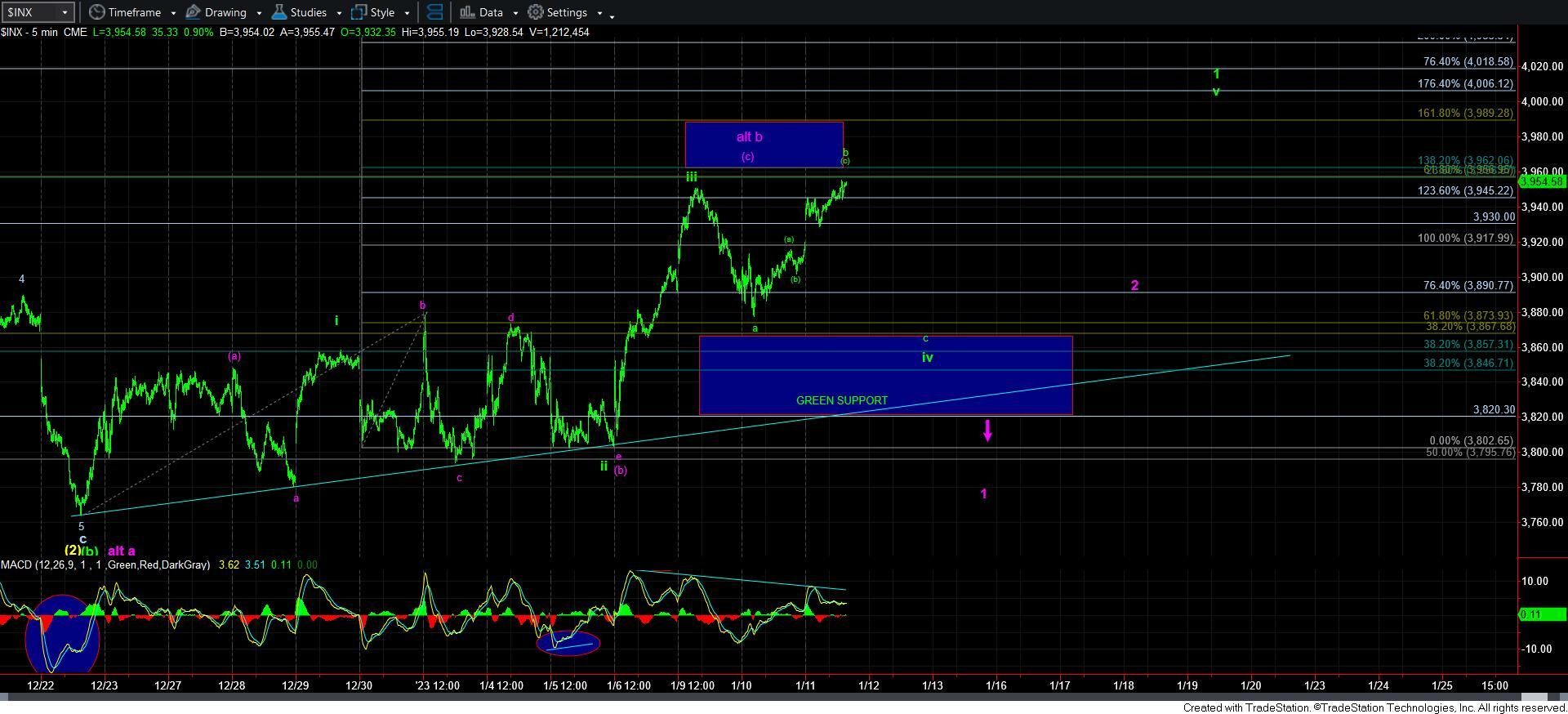 5minSPX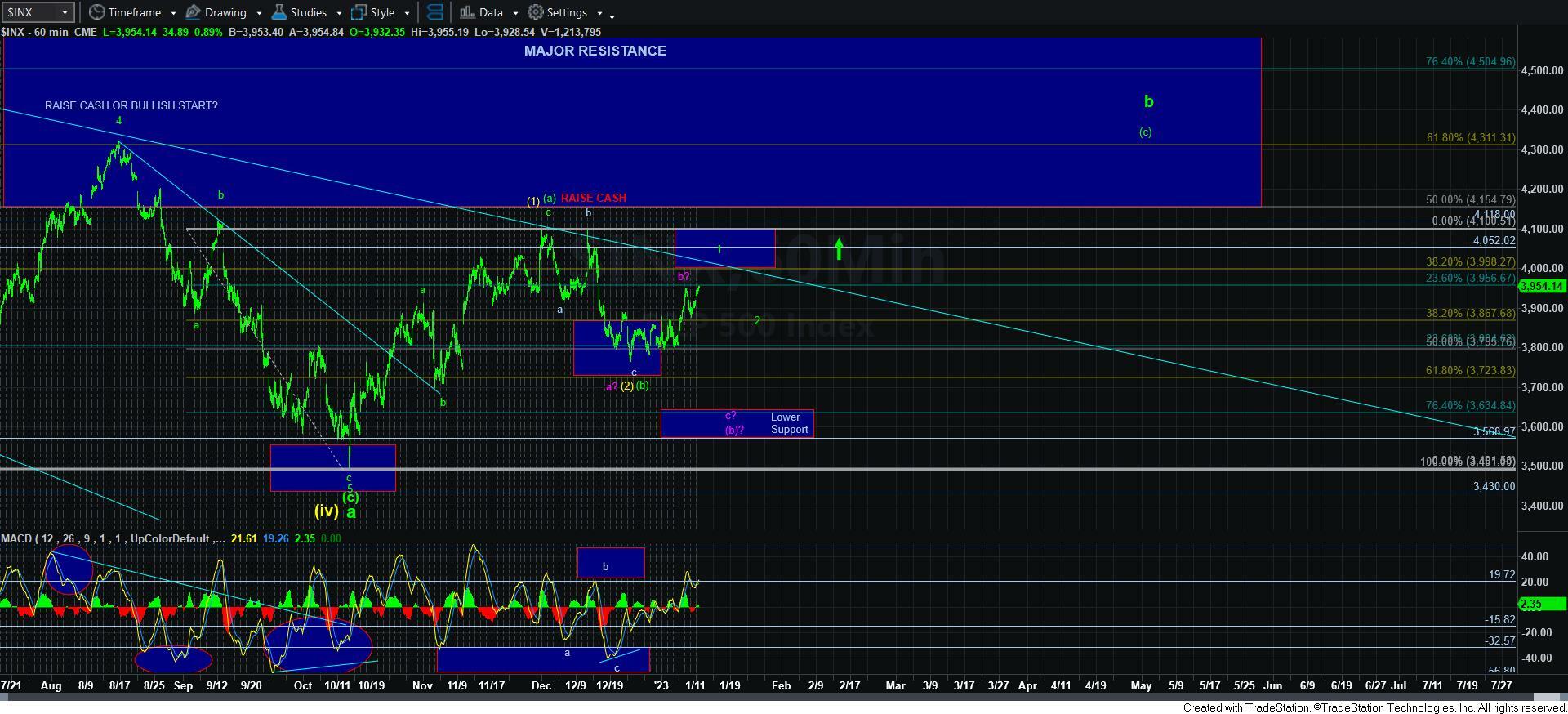 60minSPX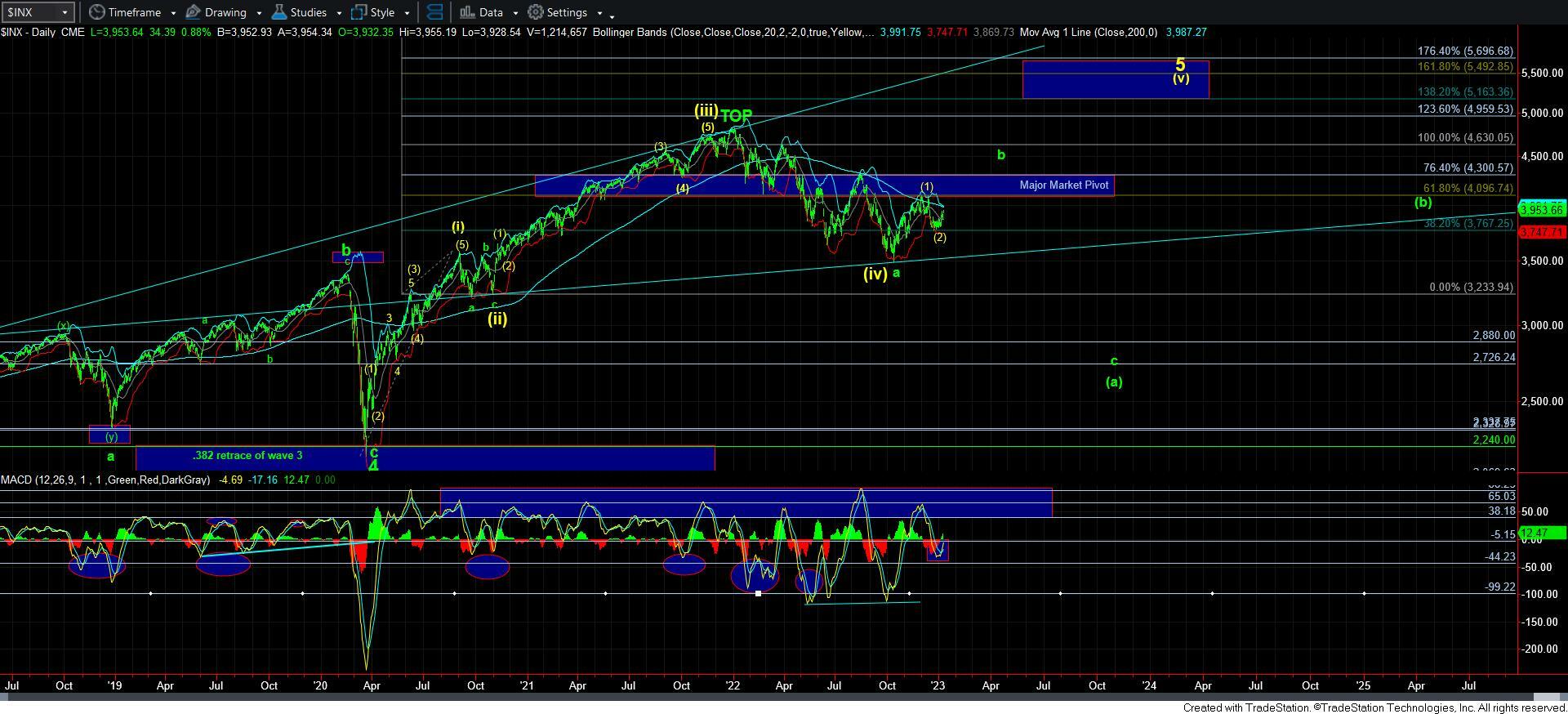 SPXDaily