How Much Higher Can We Go?
Today, the market has struck out minimum target for this c-wave rally we have been expecting. However, there is nothing that is suggesting to me the top has been struck. Furthermore, from a timing perspective, we seem to have several more days until we reach our next turn window.
For now, I am questioning whether wave iii of (c) has actually completed. If the market can drop into tomorrow morning for a c-wave of iv, then I can confidently view the wave iii as having completed. However, if the market continues higher into tomorrow, it is suggestive of wave iii not having yet been completed.
But, there is one constant that I am going to mind, and that is the next turn window on our chart has several strong turn time frames within it. To me, I do not think I want to be long this market beyond this week.
For now, should we be able to exceed the minimal target at 2000SPX, my next higher region of confluence resides around the 2030SPX region. That represents where the (c) wave would be equal to 1.236 times the size of the (a) wave, and which overlaps with the .618 retracement of the August decline. Furthermore, it seems that the IWM may also suggest that higher levels will need to be seen before this top can be confirmed.
For now, it takes an impulsive break of 1957SPX (the .382 retracement of what would be wave iii if it completed today) to signal that the larger degree red b-wave has completed and that the c-wave of wave iv of primary wave 3 was in process of taking us to lower lows.
Also, take note that I added a target box for the c-wave of wave iv of primary wave 3 on the 60 minute chart. It is quite large, and it coincides with the count on the monthly chart. Once the market has begun the c-wave down we will have a much better way of targeting the potential low for the move.
Lastly, please keep the alternative count in the back of your mind - with the wave iv of primary 3 having completed already. It is a low level probability to me, but something to keep in the back of your mind.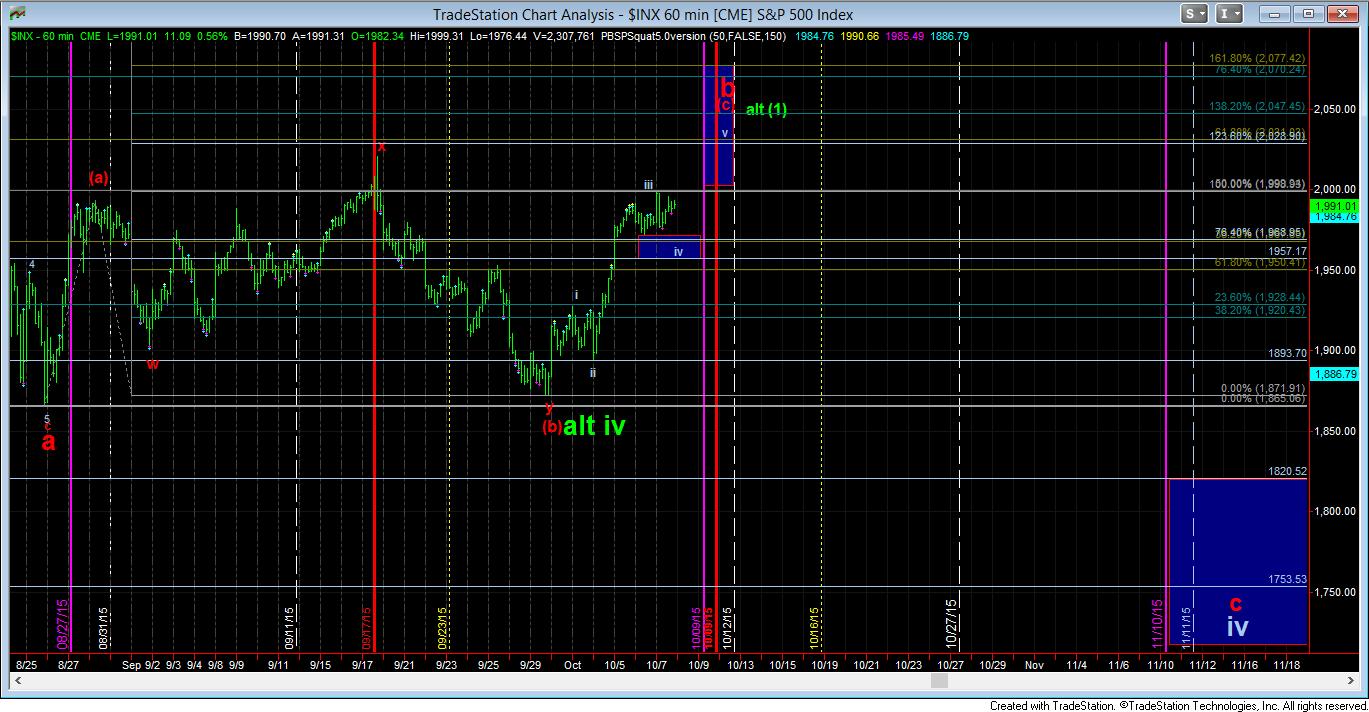 1turnchart