Hitting Our Head - Market Analysis for Nov 6th, 2018
As the market has pushed up to the upper end of our resistance region for a b-wave we are hitting our head and running out of room.
In the micro structure, we have an (a)(b)(c) rally, with the (c) wave best counting as an ending diagonal. But, the hallmark of an ending diagonal is that it reverses very strongly when completed, and drops down to the region from which it began – in our case, that would be the 2710-20ES region. And, preferably, if we are heading down in a c-wave lower, that drop to 2710-29ES would be a 5 wave structure for wave 1 of c.
However, as I have said many times in the trading room, the market has been very straight forward in its actions of late . . . almost too straight forward. So, it makes me consider that it is about time this corrective action throws us a curve-ball. While I cannot specify as to what the curve-ball would be, as it is the nature of curve-balls to be unpredictable, I will say that I would not short this market unless I have that 1-2 set up after a completed ending diagonal in place.
You see, when we deal with these types of corrective structures, the market often does not play nicely. And since it has been playing almost too nicely with us on almost every twist and turn, it makes me cautious right now.
My bigger perspective is that I still expect that we will rally over 2800SPX for the (c) wave of the green b-wave on the 60-minute chart. Moreover, we can rally as high as the 2860-2910SPX region, which would be my ideal target. And, if the market were to continue to follow its ideal path, we would still need a c-wave lower to complete the green (b) wave.
But, one of the curve-ball potentials could be that the (a)/(i) may not be done, and the market pushes higher one more time before that completes, and then gives us our (b)/(ii) pullback. The other possibility, which is harder for me to consider due to how shallow the recent pullback was, is that we go directly to 2860-2910SPX from here. We would need to break out through 2795SPX for that to become a high probability.
For now, I am going to maintain my expectation of another pullback, and as long as it holds the 2640SPX region, it should be pointing us up to 2820+SPX into later November.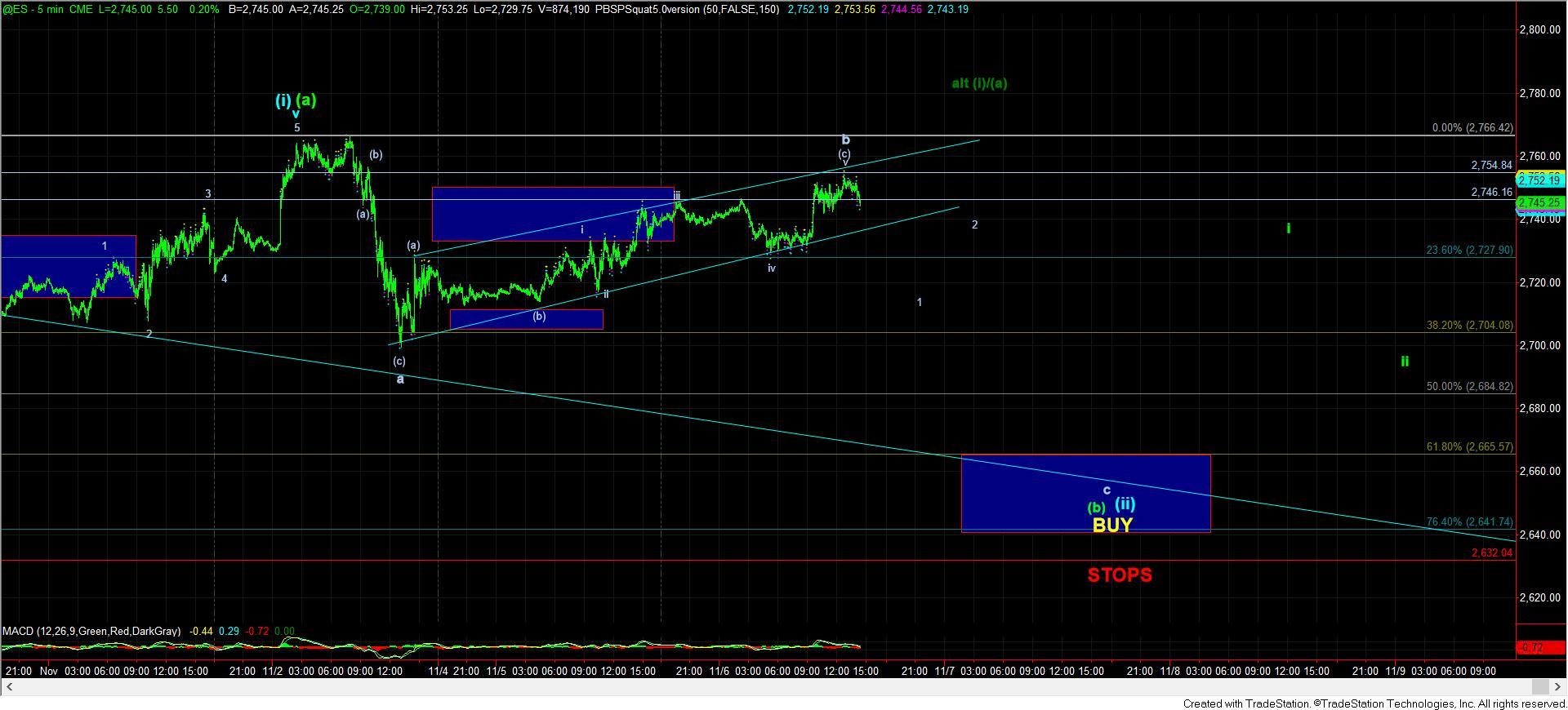 5minES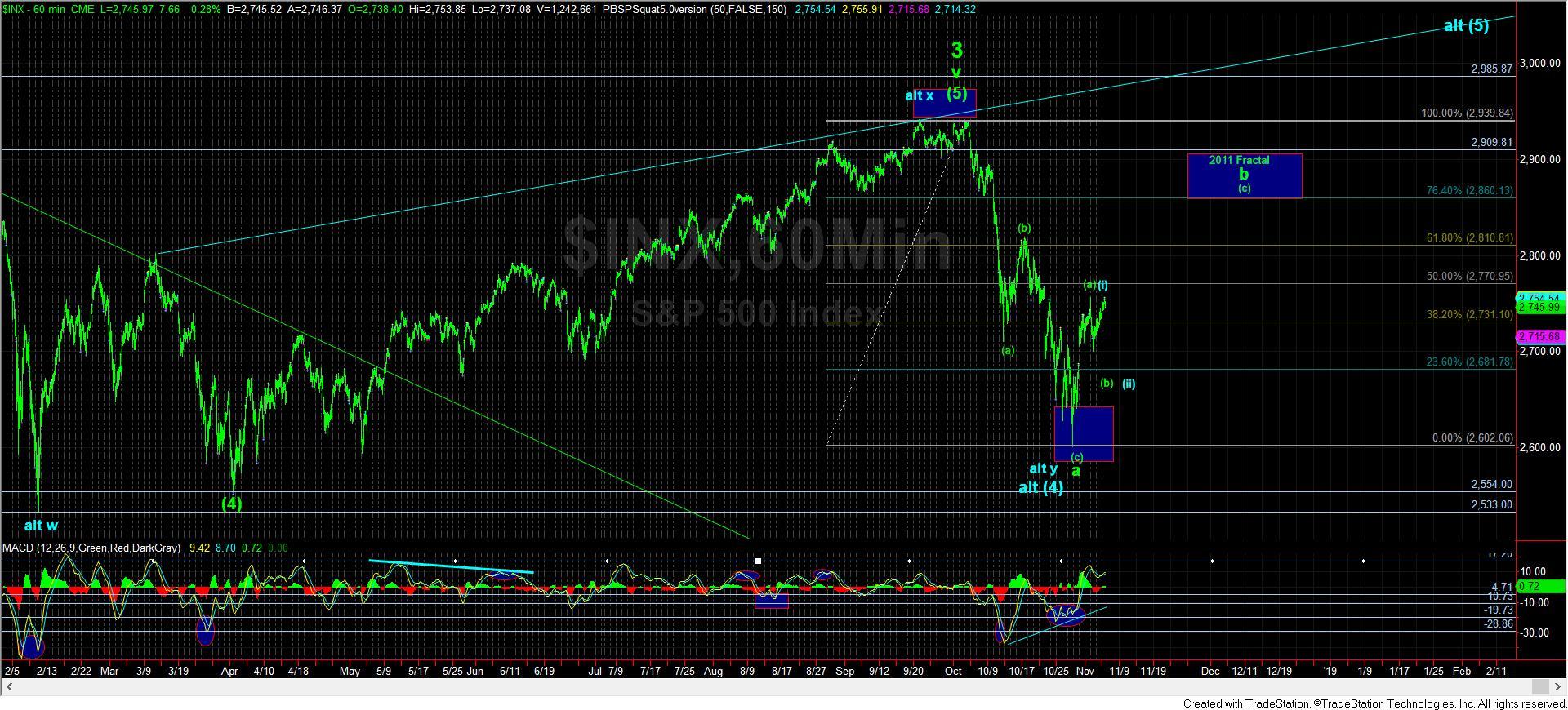 60minSPX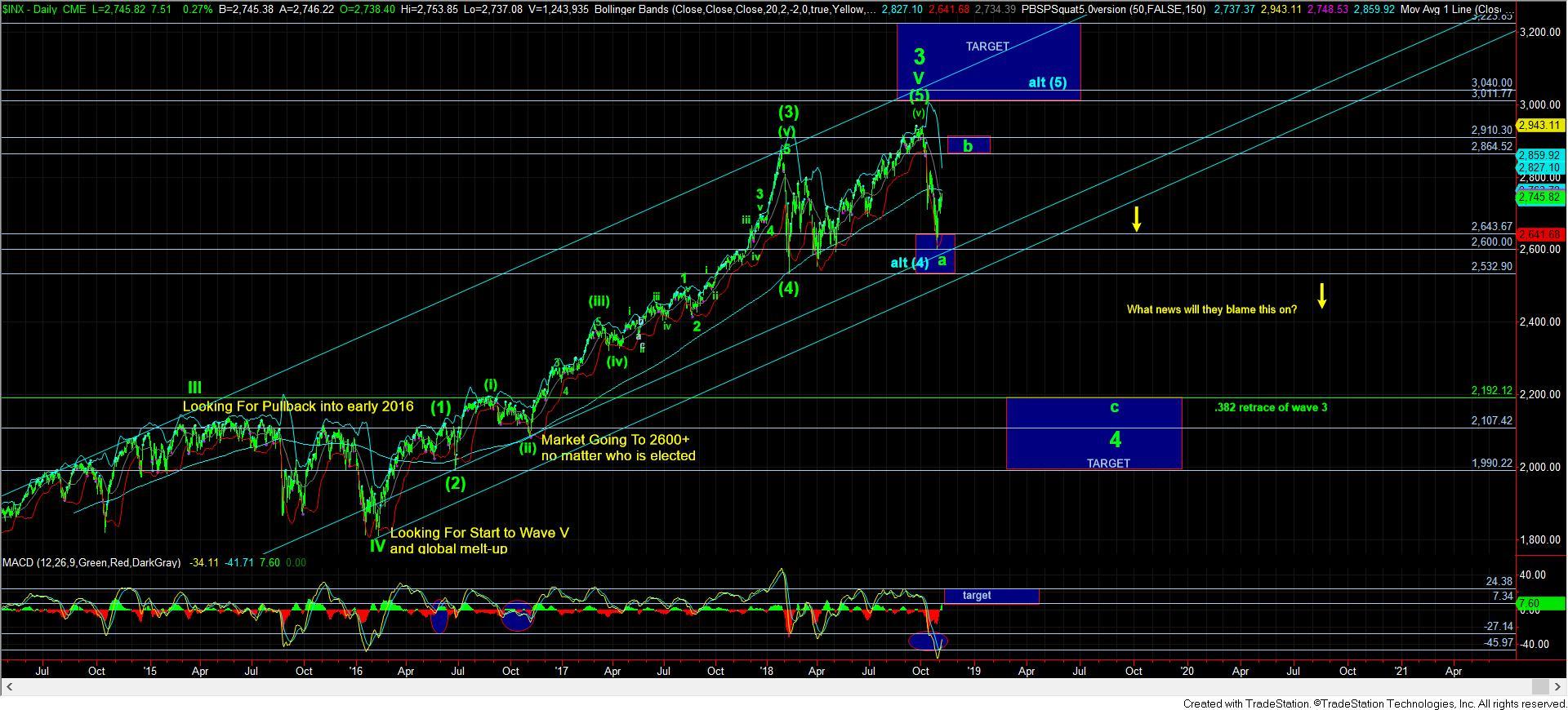 1SPXdaily