Have We Begun The Wave [iv] Pullback?
Normally, when a market rallies in a 3-wave move, and then breaks back below a micro pivot, it suggests that we have begun a corrective pullback, with the high struck before a break of the pivot being a b-wave.
However, we have two factors which we need to take into account which are not clearly supporting that potential in our case in the micro structure.
If you look at the 5-minute ES chart, you will see I have a potential b-wave high being struck today. But, the high was struck on a spike of the 1.236 extension off the Friday low. Normally, a b-wave has an [a]=[c] ratio, meaning that the [c] wave will usually top at the 1.00 extension off the low. When we see a top at a 1.236 extension, it could suggest the high was a wave [3] within an ending diagonal, since that is a traditional target for a 3rd wave in a diagonal, as outlined in yellow on the 5-minute ES chart.
Moreover, if a b-wave had been struck, then a c-wave decline should have begun. Normally, c-waves take shape as standard 5-wave Fibonacci Pinball structures. But, the decline off what may be a b-wave high is clearly corrective in nature. That means the only way to count that decline is either the c-wave is taking shape as an ending diagonal, or the decline was a leading diagonal for wave 1 of the c-wave down.
As I am sure you may be gleaning from my analysis, the market has not made it terribly clear that wave [iii] of iii of 5 of [3] has yet completed. And, since pullbacks in a bull market should be buying opportunities rather than shorting ones, I think this is a good time to reiterate that shorting when the market is in such a posture is not advisable for most people.
In the meantime, I think we could see wave [iv] take shape this week, but I am still uncertain whether we have begun that pullback already. And, if we have indeed begun, then this would likely just be the [a] wave of wave [iv], since I think this wave [iv] will take us a bit lower, and should take more time. Ultimate support now for wave [iv] is still in the 4545-75SPX region. And, while it would be my preference to see a larger corrective structure testing that support region, it does not mean we will necessarily drop that deeply. But, one way or another, I am expecting a wave [iv] pullback which is clear to see on the 60-minute chart, and that is why I think it should take more time if we have indeed begun it already.
If the wave [iii] has not yet completed, then the next upside resistances are in the 4730 and 4765SPX regions.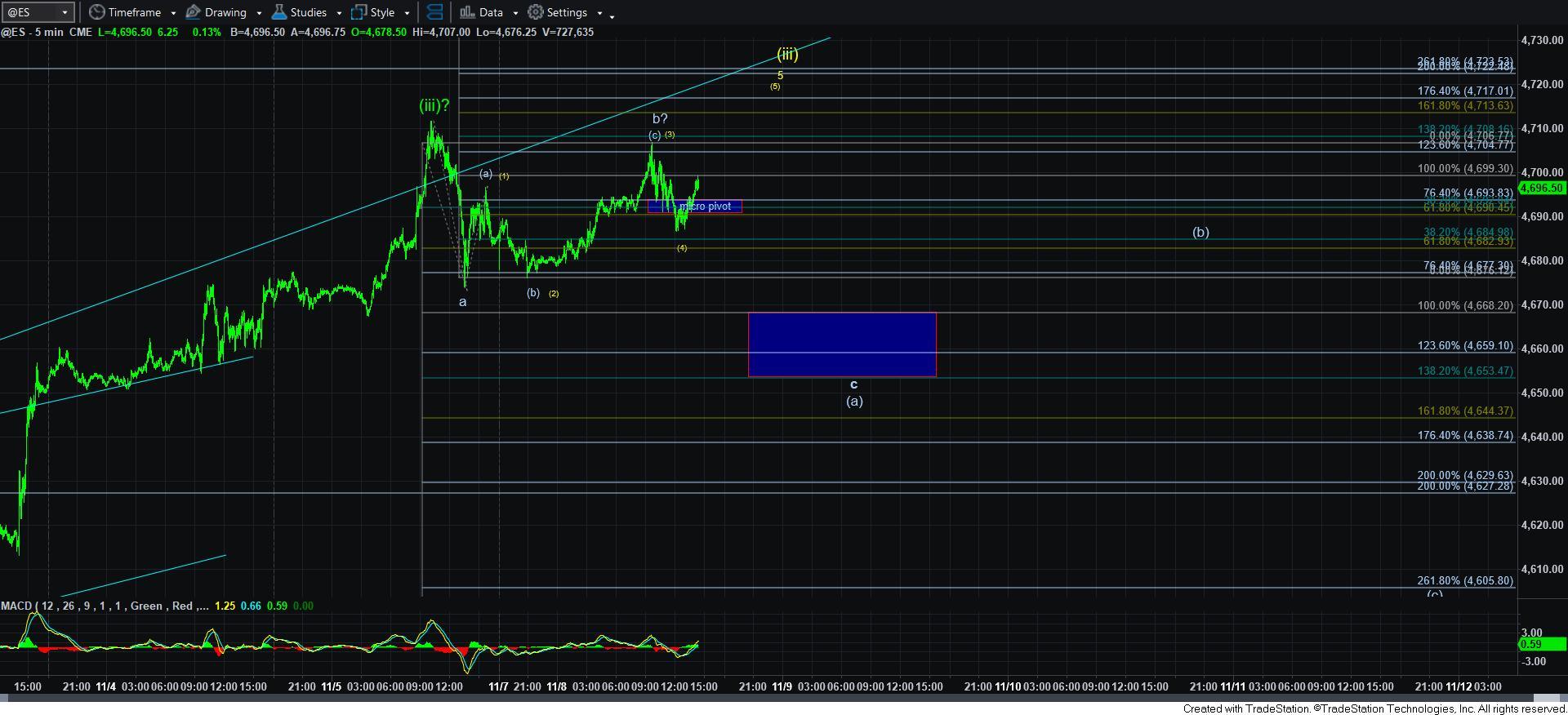 5minES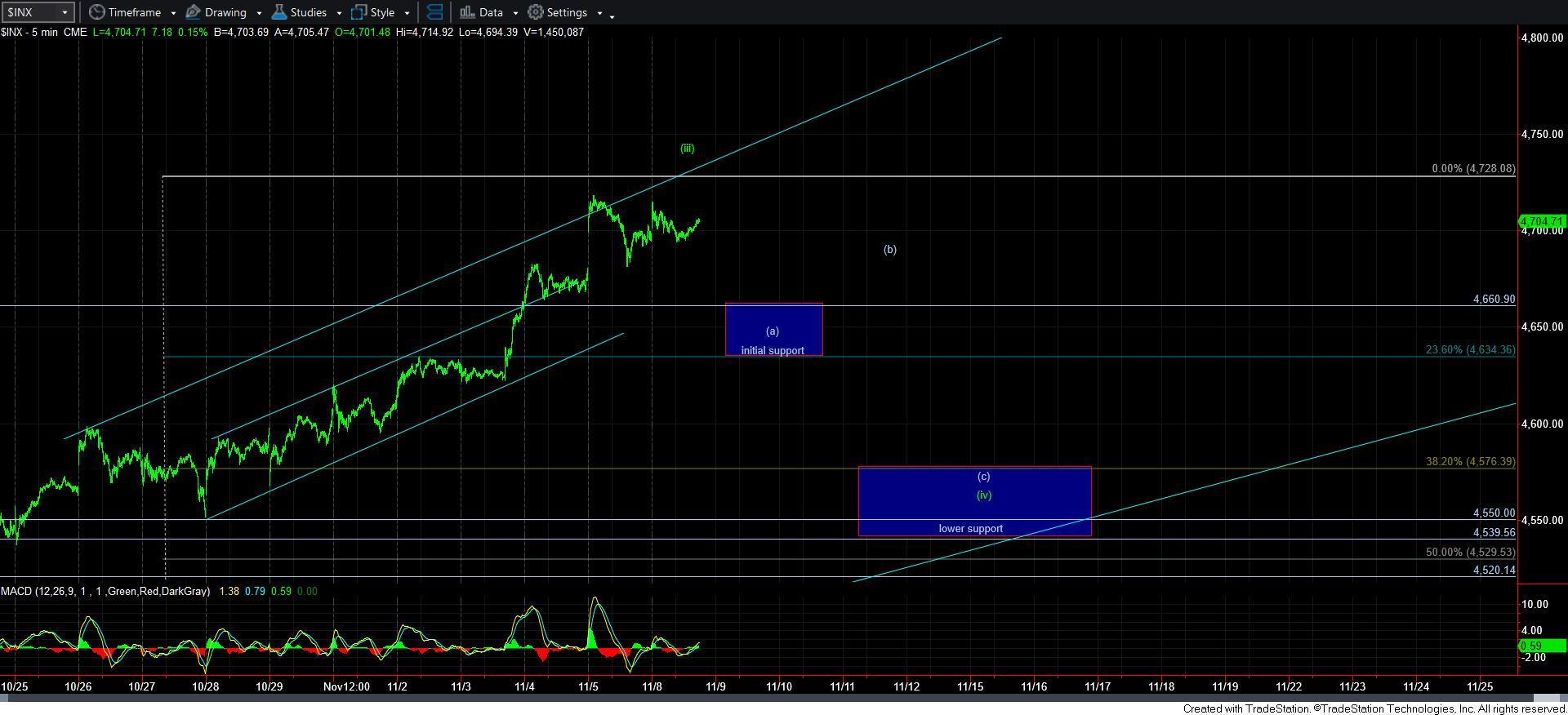 5minSPX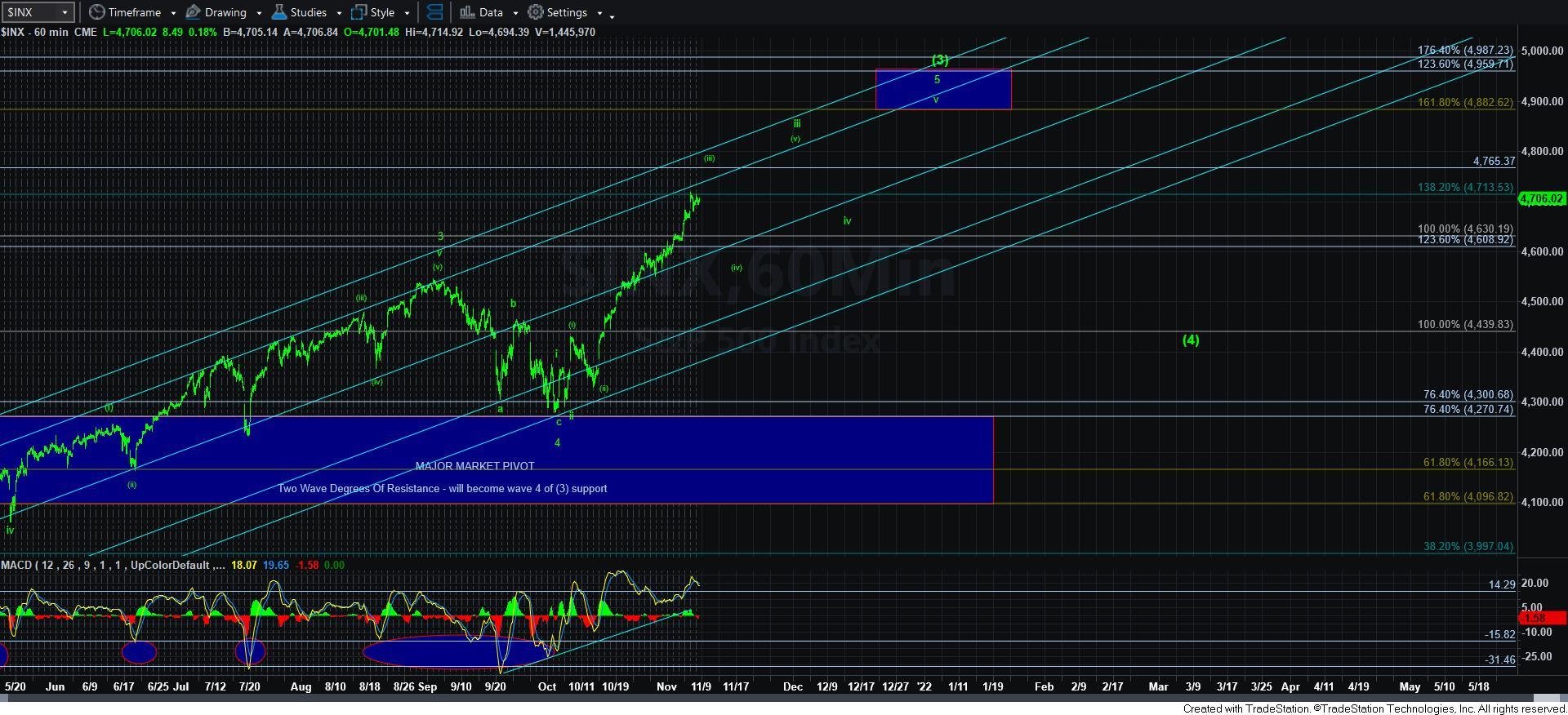 60minSPX