The action today is not what bullish structures for the start of 3rd waves should look like. We should not have had multiple tests of the lows wherein we retrace almost the entire move up. In fact, 3rd waves often take off without a big retrace at all. So the action today is not making me feel too bullish.
In fact, if the market does make a lower low, then I can count 5 waves down off the last high, and it provides strong support for the red count. This would even have me targeting the 1847SPX region to complete the bigger red c-wave. But, the set up must be there. That means a break of Friday's low, followed by a rally – probably into Christmas – which will provide us a wave ii retrace, which means that wave iii down would start next week and take us into January. Furthermore, I would want to see this red wave I stay over the 1990SPX level, for if it broke the 1983SPX level, then we could be dealing with the alt (2) count, down to the 1960-1970SPX region, or even a bigger triangle for wave iv of primary wave 3, for which this would be a c-wave, taking us down to just under the 1900 region.
While the market makes its intentions clear over the next day or two, I have no reason to change any of my positioning of maintaining my market hedges. However, should the red i-ii set up develop, I will likely be shorting the market, and looking for my lower blue box on the 60 minute chart.
As for the bullish count, which is truly hanging by its finger nails as I write this, it is still very much alive, but I cannot say it is well. I would need to see a strong rally to complete a wave 1 in green up through the 2050SPX region to make me much more bullish on this market.
So, as of this afternoon, I am trying to be a bit more patient, and I remain cautiously optimistic but also remain protective in my account.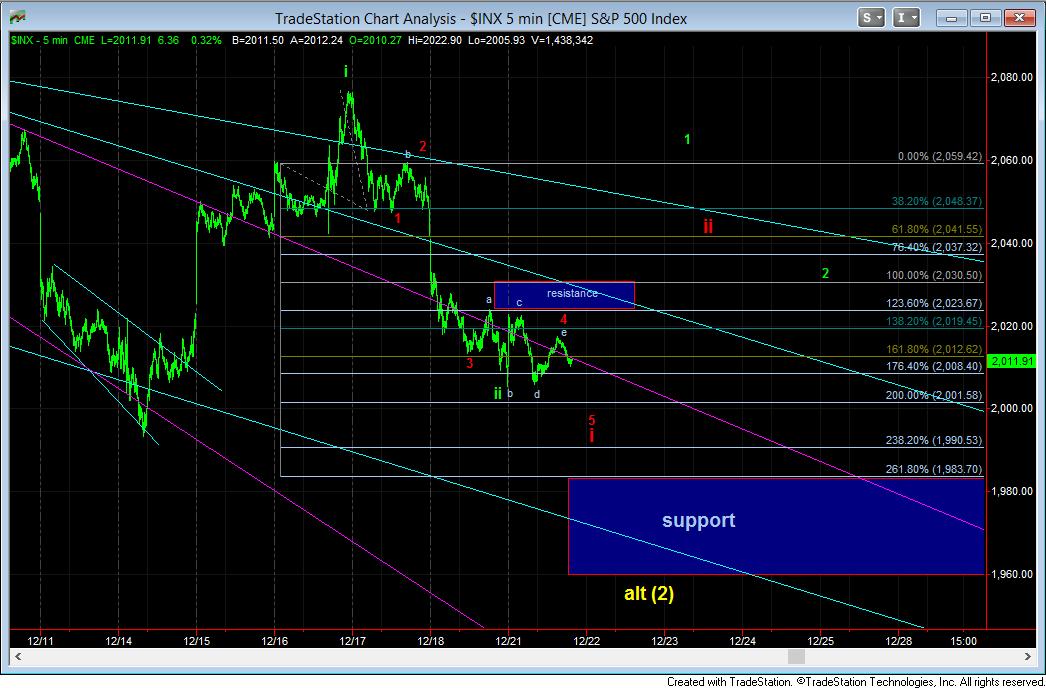 5minSPX
1turnchart