For the last 3 trading days, we have been going completely sideways. And, there are several ways to view this consolidation, as I outlined over the weekend.
But, as to where we currently reside, the bears are fast running out of room. Today's high either marked the completion of a 4th wave triangle, or the high for wave 2 in an ending diagonal for the larger [c] wave down in wave [2] as per my primary analysis presented over the weekend.
At this point in time, I would say that the blue count of the triangle would be a low probability because it would have to be considered as an expanding triangle, and they are VERY rare. So, either the market is about to decline to our pivot to complete the a-wave of wave 3 in the ending diagonal, or the market is going to invalidate this potential by tomorrow, and point us back up towards the highs again.
Normally, when the market has a [c] wave decline set up, we would see a standard impulsive decline structure, which adheres to Fibonacci Pinball. However, as I have been highlighting of late, the decline we had off what we had been counting as the [b] wave top is not a standard impulsive 5-wave decline. Rather, it was a clear 3-wave decline, which is why the only reasonable way to count this as a [c] wave down is as the ending diagonal I have been outlining.
However, when we do not have a standard 5-wave structure, it is very hard to view the structure as a high probability. While the larger degree structure does support the potential for an ending diagonal [c] wave decline, I do not view this as a high probability until we actually break down below the market pivot presented on the 5-minute ES chart. And, if the market is going to break down in the [c] wave to take us lower in the wave [2] pullback, we will have to test that pivot by tomorrow to complete the a-wave of wave 3, bounce correctively in the b-wave of wave 3, and then break down below the pivot in the c-wave of wave 3, which should be targeting the 3470ES region (the 1.236 extension of waves 1 and 2).
So, at this point in time, the bears have their backs against the wall, and if they intend to take us down in a deeper wave [2] pullback, then will need to show us their claws this week.
Keep in mind that this is a bull market and the market owes us nothing when it comes to pullbacks. While a deeper pullback would be much more reasonable in this structure, until we actually break support I would be cautious of maintaining such an expectation as the market has been incredibly stingy on pullbacks since we struck our low in March. Ideally, I want to still see a reasonable pullback, but if we break out over the high struck this morning, that may simply not occur.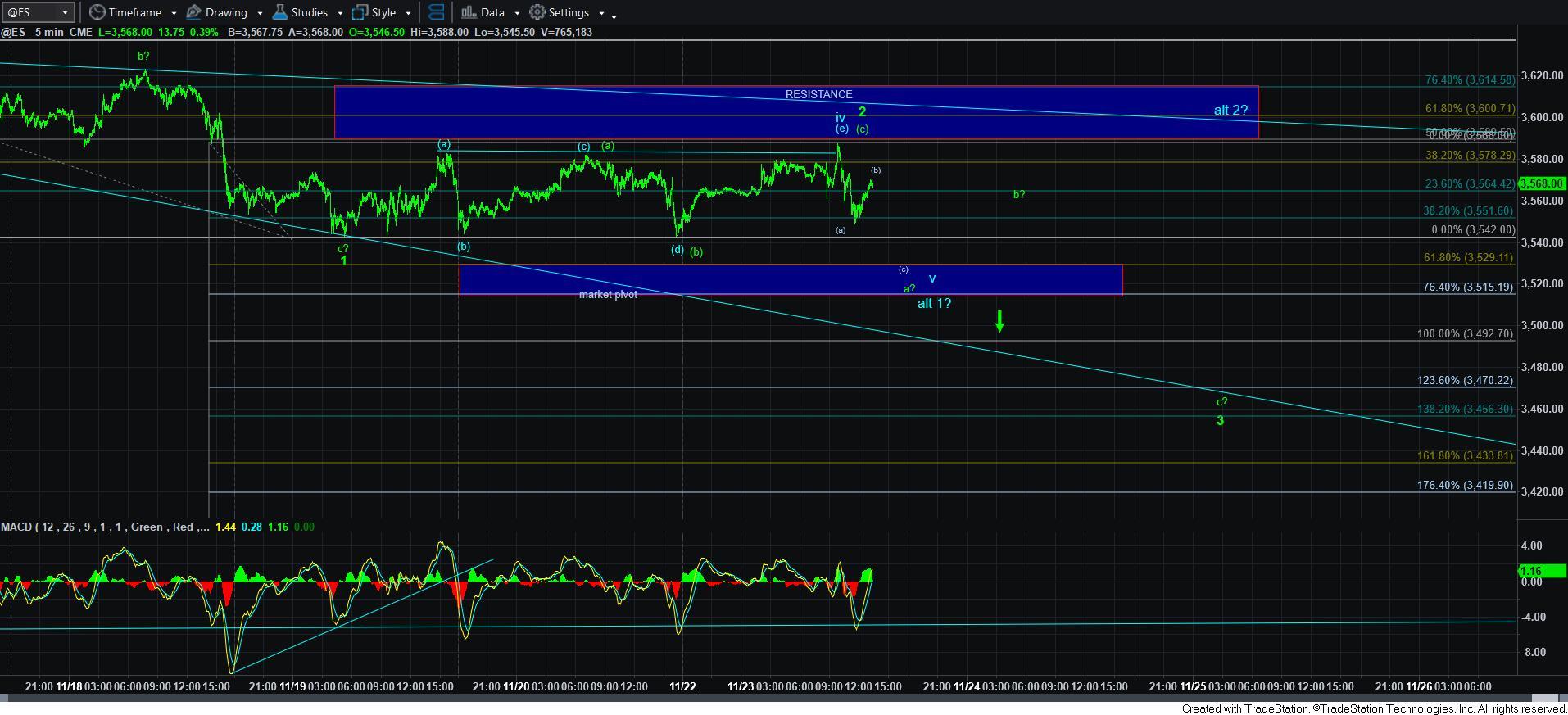 ‌5minES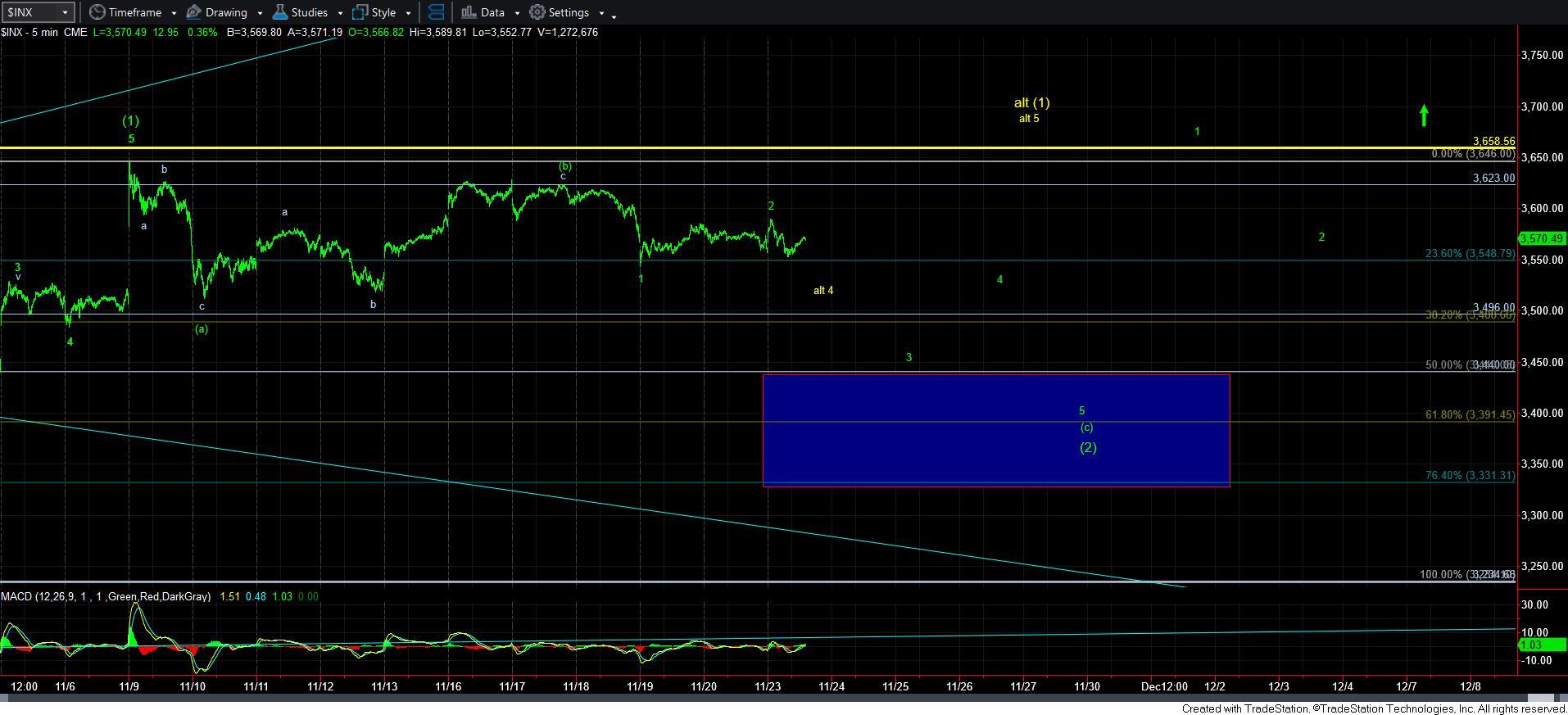 5minSPX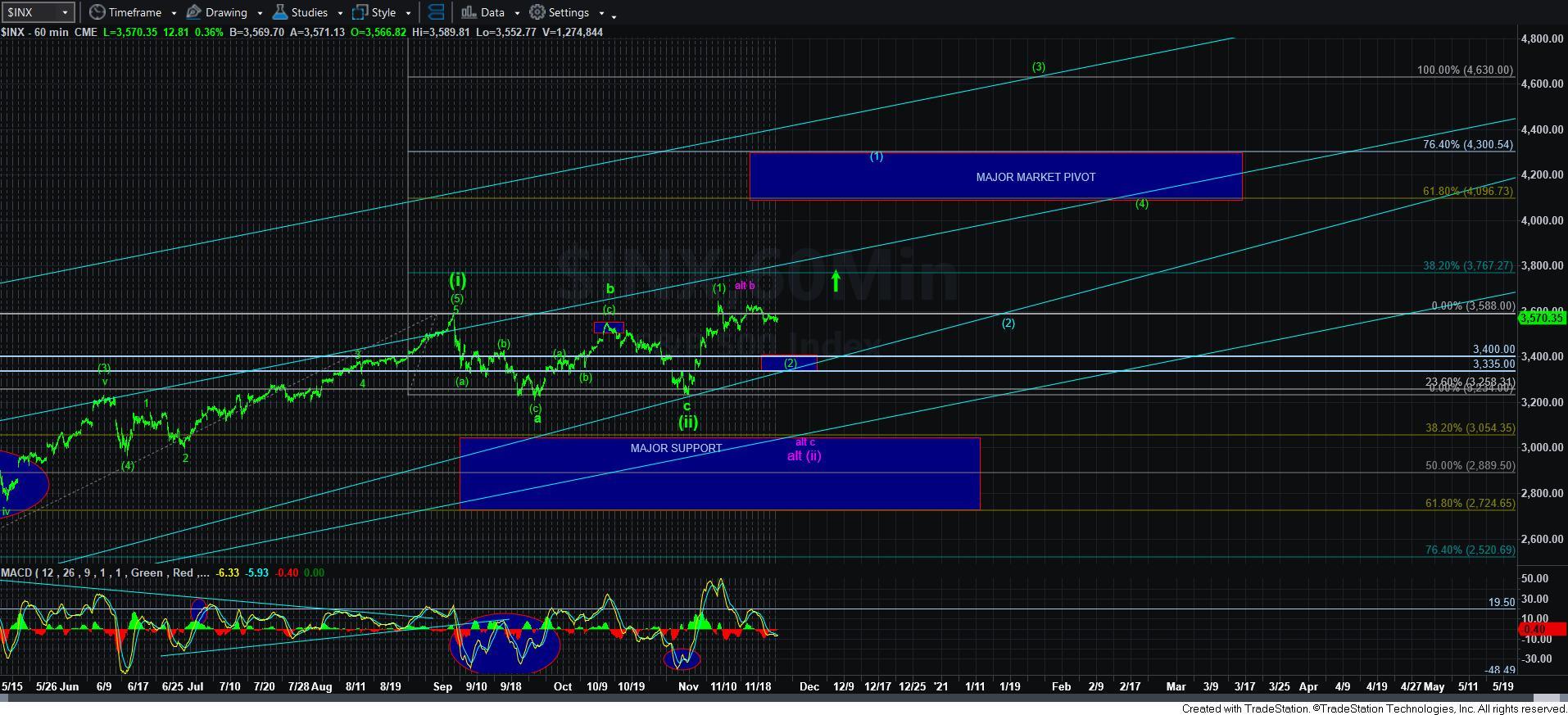 60minSPX