FOMO Has Begun - Market Analysis for Aug 3rd, 2022
For those of you that do not know what FOMO stands for, it stands for "fear of missing out." And, I think today's extension to higher levels has kicked it in.
But, allow me to ease your nerves. In order for us to be able to rally to new all-time highs, we need a 1-2 structure in place. And, as it stands right now, we do not have such a structure in place.
Now, for those that have been following me carefully, you would know that I was relatively confident several weeks ago regarding my expectation for the market to rally to the 4100-4150SPX region on this rally. But, as it stands right here, there are clear signs that risks have risen for at least some kind of 100+ point pullback. Of course, that does not mean the market can't push higher towards our next resistance region. But, it does mean that you should recognize a heightened amount of near-term risk.
As I have been noting, the daily MACD is now in nosebleed territory. As I explained earlier today, while there have been times in the past wherein the MACD has reached these levels, but only to see it pullback a bit while the market continued to grind higher. But, if you understand the market context of how to read MACD's, that occurred (as it should) during a higher degree 3rd wave rally. While I am primarily counting this as a 3rd wave rally, it is of a smaller degree, and we are likely nearing the completion of that 3rd wave based upon the structure of the rally.
Moreover, when you see the negative divergence on the 60-minute MACD in this posture, it also likely points to a 5th wave, which I am counting as the 5th wave of the c-wave of this rally.
So, with today's move higher, it provides us with further parameters. Our main support is now 4090SPX. And, as long as we remain over that support, I am forced to count this as a 5th wave. However, the manner in which this 5th wave begun is indicative of a 3-wave structure rather than a standard 5-wave structure. This leads me to the conclusion that this 5th wave can take shape as an ending diagonal. That now provides us with an ideal target of 4165SPX region for wave iii of this ending diagonal, which is the 1.236 extension of waves i-ii within this 5th wave.
Now, with the market as extended as it has become, I am going to try to keep this simple. As long as we remain over 4090SPX, I am looking for us to continue to subdivide higher into the next resistance box I have outlined on the 5-minute SPX chart. A break down of 4090SPX is a strong indication that this rally has run its course, and my first target below us is the 3950SPX region for green wave [iv]. The main reason I maintain this as my next downside target for a pullback is because it is quite common that wave [iv] overlaps with wave [i] in a diagonal (which is how I am counting this green structure), and that is the region where wave [i] topped out (3945).
For those of you that are new, there are two diagonals I am following. The first one discussed in this update is the diagonal potential I am tracking for wave 5 of the c-wave of wave [iii], and the other diagonal is the larger wave 1 in green, of which wave [iii] is but one segment.
I want to conclude with the same outline I have been providing since we bottomed over 6 weeks ago. Our expectation was that the market was going to return to the big blue resistance box I have on my 60-minute SPX chart. And, we are almost there.
Moreover, since we are almost there and we do not have any 5-wave rally structure having developed off the low, it means that we should exercise caution into this region, as the market has not proven its intention to set up for a direct move to new all-time highs from here. Rather, we still need waves [iv] and [v] to take shape in the coming weeks, followed by a corrective wave 2, thereafter followed by a break out over the high that is struck in wave [v]. Should that occur, then we can all go aggressively long with an expectation for 5100+. But, until that happens, there is simply too much risk within the current structure. And, since most of our members are long-term investors, I think it is worth repeating this point many times.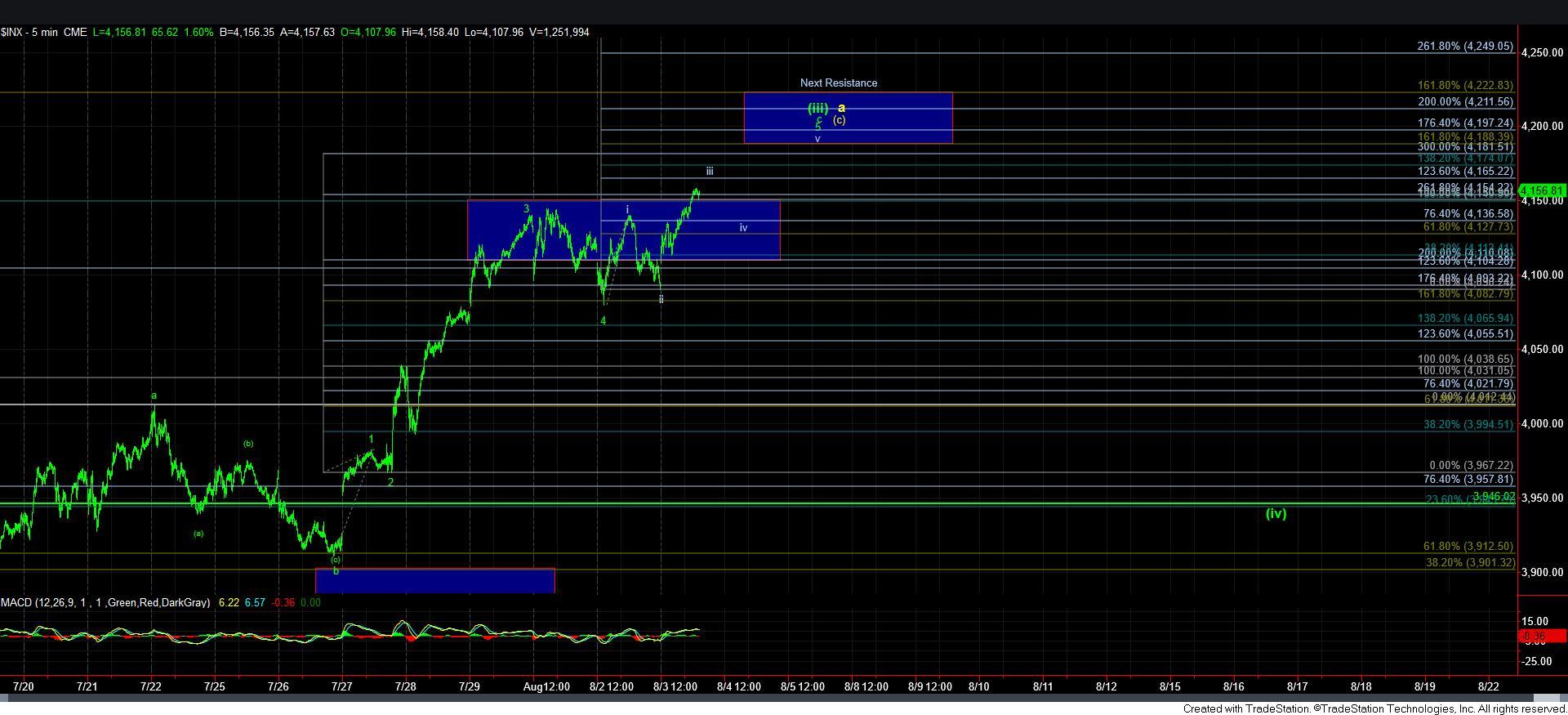 5minSPX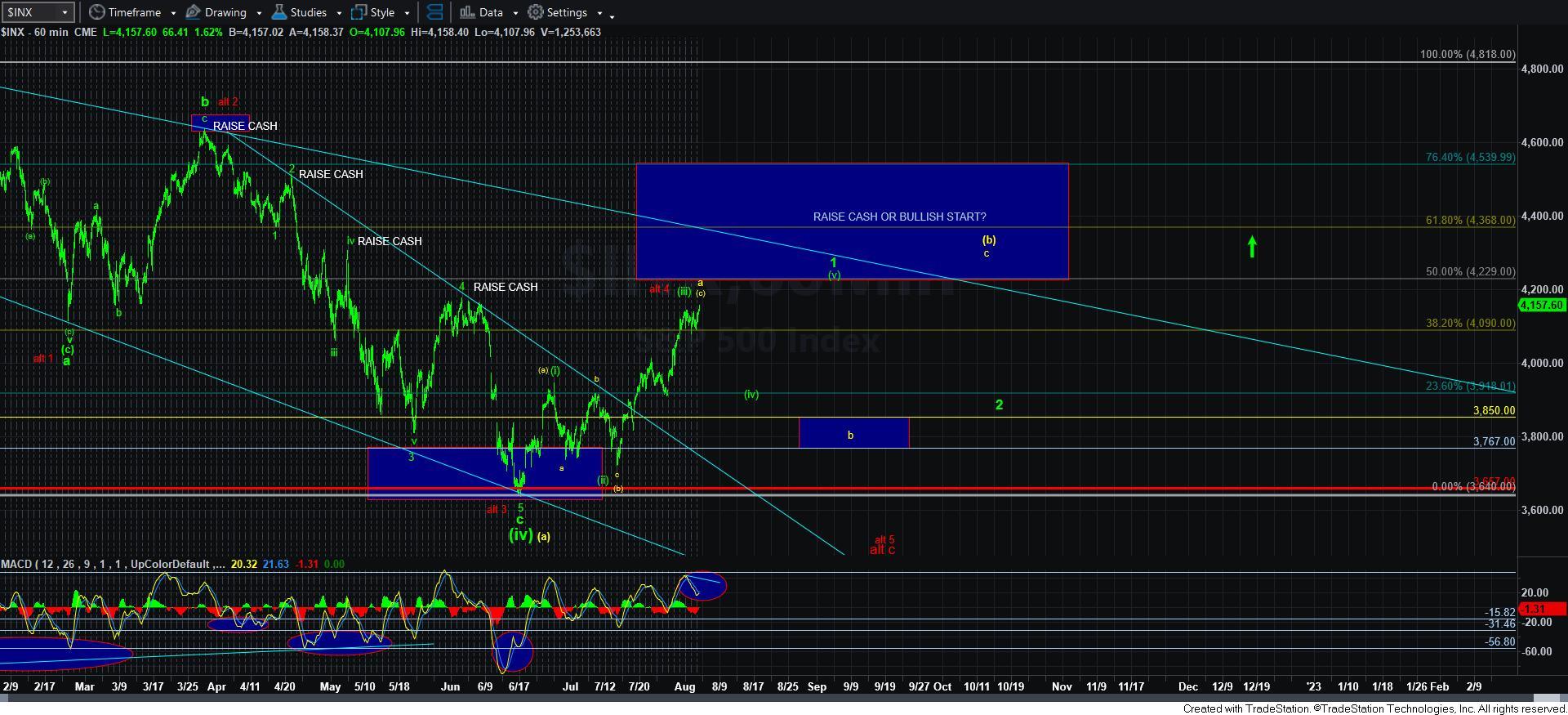 60minSPX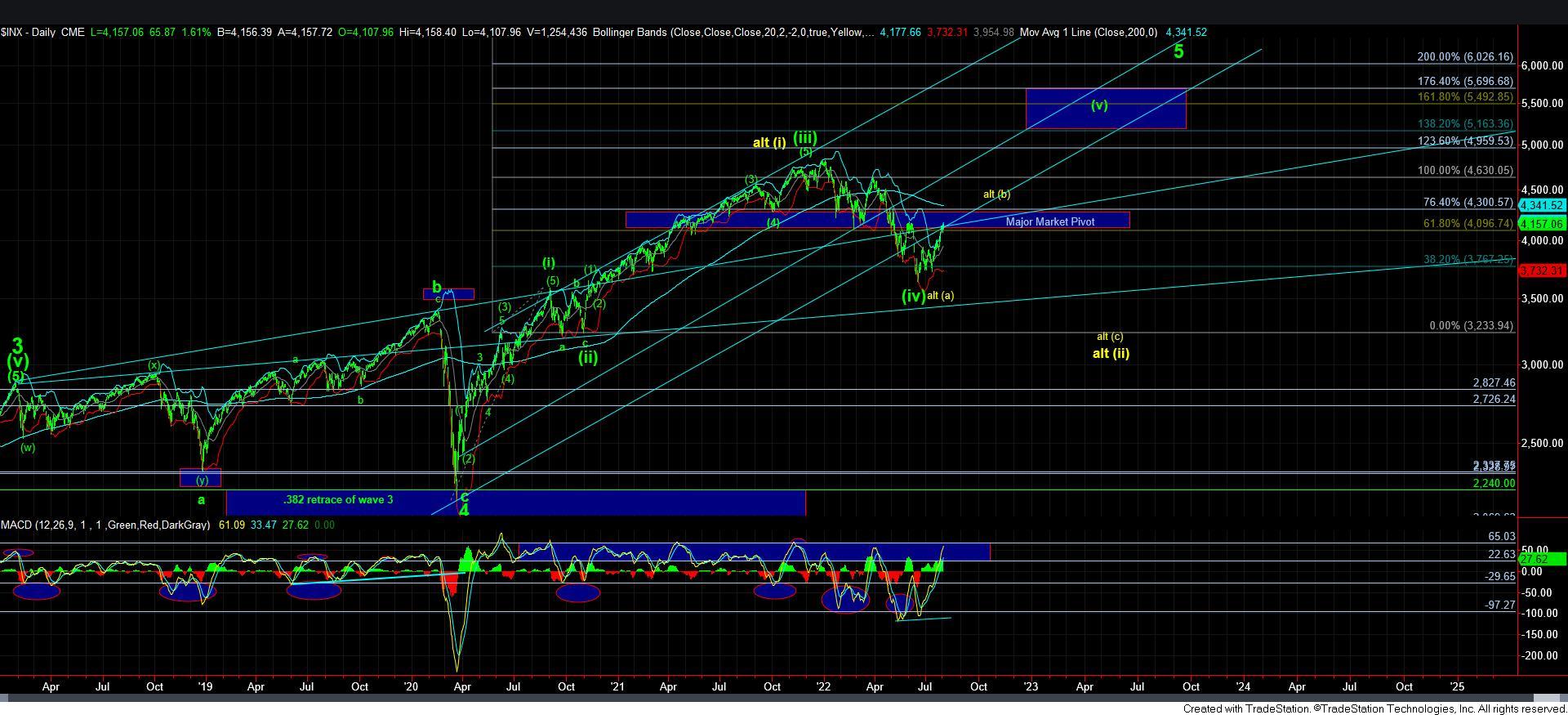 SPXDaily