Enjoying The Roller Coaster?
This market has more twists and turns than a roller coaster. And, for many of us, this has certainly felt like a roller coaster. But, it is not like this has taken us by surprise, as we warned you of the nature of this environment well before it began. Moreover, we have also been able to identify most of the turning points. Yet, it still does not make this any easier or less frustrating.
Over the last 24 hours, the bulls held the green count by the skin of their teeth. To be honest, it is rare that a retracement this deep will actually hold. And, thus far, I think this one has.
Some may question this with the 1-point overlap in the futures last night. I want to remind you that the reason we use the indices is because they represent mass sentiment. But, when we see an overnight move occur with low volume, we cannot always rely on that move, especially if it is a spike and reversal as we saw last night. So, at least for now, I am going to somewhat discount that move. But, believe me, it still makes me uneasy.
It also makes me uneasy when I see a 2nd wave retrace almost the entire 1st wave before it, as it is very rare that these structures will hold.
At the end of the day, the market has to still prove itself. And, as I write this update, we seem to be developing a structure within which it can prove itself. We have a reasonably "ok" 5 waves up off the overnight low in the ES. And, we seem to be pulling back in a 2nd wave.
So, if the market can hold this pattern into tomorrow, and break out over the high of the initial 5 waves up, we have an initial signal that we are in wave [iii] in green, targeting approximately the 4460SPX region, which is the 1.00 extension of waves i-ii.
But, I am going to warn you now. If we do hold this set up and break out and see any slipping thereafter from a standard Fibonacci Pinball structure, or if we break below the 4160SPX first, then I am likely going to be moving into the blue count as my primary. For if the market has a set up in place and does not take that set up, it usually provides us with a message - and our job is to the listen.
Lastly, please also consider that even if we do break out and rally back towards the 4750SPX region to complete wave 1, we are still likely several months away from a true break out. We still need to complete waves 1-2, and i-ii (as can be seen from the 60-minute SPX chart), and that will take us many months. So, I am not expecting any major break outs to new highs until the later part of the summer, or possibly even early fall.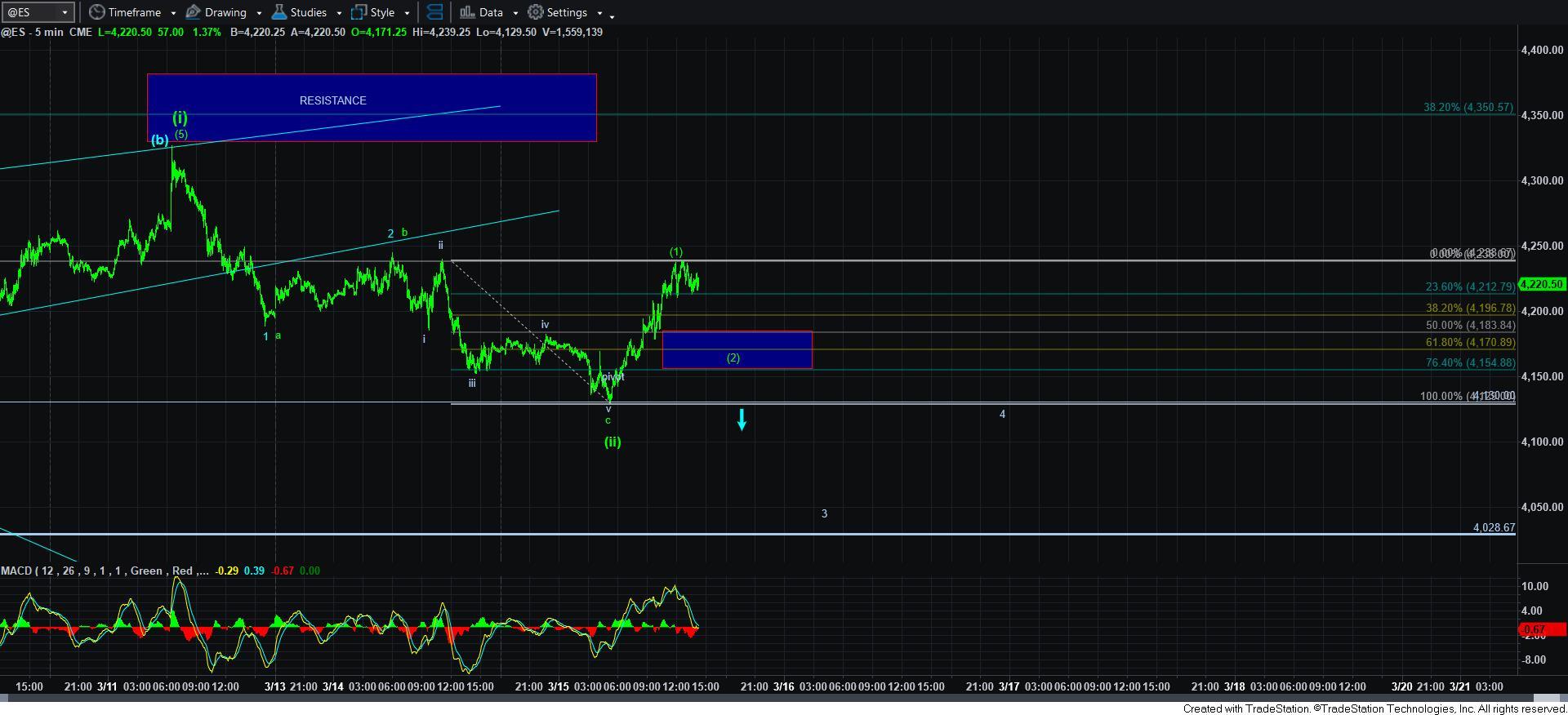 5minES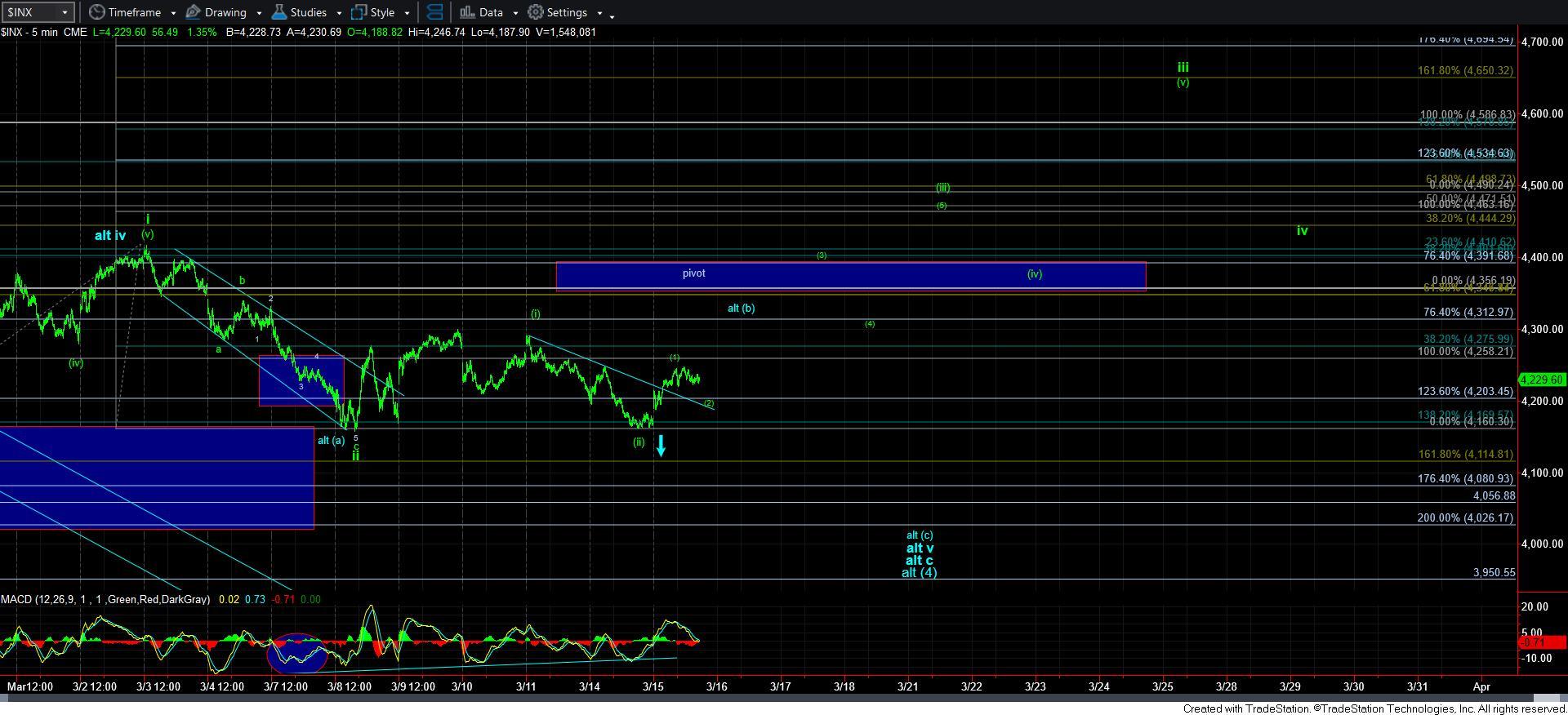 5minSPX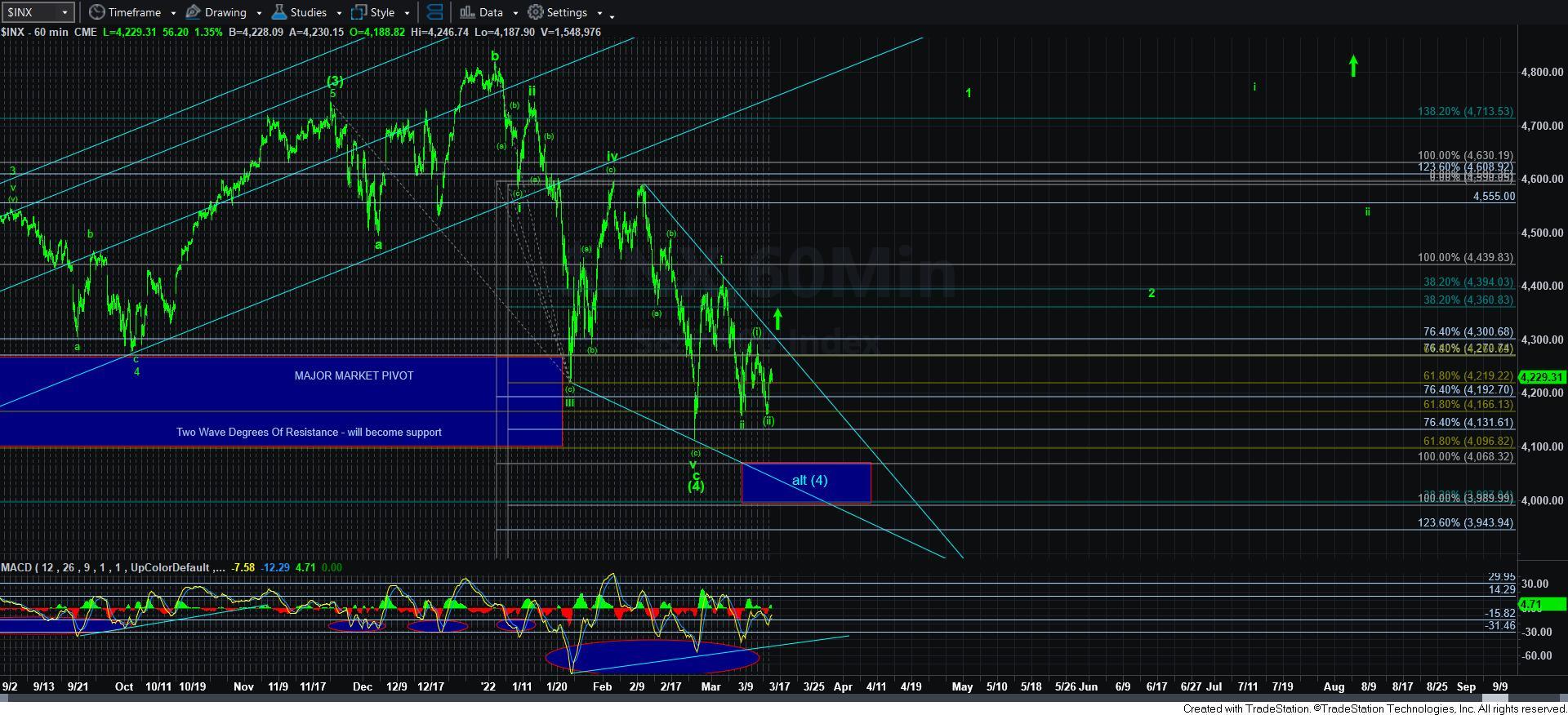 60minSPX