Yesterday, I tried to warn you not to get lulled into a false bullish perspective. Rather, the market had a set up which could imminently provide us with a sizeable downside follow through:
"Therefore, if this set up is correct, then the market is still lulling us into a potential false sense of security which will make us believe that we are certainly heading much higher very soon. But, I want to caution you that if this set up triggers over the coming day or two, we could very well see a 2-3% down day once we break down below yesterday's low. And, I am quite certain it will take most market participants by surprise since the "pullback" off the 3550SPX high we struck the other week "looks" corrective, or as some call it, a "bull-flag."
Therefore, as long as the market remains below immediate resistance, I want you to stay on high alert, because the next break down below yesterday's low opens a trap door for market price, and signals we are likely going to be testing the 3220-3250SPX region in quick fashion for wave [iii] of 3 in this c-wave."
And, today's action has certainly made a statement with a 3% downside move. However, I do not think we are yet done.
I still maintain an expectation for us to continue lower to complete the c-wave of wave [ii], as I have been highlighting now since we struck the top in September. Moreover, we currently have a Fibonacci Pinball structure which is pointing us lower, assuming we continue to hold resistance pivots I outlined on our way down.
The only reason I have any question about the path to the downside at this time is because of the overlapping structure with which we began this decline. Oftentimes, it is only a leading diagonal for the 1st wave of the 5-wave c-wave decline structure. However, in a minority of times, that overlapping structure can be warning us that the entire c-wave decline is going to take shape as an ending diagonal.
So, at this point in time, I have the 3332SPX level – the bottom of my micro pivot – highlighted as my main micro resistance at this point in time on my 5-minute SPX chart. Remember, based upon our Fibonacci Pinball structure, the market oftentimes targets the 1.236 extension of waves [i] and [ii] for its wave iii, and the bounce in wave iv thereafter should really not exceed the .764 extension, which in our micro case within the [i][ii] structure of wave 3 down is the 3332SPX region.
So, as long as all bounces remain below 3332SPX, my next target lower is the 3231-46SPX region, which is the 1.618-1.764 extensions of waves [i] and [ii] within wave 3, which you can also see from the 5-minute chart.
Alternatively, if the market should be able to move back up through our micro pivot (over 3347SPX) instead of following through to the downside immediately, then that signals that the c-wave down will take shape as an ending diagonal. And, I will warn you now, the ending diagonal structure will provide much whipsaw, which will make trading within that structure extremely difficult. So, for now, let's "hope" the market continues to follow the standard path lower, as we look for a minimum target of the 3050SPX region to complete the c-wave of wave [ii].
And, should we continue to move lower, I will continue to adjust our pivot lower for the expected corrective bounces.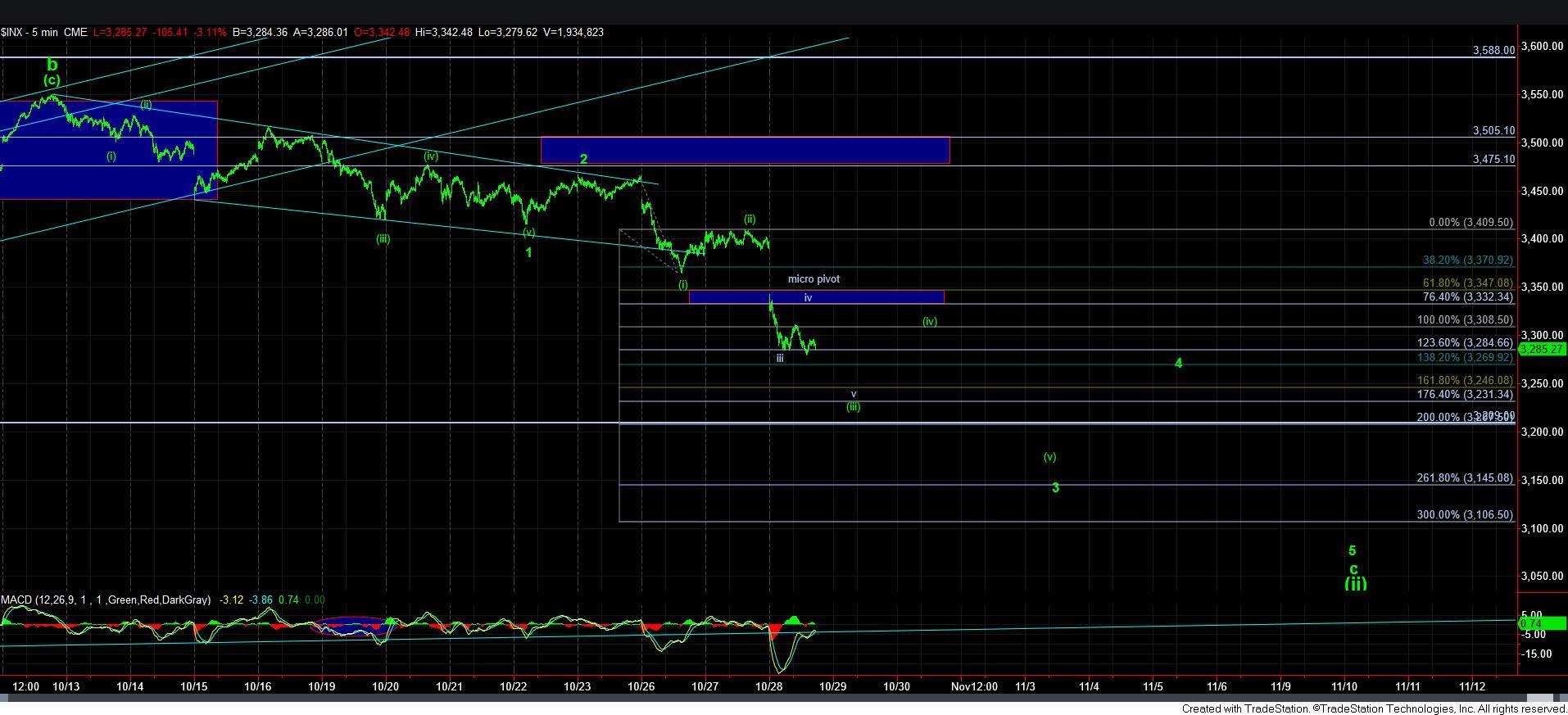 5minSPX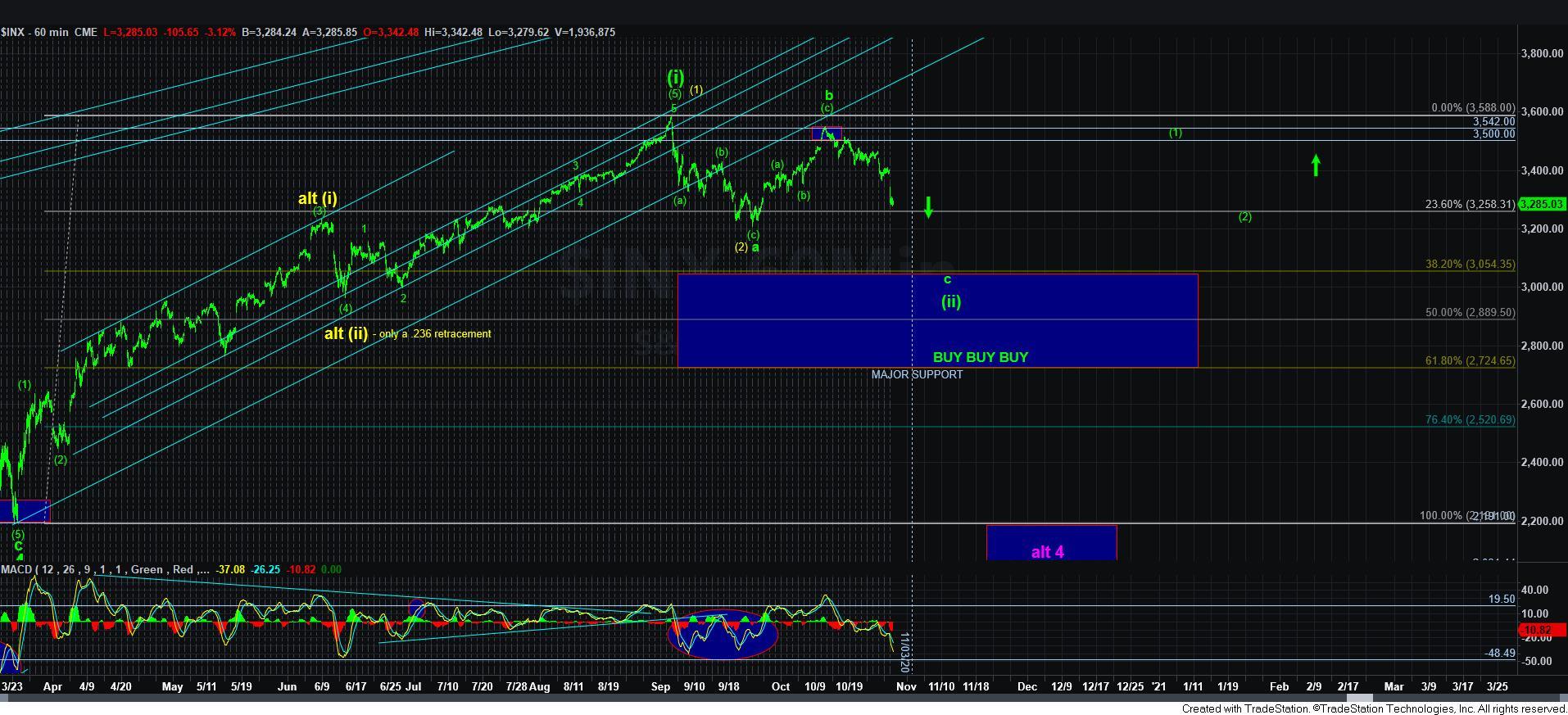 60minSPX