Decline Delayed - Market Analysis for Aug 1st, 2017
As I noted yesterday, 4th waves take many twists and turns. And, even though the market had a set up to head down in a (c) wave to complete wave iv, it clearly had other things in mind. But even so, the current grinding we are experiencing is not normally a bullish indication.
Based upon the overlapping action we are seeing, the most likely interpretation for this is that this is a (b) wave rally within wave iv. That still means we need a (c) wave down to complete wave iv.
But, due to the proximity of a potential top in this region, we must also recognize that it is possible that wave (3) has already completed, and that we are already in the beginning machinations of wave (4). While I consider that the lower probability at this time, especially as we remain over 2450/55SPX support, I at least have to recognize the potential, especially since this is not an impulsive move up off last week's low.
The other potential is that this move up off last week's low is an ending diagonal for wave v already. However, I don't see that as a high probability either because we would see some impulsive c-waves even within an ending diagonal pattern, and I really cannot make out any clear 5 waves structures within this rise off last week's low.
So, by the means of elimination, I am still going to view this as a (b) wave of wave iv, which still needs a (c) wave down, which should ideally set up a wave v to a higher high in the 2500SPX region.
While I am trying to outline the probabilities to you based upon all the potentials I see up here in the market, I do want to make another point of the daily chart. The MACD has rolled over as one would expect for a wave iv in this last micro segment of this rally, and it seems to be set up for one more push higher, which would provide even further negative divergences we would normally see in a textbook wave (3) topping pattern.
So, while the bigger indications seem to suggest we are likely developing a top, nothing has confirmed that just yet. And, as we all know, this market has not been kind to those traders who have attempted to short this market for the last year. So, I am still going to give the market a bit more room and time to push higher to complete wave v, but I would also like to see an appropriate resolution to wave iv with a (c) wave down in the very near term . . . like by tomorrow.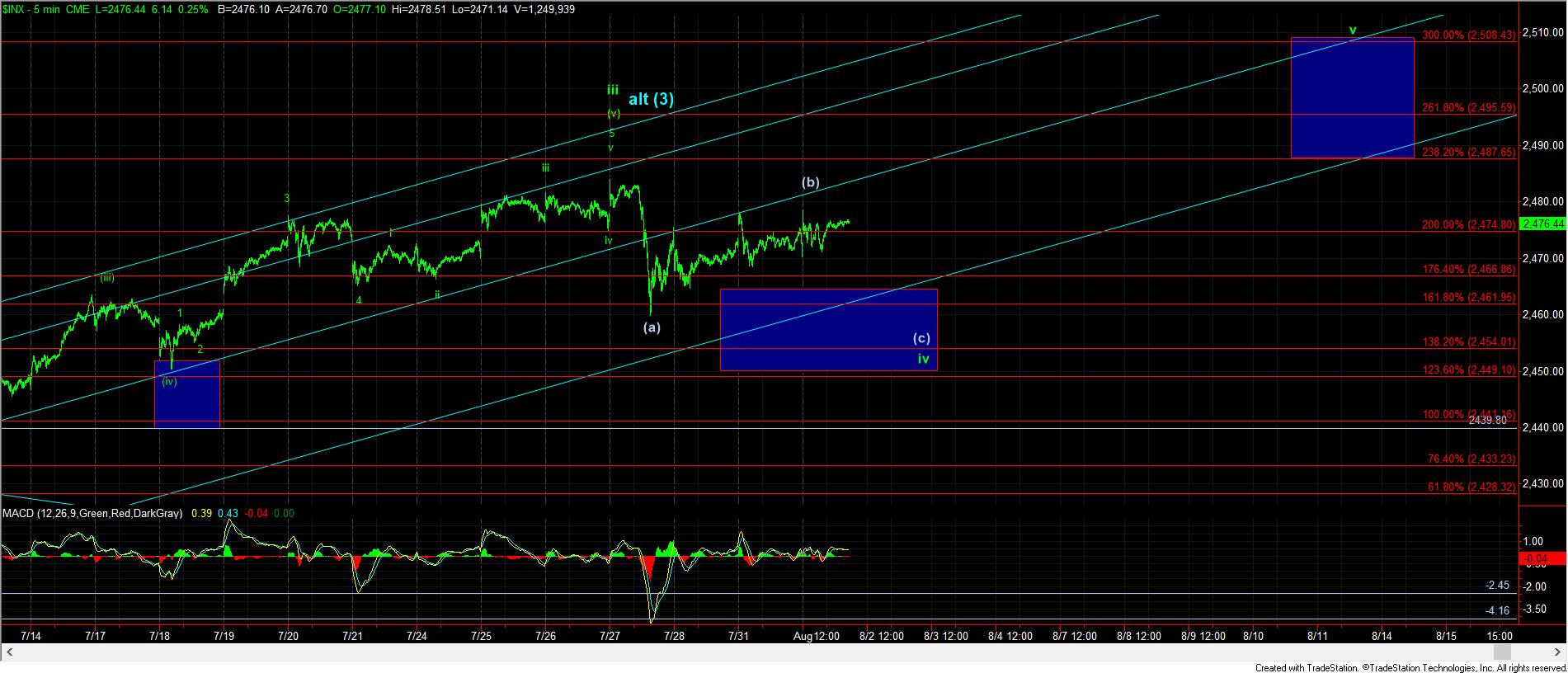 5minSPX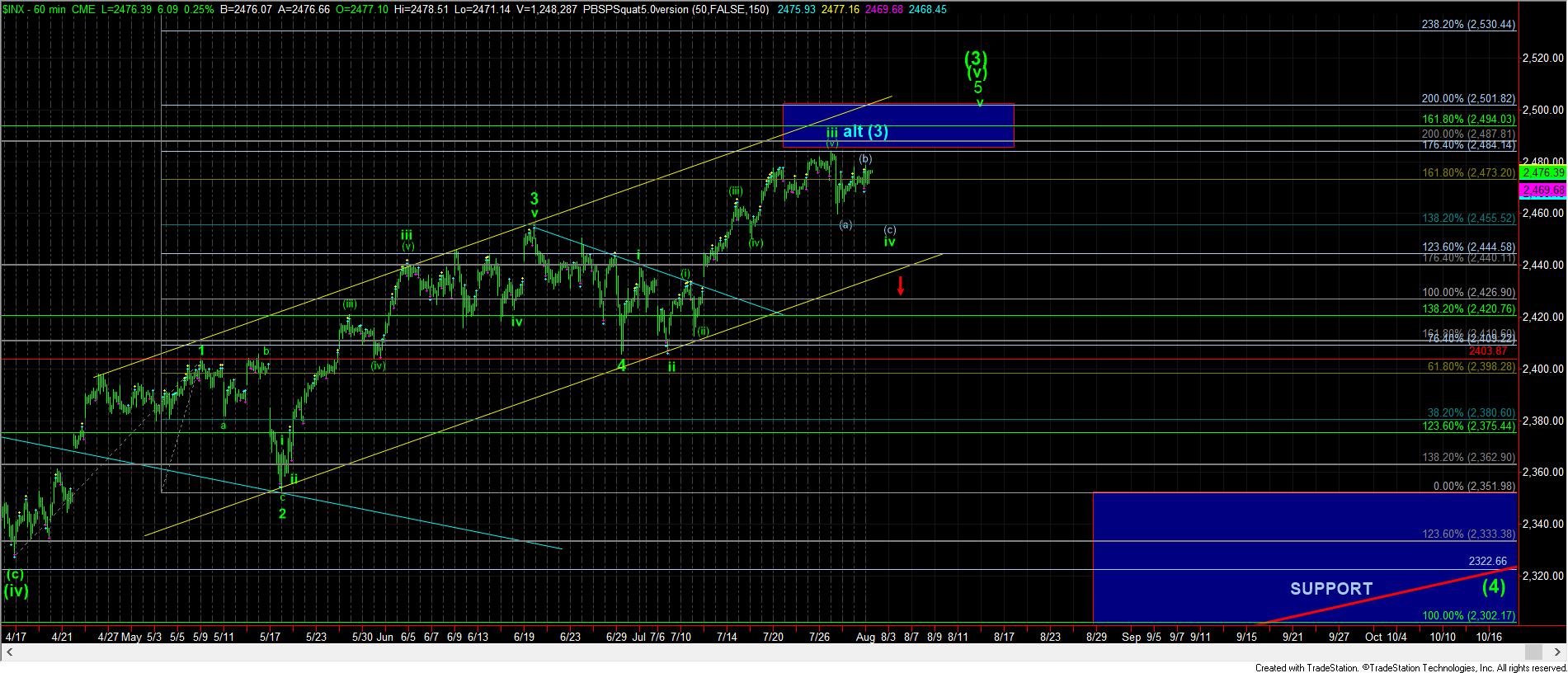 1-60minuteSPX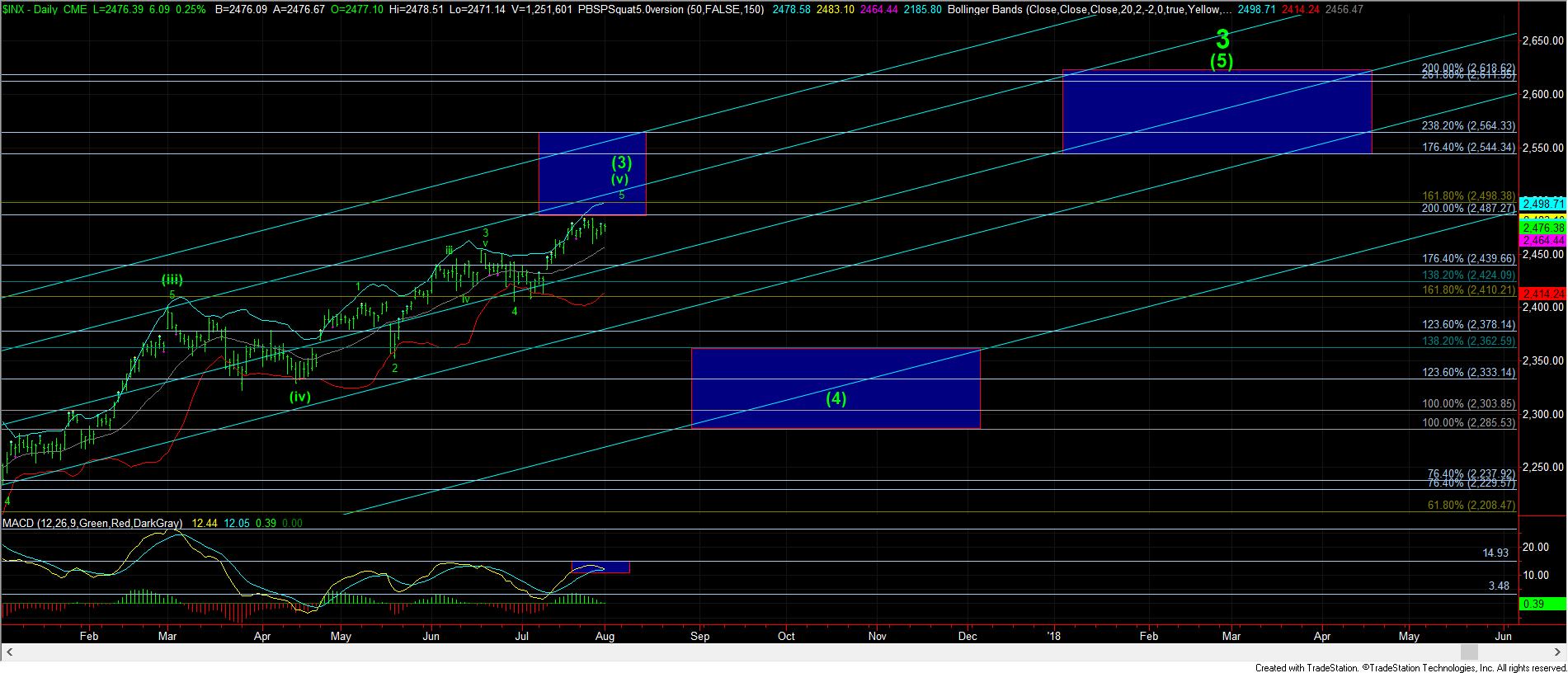 1SPXdaily