Decision This Week - Market Analysis for Oct 18th, 2021
I am still looking for the market to make a decision in this region this week. But, there is something I need to make very clear.
Many of you may be assuming that if we rally up to the 4500+ region that the purple b-wave goes away. That is not at all what will happen. Rather, a move to the 1.236 extension only raises the probability for the leading diagonal to around 55/60%. The b-wave still remains in the running UNTIL WE HAVE 5 WAVES UP.
As I have noted many times before, the leading diagonal structure is too much like a corrective structure, which is why I do not trust them until they complete. So, we will need to see all 5 waves complete before I am willing to say the decline we see after 5 waves up is a buying opportunity in a wave ii. Until that happens, I will retain the purple count, but the probability begins to diminish as we head up to the 1.236 extension.
In the meantime, I want to reiterate the potentials I am seeing on the chart.
The 5-minute SPX chart can still count as a clear b-wave structure. But, until we see an impulsive decline below 4425/30SPX, I have no way to rely upon it.
On the ES chart, it is telling us we either have a 5-wave structure rally off today's low, which means we are starting the wave 5 of the c-wave of [iii] or this is a b-wave in a 4th wave flat, as shown in blue. But, if we have begun the rally already to 4500+, this initial rally is a bit large, and if this does trigger to the upside after a small pullback, then it would project not to the 1.236 extension, but closer to the 1.382 extension in the 4531ES region. This is still well within reason for a wave [iii] in a leading diagonal.
So, in summary, nothing has really changed in my perspective. We have initial support at today's low in the 4435ES region, followed by support in the 4420ES region. As long as those supports hold, then we have a path up to the 4508-4531ES region next.
But, if we see a clear impulsive break down of that support, then we can view the purple count as more likely.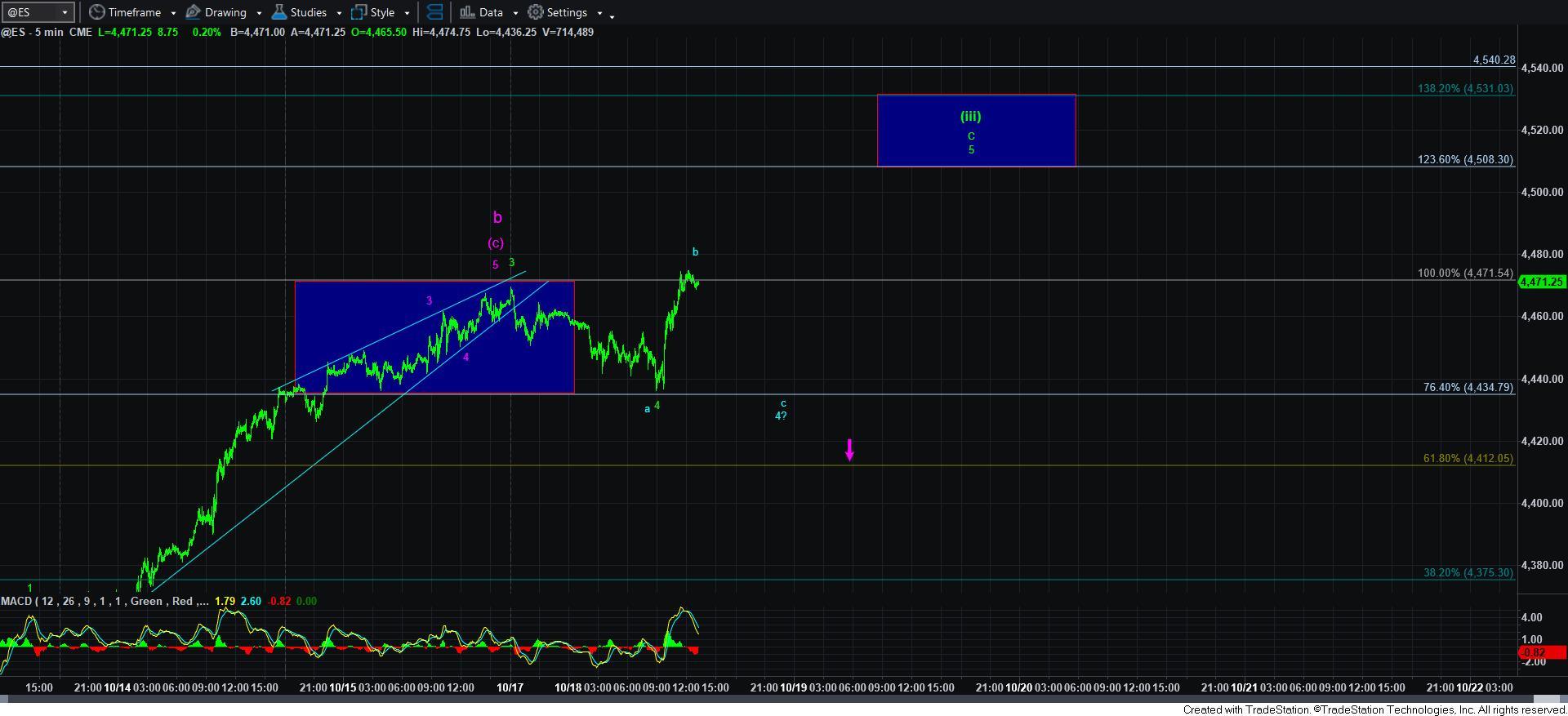 5minES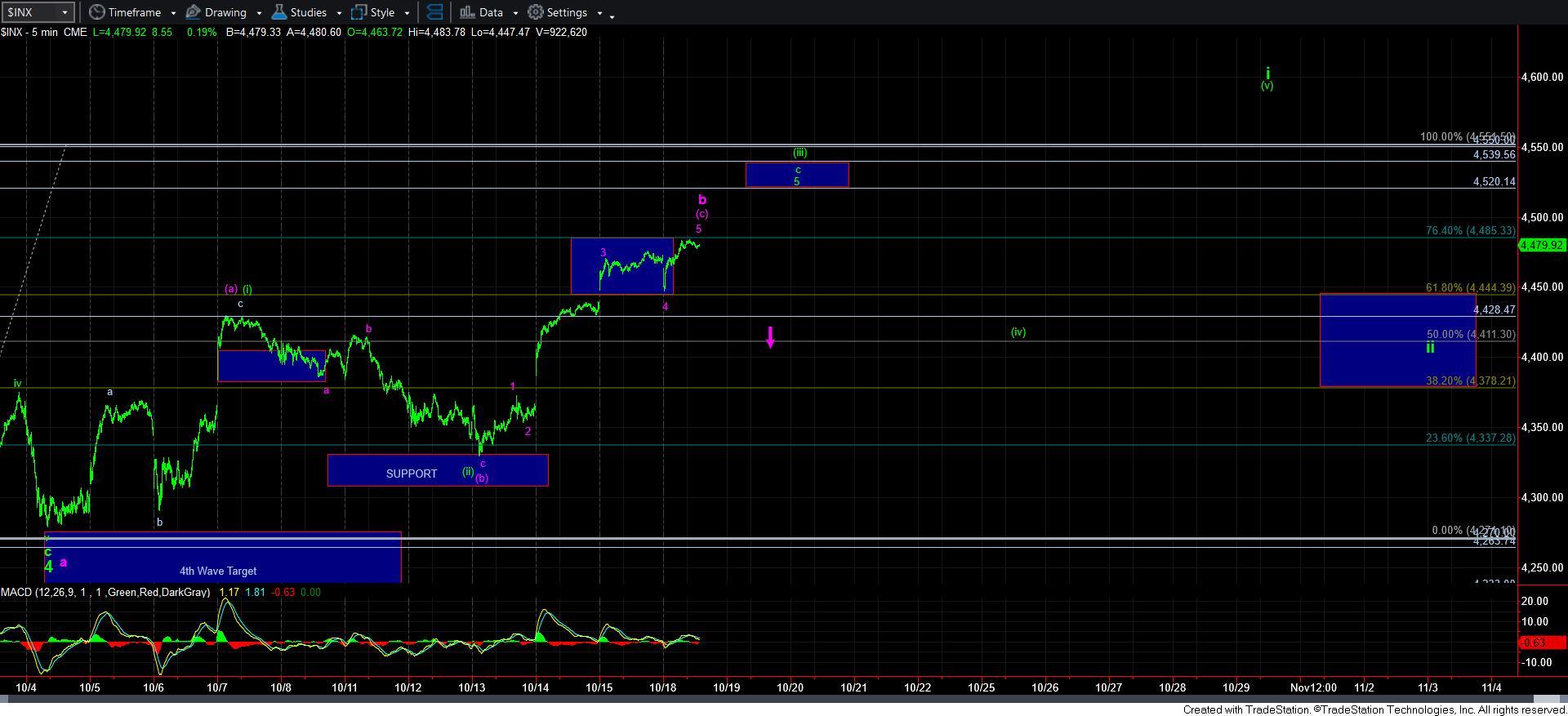 5minSPX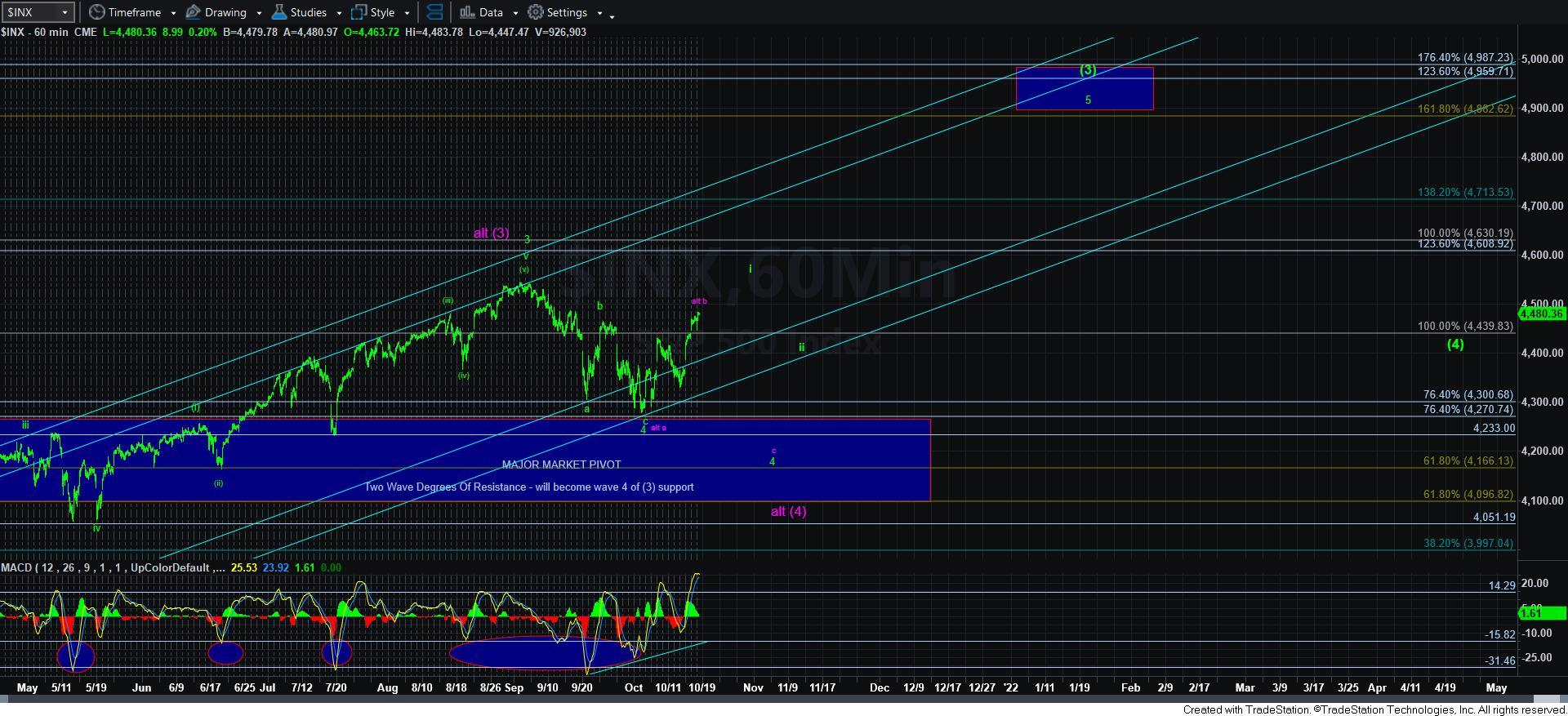 60minSPX