Critical Time Frame - Market Analysis for Nov 26th, 2019
There is no question that the market is putting my larger degree expectations to the test here. And, while I have noted that I am not always going to be right in my assessments, our work on the markets over the years has always proven to be much more correct than not, even in the face of extremes we have dealt with in the past.
That does not mean there will not be times when it will be wrong. However, even though the market has now pushed to extremes on the count I am following, I still don't have clear evidence that it is wrong.
Last night, I posted an IWM chart which outlined where I would be clearly wrong in my assessment – in other words, should the market be able to directly move through the pivot noted on the 60-minute IWM chart. And, should the market move through that pivot on IWM, then I would have to accept we are on our way to levels that are 25% higher, and potentially even more over the coming year or two (my minimum target on the IWM is 220). But, until that happens, I see the risks of a 30% drawdown as too great to simply throw caution to the wind and assume that the market does not have such risks, especially when I consider that we have over 5000 members I need to consider.
While you may chose to view the market as you see fit, the standards that I apply in analyzing the markets have kept me safe from large draw downs. While I certainly may miss some of the upside in a 5th wave (should this actually turn out to be the correct count), I will personally only adopt that count if the market makes it clear I must do so, because there are still too many factors telling me that this is not the most likely case scenario.
So, while I wish I am able to be 100% correct in all my assessments, I still have to apply what has proven to be correct the great majority of the time, as the risks are still too great for me to put my own money to work in assuming that we will have a melt-up from here, as so many are so certain. While they could be right, I still think the risks are too great for me to be willing to put my own money to it.
So, over the next week or so the market will likely either confirm or invalidate my expectations. At this time, if we spend the day in a pullback/consolidation, as shown on the IWM/RTY charts, then this would go a long way to supporting my perspective. But, I am not going to give the market too much more time to prove my larger degree count to be correct.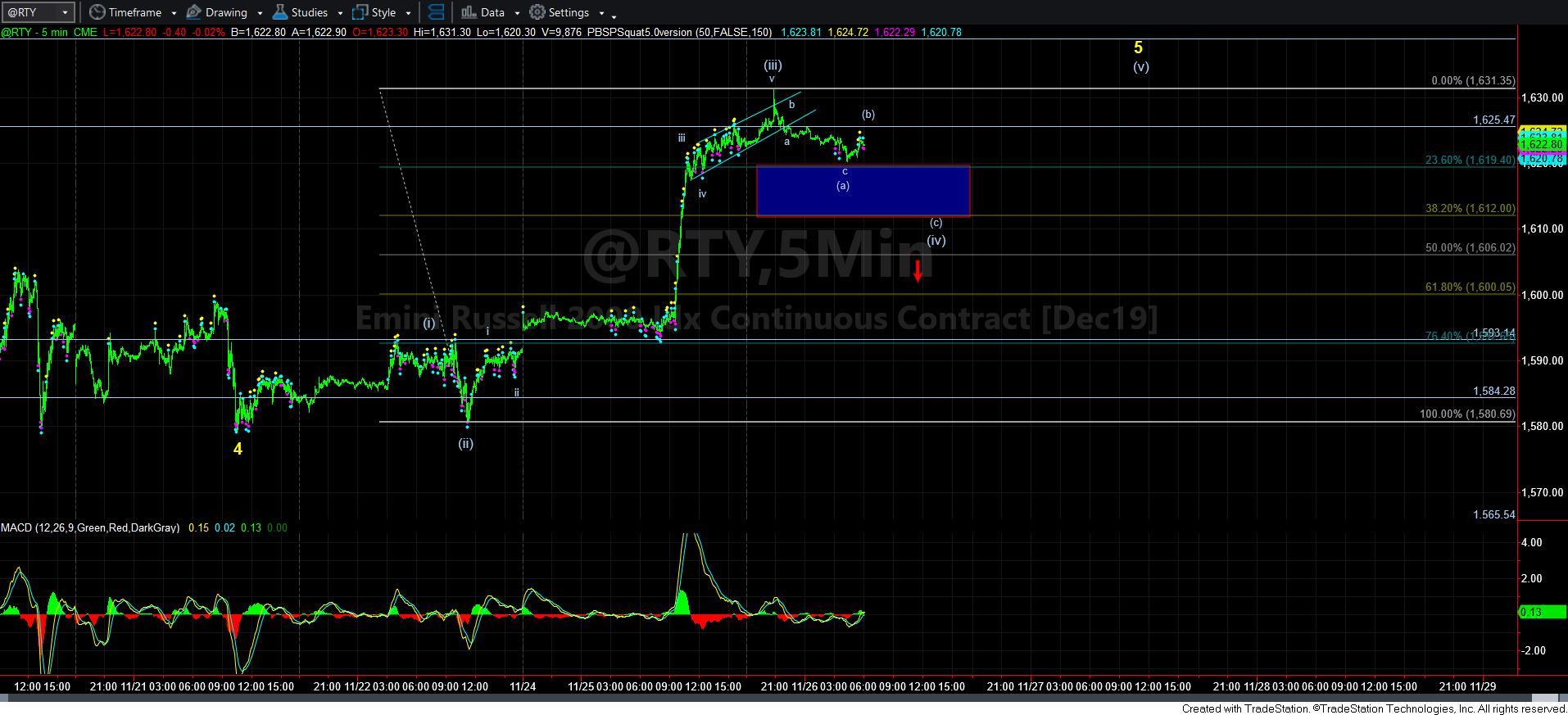 5minRTY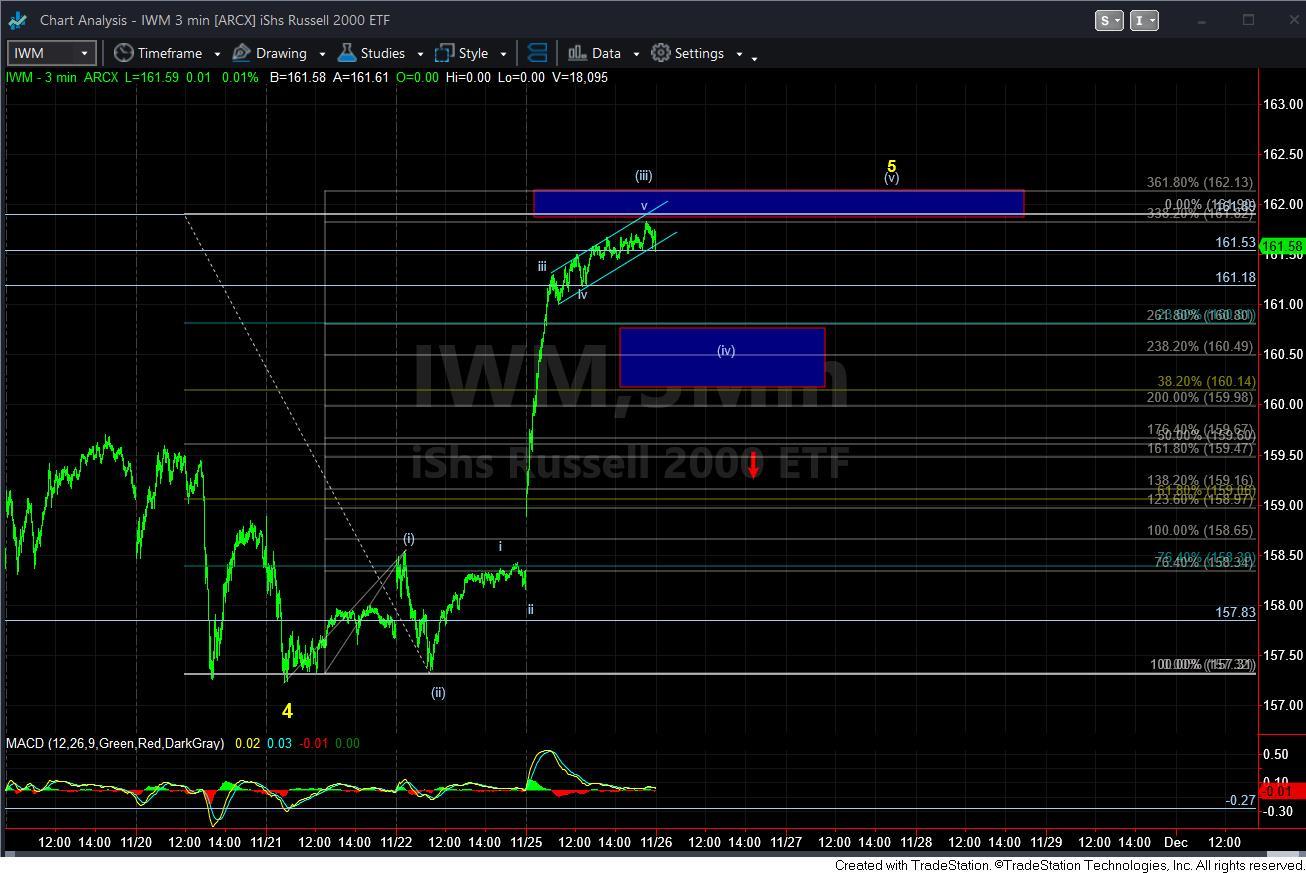 3minIWM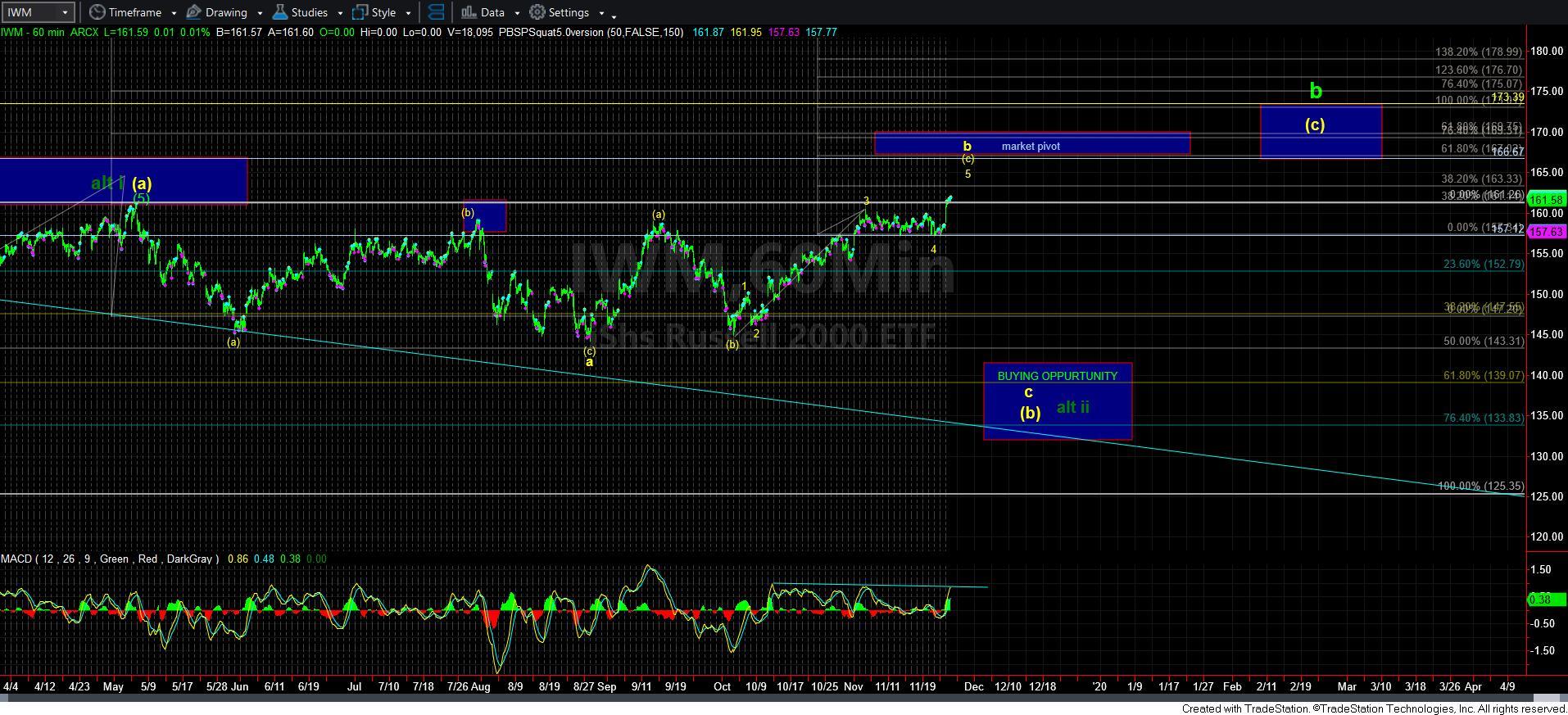 60minIWM