Concern For The Holiday Weekend
I am putting this update out early, because I will likely be out of the office later today, and we are at support right now for this pullback off today's high. Should I need to send out another update later, I will, but this update should cover my expectations.
With the market gapping up today right to where a wave iii on the 5-minute chart was presented, it would seem as though the market was in a rush to now complete this 5-wave structure off the June low as we approach the July 4th holiday. Moreover, we are now in the 2965-90SPX target region for the potential topping for the rally off the June low.
The micro structure suggests that not only did we complete wave iii today, but we are likely within wave iv. That means that we can complete waves iv and v within the next day or two, and before the July 4th holiday.
Support now resides between 2953SPX and 2960SPX for wave iv, and as long as we hold support, I am going to expect a standard 5th wave higher to complete 5 waves off the June low. A break down below 2953SPX would suggest that this will complete as an ending diagonal, or it has already completed (lesser likely).
I want to stress the importance of this 5-wave structure off the June low as being a guidepost to us right now. You see, after this 5-waves completes, we should see a drop in the market. As I have outlined many times before, ideally, I am still expecting a drop as deep as the 2200SPX region off these highs. However, if the market drops off these highs correctively, and then breaks back out over whatever high we strike for this 5-wave structure, I will be forced to adopt the more immediate bullish count pointing us to 3800+ sooner than I had initially expected. And, it is for this reason that I view this 5-wave structure as being an important guidepost to my overall expectations in this region up here.
Now, those of you that have followed my work for some time know that I am quite level headed. So, you know that I am neither a conspiracy theorist nor an alarmist. And, while the stock market can never tell you what will happen in the future, it can give you indications as to when something is "ripe" to happen in the world.
For example, when a market is completing a downside corrective structure, it could be alerting you to some positive event about to occur which the market will rally upon. And, the opposite case is what concerns me at this time.
Whenever I see a market hurrying a pattern to complete as we approach a holiday weekend, it clearly gets me concerned when it is completing an upside pattern. As we have been tracking the completion of a 5-wave structure off the June low, which may even be completing the structure off the December 2018 low, we are presented with a potential larger degree top being formed.
And, as that structure is completing into a holiday weekend, it can suggest that sentiment is ripe to see an abrupt change of direction. Moreover, when we understand that these patterns represent the sentiment of the masses, we also have to recognize that an event can trigger such a change in direction.
This brings me to my point. With the market seemingly attempting to complete a larger degree structure as we approach a major holiday in the United States of America, clearly the socionomic perspective concerns me that we are ripe for a major negative event to strike at such a time, especially due to the potential completion of a "positive" sentiment pattern. In other words, we are ripe for a negative event to occur upon which the masses will blame the turn down in the market – especially as we are going into a holiday weekend.
Now, again, I am not an alarmist by nature, nor am I saying that something is certainly going to happen. But, I would urge you to at least be aware of your surroundings when we go into this holiday. I pray nothing happens, nor do I know of anything or can point to anything that suggests something will happen. But, I have seen it happen too many times in the past where an event occurs to trigger a directional change which is being set up in the market and this one concerns me more than others as we may be topping into the July 4th holiday. Again, I hope I am VERY wrong, but it never hurts to be just a bit more cautious.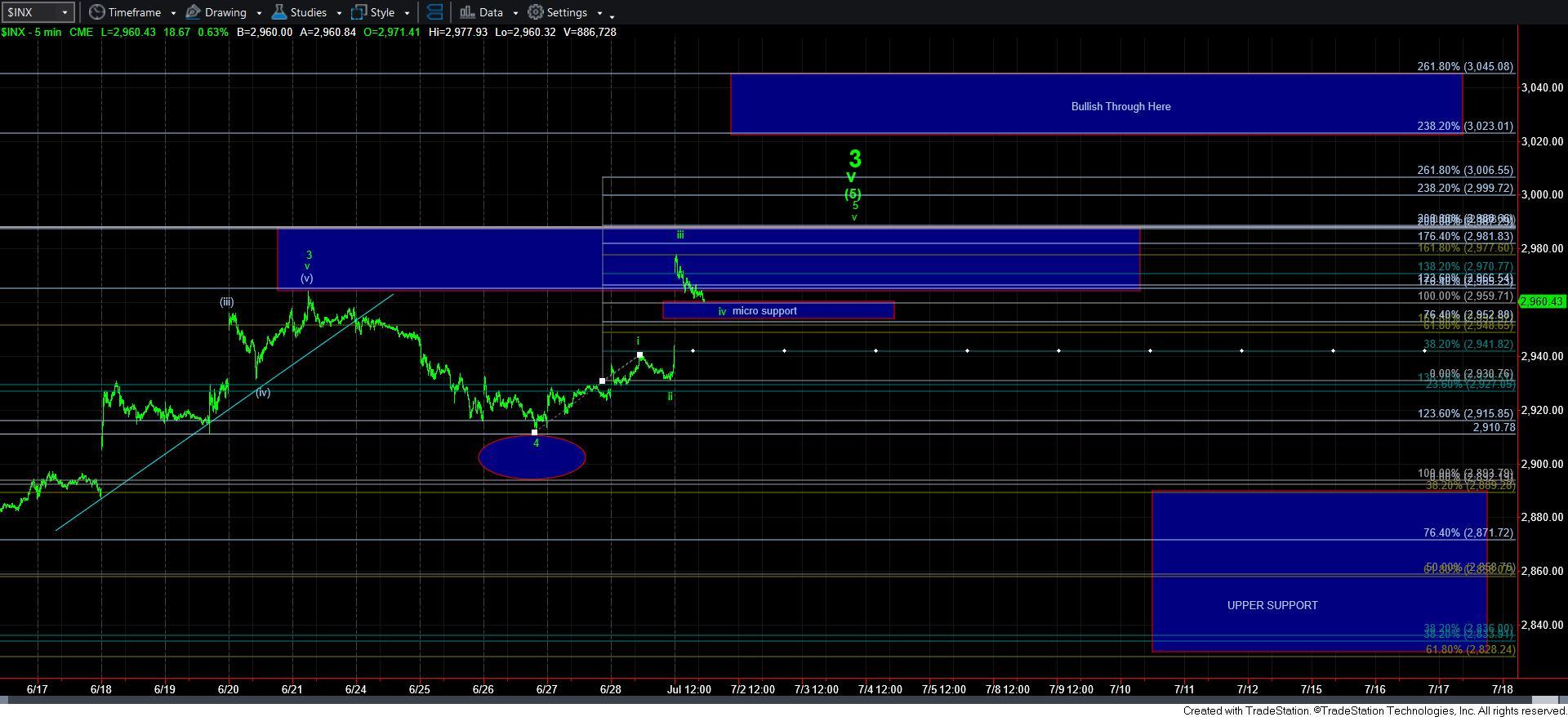 5minSPX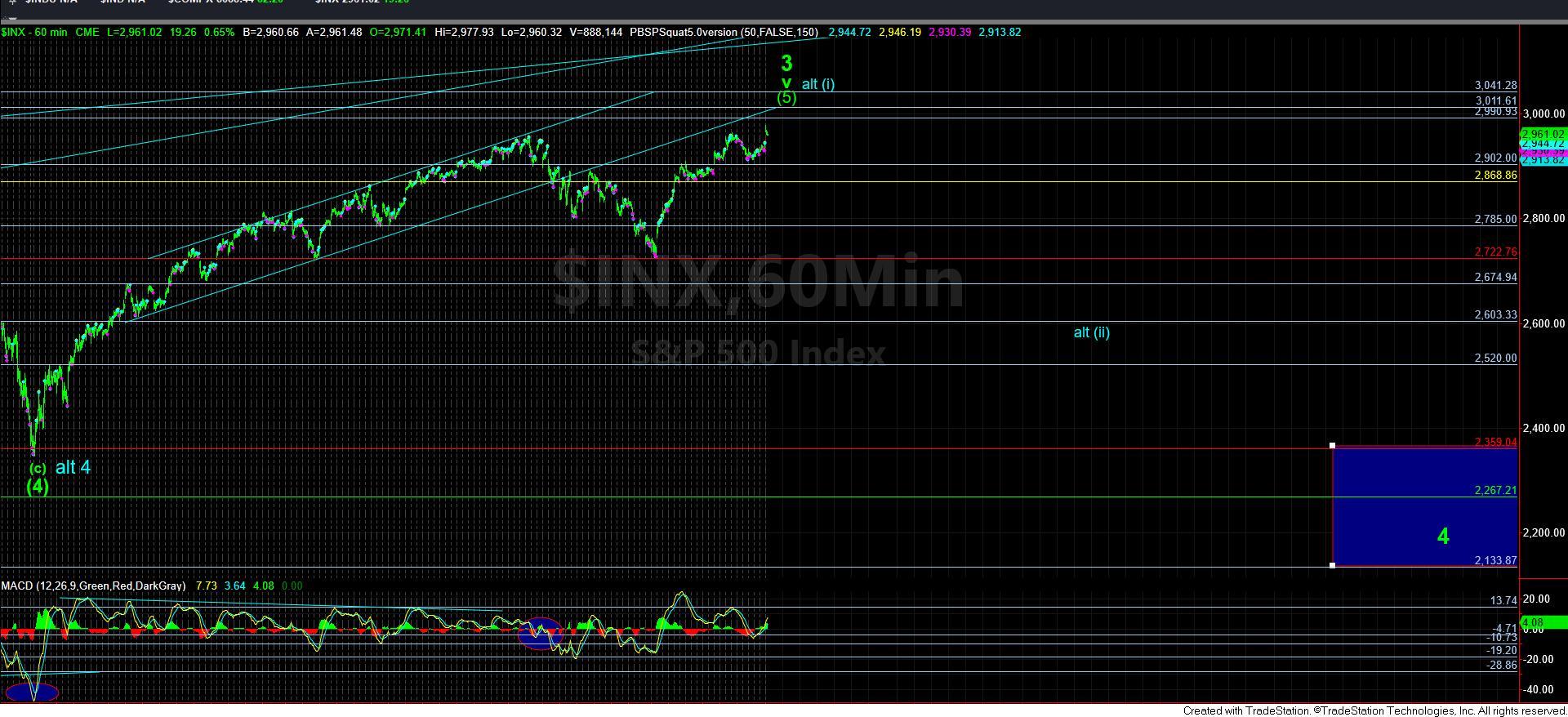 60minSPX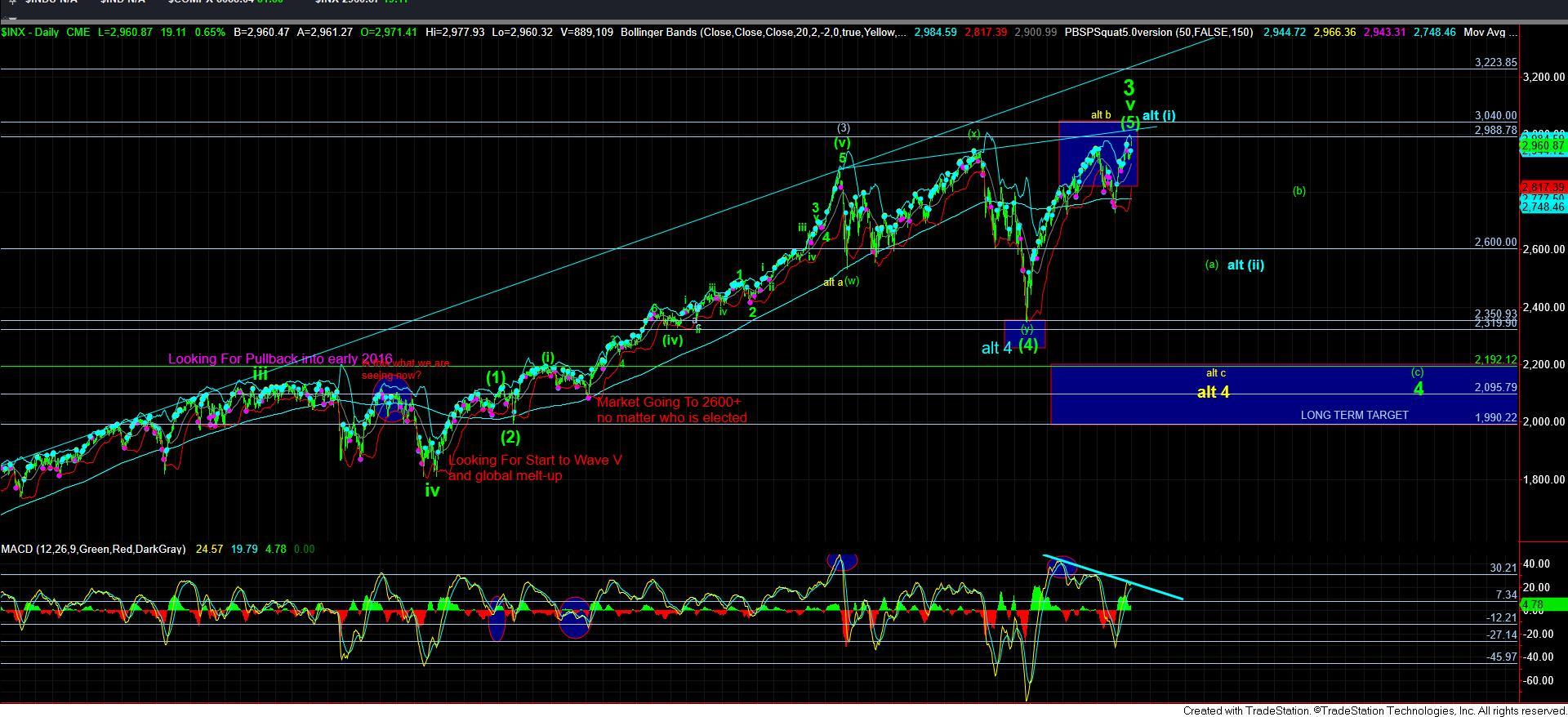 1SPXdaily