Can We See Follow-Through?
With the market gapping higher after hours yesterday, it began filling in the playbook for the heart of green wave (iii) higher. However, when it dropped below 2064ES later that evening, it clearly placed doubts in my mind since, in the perfect world, that should not happen. Ordinarily, it is seen as an invalidation of the standard bullish count.
However, in my experience, there have been a handful of times I have seen markets seemingly break those patterns with similar types of invalidations during low volume market hours, only to find themselves back to their prior break out levels in the morning. Those we can "technically" ignore, since mass sentiment is not being represented by low volume after hour moves, especially if the market can continue on its merry way in the cash market.
So, for now, I am cautiously allowing the market to follow through on green wave (iii), which if maintained, will likely see 2108ES within the next trading day or two. That would likely see us gapping up tomorrow to head to that target. Should we see that, I would expect the market to come back to the break out region of 2090ES in wave (iv), which should set up a run in wave (v) of (3) of I of 3 towards 2120-2135ES, and ultimately completing wave I of 3 around the 2150 region.
Also, once we break through to new all-time highs, I will move my support box up to the 2074-2090ES region.
As for alternative counts, I really have two potentials, with the most "damage" being done with the yellow i-ii count for now. While my preference is still to see us targeting 2108ES rather quickly, I have to entertain this possibility. Furthermore, due to the overlap after hours last night, I also have to put on my table of considerations that this entire rally into the spring may develop as an ending diagonal. While last night's drop has only placed that on the table, a lot more has to happen to support that perspective.
For now, I am continuing to maintain a bullish bias into the spring.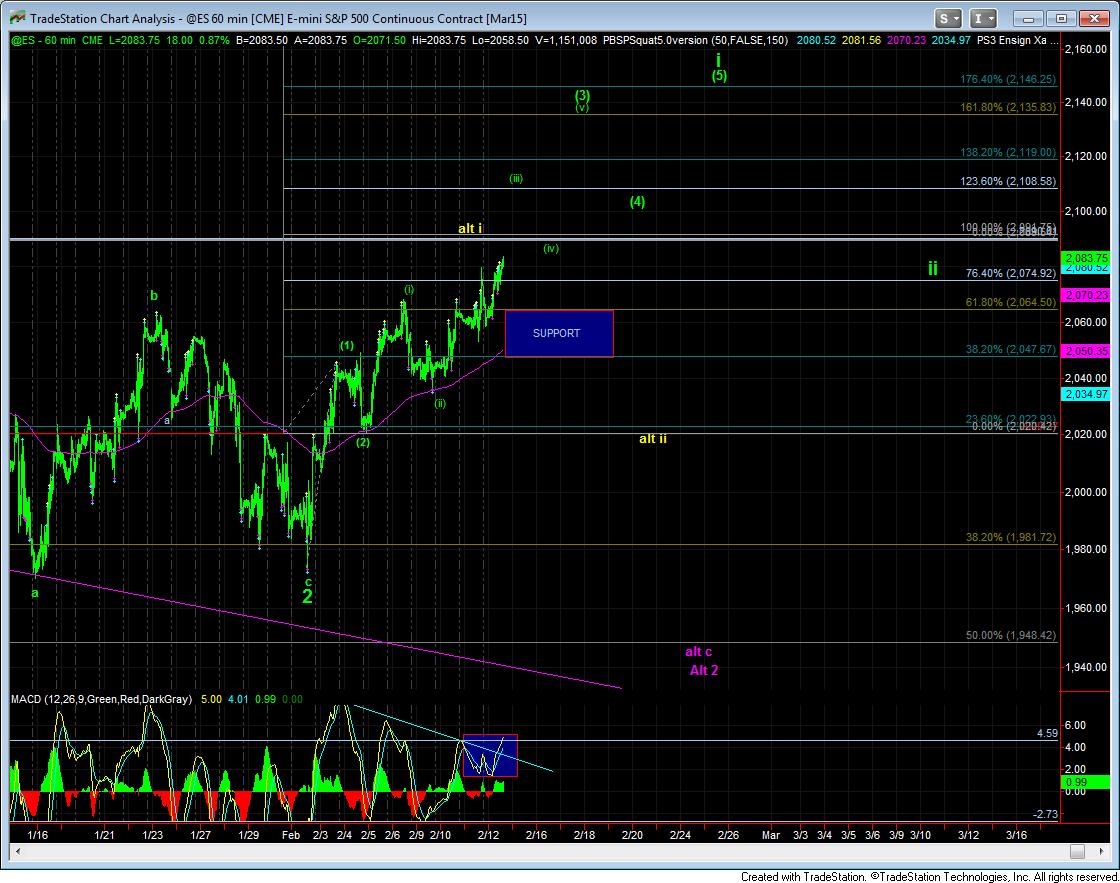 BaseCase - 60minES