Can The Bulls Take Control?
Clearly, my primary expectation was not that we would break out over 2047SPX this week. When we did, it opened up more bullish interpretations, as I have noted many times over the last several weeks. But, I want to reiterate what I said today in a Wave Alert:
First, I want to repeat that the b-wave is not dead, but just has been weakened. But, I would not be aggressively trading it until you see the 1-2 down in red.
Next, I have modified the green count to having completed waves (1)(2) . . but I really have an issue with it since it is such a small wave (2). But, if we do break out strongly over 2105, then my target for that 5 wave move is going to be 2300, and potentially much higher. Again, this is the least preferred of all the possibilities on the chart right now.
The middle ground is the yellow count at this point in time.
So, for now, in between 2047-2077SPX, I still maintain an expectation for the b-wave, but it has been weakened today. We need to see a strong reversal below 2047SPX very soon - even today - to even begin to consider it at a higher probability.
And I want to remind you what I have been saying .. . coming up to the 2000-2040 region from the 1900 region was the easy part. The region between 2047-2077 is where I have questions, and I am going to allow the market to play out within this region before I take off the red b-wave off the table. While you may think I am wrong for maintaining this perspective, I am simply maintaining the plan I had laid out weeks ago and it should come as no surprise.
At this point in time, after more of the action seen today, I am going to lower the resistance for the b-wave to 2066SPX. If the market continues through that level of resistance, it opens the door for wave iii in yellow up to the 2105SPX region.
So, until we see a strong reversal from below 2065SPX, the b-wave could very well become a much lower probability, and we could be setting up for the run over 2300 sooner rather than later.
And, in order to strongly bolster the red b-wave scenario, I noted this as what we need to see:
may I remind you that there is still a lot of confirmation necessary for this b-wave high. First, we need to break yesterday's low at 2016 and then we need to see an impulsive move down to the 1990SPX region. That would put us in a much better position to view this b-wave top as being in place, and we can look towards a bigger decline to take hold with a 1-2 set up in place. Again, we are still a long way away from that.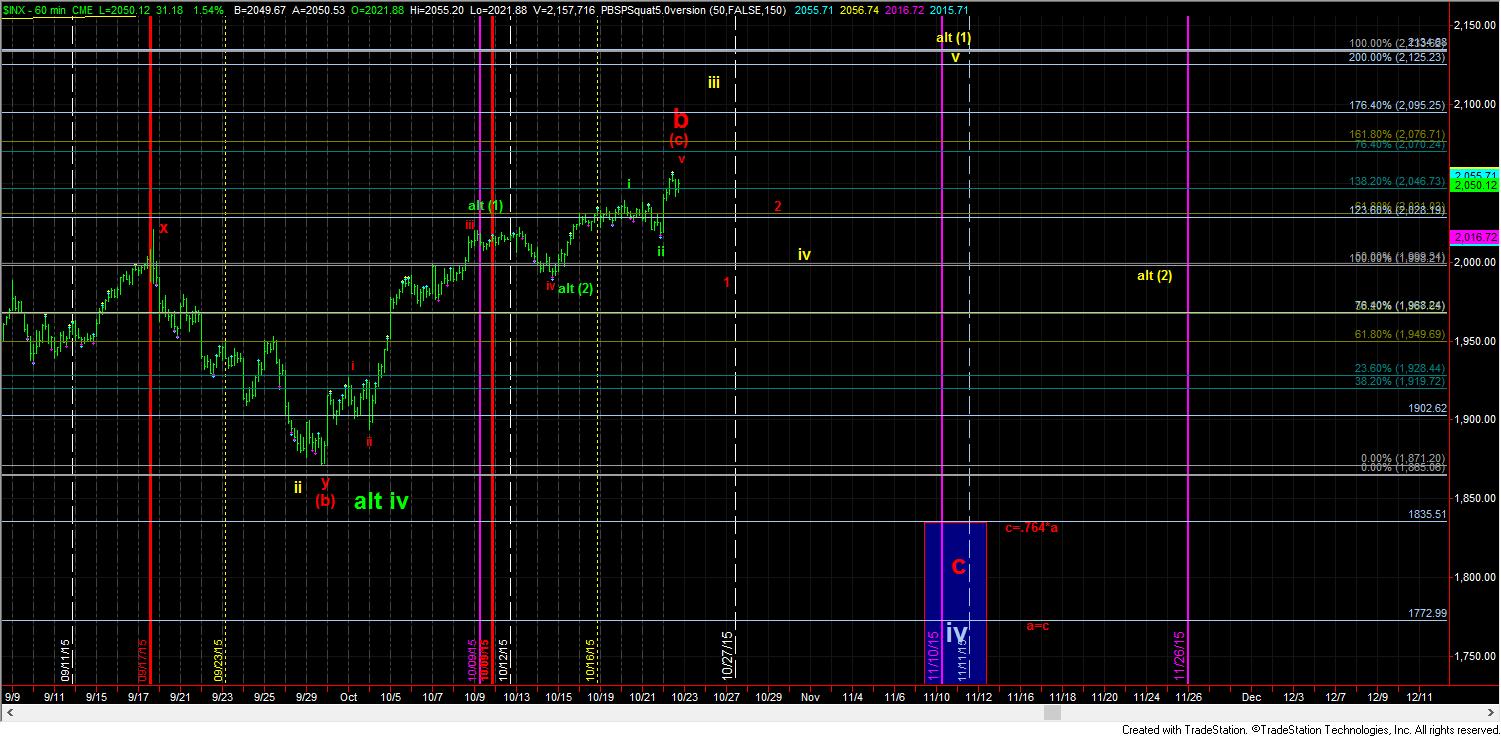 1turnchart