Bulls Trying To Mount A Comeback
With the Bradley date of last week marking yet another turn point for this year, the market has rocketed higher today. But, with the IWM not providing us yet with a higher high, or seeing a 5 wave structure off the lows in ES, all options still remain on the table. In fact, we have already come up to the target box for the corrective pattern we set up last week.
However, I must say that we can see the bullish pattern for 2015 resonate strongly this week should we see a full 5 waves up this week towards the 2094ES region, if not even higher. In fact, if are able to complete 5 waves up to at least the 2094ES region, that would suggest that wave i of the c-wave of wave 3 in the ending diagonal pattern has completed. That would mean that the lows are likely in place for the b-wave of wave 3, and a wave ii pullback will be a strong buying opportunity, which is marked in the blue count for now. Should we complete all 5 waves higher this week, then this will be my primary count, and we are back on track to the 2200-2250 region next to complete wave 3 by early to mid-May, without any further lows to be seen.
Yet, we still need all 5 waves, which are not in place yet. The support for this immediate bullish potential has been noted on the 60 minute chart, with the bottom of that support region residing at 2056ES. Therefore, if we break 2056ES this week before we complete 5 waves up, it keeps me strongly in the yellow count, with potential to have even completed the yellow (b) wave already – although I would prefer all of the a-b-c of the (b) wave to fill for the rest of this week. But, should 2056ES break before 5 waves up are seen, you may want to seek some protection for your long trades.
Although, we still have no confirmation of how we go higher, there is nothing that has suggested that the market will not be heading higher into the spring. So, that is going to be our focus, until the market tells us otherwise. But, a break of 2056ES within the next day or two – before all 5 waves complete to 2094ES+ - should have you thinking about some protection for your long positions.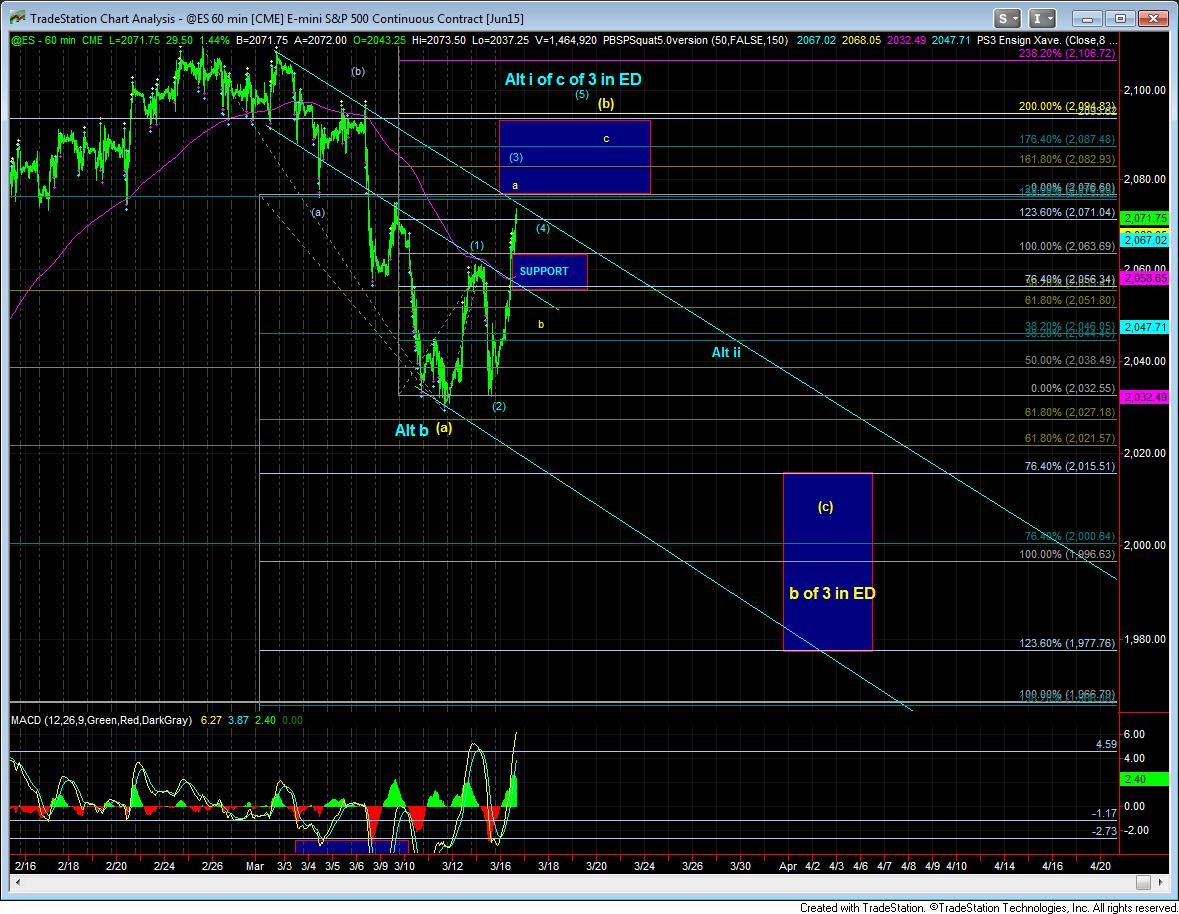 BaseCase - 60minES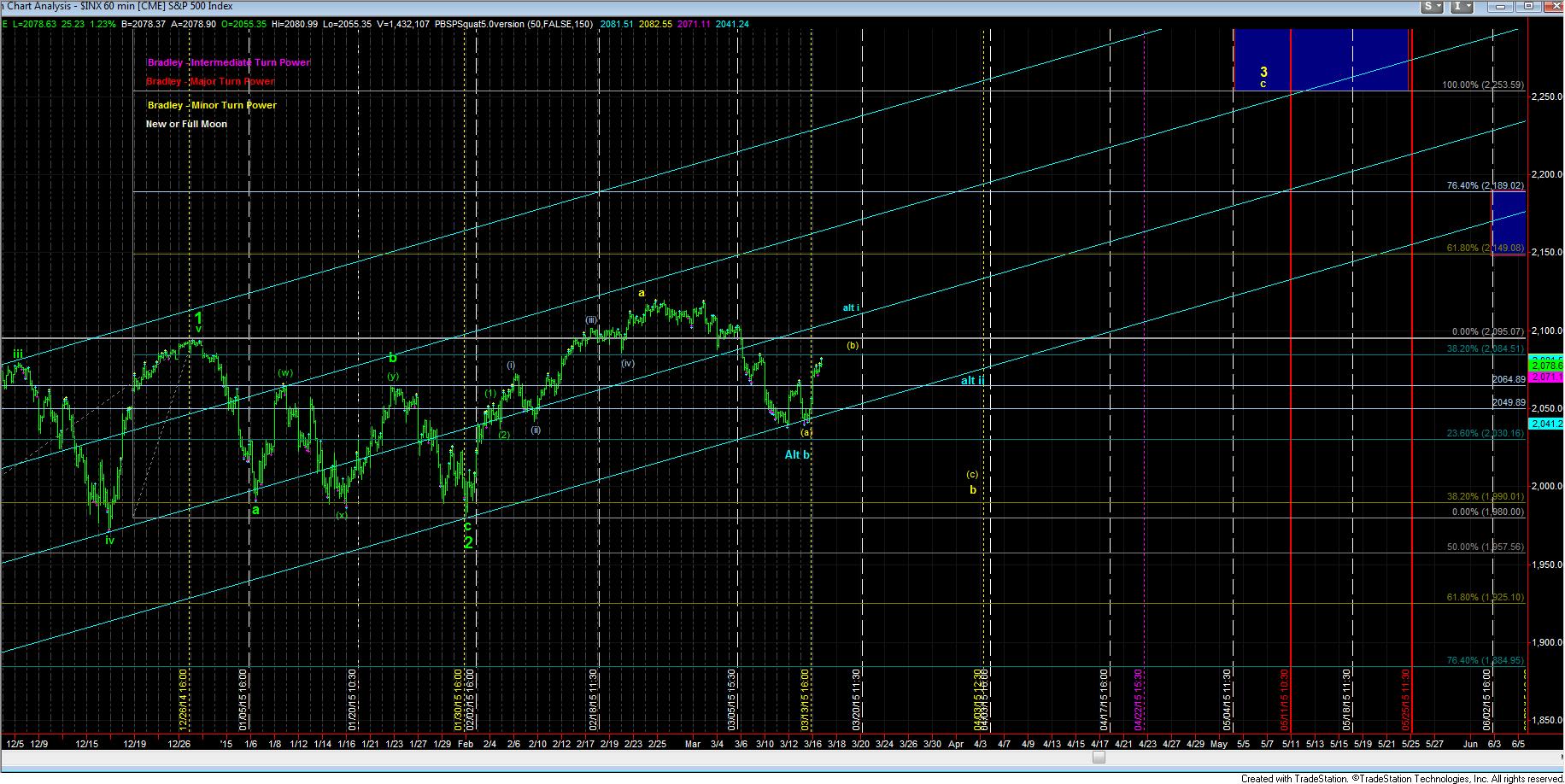 BaseCase - TurnChart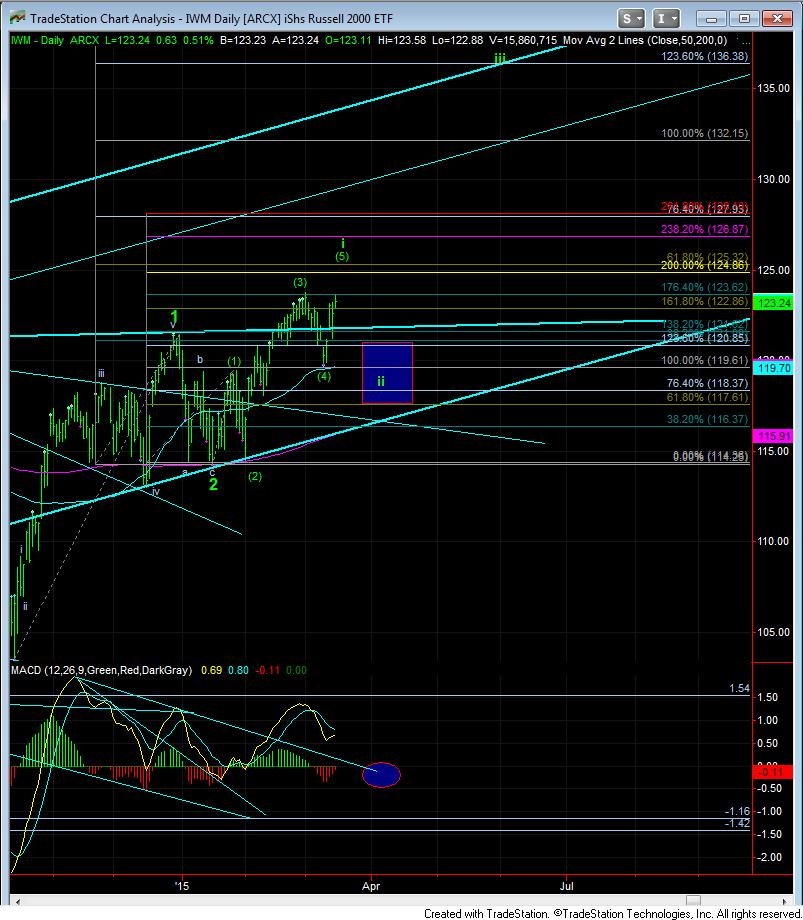 BaseCase - IWM