Bulls Pushed To The Limit
The frustration is palpable. I hear it in your posts and I feel it myself. We are now within that 4000 region that can finally serve as a bottom for the green count. And, in fact, we can still drop as deep as the 2.00 extension of waves 1-2 in this green c-wave which is in the 3980SPX region before this completes.
But, the issue I am having right now is that the structure within wave 5 is a bit unusual, as the proportions within this last move down off the 4310SPX region is troubling me a bit. So, I am going to get concerned regarding the green count if we see a sustained break down below the 3980SPX region. While I may be able to accept a spike and reversal from there (maybe pushing to 3950SPX), I really cannot accept much more than that. And, if that level sees a sustained break (as noted over the weekend with a follow through below 3930SPX), then I will have no choice but to begin looking towards the yellow count.
Where I truly struggle is that I have no "reasonable" way to count the SPX as having completed its long-term count, and especially not having completed 5-waves up off the March 2020 low. While I can certainly "come up" or "force" such a wave count, based upon the manner in which we have been rallying off the March 2020 low, that is all it would be – a forced count.
I have been at these crossroads many times in the 10+ years we have been open at Elliottwavetrader. And, while the structures have often pushed us to the limits, I will note that the last two times I had this amount of questions is when the SPX was rallying through the end of 2019 into early 2020, which did not make sense to me from a bigger picture perspective. Well, we now know why, and it was simply because it was a b-wave, and I held my ground appropriately about not going long despite how "bullish" it felt. Then, again, at the bottom of that crash, I was feeling the same type of frustration from our members, as it seemed like the market was dropping without an end in sight. And, we know how that turned out.
At this point in time, I am going to hold to my analysis of the SPX still needing AT LEAST one more higher high before this rally off the March 2020 lows is complete. I know it may frustrate many of you, and it may even cause some of you to lose trust in my analysis, despite our track record over the last decade. But, I have to go with what our method tells me, whether good, bad or ugly. It has served us extremely well for over the decade period of time I have been providing my analysis publicly, and much longer in my private use. So I am not going to abandon it at this time, even though I may be proven wrong at the end of the day. For now, I am still very much in the AT LEAST one higher high camp. And, if we have to move into the yellow count, then I will move into the one higher high camp. But, I will be much more cautious about the market in that scenario, which we will discuss as the next major rally begins.
So, for now, 4070SPX is our resistance overhead. We need to see an impulsive move through that level to begin to assume the green [4] has bottomed. And, I will then let go of my remaining hedges that I originally bought in the 4285SPX region (of which I have already sold 2/3).
Our support is in the 3980-4000SPX region. Ideally, I want to see this support hold and begin an impulsive rally through 4070SPX. But, keep in mind, confirmation that the green [4] is done only comes with an impulsive break out through 4310SPX.
In the meantime, as I said, I am still going to maintain the green count for now. While the market has pushed us to an extreme with it, and I am genuinely concerned regarding the proportions within this 5th wave down off the 4310SPX region struck after the Fed announcement, I am going to give it just a bit more room before I consider abandoning this potential. Again, it still makes the most sense when it comes to the SPX, especially with all the factors I outlined over the weekend.
I will continue to update you on an as-needed basis, which means if I have to post additional membership-wide updates more than once a day, I will do so to make sure you remain informed in this treacherous region, at least until it is resolved.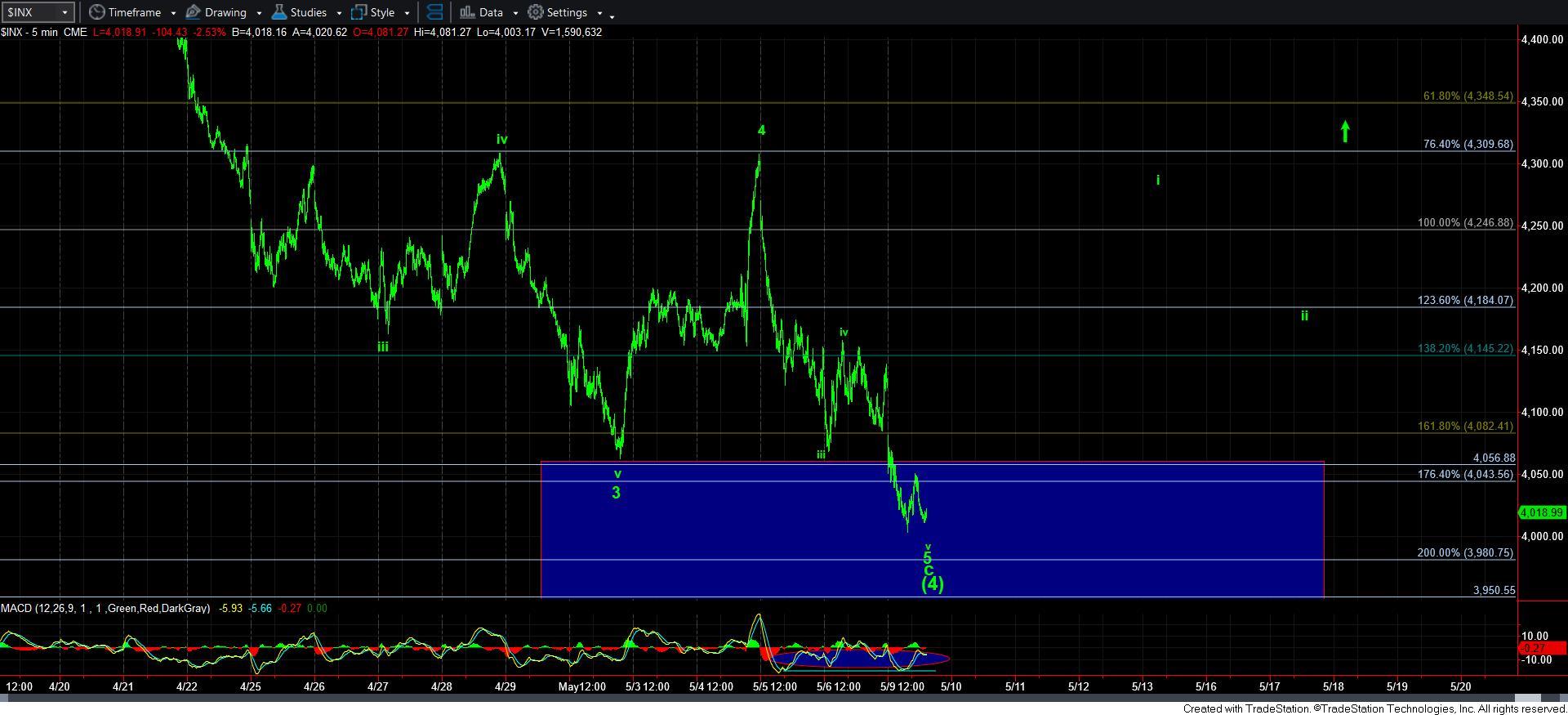 5minSPX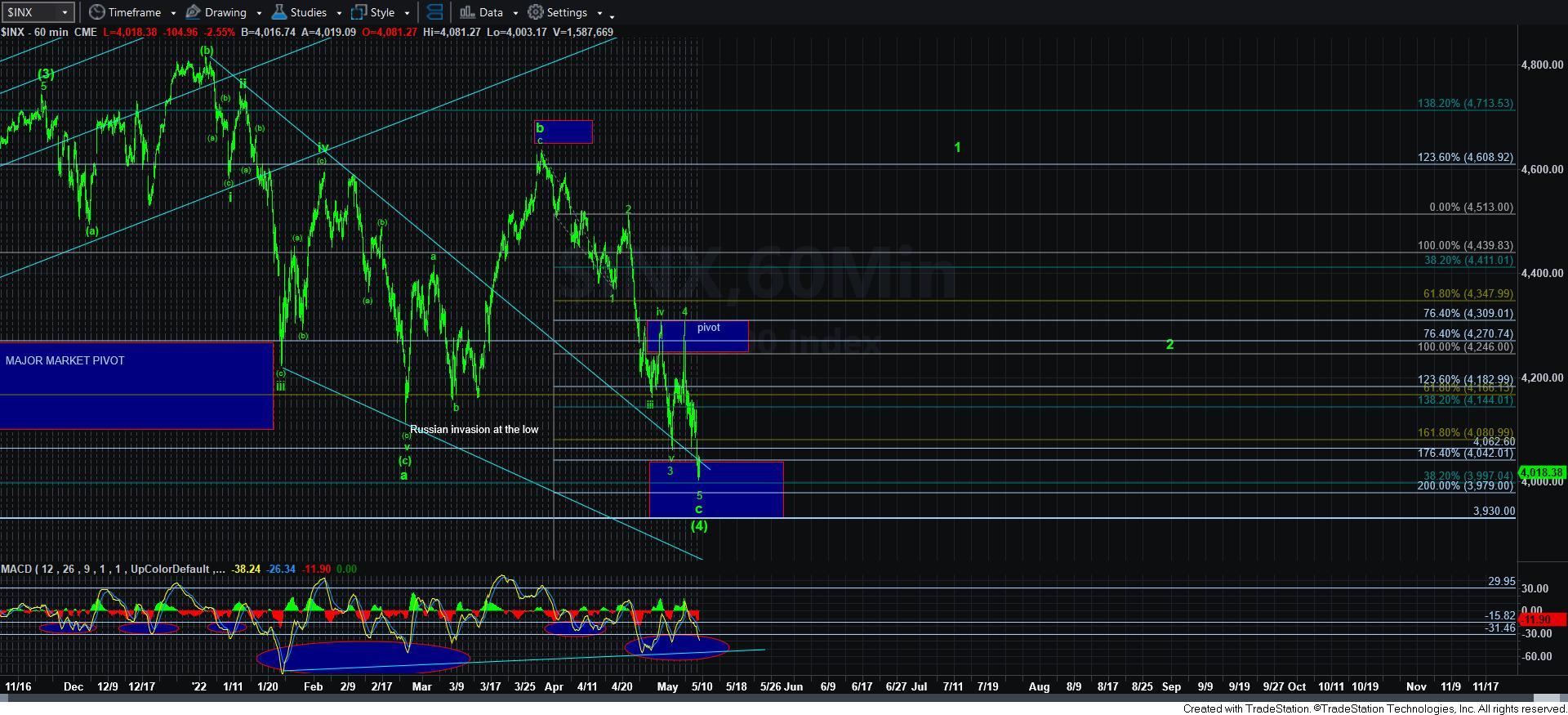 60minSPX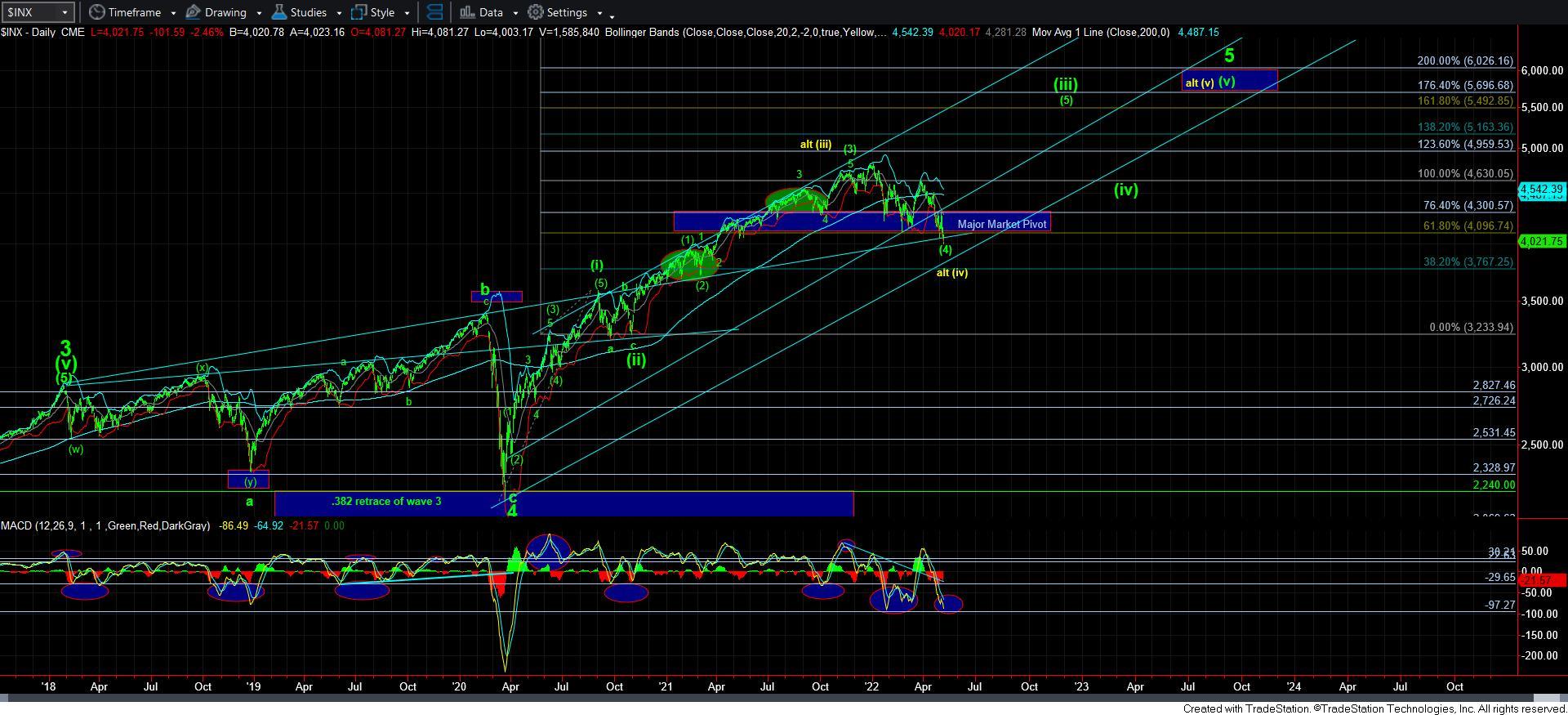 SPXDaily