I am going to start this update by reminding everyone that is reading it that we are still likely within a 4th wave correction. For those that do not understand what this really means, it suggests that we are within the most variable wave out of Elliott's 5-waves. It takes many unexpected twists and turns and that is why it is very hard to trade and chews many traders up.
In fact, someone noted to me that, when they joined our service recently, understanding what a 4th wave means explained why they made so much money through their trading career, only to lose a lot of what they lost in the 3rd wave while trying to trade a 4th wave with the same rules he used during the 3rd wave rally.
You see, there is a tremendous amount of benefit in understanding the context of the market, and Elliott Wave theory provides you the best context for understanding the nature of the market as compared to anything else I have seen out there. When you know its time to expect a 4th wave, then you know its time to take profits made on a 3rd wave, and change your trading rules if you even intent to trade within a 4th wave at all.
So, as I noted at the start of this update, this is a 4th wave, based upon the most likely count we are following. And, we have been patiently awaiting the market to tip its hand as to how it will complete, so we can get back to bullish business. However, the market has not been terribly compliant in wanting to complete this wave (4) of late.
In the wave structure presented on the 60-minute SPX chart, we still have potential to drop down to complete the 5th wave of the c-wave to complete this wave (4) sooner rather than later. However, as long as the ES remains over the 2630 region, the bulls have a set up to break this out and rather soon. The reason I say "rather soon" is because there are only so many 1's and 2's I am willing to expect in a wave count before it becomes more likely that the market is not going to break out, but will rather break down. And, as of the close today, I am at my limit.
If the market is able to hold over the 2630ES region this evening, it can lead to a gap up tomorrow, and the heart of a 3rd wave pointing towards the 2700 region and quite fast. That will have me viewing the potential of the triangle in the purple count on the 60-minute chart, or even the yellow wave structure for the bigger 4th wave flat.
However, anything less will likely keep us meandering (at best), or simply breaking down in a direct move to complete wave (4).
But, again, please recognize that we are still likely within a 4th wave correction in the equity market, and to respect the fact that it tends to mean whipsaw is to be expected. Understanding the nature of the market you are in is truly half the battle in being able to retain the profits you made during the 3rd wave.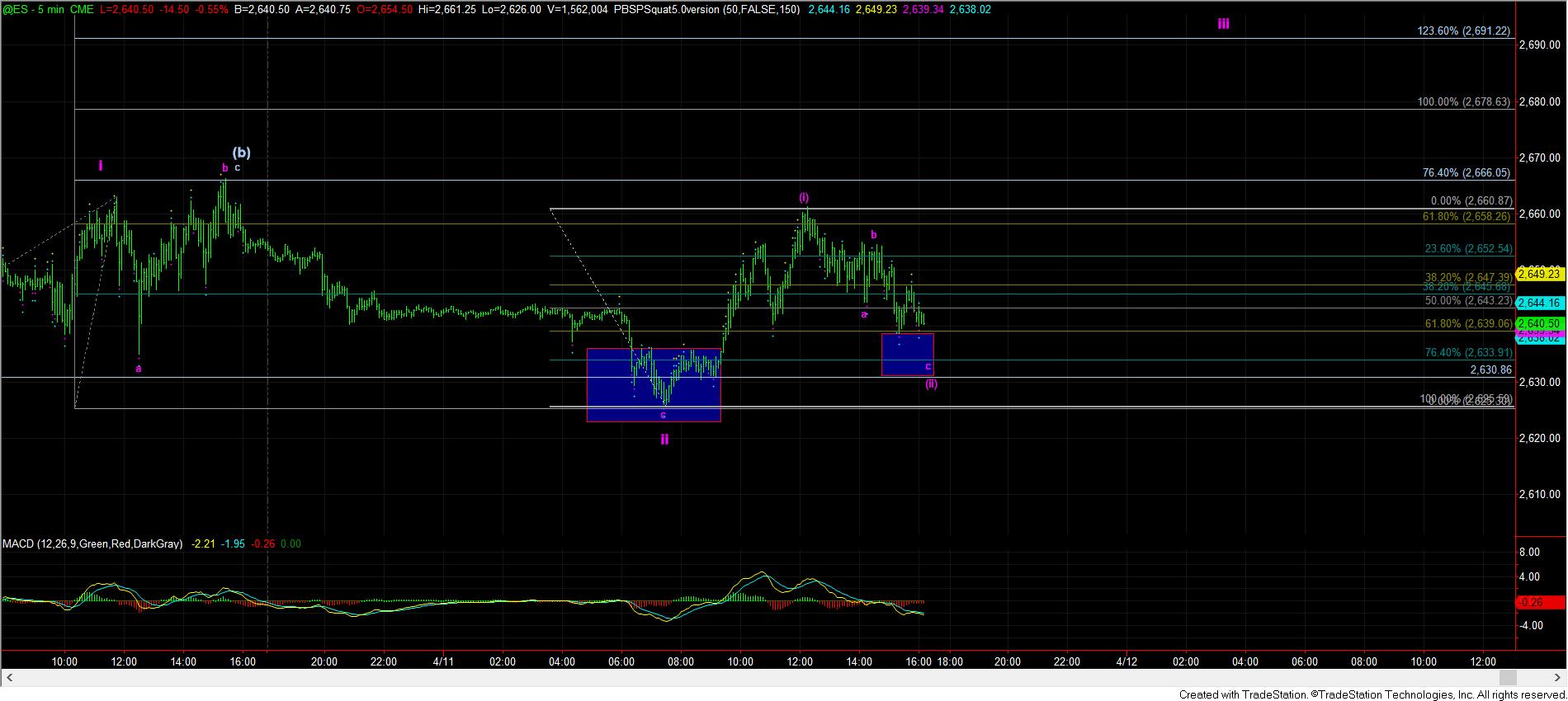 5minES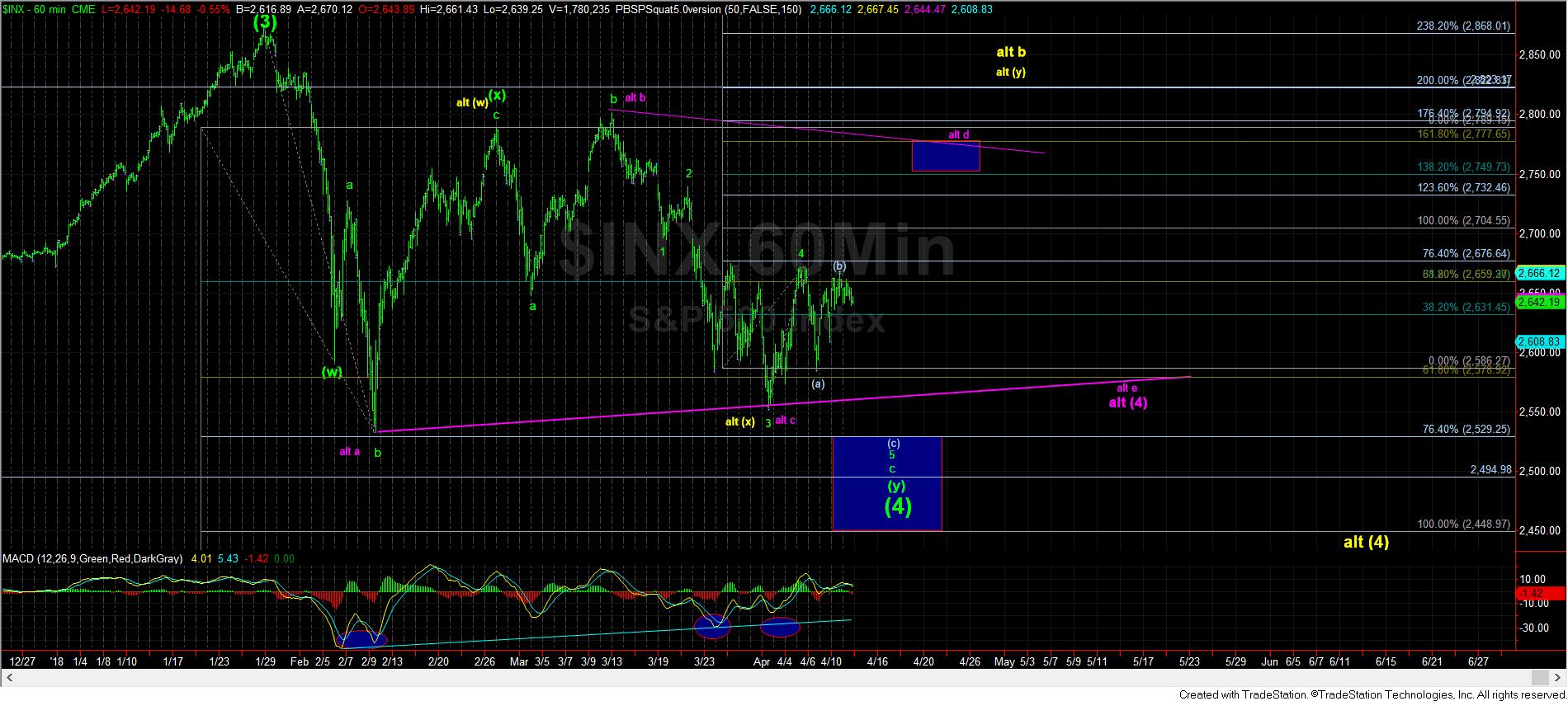 60minSPX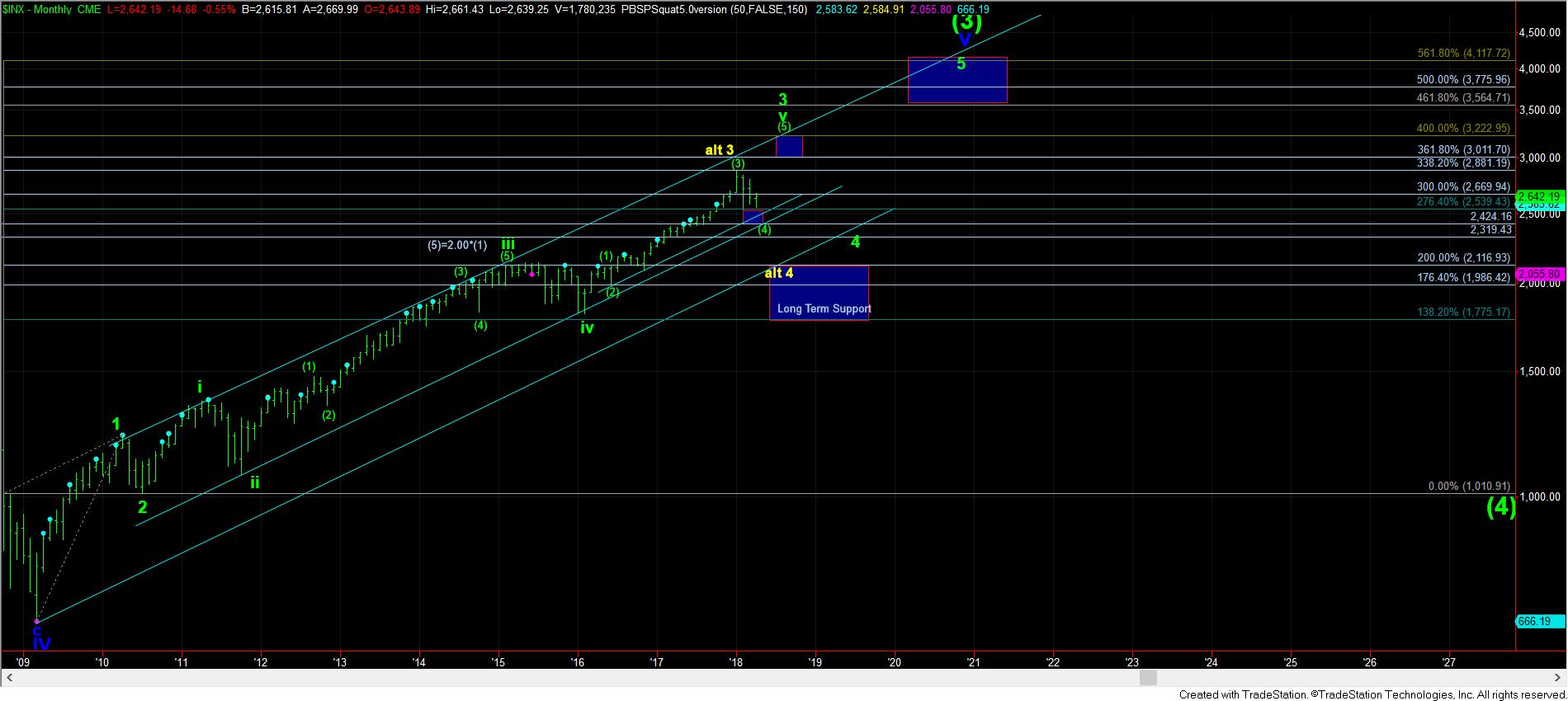 LONGTERMSPX