Building A Reversal - Market Analysis for Mar 23rd, 2020
Over the weekend, I noted that the market still seems set up to extend this wave [3] to the downside into our target box on the 60-minute chart. Today, we hit the bottom of that box. Can we now expect to reverse?
Well, starting with the positive divergences we are seeing on the 60-minute chart, I have to assume that anyone who is overstaying their welcome on the short side may find themselves on the wrong side of a strong reversal once it takes hold. As for me, the only short side plays I will NOW take are day trades.
As we can see from the 5-minute SPX chart, the pattern to the downside is quite full. That means that the market can reverse at any point in time now, especially since we have struck all our targets with significant positive divergences evident on the chart. This set up is ripe for a strong reversal.
But, simply because we are set up for such a reversal is not the same as actually confirming that one is in progress. At this point in time, we would need to break out over 2315SPX, and follow through strongly through 2375 and the downtrend channel on the 5-minute SPX chart to provide us with initial confirmation that wave [3] has FINALLY concluded and wave [4] is in progress.
Should the market provide us with that reversal over the next day or so, my target for the a-wave is between 2450 and 2550SPX. And, remember, that will likely just be the a-wave within the a-b-c structure of the wave [4].
While the 60-minute SPX chart is evidencing positive divergences in the MACD, keep in mind that this divergence is what we would expect to see as we are completing the wave [3] of a c-wave. We will need to see a similar divergence set up on the daily chart to suggest that wave [5] is completing on a lower price low. And, as you can see from the daily chart, we are not even close to that potential yet. This is why I think it should take us a few weeks before we can see an appropriate wave [4] bounce to bring that MACD off the floor and set up an appropriate bottoming structure for wave [5].
Now, I want to prematurely warn you that once we do confirm wave [4] has begun, it will be very choppy action, which will certainly whipsaw traders who are attempting to trade that action aggressively. Please remember that 4th waves are quite variable in nature, and attempting to trade it aggressively will chop you up. So, while we have been able to identify the smaller degree turning points in the market quite well while we are in a 3rd wave decline, the 4th wave environment will become much more difficult, so you need to consider that in your trading plan over the coming weeks.
So, I am going to maintain a bit more patience until the market finally provides us with confirmation that wave [4] has finally begun, and I think it will be rather clear once it happens.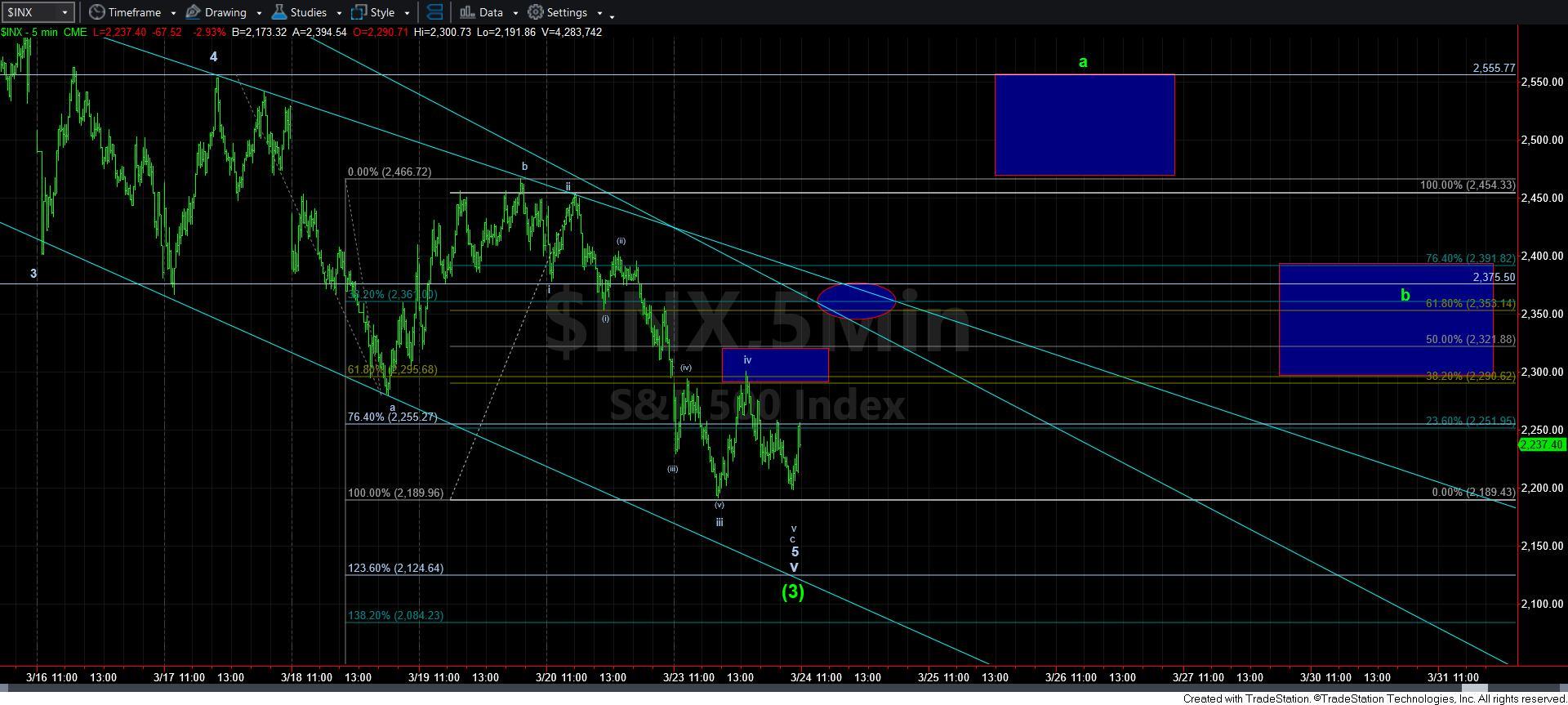 5minSPX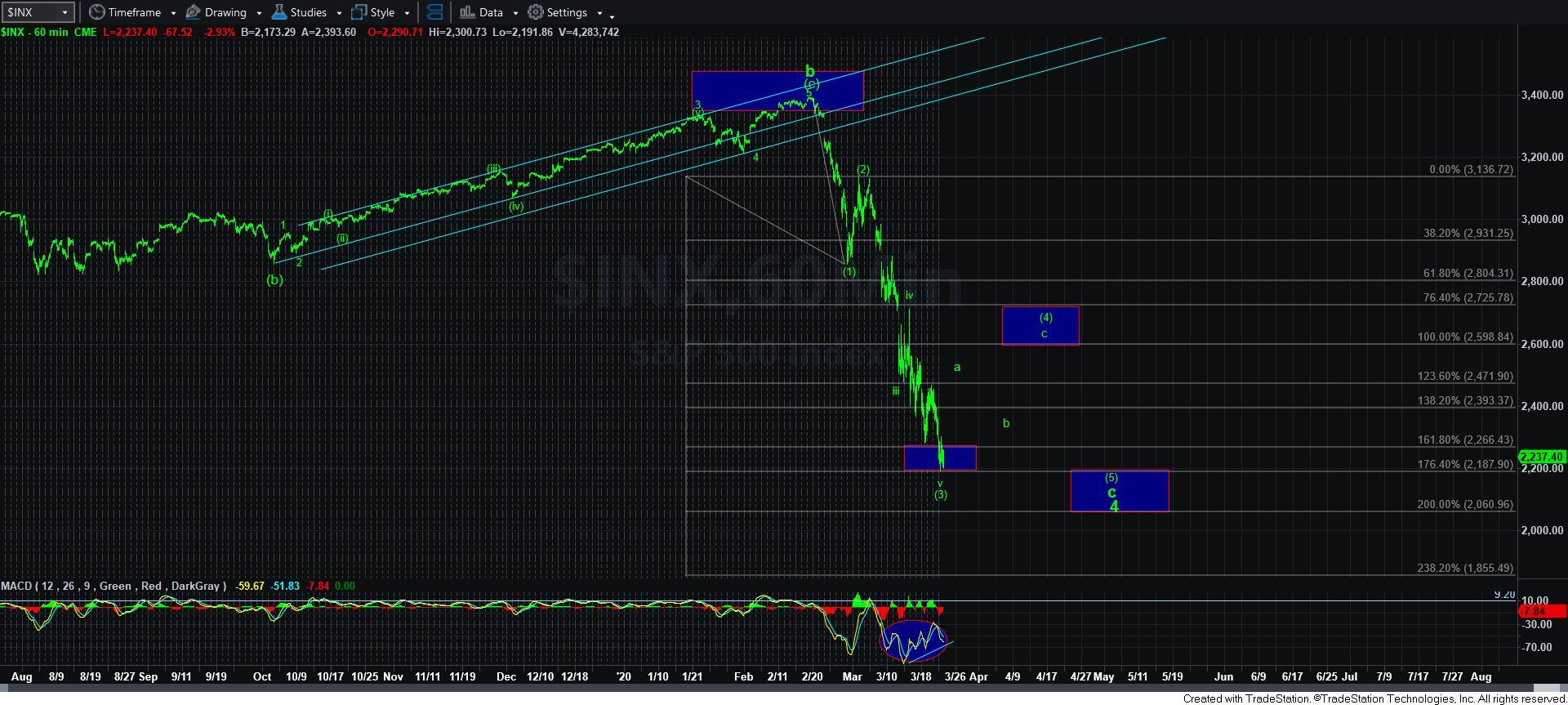 60minSPX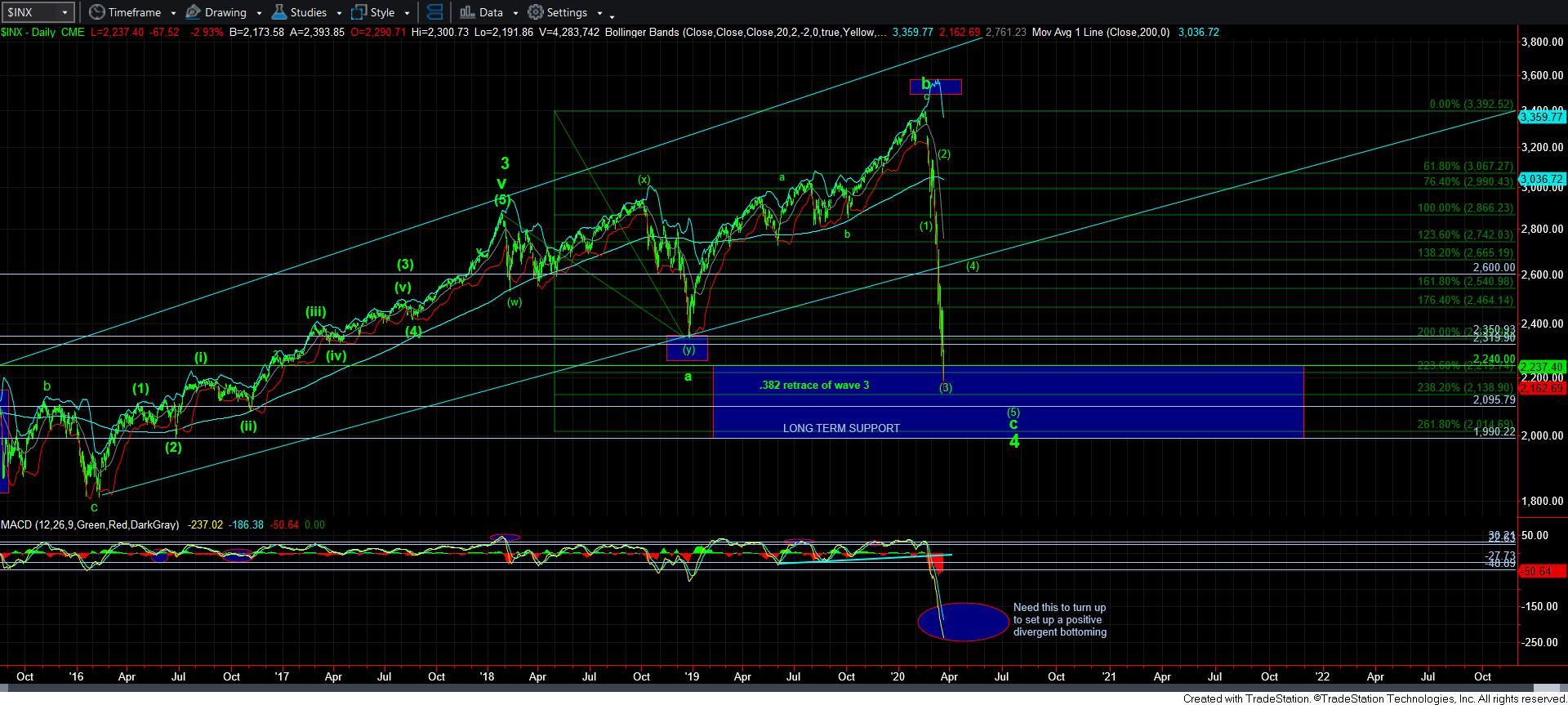 1SPXdaily