While the market action is certainly making me "feel" very bullish as we approach the 3000 region in the SPX again, I am trying to remain grounded based upon what the analysis is showing to me.
Clearly, I can outline a very bullish count which suggests exactly what everyone seems to feel right now – that we are heading to the 3800-4100SPx region. But, I simply in good conscience cannot do so. It is the same reason I could not do so when many were throwing around uber-bullish counts when we were at the market highs in July, expecting a massive continued break out, and, as I recall, we went through the exact same situation in January of 2018.
I have explained my reasoning for not being uber-bullish right now many times, and I cannot say that they have really changed. The underlying stocks within the market do not suggest that we have embarked upon the heart of a 3rd wave yet. In fact, it's the major stocks that begin breaking out in the heart of a 3rd wave BEFORE the overall index which often provides a warning that the index will likely follow suit. I just don't see that right now. In fact, many of the major stocks have not even seen their larger degree 4th wave yet.
And, as I have done each and every time before, I will tell you that I can be wrong. Yet, I have to go with what the underlying analysis tells me without allowing that underlying analysis to change based upon my "feelings" of bullishness as we approach the 3000 region in the SPX.
With this being said, the IWM has now extended beyond even my ideal target for wave (iii) of this rally, which was in the 155 region. While that does happen at times when the market participants get a bit excited, I still have no indications that we have struck a top in the IWM. In fact, the structure can still support one more iv-v before this tops out. But, make no mistake about it, this is considered to be a very extended 5th wave within a 3rd wave understand standard expectations.
From a micro support standpoint, we will need to see a reversal below the 155 region to suggest that either all of the [b] wave has topped, or, my preferred count that we are dropping in a wave iv towards the 152-153 region.
Again, I want to highlight that the structure of the current rally is not strongly indicative of continued strength when I view it in context of the overall market. Rather, I still think the market should see more of a downside correction before it is ideally ready to begin that run to 3800-4100. This is no different than what I said back at the highs in July. While we can stretch to retest those highs, or even push up to 3045, I still have a hard time viewing us as having started that pattern pointing to 3800-4100SPX. The structure does not seem to have corrected enough to support that potential run yet.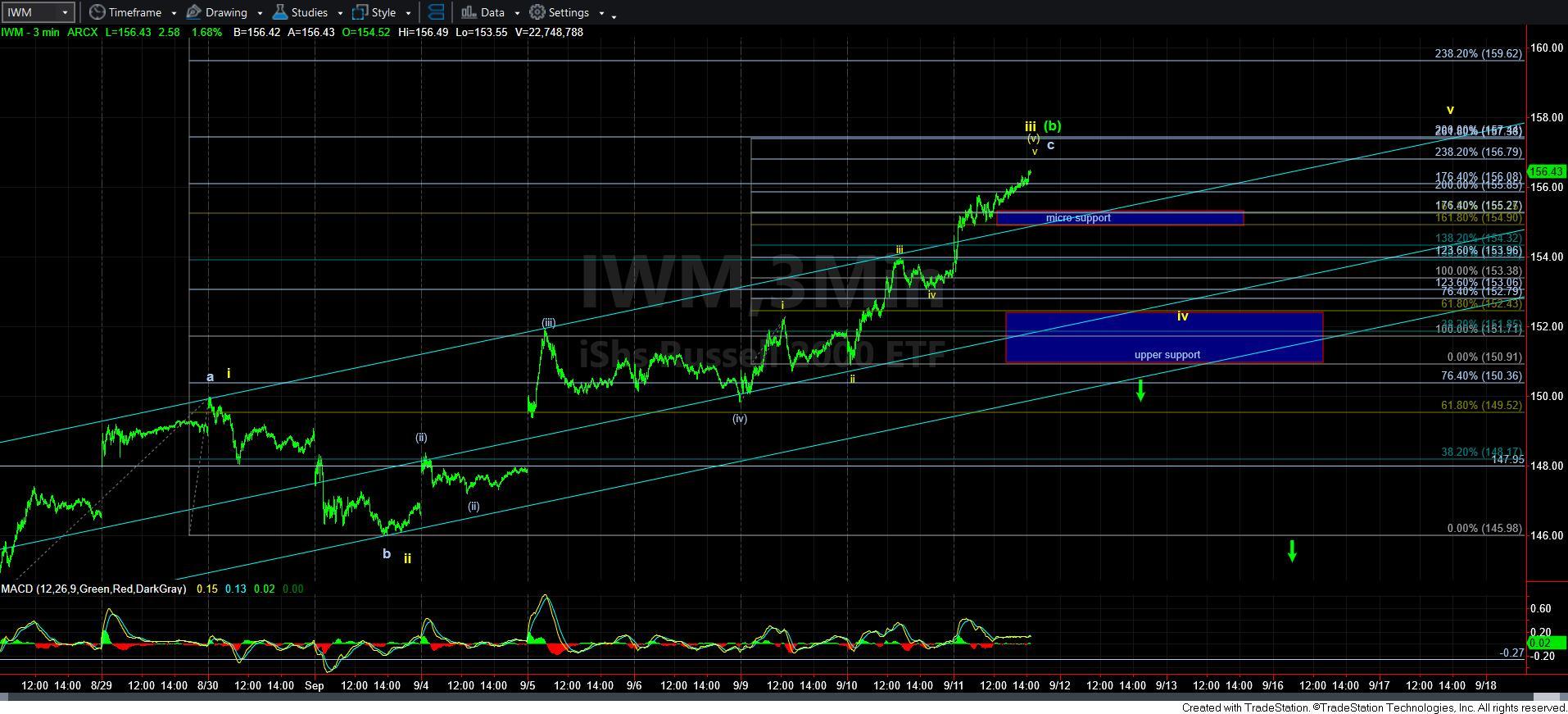 3minIWM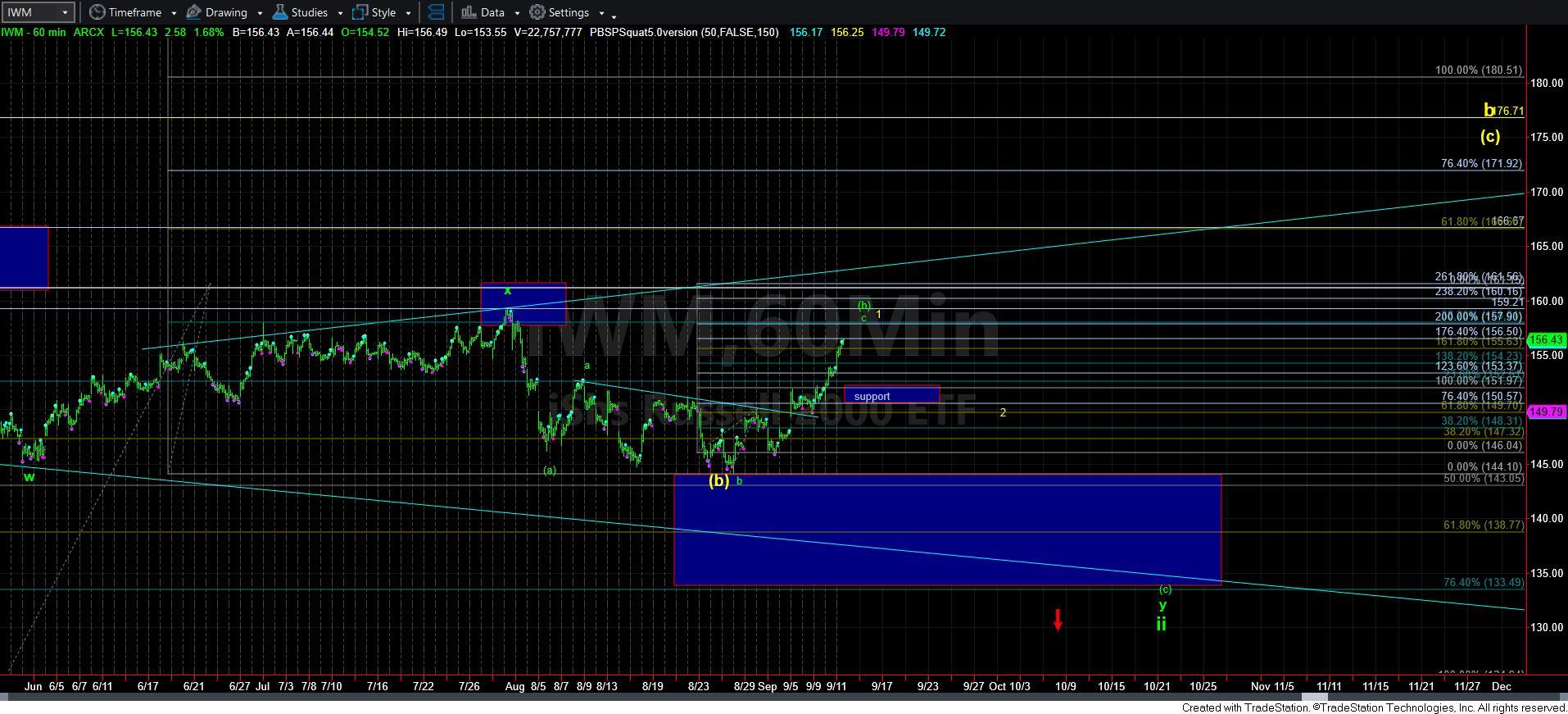 60minIWM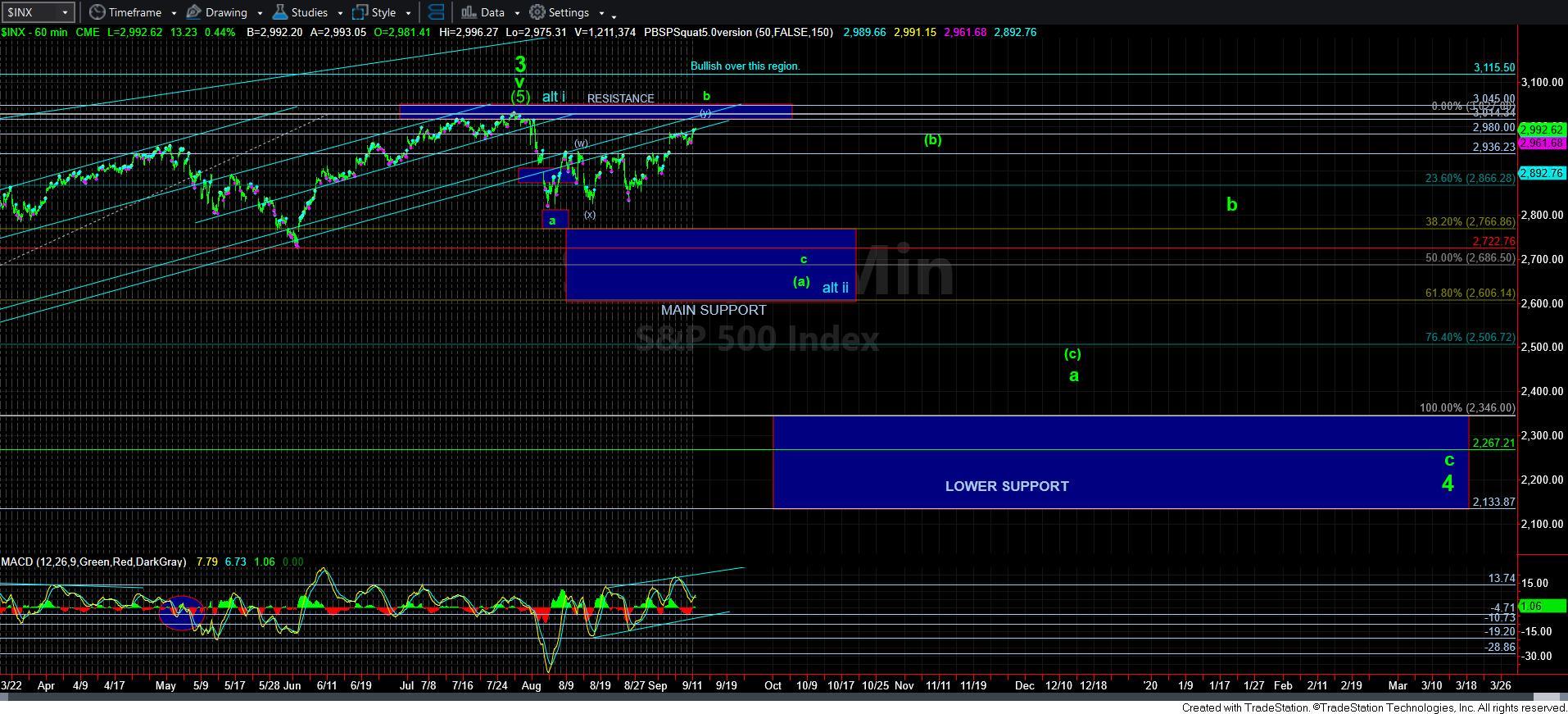 60minSPX