Bigger Wave 2 Starting To Look Better
Due to the downside follow through we experienced today, the market is beginning to look more and more impulsive to the downside from the highs. Moreover, not only can we have a bigger c-wave down in this wave 2, we MAY even be in the heart of the 3rd wave down in this c-wave, should we break support in the 2000/2003ES region by tomorrow.
The main levels of support and resistance right now which will tell us that the market is heading down stronger and sooner are the 2003ES region, and the 2024ES region. Should we break 2003ES and not be able to climb back over 2024ES, then we are likely heading down in a more aggressive 3rd wave down now represented in purple on the 60 minute chart. A move over 2036ES would put me squarely in the wave (2) camp, unless that move higher is clearly impulsive.
But, my preferred count for even the more bearish scenario has us looking for a wave (2) bounce, as long as we maintain support over the 2000/2003ES region. That bounce SHOULD be corrective, which can set us up for a 100 point decline into the end of the month.
Also, take note that the wave ii of 3 is still on the chart, and I am willing to allow the market to prove that perspective to me, even though it is not one I really favor right now. Today, we struck the .618 retrace for that wave ii potential, which is one strong piece of evidence in favor of that count. But, the market MUST move strongly towards the prior highs very quickly and in impulsive fashion to solidify this perspective. If it does manage to do so, then it would place me in the camp of us heading to the 2225ES region. A break down below the .618 retracement region should place questions in anyone's mind who maintains this count as their primary.
But, my preference has, and continues to be the bigger wave 2 down, as it fits the larger term charts much better, in my humble opinion. So, if we see continued weakness later this week, I will be looking for a minimum target of 1940ES, with the potential to head down to the 1900ES region.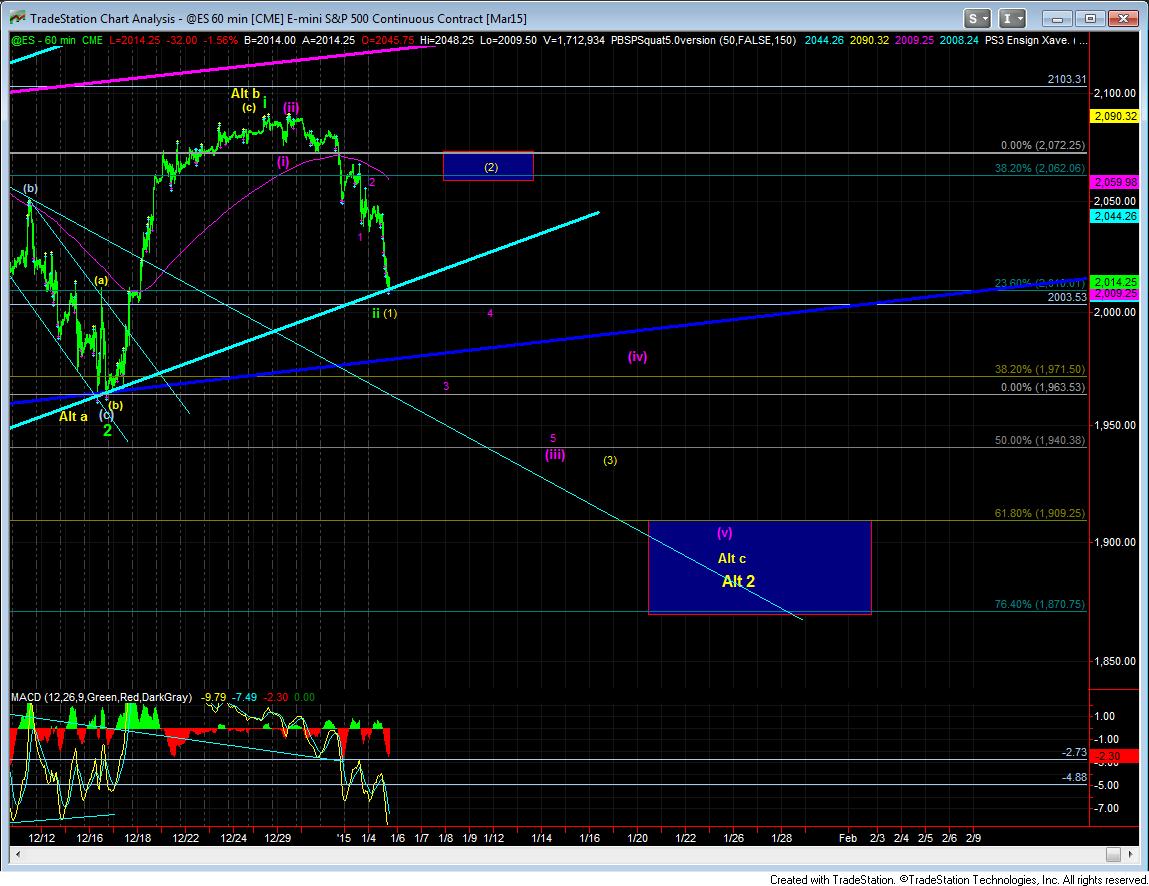 BaseCase - 60minES