Big Move Coming - Market Analysis for Nov 4th, 2015
Today, we had a minor break below the 2102SPX level we were watching for ideal support. And, the reason we watch that level is that a wave iv pullback from the 1.236 level usually holds support at the .764 extension, which is the 2102 level.
However, we REALLY need the break of the .618 region to provide stronger confirmation that we have topped. But, the break below the .764 is usually a warning signal. So, I put out a "cautionary" box on the chart down to the 2094SPX level to play this a little safer and to give the bulls just a little benefit of the doubt, since, after all, this is still a long term bull market.
But, what this now means is that the market is setting up for a potential gap tomorrow. From where we currently reside, I am looking for another 30+ point move coming. As long as we hold today's low, and do not break down below 2094SPX, that 30+ points will likely take us to 2140SPX by Friday. However, should we see a break down tomorrow, our first target is the 2079SPX level, with follow through below that taking us down to the 2000-2020 SPX zone.
So, with a pullback that really has gone deeper than it should today, the question is if the bulls can resurrect the green count into tomorrow, or the pattern will likely fail, and suggest that there still could be a b-wave top in place. We will deal with those issues tomorrow as they are presented to us.
Should we see a break down later today, I will send out another update, but I wanted to at least prepare you for where we currently stand.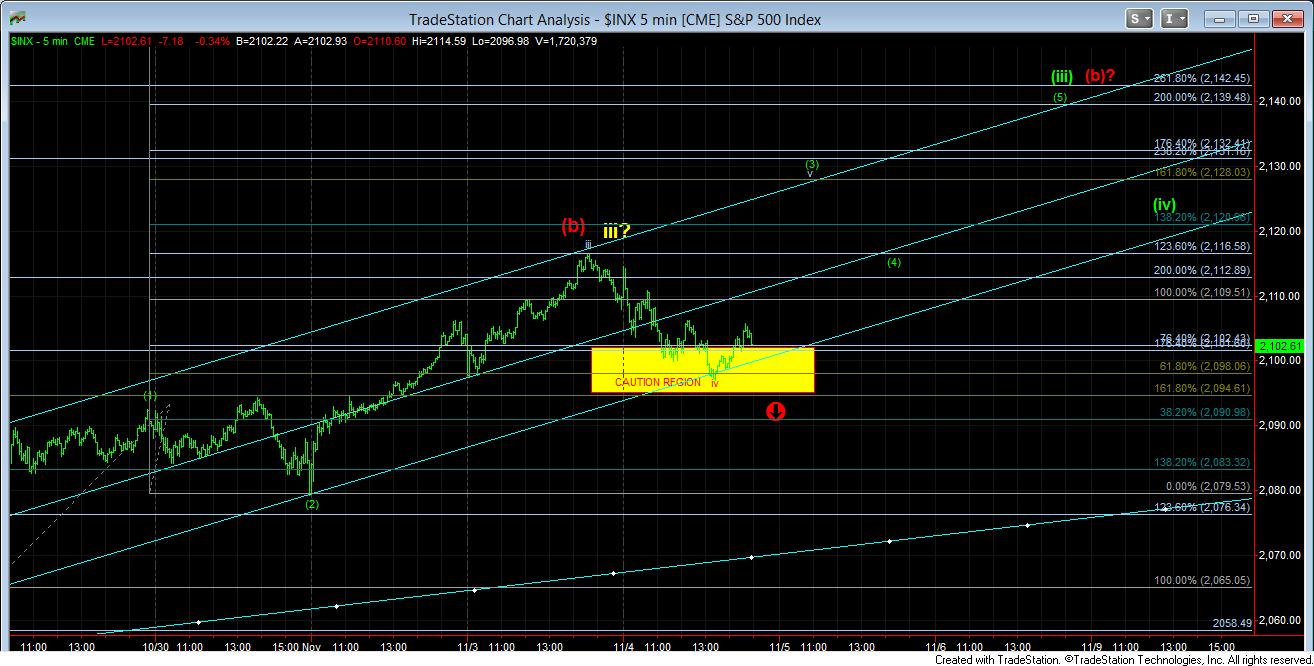 5minSPX