Beware of Bonds Blowing-up
One of the longest bull markets we have seen through the years has been in the bond market. Although many have attempted to call the top to this long term bull market, many have failed. As an example, Bill Gross has been calling for a top to this long term bond bull market for years. While he has clearly been early, we believe he will soon be proven correct.
Several weeks ago, I introduced you to Bill Albert, one of our analysts at ElliottWaveTrader.net, who is lovingly known as The Scary Guy. His nickname has been aptly earned due to how "scary" accurate his analysis proves time and again. Bill has identified a new and unique way to view market sentiment through the eyes of open interest in the options market. He believes that a very long term top is going to be struck shortly in this long term bull market for bonds:
I am a big fan of Bill Gross. And, we have more in common than our first name. Bill graduated from Duke University, with a degree in Psychology. I graduated from the School of Hard Knocks; and became a Journeyman Carpenter. Mr. Gross operated some really big businesses rather successfully. I operated much smaller, and more regional, real estate and construction businesses, achieving outstanding results. Bill Gross is a former Blackjack player, who turned $2,000 into $10,000 during four months of play on the Vegas Strip when he was just twenty-two years old. I am a former Poker player, who turned $100 into $1,100 on a rainy afternoon in Gardena, California when I was barely twenty-one. Bill Gross used to count cards. I have been counting Elliott Waves since the Early 1980's. I still do. Bill Gross likes to use colorful metaphors to communicate his opinions. So, do I.
One of my favorite Bill Gross quotes is this: "It's the leverage, the over-betting, that leads to the big unwind." Apparently, both of us have now arrived at the conclusion that the US Bond market is about to undergo a 'big unwind.'
My long term chart for T-Bond Futures (linked below) suggests that the count is full, with the bases loaded in the bottom of the ninth inning. And, even if bonds hit a Grand Slam Homerun, which would be a print of 179 in the nearby futures, the game will not even be tied. In other words, I expect T-Bond Futures to make a generational top soon.
The kid standing on top of my long term T-Bond chart is my youngest grandson. His job is to make sure price does not rise above the target. He has also written some of the notes found on the charts with his stamp of approval. My general target for the first leg down in T-Bond Futures is depicted by a Skull and Crossbones. Get the picture? Anyway, I hope the lad is successful, because his inheritance will be diminished somewhat if my opinion about US Bonds turns out to be wrong. And NO trader is right all the time. Anyone who alleges that distinction is either delusional or lying.
Each evening I review capital flows, market technicals, and trader sentiment. Over the years I have created number of proprietary indicators that I use to inform my market opinions and to make my trading decisions. I rely on my own indicators almost exclusively. Many of these indicators are based on volume and open interest in the futures markets. I call one of my favorites, The Razzmatazz Wave.
Razz Waves track open interest in options on futures, run the data through an arithmetic model, and attempt to project price direction and wave structure into the future. I may be a little biased; but, I believe that this indicator is a breakthrough in technical market analysis.
The only place you can get a look at the Razzmatazz Wave is ElliottWaveTrader.net, where the best traders in the world hang out; and, where I have the honor of providing a premium service.
Imagine that: A poker player, who became a carpenter, who became a real estate developer, who became a professional trader and market analyst. I am twice, a great-grandfather too. Is that what it feels like to be "retired?"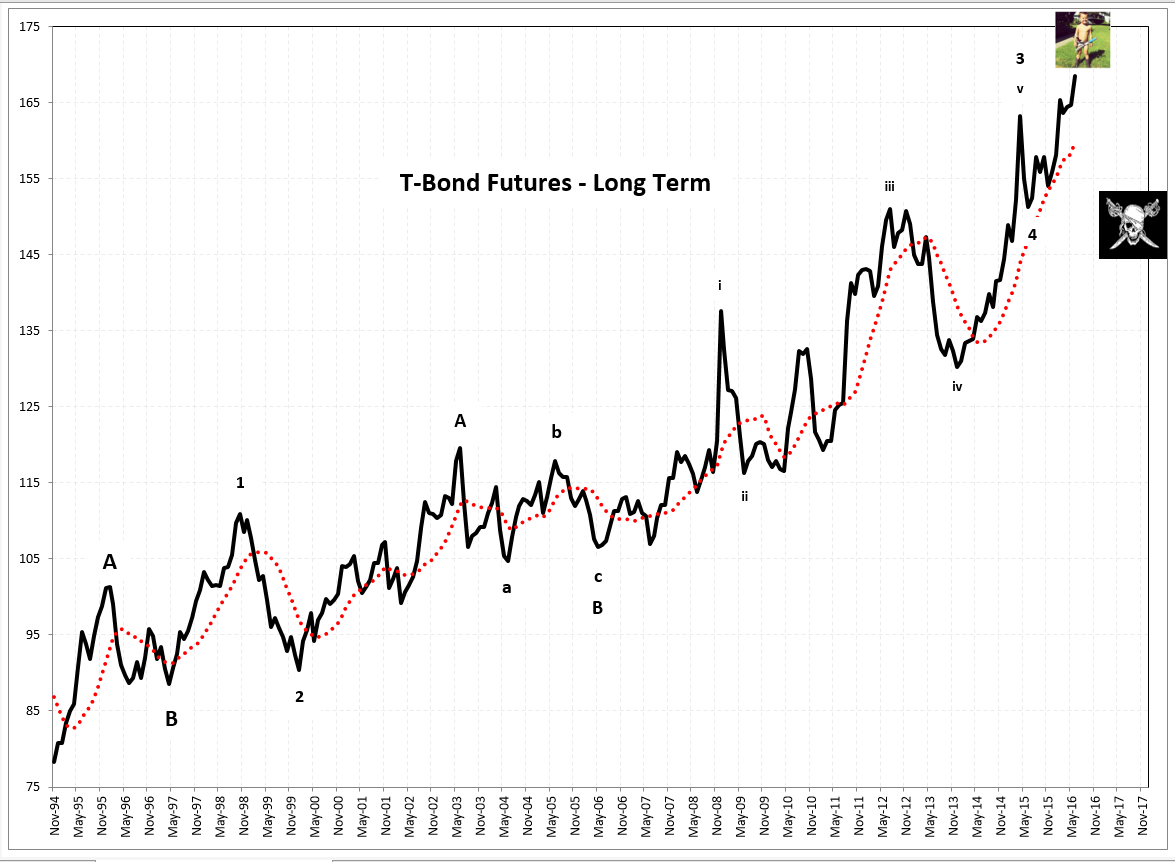 T Bond Long View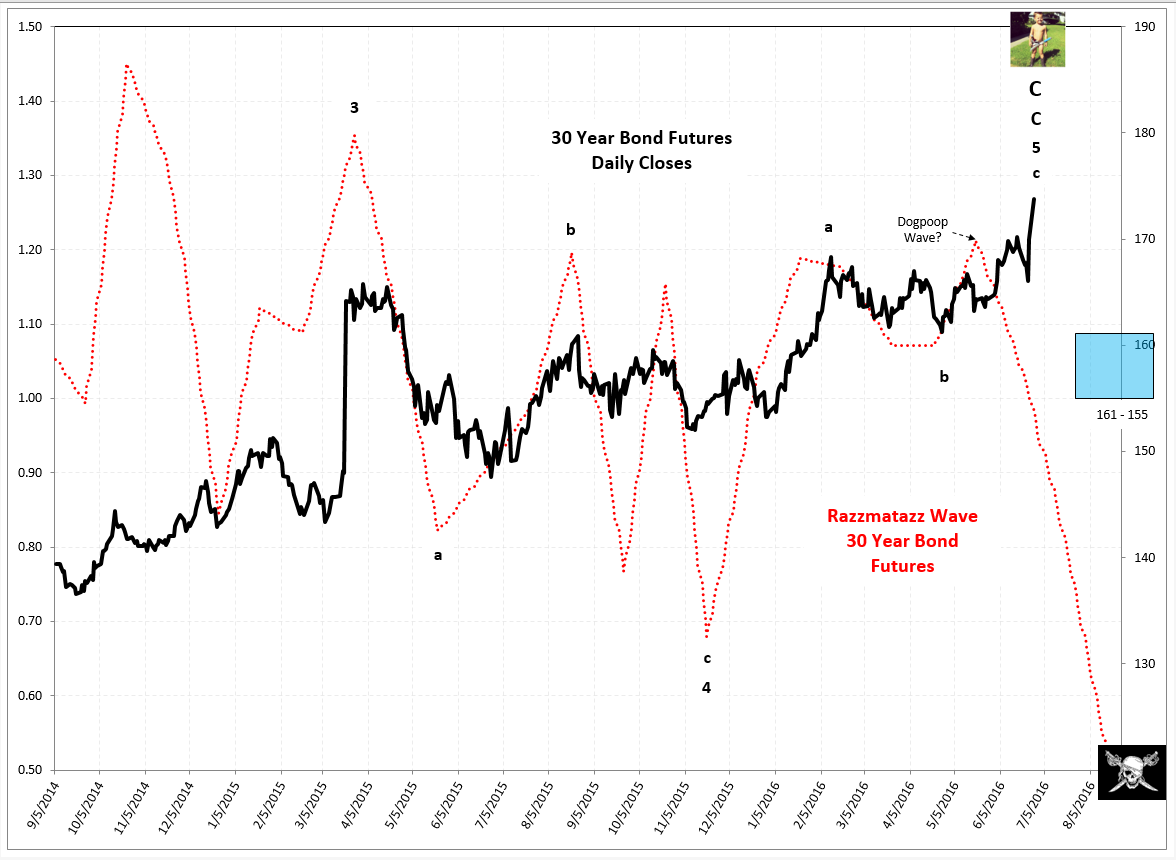 T Bond Razzmatazz Wave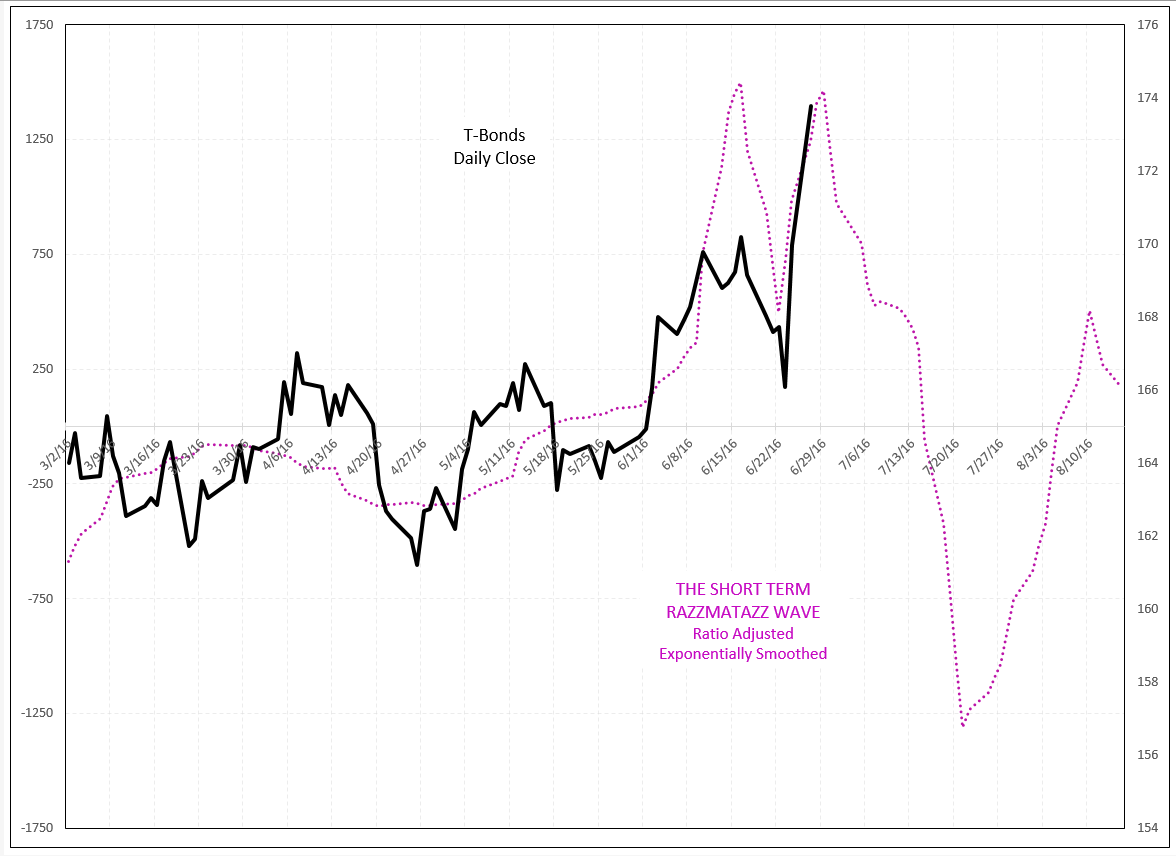 T Bond Short Razz Wave