Bears Had An Opportunity Today
While I noted over the weekend that the 2000-2008SPX region was, in the bigger picture, the main support I wanted to see hold for this ending diagonal potential in the SPX, I slightly modified it on the smaller degree chart to the 1992.50 this morning. That was within .75 of the low struck today. So, the question that must be answered by tomorrow is if the diagonal pattern will take us up in a nice big gap up to complete wave 4, or if the bears will come out in full force tonight and make a decisive move below 1990SPX.
Due to the overlapping structure in the market on the way down, I do not have a high probability perspective to this answer especially since the bears were able to break us below 2000 today. That action certainly places questions in my mind as to the potential of the diagonal pattern. But, as long as we hold today's low, that is the pattern I will be following as my primary count.
As I have also stated, as long as the market does not break down below 1945SPX, I am going to maintain the (1)(2) structure set up which we have in both the SPX and the IWM. But, clearly, any further break downs below 110 will make that pattern in the IWM much less likely. In fact, we have enough waves in place in both the SPX and IWM to consider all of wave (2) complete, which is why the alt-(2) is on the chart. But, I will not adopt that count until we have a full 5 wave structure taking us through the 2070SPX level, to a minimum target over 2080SPX, which is where the .382 extension for waves (1) and (2) reside. Anything less than a full 5 waves to that region will have me viewing any rally as corrective, which will likely set up one more drop in the SPX.
But, for now, the bulls and bears are still battling it out, and this battle has turned quite epic. Neither side has made it through this action unscathed, and no clear victor has been pronounced yet.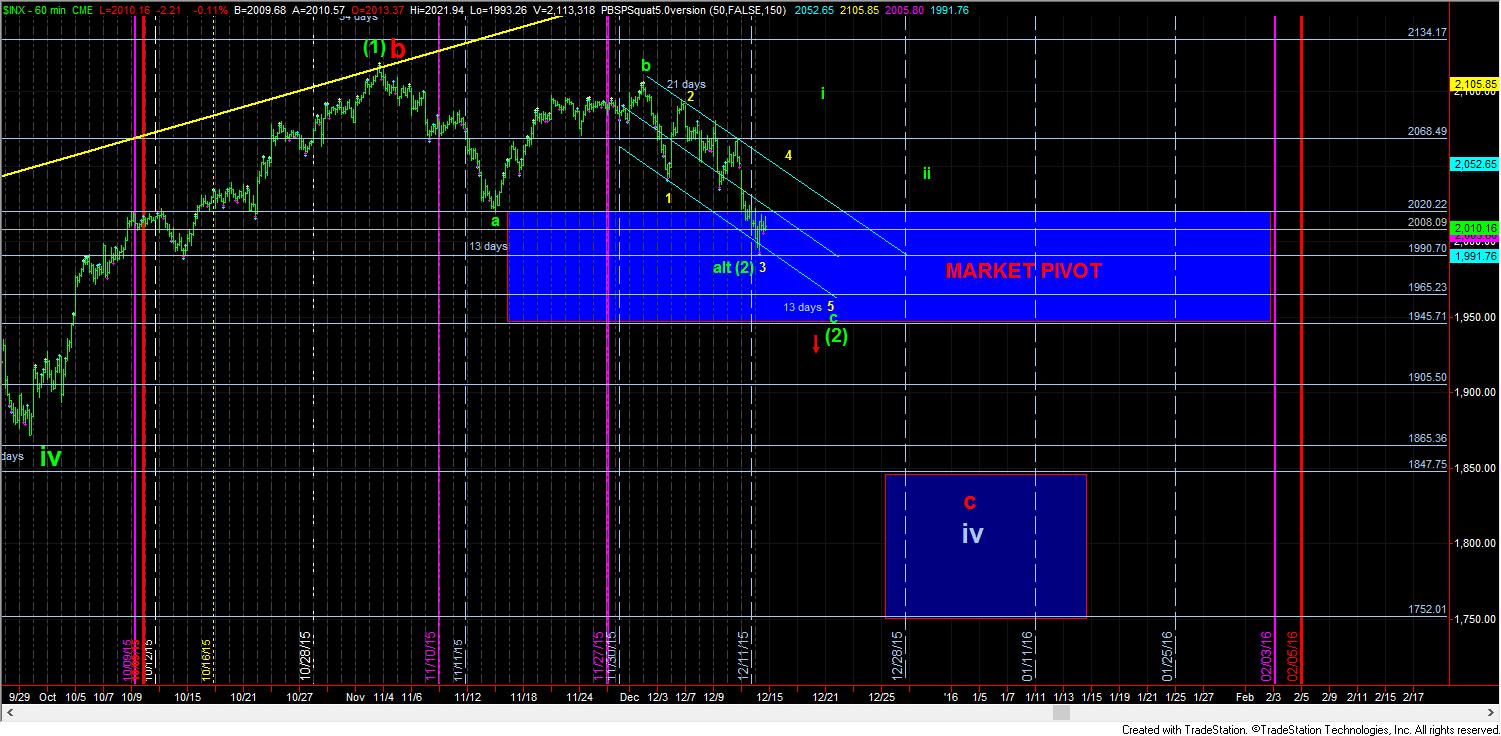 1turnchart