After giving everyone a good scare into the close yesterday with a sharp drop, the market found support almost to the penny at the 3318 level on the Emini S&P 500 (ES) and saw a sharp rally back to new highs today.
While that drop yesterday may have been a bit scary, it actually did follow the ideal path that I had laid out on the ES chart for the past several days. So with the retrace and move back over the 3380 high on the ES, the big question we have is: Have we arrived at a top for the larger degree wave 3 that we have been looking for over the past several weeks in this region?
Given the structure I am watching and that we are now just 10 points away from the previous pre-pandemic all-time highs on the S&P 500 (SPX), which comes in at the 3394 level, I think it is quite likely that this market will attempt to break those highs prior to putting in a top for the wave 3 as shown in blue on the SPX chart.
The bigger question I have at this point is will the ES make a direct break of those previous highs or will we see a retrace back down towards the 3350-3340 region before attempting to push to higher highs for the top of our wave 3.
To answer that question I am zoomed into the ES 5-min chart and really keeping a close eye on the 3386 level, which is the 261.8 extension of the initial move up off of yesterday's low. If the ES makes a direct break of that level, then it will open the door to seeing a direct move back over the previous all-time highs. If, however, we see the market hold that level and then break back down below the 3358 level, then we likely will see a retrace for a wave 2 of a larger wave v, which I am showing in white on the 5-min chart.
Finally, I do want to caution that because we did break over the 8/11 high, we technically have enough waves in place now to consider the wave 3 completed, as I am showing in purple. So should we see a break below yesterday's low and then a move through the 3289 level, it will become much more likely that we have indeed already struck a top for our long-awaited wave 3, with support for our larger degree for wave 4 still residing down at the 3215-3160 zone.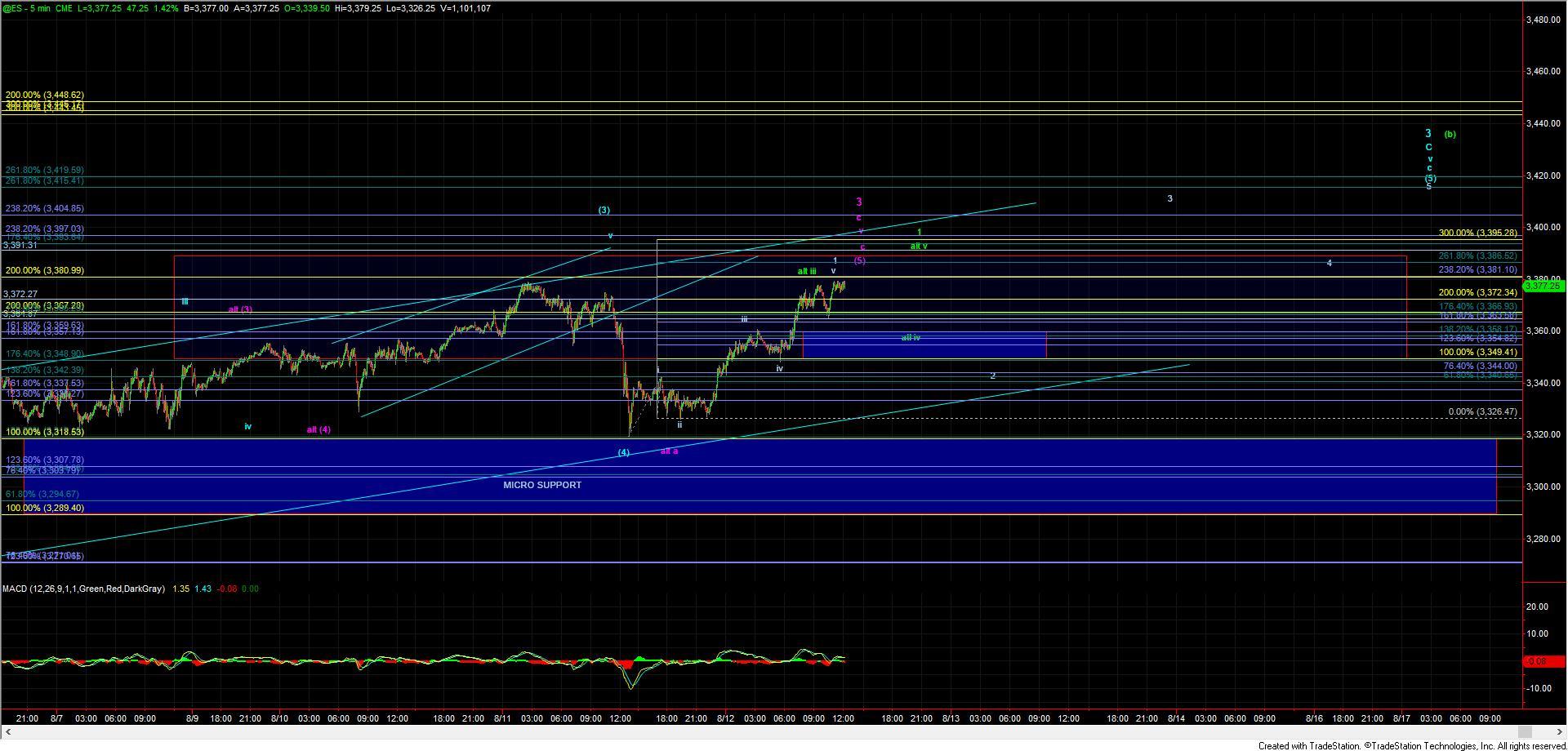 ES 5m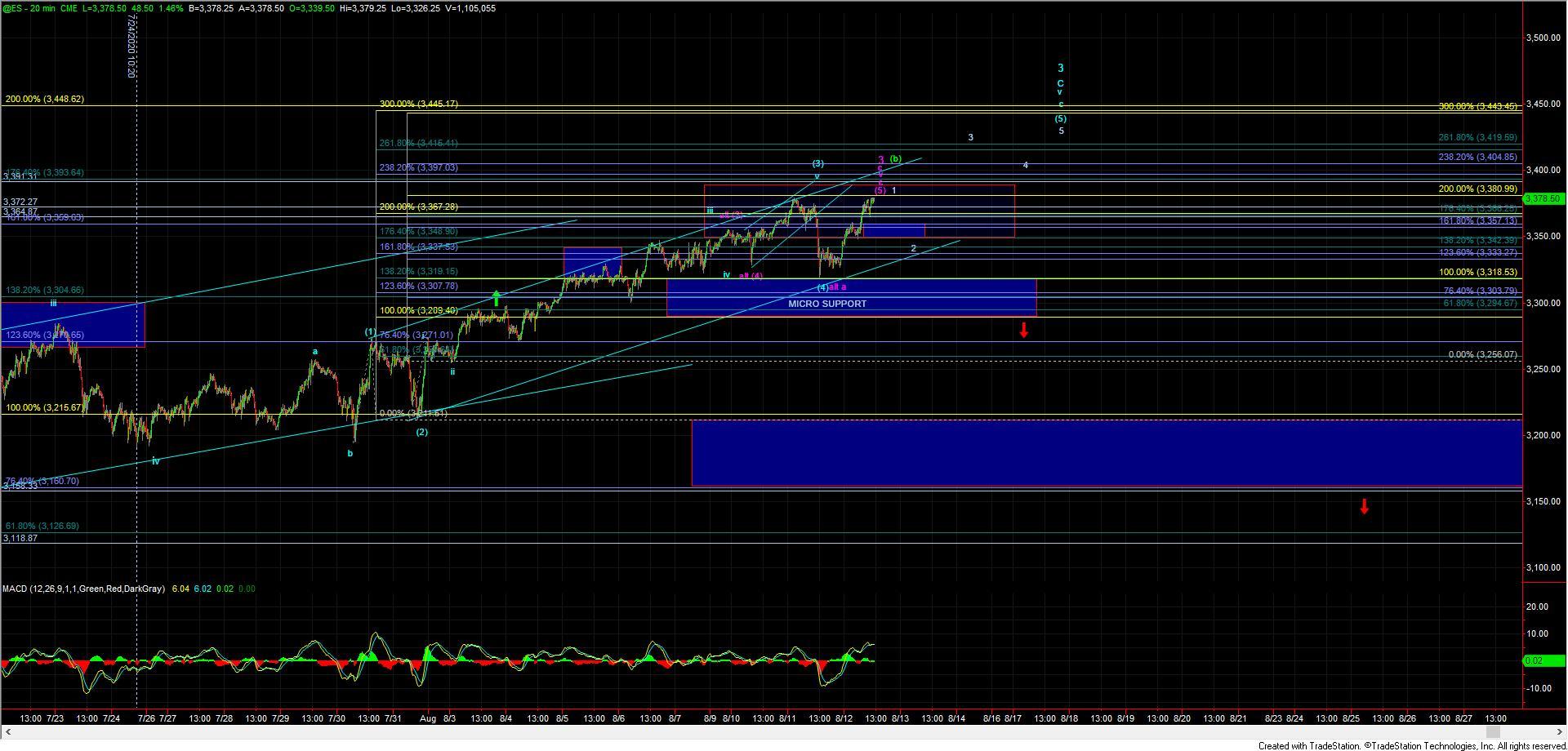 ES 20m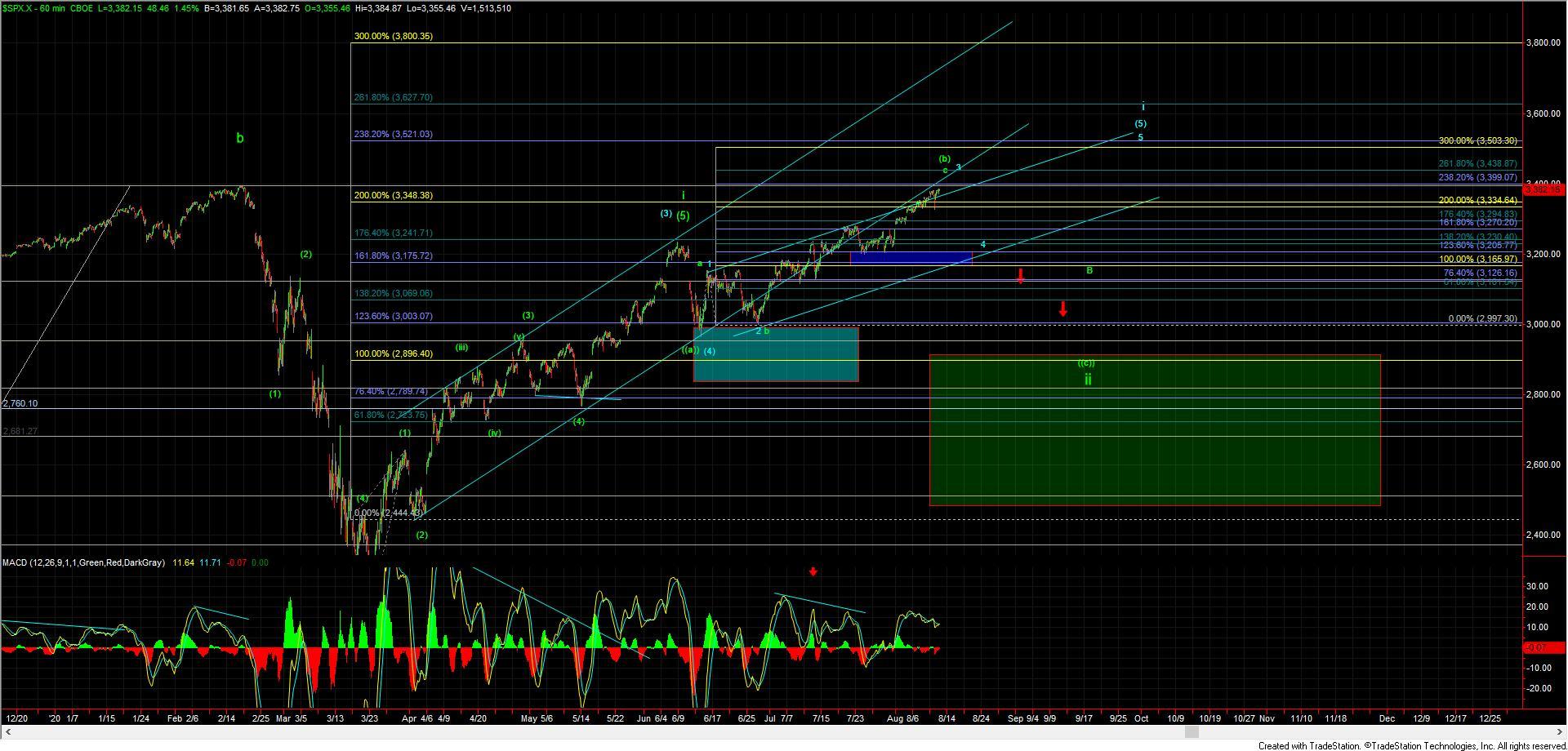 SPX 60m