With the market following through on my suspicions for a deeper wave [ii], we are still left with some smaller degree questions.
Normally, a c-wave takes shape as a 5-wave impulsive structure that adheres to Fibonacci Pinball. When the market broke out over the micro-resistance I outlined today, it made it abundantly clear that a standard Fib Pinball structure will not be seen.
So, the question we are faced with at this moment – which is why I am sending out the update right now – if the market is going to give us an ending diagonal for the c-wave of [ii], or if the market has already completed wave [ii] in an unorthodox manner with a w-x-y, and again coming up short of the standard retracement target?
As you can see on the attached 5-minute ES chart, we are now right below a declining trend line. As long as we respect that trend line, the potential for a 5th wave lower remains high. But, keep in mind that trying to trade aggressively for a 5th wave in an ending diagonal to the downside is not advisable during a bull market. Remember, surprises come to the upside in bull markets, so if you are going to attempt to trade for that possible lower low, I would be nimble and not trade it aggressively.
It would take a break out over the high of wave 2 on the ES chart to invalidate the potential for the ending diagonal, and strongly suggest wave [ii] is done.
Now, since the market seemingly is choosing the ending diagonal for wave v of 3, I want to repeat some words of caution if you intend to trade this aggressively:
"Allow me to explain a few things here.
As of now, we have only 3 waves up (even if we get a higher high in this region). But, I WOULD NOT EXPECT ANYTHING ELSE.
You see, whether this is a 4th wave in the ED for the c-wave down of wave (ii), or whether wave (ii) is done at today's low, the next rally will be an a-b-c structure for the a-wave of the wave (iii) in the ED for wave v of 3 to 4350+. So, this does not really provide us with any real indications as to whether a bottom has been struck, nor do I expect more of an indication due to the fact that all expectations are for 3's now.
To suggest a bottom has been struck in (ii) already, we need to break out over the DTL, and then move through the high of wave 2. That would invalidate the ending diagonal lower for a 5th wave of c of (ii).
So, again, expect some treacherous trading over the coming month or two, because should we complete wave v of 3 as an ending diagonal to 4400SPX region, we will then see a strong reversal to begin wave 4."
Therefore, even if we continue to rally in waves [iii], [iv] and [v], as outlined on the 60-minute chart, you will have to recognize they will all take the shape of a-b-c structures, and not standard Fibonacci Pinball structures, which makes trading much more challenging and volatile. In fact, as I have been noting of late, it make take us another month or two before the market sets up for its next trending move in wave 5 of [3].
So, please recognize where we reside in the structure of the market, and do not attempt to overtrade, as this could be costly with this type of structure.
In the meantime, I will close by noting that as long as we hold over 4150SPX region, I am looking at the 4330-65SPX region as a target for wave [iii] of v of 3.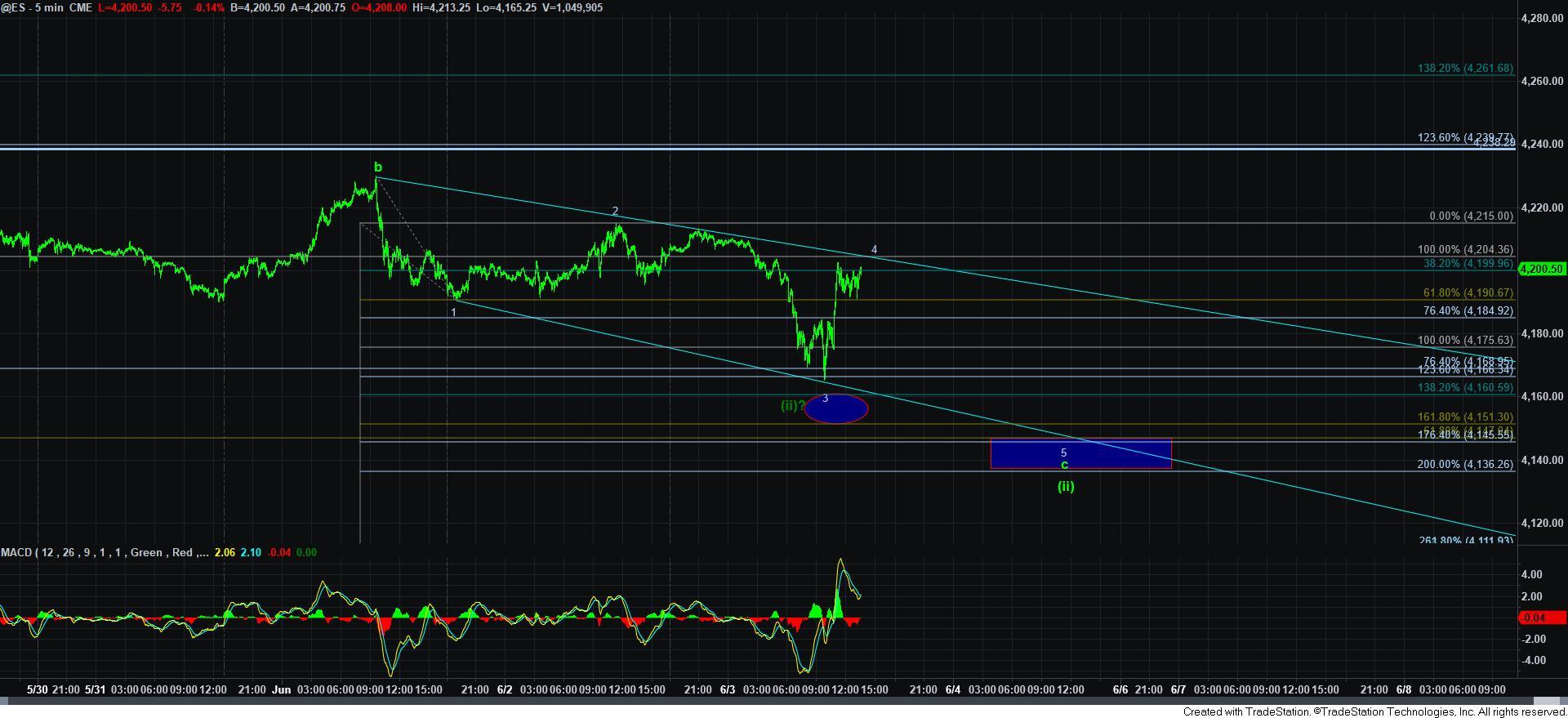 5minES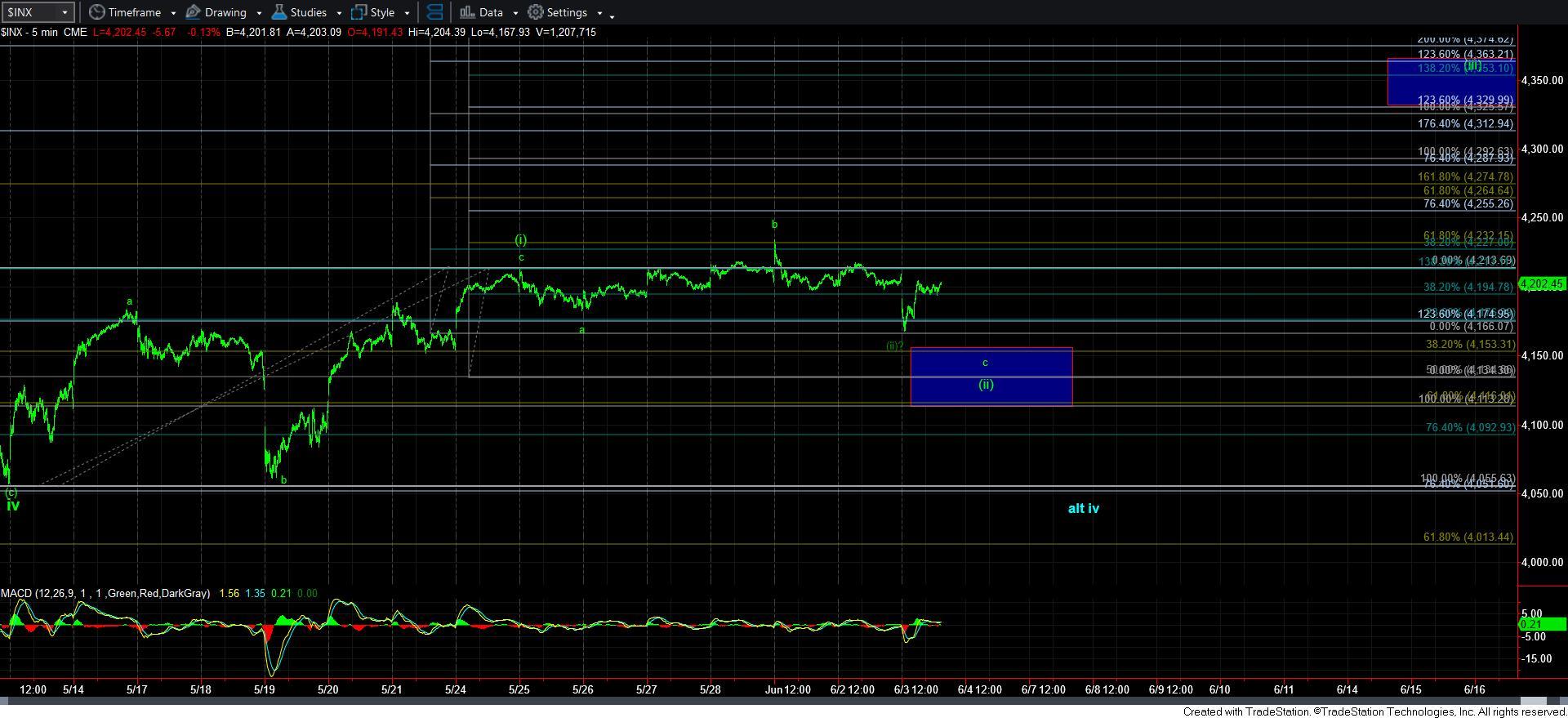 5minSPX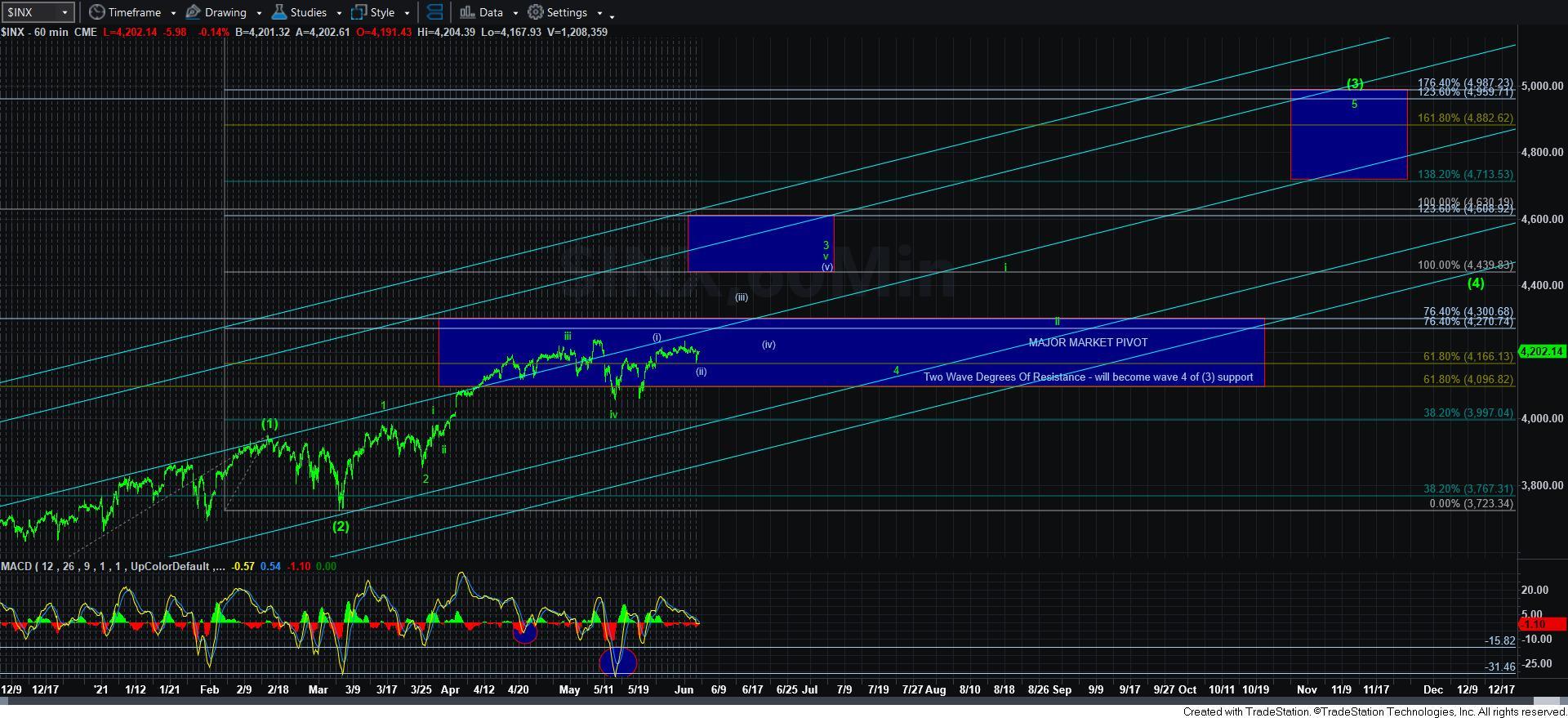 60minSPX